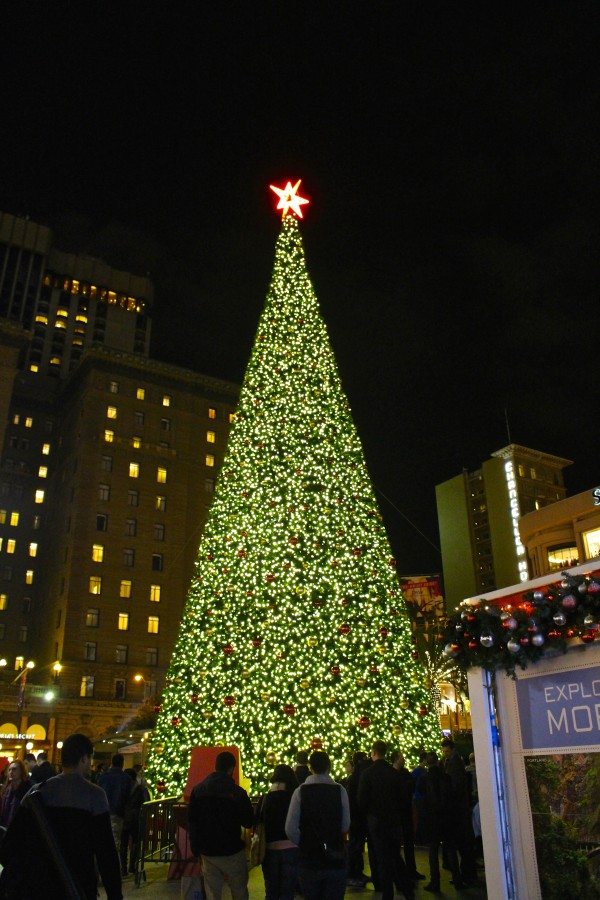 Traveling at the holidays – Do you love it? Is it a hassle? Would you rather hunker down and stay close to home?
I believe I never really considered traveling at the holidays until the kids were grown or at least until the nest was almost empty and they were in their teens. Wearing heavy coats, worrying about potential lost gloves, bigger crowds all seemed too much to deal with when the kids were young.
All of our immediately family lived within in driving distance so we never had to fly out of necessity. Now that we primarily travel as a couple, I look forward to the extra excitement of going somewhere at Christmas.
I am a big fan of lights and festive decorations. I love how the city, any city, seems to sparkle this time of year. Even the strip malls and grocery stores look so much better with those clear lights stretched across the roof.
Our holiday trip this year~
Traveling to San Francisco from Southern California is an easy, quick flight and with no potential snow to add any extra discomfort. When you live in an area where the temperature is rarely below 60, frosty wind and lots of rain can dampen your spirit, however, part of the fun of traveling in December is that it is so different. Changes in the weather and different clothing requirements make it a novelty. I relish the opportunity to wear fun boots, colorful scarves and the warm winter coat I wear only a couple of times a year in Southern California.
We have plans to go back to San Francisco next week to enjoy the holiday celebration and to visit our son Nick who just moved there for his first job after graduating from UCLA. He is looking forward to showing us "his" San Francisco. Craig and I are thrilled to have the opportunity to see the city through Nick's eyes.
We plan to take him to a couple of our favorite spots and he will take us to his new hangouts. At 22, he enjoys such different activities than we do, that this will be an entirely new way to enjoy this beautiful city!
If you do have the opportunity to plan a trip to San Francisco this month, here is what you could see and do!
The Magic of Christmas in San Francisco~
The true meaning of Christmas we carry in our hearts, but the magic of Christmas in San Francisco is a wonderful sight to behold! This spectacular coastal California city manages to capture the splendor of the holidays and we are fortunate to live just an hour plane ride away. Craig and I try to get away for a few days each year in the month of December to soak up the holiday cheer and exquisite architecture of San Francisco.
Small neighborhood shops, large department stores, fancy hotels and trendy restaurants go all out to decorate and celebrate for the holiday season. Twinkle lights, gorgeous window displays and several gingerbread mansions are displayed for visiting guests to enjoy as well as the lucky residents.
Union Square – Daytime
Union Square is the heart of the city and the best place to begin and spend your free time. It is surrounded by busy stores, large and small, lined with glorious hotels and is definitely where most of the shopping activity can be found!