Brisbane is the sunny, sophisticated capital of Queensland, Australia. It has beautiful modern buildings and charming historic ones as well. The Brisbane River flows peacefully along the city's edge. We spent time walking along the man made sandy lagoon which is located on the south side of the river's edge, in the trendy South Bank area. All of this beauty sits underneath a fun ferris wheel where there are views for miles! We really enjoyed the international cafes and people watching along the river banks, as well as the City Botanical Gardens. However, truthfully… we were stopping in Brisbane in order to spend time at the Lone Pine Koala Sanctuary. If you look at the country of Australia as the face of a clock, Brisbane is located at 3 o'clock. But I just really wanted to hold the cuddly koalas and have kangaroos eat from my hand. Who wouldn't want to do that?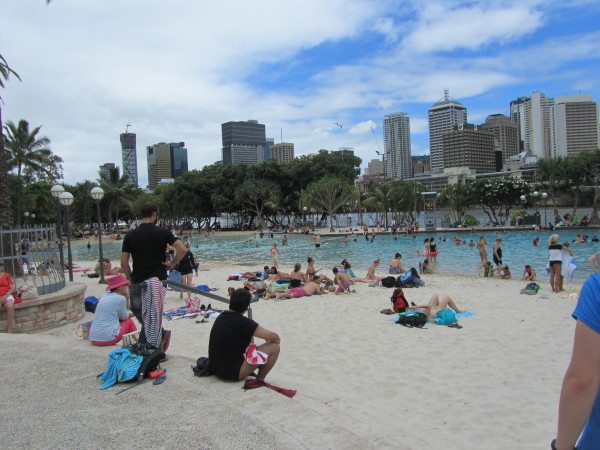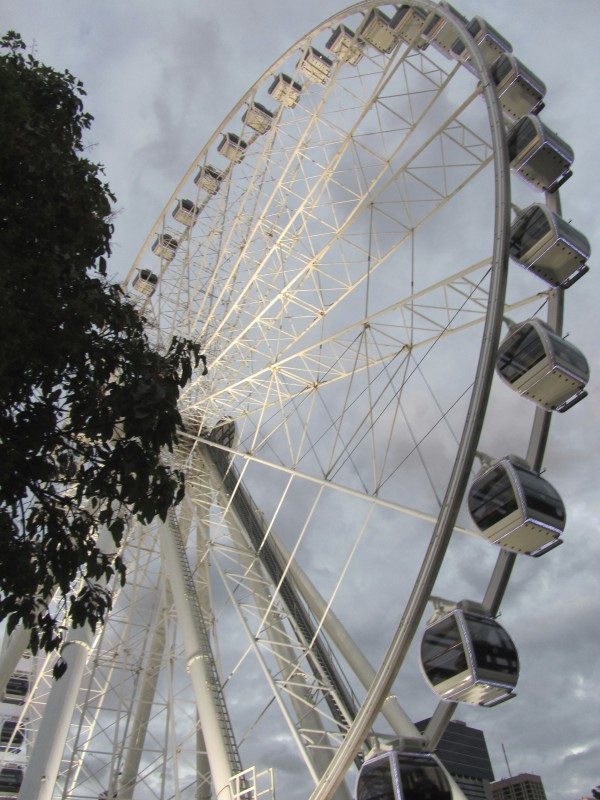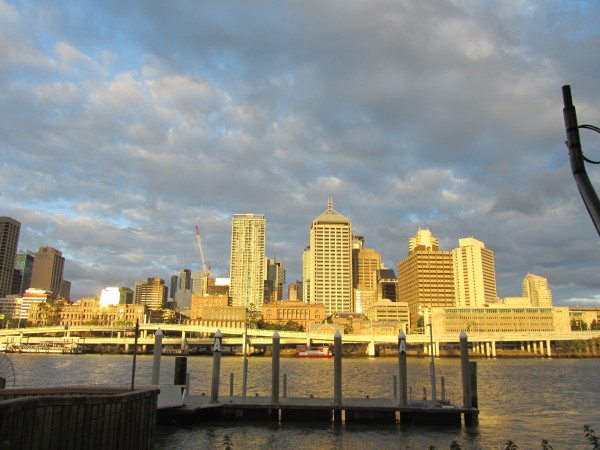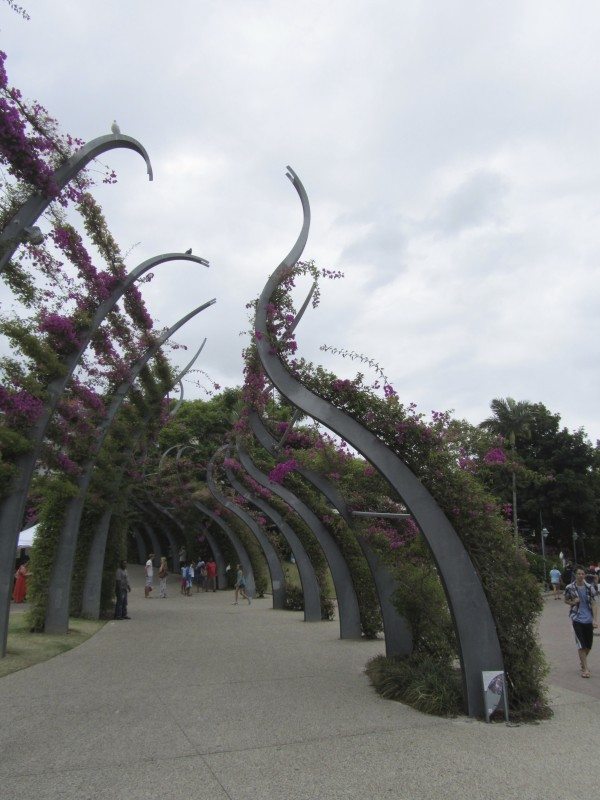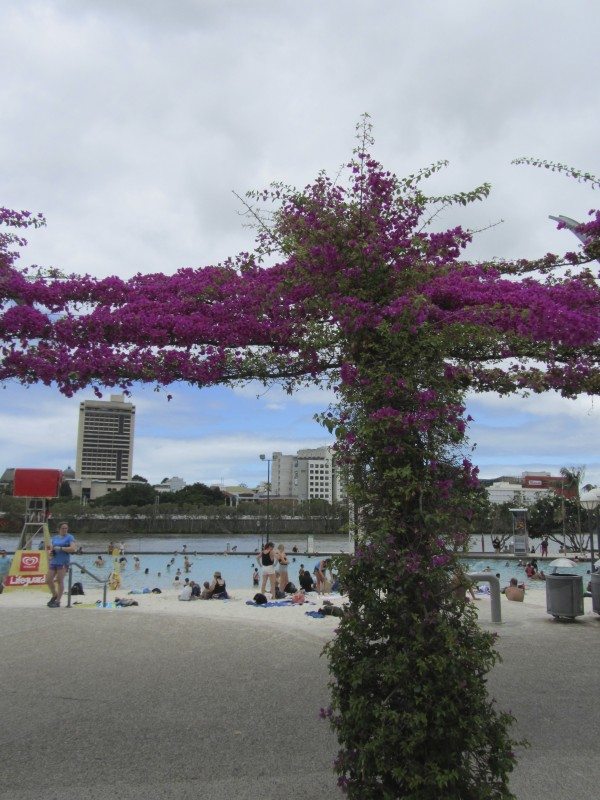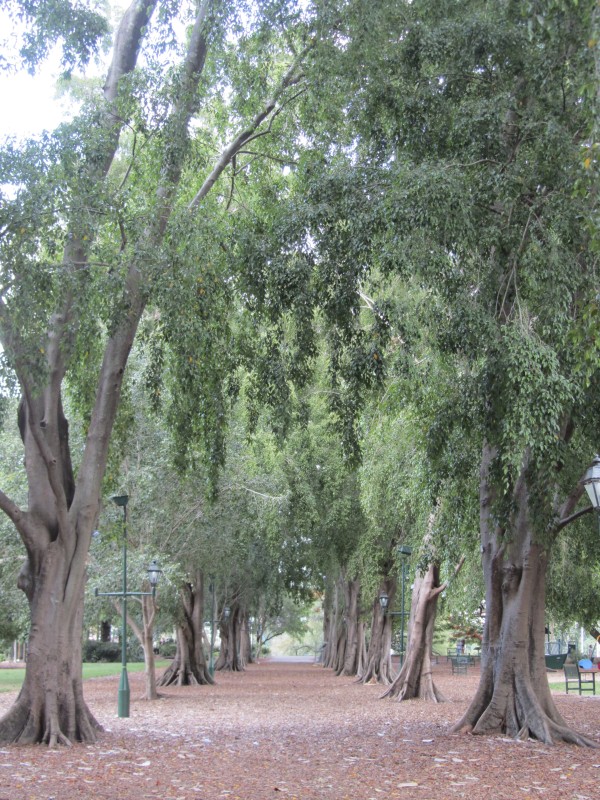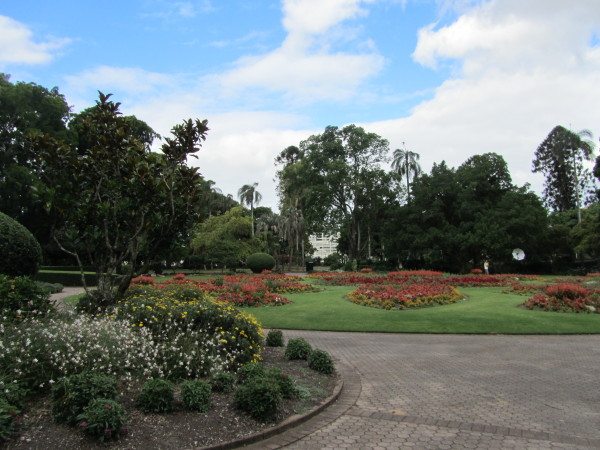 "Playing" with the koalas and the kangaroos!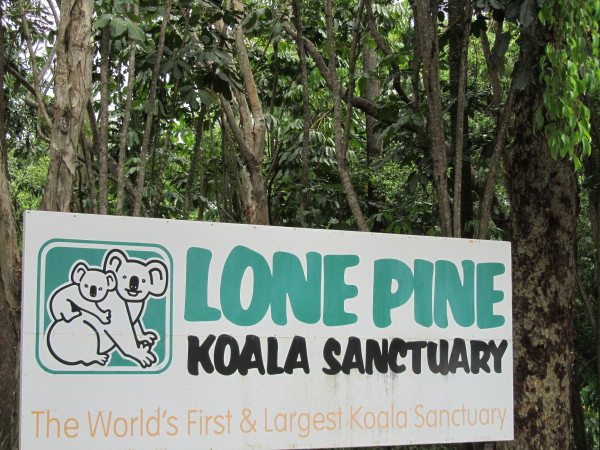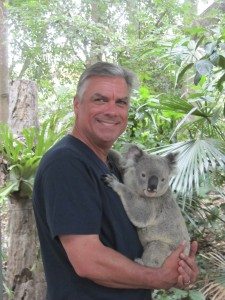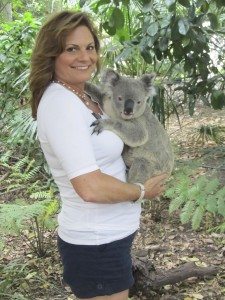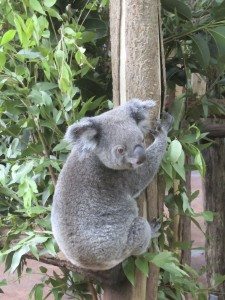 So how did it feel to hold a koala?
The koala handler asked me to stand still, clasp my hands together below my waist and she would place the koala in my arms. She suggested that we stay very still and calm, "like a tree". I kid you not! Their fur is not soft, it is bristly like a stiff brush. Their claws are sharp and they poop at will and often! With their sweet little paws they hold on to you like a baby would and just look around. They were soooo precious!
So how much do you know about koalas and kangaroos? I knew they were adorable and would have loved to bring one home with us! According to their very helpful website: The Lone Pine Koala Sanctuary is "rated one of the "Top 10 Zoos in the World" by AOL, is the world's first and largest koala sanctuary, with over 130 koalas. Cuddle a koala anytime, hand feed kangaroos and encounter a large variety of Aussie wildlife, all in beautiful, natural settings." The Sanctuary was exactly that and MORE! The atmosphere was charming and friendly even though we saw a scary crocodile and a tasmanian devil too!
Craig and the crocodile…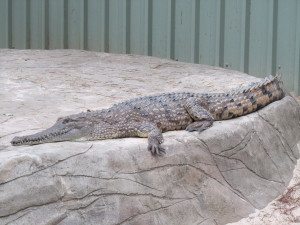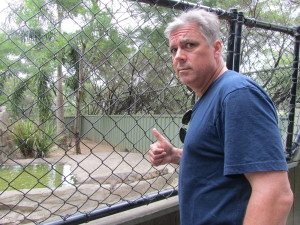 Let's talk more about the lovable animals at the zoo…
The Lone Pine Koala Sanctuary carefully explains: "The koalas are used to human interaction as they experience it from a very early age.  Our koalas can only be handled for a maximum of 30 minutes per day and they have every third day off. If in that 30 minutes the koala seems restless, or is having a bad day, they will go straight home. This system is strictly followed by all staff. The koalas don't mind being handled as they experience it from a young age. All our staff are highly trained and the needs of the koalas are their top concern."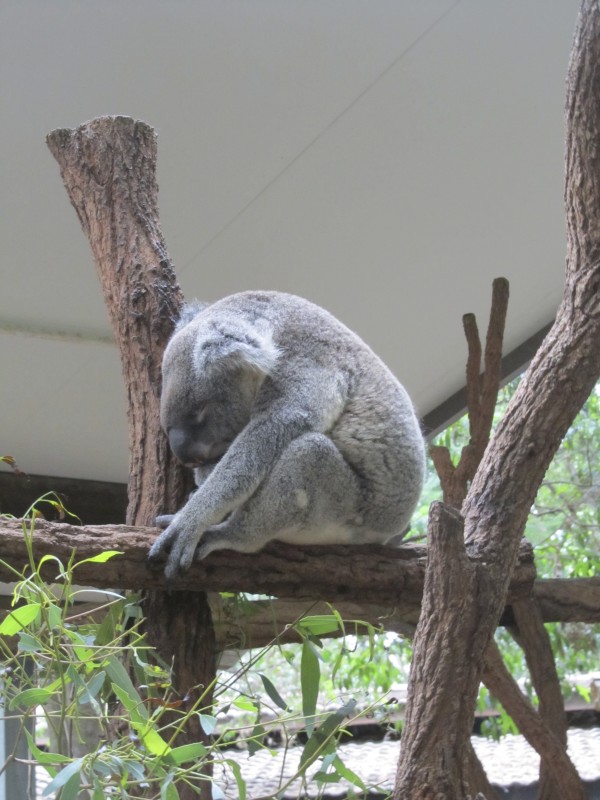 There were several individual habitats where a small group of koalas would live together on their fake eucalyptus trees. Because they sleep so much, (about 20 hours a day) we were very excited when we saw them move! They are just so darling and calm and move so very s-l-o-w-l-y…
Feeding the kangaroos! It was a surreal experience.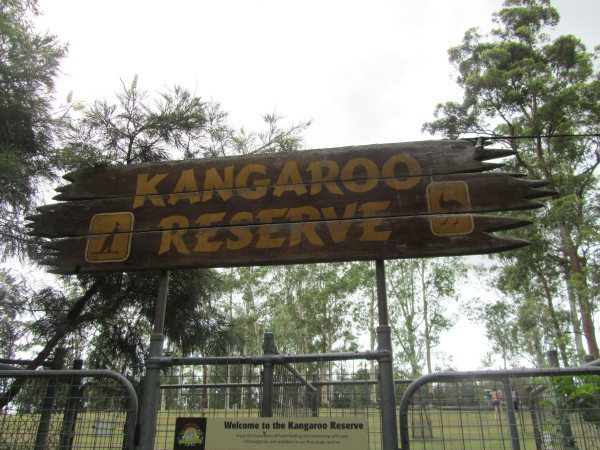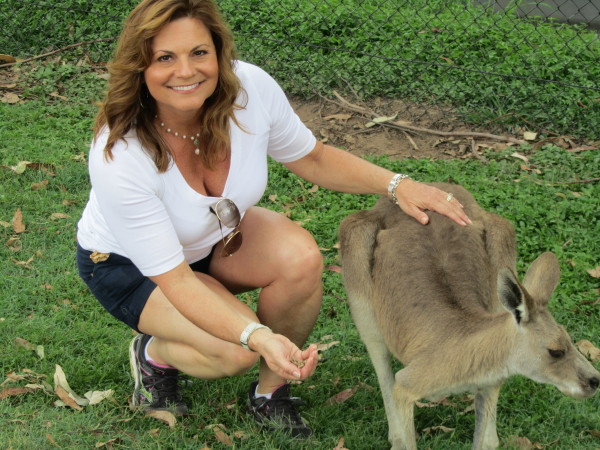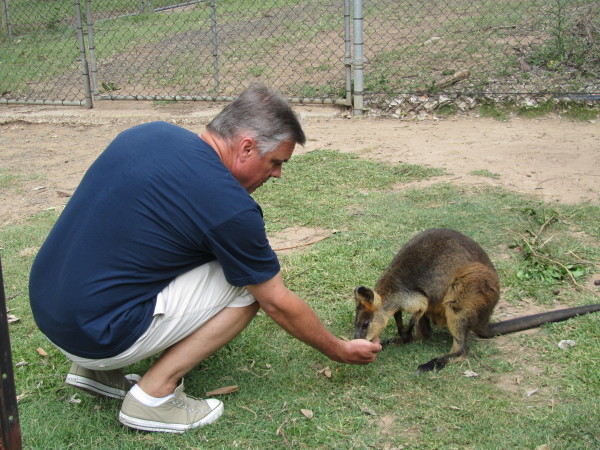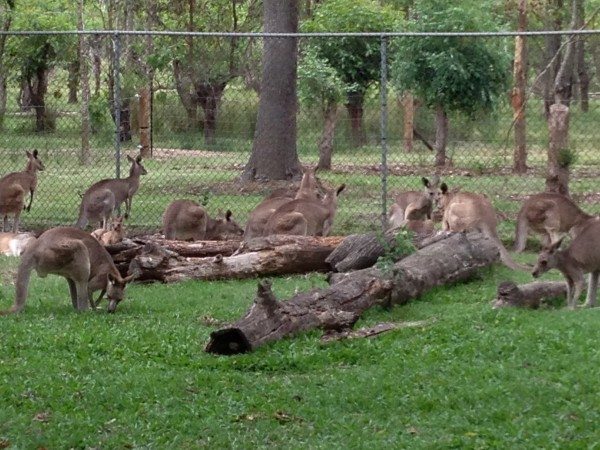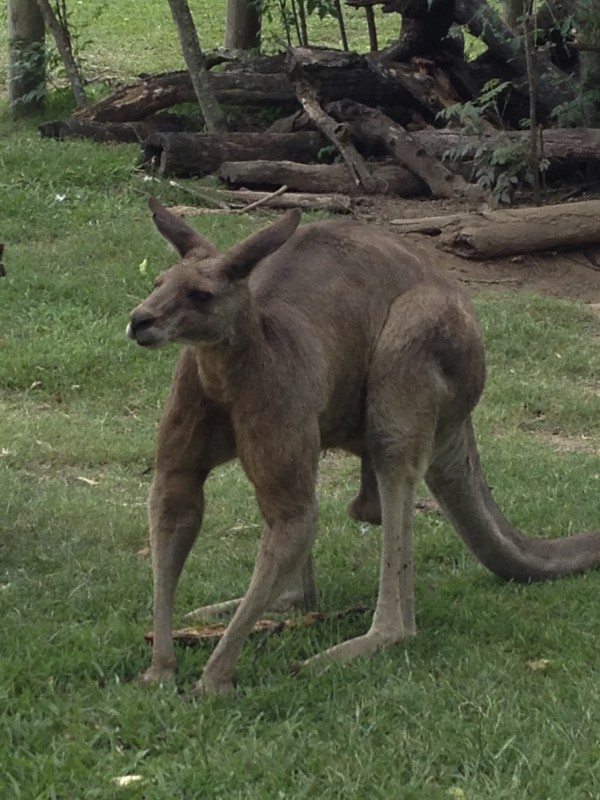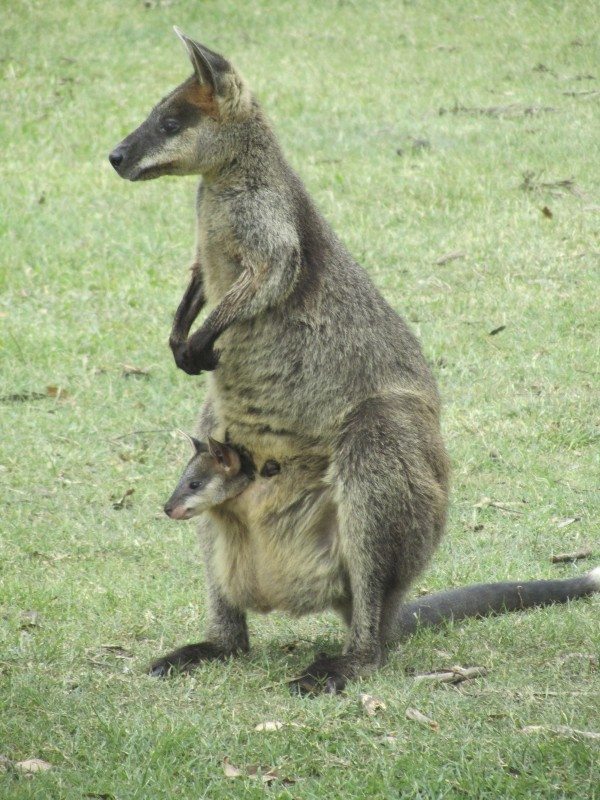 As you can see there were several types of kangaroos in all shapes and sizes! Hefty and muscular, large and grey, petite and golden, medium size and brown. There were groups (the technical name is a mob or herd of kangaroos) of them just hanging out and others moving slowly around the grounds. If you held out your hand with their special food, they walked directly up to you and ate right out of your hand. To walk among them so casually was a surreal experience and to see a mama and her baby (a joey) in her pouch was incredibly rare. Just pinch me!
I hope you enjoyed our adventures Down Under!
If you would like to receive our posts via email, just type your email in the box in the upper right hand corner of this page! Thanks! Suzanne
.