When I created Adventures of Empty Nesters, I intentionally defined the word adventure as "anything that you wanted to write about". Each adventure or story could be as extraordinary as a great white shark adventure, as memorable as paddling a kayak for the first time after 27 years, as delicious as a foodie field trip in NYC or as sentimental as how empty the house feels now that the kids are gone.  Any topic is perfectly alright as long as it is important to you!  What are the Empty Nesters doing, thinking, feeling and cooking? Where are they traveling to? It's that simple. So allow me to share with you all about our recent book club adventure!
Summer fun with the book club
I purposely withheld the words "book club" in the title "Summer Fun in Dana Point". Believe it or not, there are people who would rather get a root canal than be a member of a book club! Shocking! Ha! This story was about an unusual way to celebrate reading a book.  I wanted to make sure everyone would want to read about it and not believe it was just for book lovers! However…once you read about the details of our recent book club dinner, I would be very surprised if you didn't want to join in on the fun or even start one of your own!
It was a warm, breezy late afternoon in Dana Point Harbor which was busy with activity. There were couples strolling, tourists drinking smoothies at the harbor cafe and lots of people walking their dogs. Once we arrived at the harbor, our next step of the adventure was to find Dock "J" and a very large boat ! We were immediately offered slushy, Peach Bellini's and huge smile from our hostess Tammy. Now that is my kind of book club "meeting"!
The Book Club Evening
Tammy greeted us with delicious frosty drinks as we stepped on to the very large and inviting boat. I say boat, but this yacht has three bedrooms, two bathrooms and a cozy "family room" that looks out over the harbor. Unbelievable! We spent time relaxing, enjoying the views, eating appetizers, and catching up on each other's activities from the past couple of months.  This was followed by a healthy salad bar, a few more drinks and a lively book discussion from the upper deck. Who gets to do this?
Ellen, Suzanne and Barbara enjoying Peach Bellinis on the deck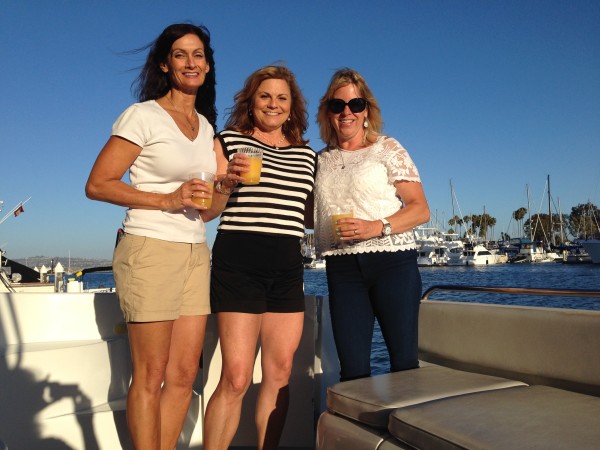 Relaxing inside the boat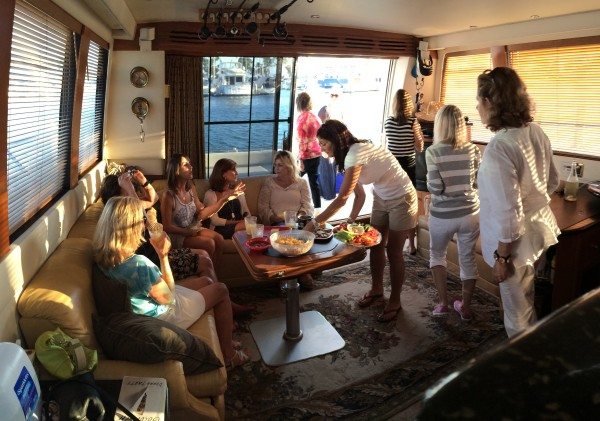 My dear friend Barbara is the organizer and "creative director" of the group. She has orchestrated many outstanding book club events that always include comparing notes on the books, but with a twist of  something extra. In the last few months we have discussed a book with the author via Skype, enjoyed a delicious buffet at a member's home, took a walk along the beach with a stop at a Taco Bar and now drinks and dinner on Tammy's boat in Dana Point Harbor.
The ladies of this book club are enthusiastic about any new idea for the group. The key is to have fun, enjoy each other's company and have an intelligent discussion about a book.  For this Empty Nester, it was a creative, exciting adventure and I am so grateful to have been a part of it!
The Book
This month's book was The Goldfinch, all 771 pages of it. We deserved a Bellini as a reward for finishing all of those pages! Typically, a book group wouldn't choose a book over 500 pages.  The Goldfinch has been #1 on the bestsellers list for months and months and also won a Pulitzer Prize, so we made an exception. This post is not intended to offer a book review, however we all thought it was an extraordinary work of fiction. We appreciated the author's commitment to detail, but also felt that it was about 300 pages too long. We would all highly recommend the novel regardless of the length.
Discussing the book on the upper deck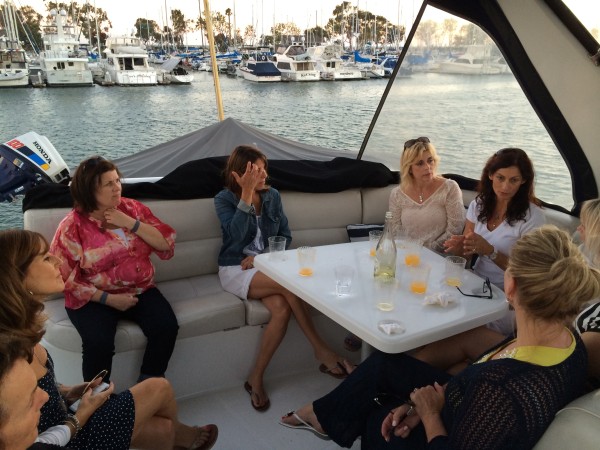 The lovely moon at the end of a lovely evening!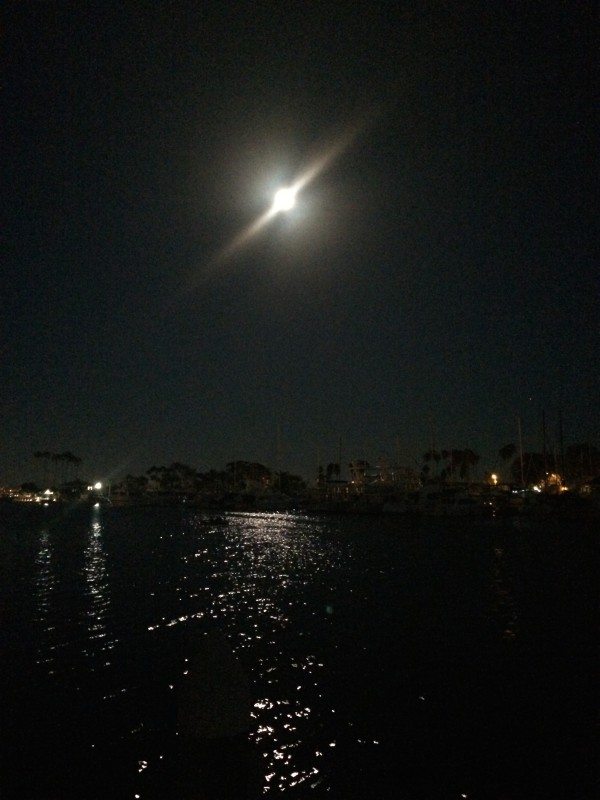 In case you would like to serve Peach Bellinis at your next book club, here is Tammy's recipe:
Peach Bellini
1 C frozen peaches
 1/4 C peach schnapps
1 C champagne or prosecco
1 C ice
Put all the ingredients in a blender and blend
What's on your summer reading list?