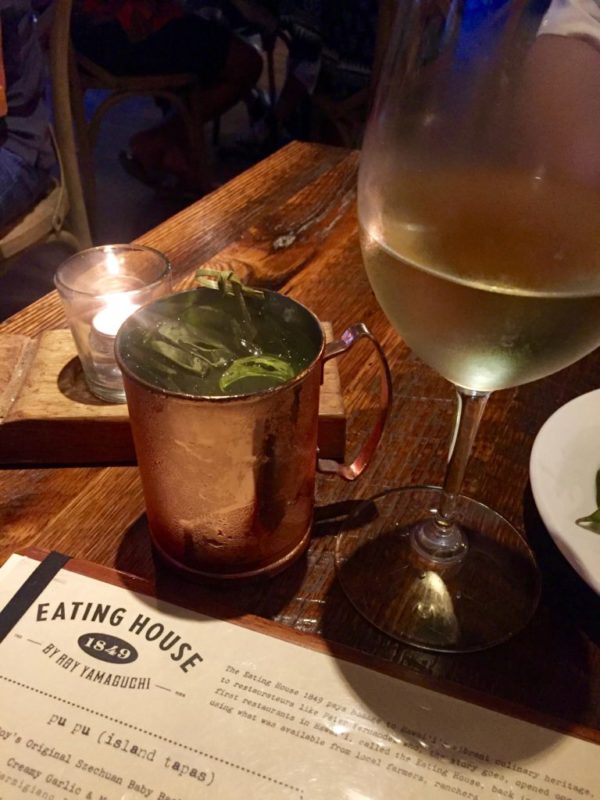 'Ono – The word 'ono with the okina means delicious in the Hawaiian language.
Onolicious – This slang word is a variation of 'ono combined with the word delicious.
Eating House 1849
From the culinary pioneer of Hawaiian Fusion, James Beard Award winning chef Roy Yamaguchi, a new concept restaurant called Eating House 1849, was opened just two miles down the road from our hotel in Kauai!
It opened in 2015 and is located in Koloa at the Kukuiula Shopping Center on the south shore of Kauai in Poipu Beach. Eating House 1849 pays homage and was named after a restaurant that was in business in the mid 1800's. Roy pays tribute to Peter Fernandez, a Portuguese immigrant and an early restaurant pioneer and his style of cooking to create this brand new (and delicious) concept.
We truly had no idea what to expect and the truth is that we tried to get a reservation at Roy's where we have had many delicious dinners in the Hawaiian islands and in Orange County. After checking the Roy's website, we learned that the restaurant had closed on Kauai and something else took its place. Totally unfamiliar with this restaurant, we charged ahead and made a reservation. We knew that if Roy was executing this menu, it had to be outstanding.
Emphasizing this Hawaiian culinary history and focusing on local farmers, foragers, ranchers and fisherman, Eating House 1849 performed like it had been there for years.