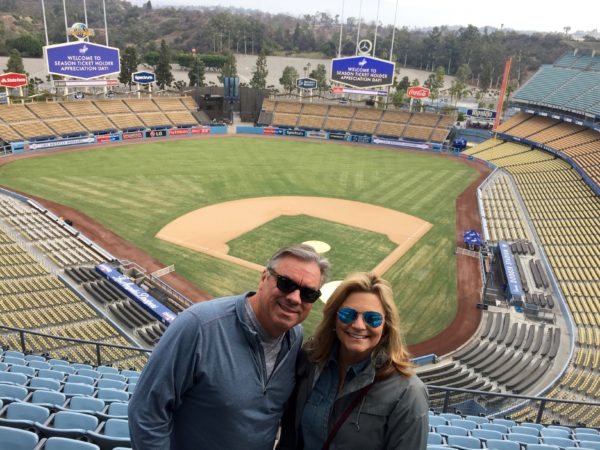 On a rare rainy Sunday in Los Angeles, Craig and I took an insider's tour of Dodger Stadium. It was an exciting event organized by the UCLA Bruin Alumni and the timing was perfect. We were all licking our wounds from Saturday's butt-kicking by USC.
It is never a happy day when my Bruins lose a football game to our cross town rivals, but the Trojans certainly and expectedly, outplayed our team. That's enough of football, so let us switch over to America's favorite sport, baseball.
Recently, I have written about the Dodgers and our meeting with our beloved Vin Scully, but today we were privileged to receive a fabulous behind the scenes tour of Dodger Stadium. The tour guides enthusiastically showed us all over the stadium, the dugout, the field, the bull pen, the Clubhouse (no photos please) the weight room, the media room, Vin Scully's Press Box, a luxury suite and we finished by eating a Dodger Dog from the Top Deck. Simply amazing. Two hours of Dodger statistics, trophies and memorabilia was most certainly a little bit of heaven on earth for Craig and I.
Here is what we saw on our tour of Dodger Stadium ~