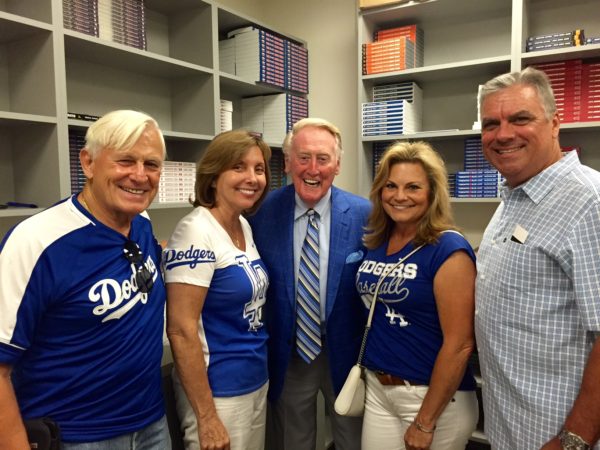 10/2 – Vin Scully Update ~
I wrote the post below almost two months ago when all of the good byes to Vin Scully had not quite started. Since our meeting, the Vin Scully Farewell tour has begun. He has been interviewed, filmed, photographed, hugged, sung to, given the key to Los Angeles, awarded plaques and been surrounded by love from fans, ballplayers, friends and family.
Honestly, I don't know how he and his wife Sandy have kept up with all of it. Through all of these accolades, Mr Scully just waves it off, "Enough, I am just me" He says.
The Dodgers even clinched the National League West on his very last day announcing at Dodger Stadium. No Hollywood movie could have played this scenario better. It is astounding how spectacular his good byes have been and the amount of cheering and tears that have been shed.
He is the man, no question. I am super sad that we will no longer hear him announcing the Dodger Games. Craig will be in San Francisco today  just to hear Vin call the game with the Giants for his very last time ever. Mr Scully is a legend with a golden voice and a heart of gold that goes with it.
---
Our love for the Dodgers and Vin Scully ~
Craig was just ten years old when he started listening to Vin Scully. He would put his small transistor radio next to his ear or under his pillow to listen to the Dodger games. It was most likely past his bed time, but he didn't care, it was baseball season. In 1970, Craig said he became obsessed with the Dodgers and played the "Pop Tart" game. Inside the Pop Tart box was a paper scorecard where he wrote the stats, stayed organized and focused on Dodger Blue.
My grandparents bled Dodger Blue, they were HUGE fans. I can clearly remember them sitting under their backyard willow tree in the summer heat, listening to Vin Scully's play by play and keeping score. My grandma kept the scorecard on her lap and she would keep score for every game. The summertime in the valley was so hot and they had no air conditioning, so grandpa would bring a cooler of cold drinks and they used that as a side table.
As teens we would drive from Arcadia, about 30 minutes away, to watch the Dodgers and always enjoyed fireworks night. Dodger dogs, frozen malts and Cracker Jacks, I loved those stadium snacks! As a newly married couple, we went in on season tickets with our close friends. They were great seats off the first base side and we felt like we had arrived. Our friend Steve says he still remembers going to the stadium to decide which available set of seats they would choose. It was magical.
When they renovated the stadium, Craig purchased two of the old wooden seats, still with the gum underneath. He keeps them in his office and I think he feels like he has preserved a piece of the Dodgers just for himself.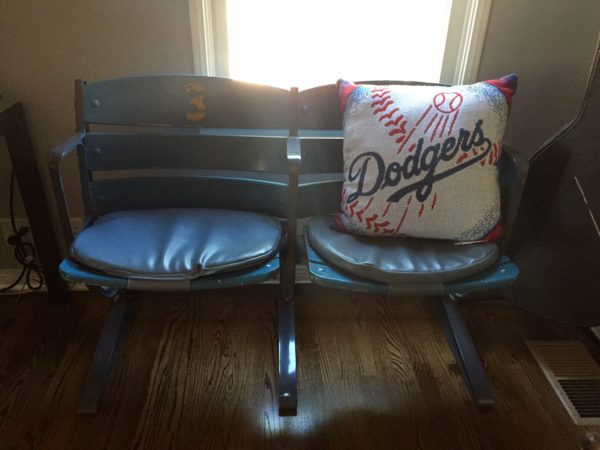 Fast forward a few years from our 1984 season ticket purchase where we had all moved to Orange County and had kids. With young busy families, there just wasn't time to go to all 81 home games and it also became expensive. We sold them and I know Craig still regrets it.
Vin Scully, a legendary broadcaster ~
That golden voice of Mr Scully's is unmistakable. Even fans of other teams love him, revere him and admire him. I am certain that you will never find anyone anywhere that has a bad word to say about Vin Scully. He is a gem, a modest, hardworking pioneer broadcaster, someone to admire and to respect.
At 88 years young, this is his 67th and final season with the Los Angeles Dodgers. How will we ever go on without him? Who could possibly take his place? No one can, but we will remember him fondly and his indelible connection to the team.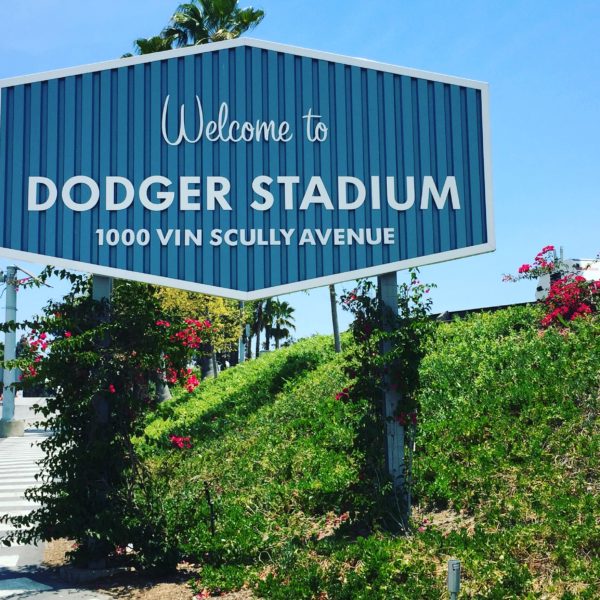 My friend Jan's father is a close friend of Vin's and when Dan asked Mr Scully (Jan still calls him that) if Jan, her husband Herb and friends could come by the Press Box to say hi, not only did he say "No problem", but in two days there were four tickets and a parking pass in Jan's parents' mailbox.
Are you kidding?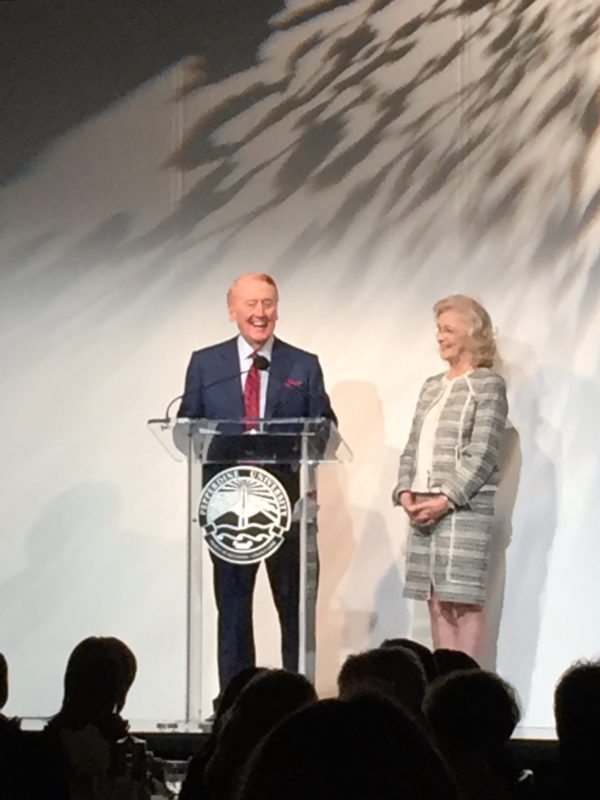 We had the opportunity to meet Mr Scully this past November when he and his lovely wife Sandy, received an award from the Boone Center for the Family at Pepperdine University. It was a brief hello, but he was still gracious and engaged. When Dan called Mr Scully, he said, "Jan's friends are coming all the way from Seattle to meet you." He said, "Why on earth would they do that?"
When we told Mr Scully that we will all miss him when he retires, he said, "No you won't really. Maybe for a year or so and then you will move on." So humble, so accomplished, so well liked, I honestly think he believes what he says! However, we don't believe a word of it.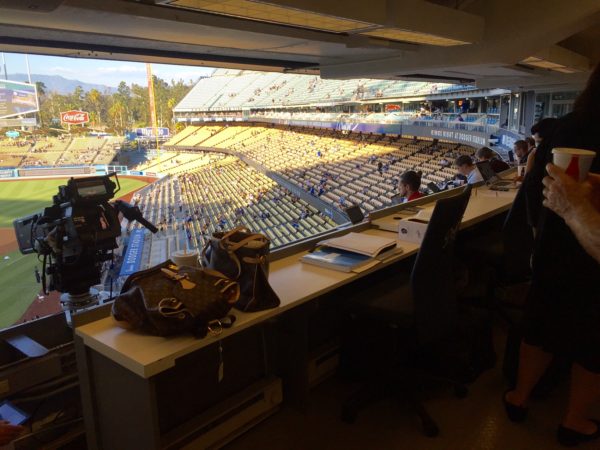 No one can replace Mr Vin Scully. He is the voice of the Dodgers, the bright light from the booth, the man with the anecdotes and kind, genuine laugh. We are so touched that Jan and her dad would go to the trouble to arrange this meeting and don't tell anyone, but my sweet husband was almost speechless when they met again the other night. It was like he was that 10-year-old boy once again.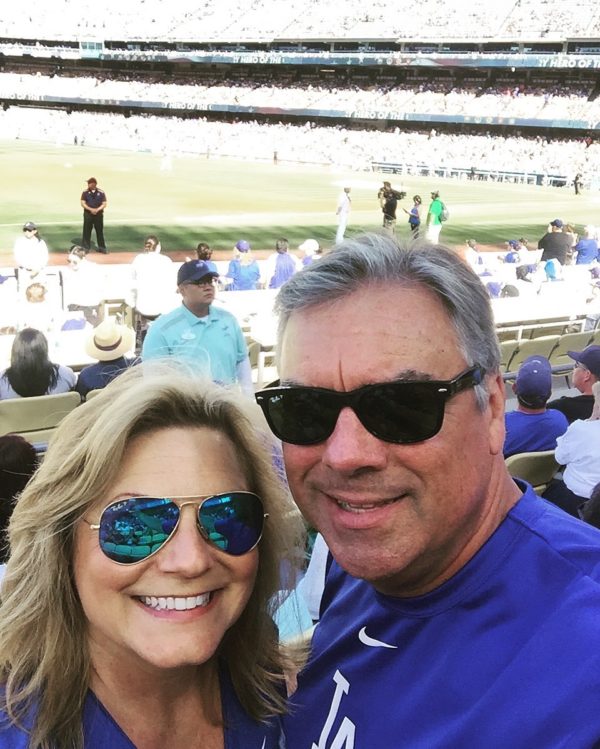 Have you met an idol of yours in real life? Did he or she live up to your expectations? We would love to hear your story.
Go Dodgers!
---
Make sure to keep up with our adventures through Facebook, Twitter, Pinterest and Instagram and we look forward to following you!