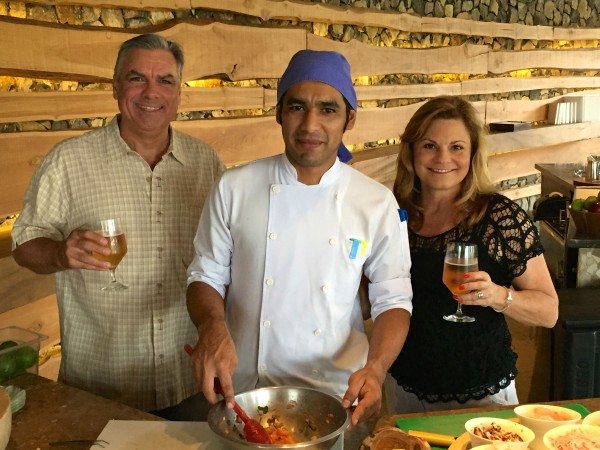 During our amazing vacation at the Andaz Peninsula Papagayo Resort of Costa Rica, we were taught how to make ceviche ~ Costa Rica Style! Craig and I were treated to a private cooking lesson with Chef Hanier from the resort's fine dining seafood restaurant, Ostra. We learned how to combine fresh fish with local ingredients to create the most delectable ceviche ever!
What is ceviche?
Ceviche (pronounced "seh-VEE-chay") is a Latin American recipe for raw fish and seafood marinated in citrus juice, usually lime and lemon juice. The acid in the citrus juice breaks down the proteins in the fish, effectively cooking the fish. Because the protein is cooked by the acid, ceviche isn't heated and can be served cold or at room temperature.
Isn't enjoying the local food and culture the best part about travel?
Chef Hanier made it very easy for us. All of the ingredients were already assembled, sliced and diced. The freshly caught fish and shellfish was cut into small, bite size pieces and the vast array of diced peppers, onions, tomatoes, cilantro, corn and garlic was resting in stainless steel bowls on ice and ready to go.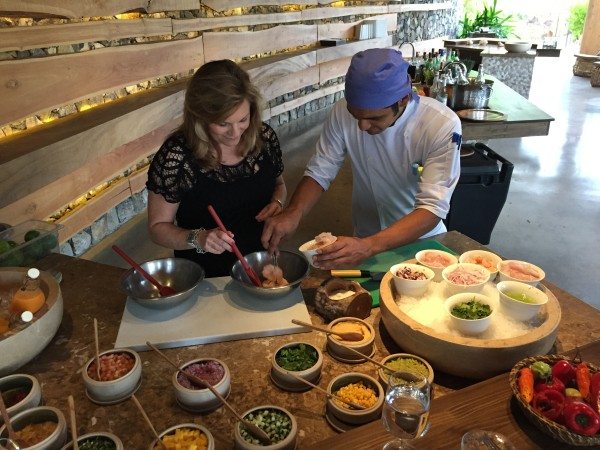 Both Craig and I could choose any combination of these types of fish: Red Snapper, Grouper, Tuna, Octopus, Sea Bass or Prawns. Then we added fresh lemon and lime juice, salt and pepper, cilantro and any of the other colorful ingredients. We mixed it all together and added several tablespoons of the chef's homemade sauces. I don't know how to make the sauces, but I could try based upon the ingredients list. Our Costa Rican recipe for ceviche was unbelievably delicious and so fresh!
Special Sauce Combinations
Mango ~ fried plantain, avocado, rocoto
Spicy ~ jalapeño, panameño, rocoto cream
Classic ~ leche de tigre, red onion, cilantro, cancha corn
Yellow Pepper ~ jumbo corn, lemon, red onion
Caribeño ~ coconut milk, tomato, ginger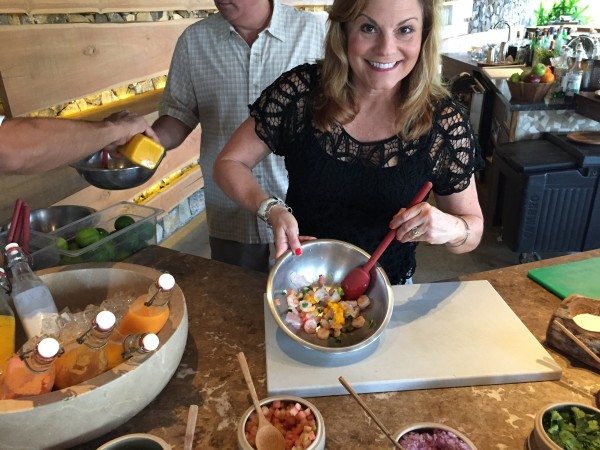 We had so much fun and honestly I did not realize how easy it was to make! After talking with some of the local people, we learned that ceviche is a very common dish to prepare in every Costa Rican household. Typically, they would mix fresh fish, lots of fresh lime juice, cilantro and maybe chopped onion and/or jalapeño. The family recipe is simple and once it was mixed together, they would put it in the refrigerator for about four hours. When the ceviche was ready to eat, they serve it in large bowls, family-style, with tortillas, chips and spoons to catch every drop!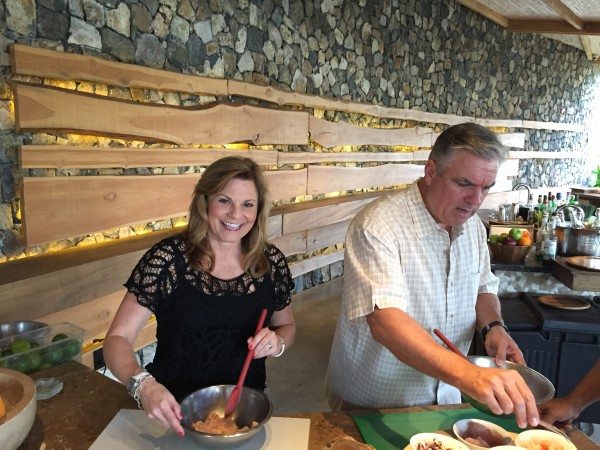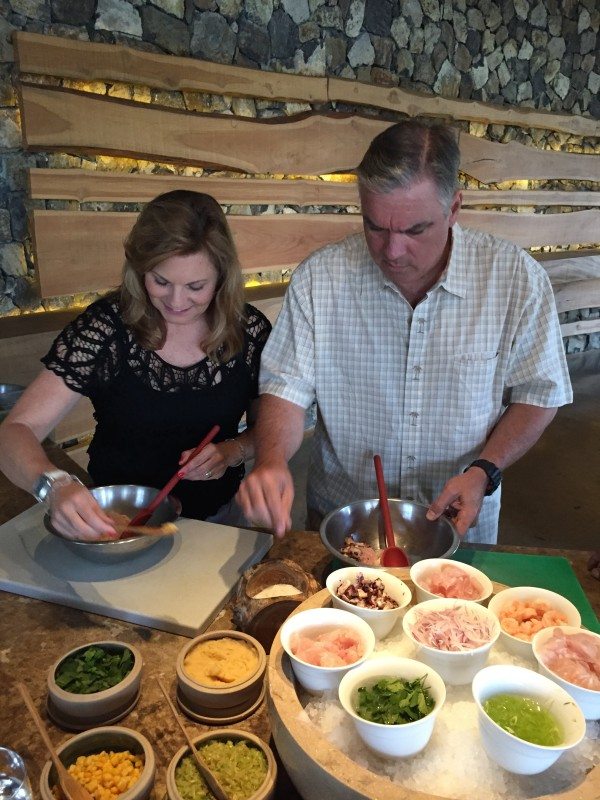 We were served our own personal preparations in gorgeous glass serving bowls after the Chef had placed the perfect garnish on top. While drinking an icy cold Imperial, a Costa Rican Beer, we scooped up our divine ceviche with house made potato and sweet potato chips. Did I say it was delicious?!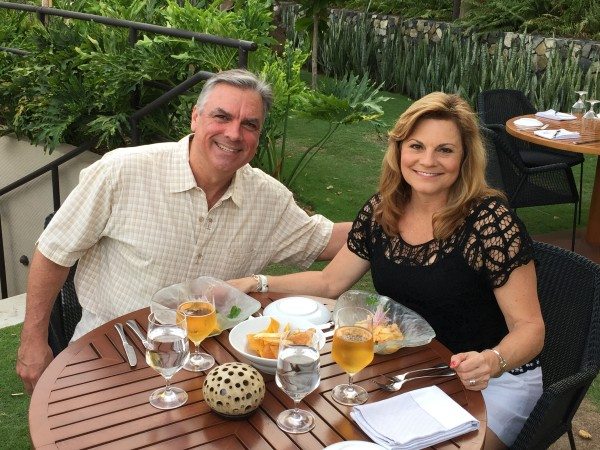 Designed to emulate a personal residence, the exquisite Ostra, is the fine dining seafood restaurant at the resort. The service is impeccable and all of the elegant latin influenced dishes on the menu were out of this world. We enjoyed several romantic dinners there and it felt like we had engaged our own personal chef to create our perfect meal. I am still dreaming of our delicious experience!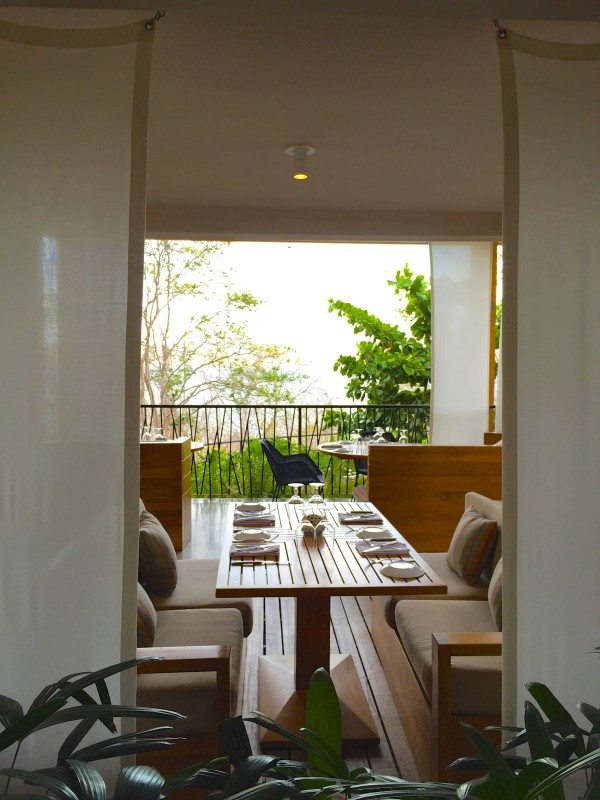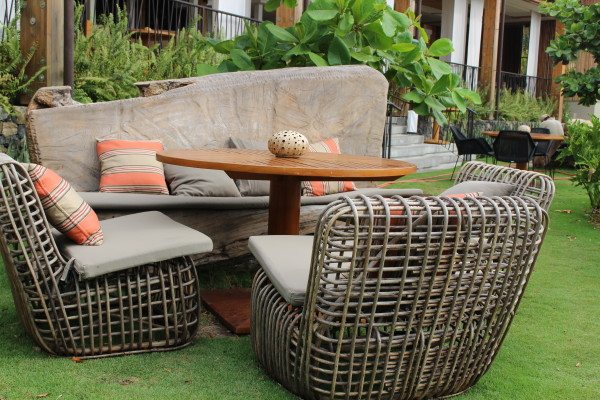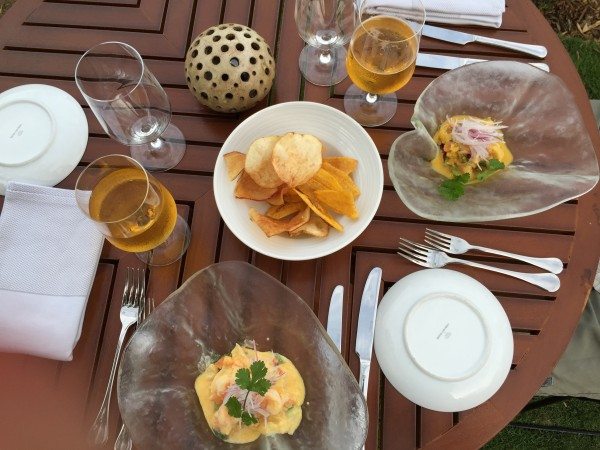 Have you ever made Ceviche?
You can read more about our trip===> Here and Here and Here!
Suzanne