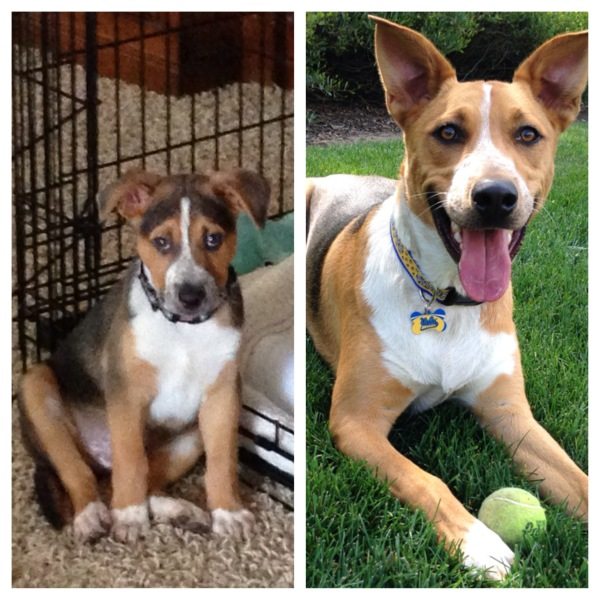 Just about 18 months ago our lives were changed forever for the better. We adopted the adorable Rocco, our German Shepherd rescue puppy. His mother was in a shelter and they discovered she was pregnant and as it turns out she was carrying eleven puppies!
Mom and all of her puppies were adopted and the story had a wonderful ending! Rocco is high energy, sweet, loyal and so smart. Anywhere I go, he goes. We are two peas in a pod and he has added so much to our empty nest.
My little "Bruin" pal always wants to please and cuddle and play ball. I cannot imagine our lives without him!
I wanted to share The Shelter Pet Project with you!
---
 The Shelter Pet Project
Get true, unconditional, fierce, unforgettable love through shelter pet adoption!
Each year approximately 3-4 million pets are adopted from shelter and rescue groups, but 2.4 million healthy and treatable pets still need our help to find a home each year. I'm reaching out to you on behalf of The Shelter Pet Project, a collaborative effort between The Humane Society of the United States, Maddie's Fund®, and the Ad Council, to ask for your support.
The goal of The Shelter Pet Project is to make shelters and rescue groups the first place people turn when looking to get a new pet.
Actress Bellamy Young, who plays First Lady Mellie Grant on NBC's "Scandal," in partnership with the Shelter Pet Project, stars in a new online video featuring her adopted dog Bean and adopted cat Sadie. The video helps break down misconceptions surrounding shelter pets and spreads the word that pets in shelters are wonderful and loveable.
In the video, Bellamy says, "Adoption is very near and dear to my heart" and encourages those who are thinking about pet adoption to take the next step and experience a "love unlike anything you've ever known."
Millions of people are looking to acquire a pet within the next year. I know many of you have already rescued many of these precious pets. Will you help us show potential adopters that they can provide loving homes for shelter and rescue pets?
Visit TheShelterPetProject.org, where you can "meet" shelter pets through an interactive experience, search for a dog or cat from a local shelter or rescue group, read adoption success stories, and learn valuable information about pet adoption.
I want everyone to experience the #shelterpetlove my family has had with our pets.
Learn more here: