Delicious food + handcrafted cocktails + Hollywood = A Creative Culinary Adventure!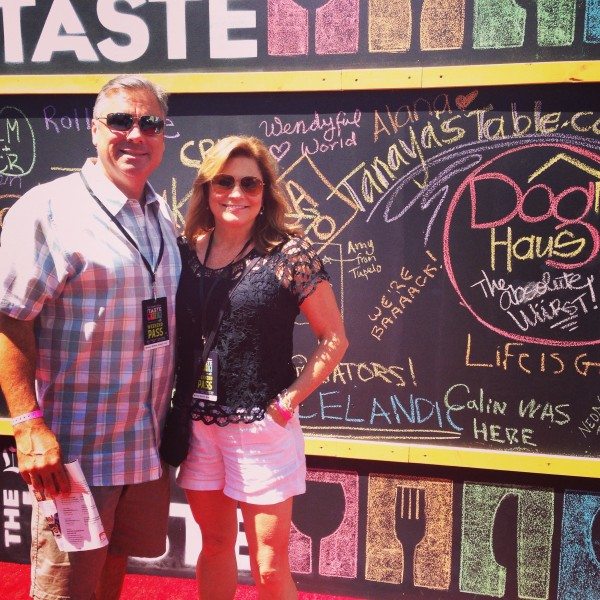 Over the Labor Day Weekend, we enjoyed a special culinary adventure in Los Angeles. The Los Angeles Times event called The Taste, was held on the backlot of Paramount Pictures Studios in Hollywood, CA and was absolutely fabulous in EVERY way. Chefs, restaurants, food writers and mixologists came together to dazzle many curious, culinary adventurers like us! We were served delicious bites of food, sensational hand crafted cocktails as well as tempting wines and spirits. The Los Angeles restaurant community brought the very best to this outdoor festival by bringing it's personal kitchen to all of us!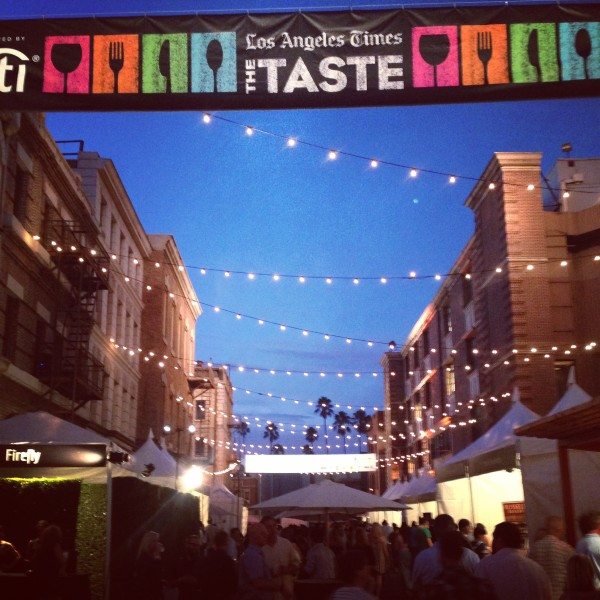 On the streets of old New York on the Paramount Backlot
There were five different events to attend and Craig and I managed to make it to 4 of the 5.  Friday evening was Opening Night and on both Saturday and Sunday there was a day and an evening event. On Saturday we enjoyed Field to Fork: "Indulge in the bounty of California with an afternoon inspired by locally sourced ingredients". Saturday evening was called Dinner With a Twist:"An LA cocktail party on a Hollywood backlot featuring the cutting-edge cocktail culture and unique dishes from the city's hottest chefs".
The spectacular events on Saturday were followed up by Sunday Brunch and Flavors of LA. At Sunday Brunch, we sampled over-the-top breakfast and lunch bites and Flavors of LA focused on the culinary melting pot that is LA. Believe it or not, each event was different and each offered a different variety of restaurants and chef demonstrations. Every event offered something we wanted to try or learn about, we didn't want to miss anything, so we went to four! Yes, we were full to the brim each day, but then we drove back to the Andaz West Hollywood, only minutes away, to get rest and rejuvenated for the evening event. Unfortunately, it was over 90 degrees during the day which added an additional element to the experience. However, there were thousands of attendees like ourselves that didn't care about the weather and continued on regardless of the heat.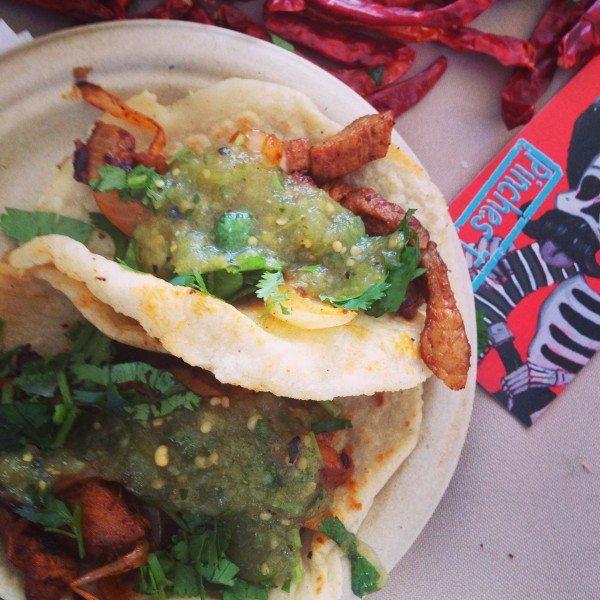 Pinches Tacos – Out of this world!
We have attended this event once before but this year it was even better. Since our son goes to college in Los Angeles, we have taken advantage of the opportunity and spent a lot of time there visiting many of these fantastic restaurants and followed them in the news for updates. Consequently, we were able to pinpoint who we wanted to visit and appreciated this experience even that much more! Watch out San Francisco, LA has elevated it's game and offers amazing food by innovative, award winning chefs. The Los Angeles restaurant cuisine easily rivals any other city we have visited and it is very exiting!
Most major cities have several "foodie" events staged throughout the year and wherever you live or want to travel, make sure you investigate the possibilities. These chefs are artists and craftsmen who offer cutting-edge dining options and coupled with their passion to make us happy, the end result is sublime. Their ultimate goal is to please and entertain us through their incredible skills and delicious food. Can you tell I am a fan?
Each restaurant provided a "bite" of something that exemplified their unique restaurant. Craig and I would often share a bite and we did not visit every booth, there were so many that it was just physically impossible. However, the really nice thing is that there was something for everyone and for every taste or culinary desire, one or more of the chefs fulfilled that need.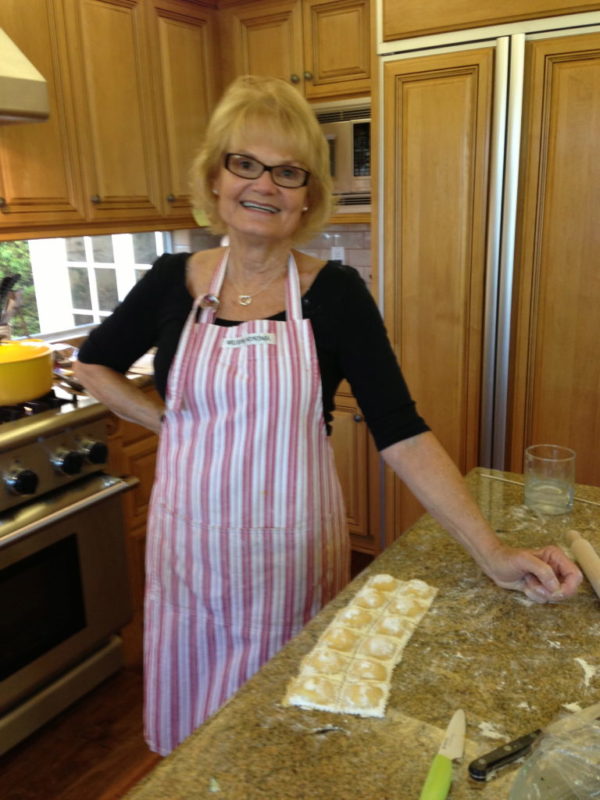 How did they know we loved "adventure"?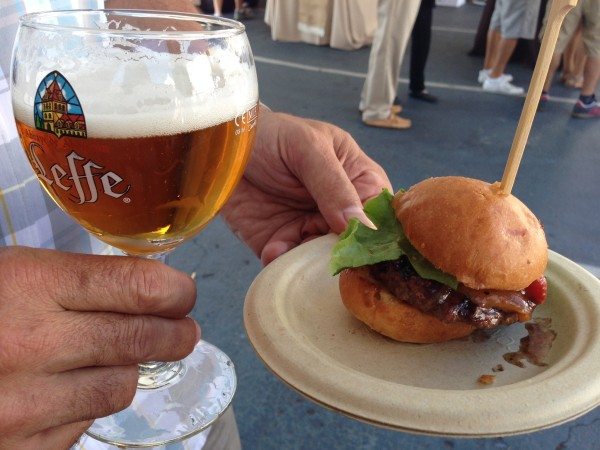 A delectable burger and beer (we got to keep the glass)!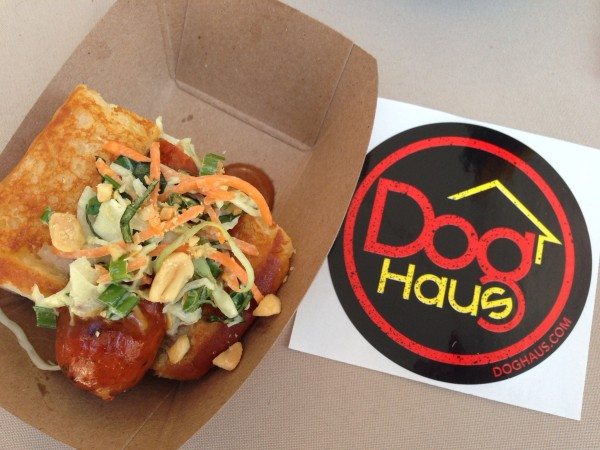 A curry dog from Dog Haus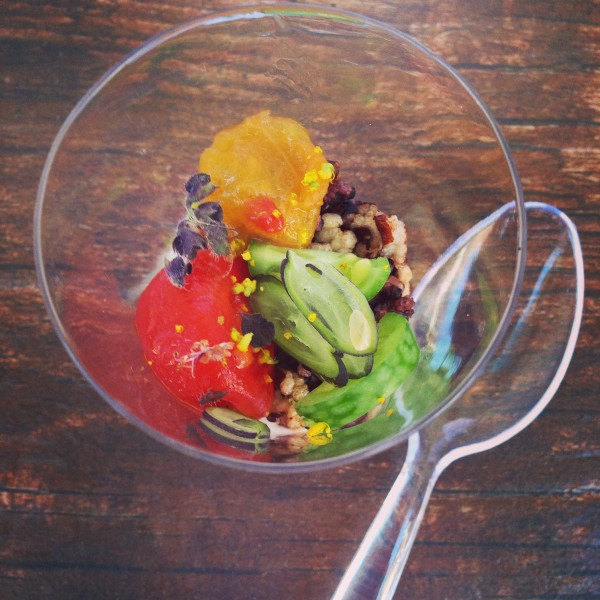 A beautiful and heavenly vegetarian bite from Freshology.
It was too pretty to eat!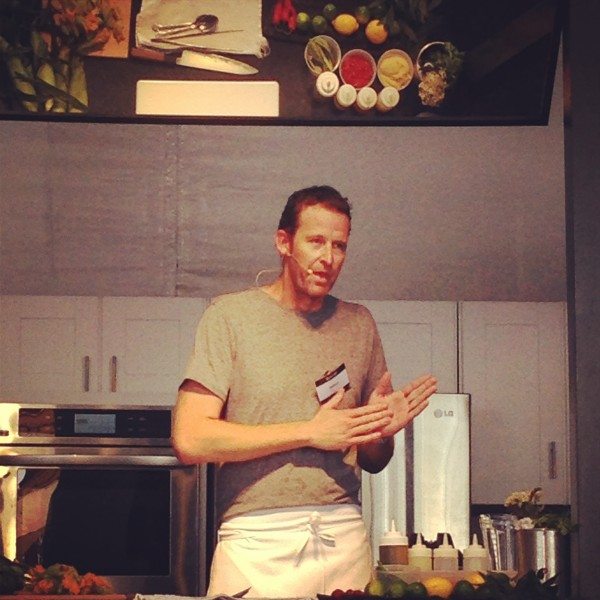 Top Chef C.J. Jacobson
In addition to eating all of the great food, we were able to see and interact with several chefs that I have admired from afar. It was so fun to hear from C.J. Jacobson, a contestant on Bravo TV's Top Chef and owner of Girasol. He was funny, engaging and shared how he felt about food, as well as anecdotes from the show. Craig and I were able to talk with him afterward and he was so easy to talk with and very funny.
We were delighted by a demonstration from Nancy Silverton, an award winning chef, author and restauranteur who recently received the 2014 James Beard award for Outstanding Chef. She is a legend in the industry and yet so approachable, sweet and endearing. It was an honor and a privilege to learn from her in such an intimate setting. She told stories, shared practical cooking tips and I was disappointed when the 45 minutes were up!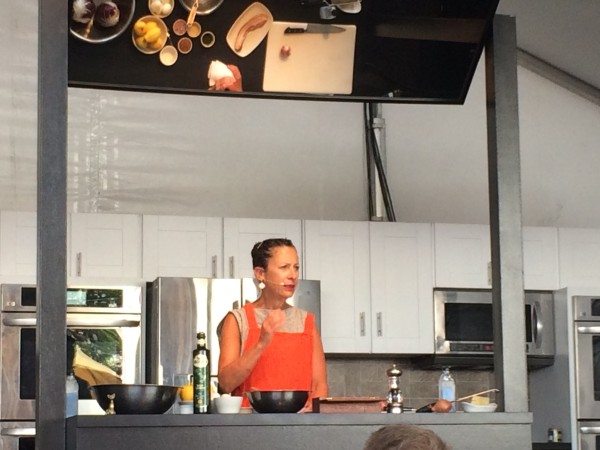 Additionally, another incredible highlight for us was to attend "20 Years of the French Laundry" with Thomas Keller, another legendary chef and restauranteur. Joining Chef Keller on the panel were Jeff Cerciello of Farmshop, David Breeden of The French Laundry, and Timothy Hollingsworth from the Broad Museum Restaurant. Each of these young chefs spent many years at the French Laundry before they traveled on an amazing culinary trajectory launched by their incomparable experience with Chef Keller. The panel was moderated by the Food Editor of the Los Angeles Times, Russ Parsons, who is always charming and spearheads this event. It was a remarkable opportunity to listen to these accomplished chefs talk about their craft and their experiences. I was spellbound and a bit star-struck!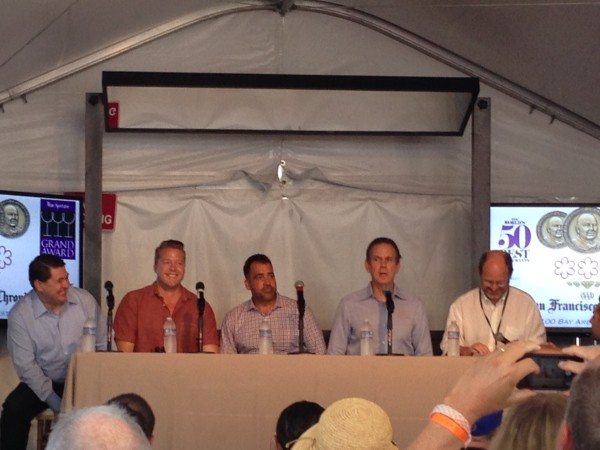 The Chefs Panel for "20 Years of The French Laundry"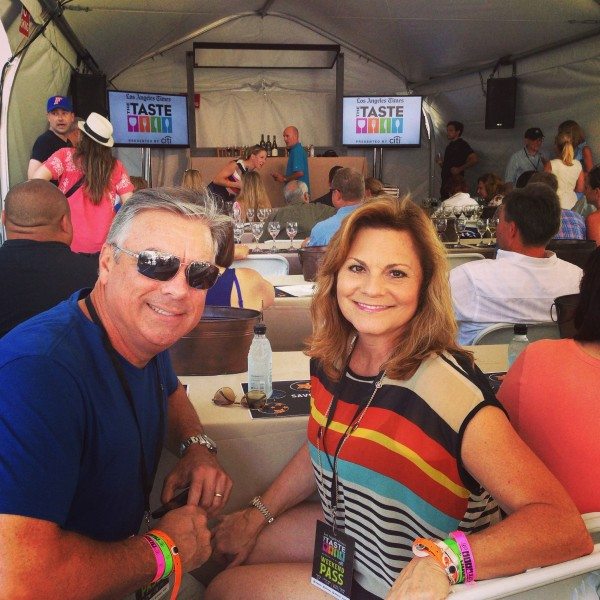 Minutes before The Chefs panel for The French Laundry event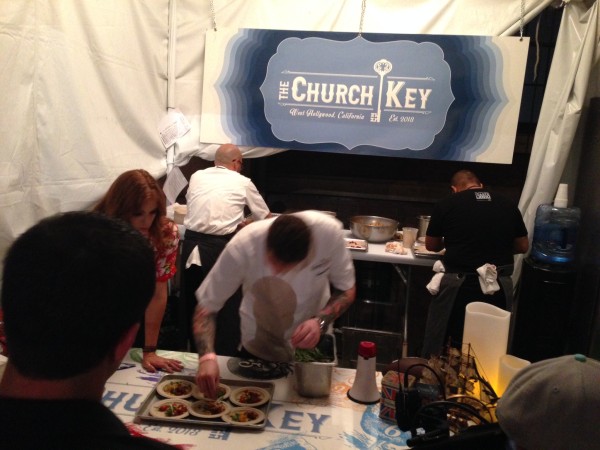 The chef from The Church Key preparing delicious bites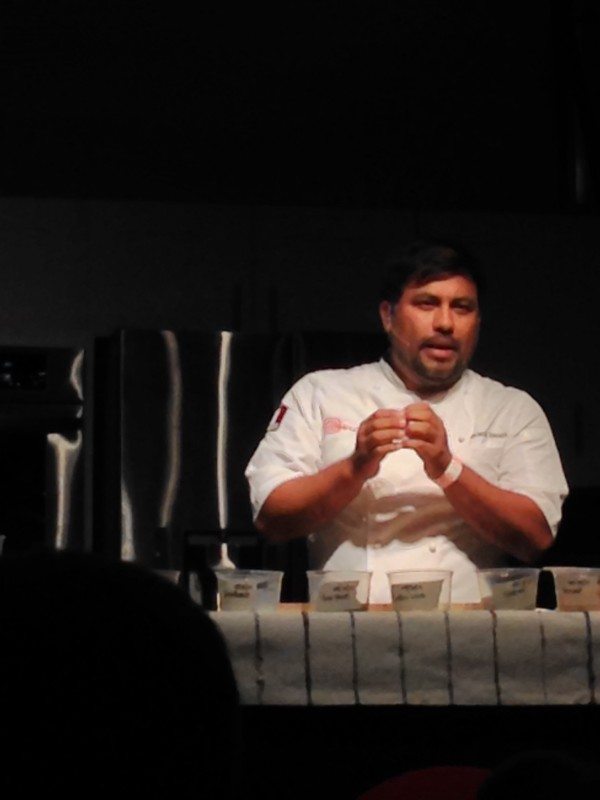 Chef Ricardo Zarate from my very favorite restaurant in Los Angeles: Picca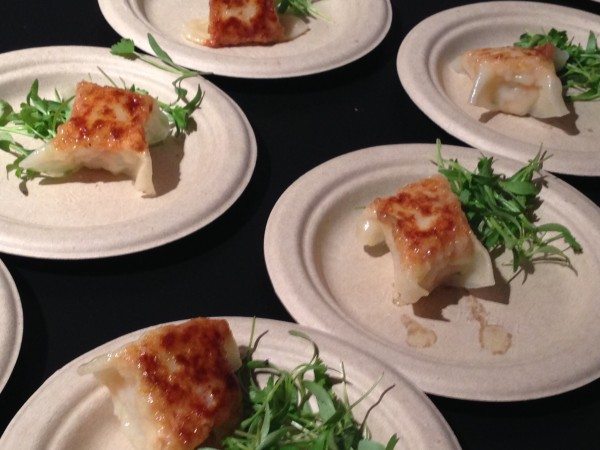 Chef Zarate's delicious dumplings with lobster and shrimp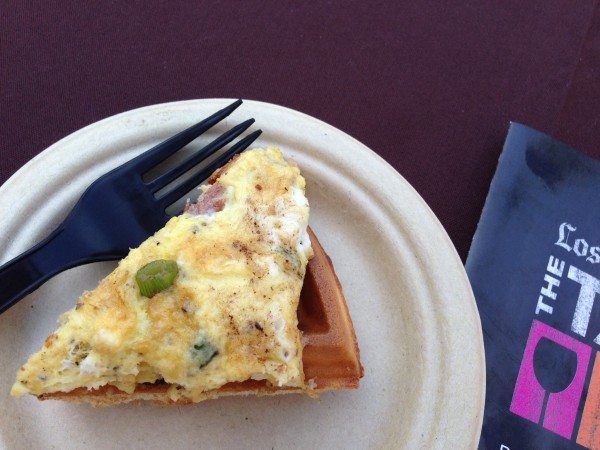 Sunday Brunch: An omelette on your waffle bite – It was seriously good!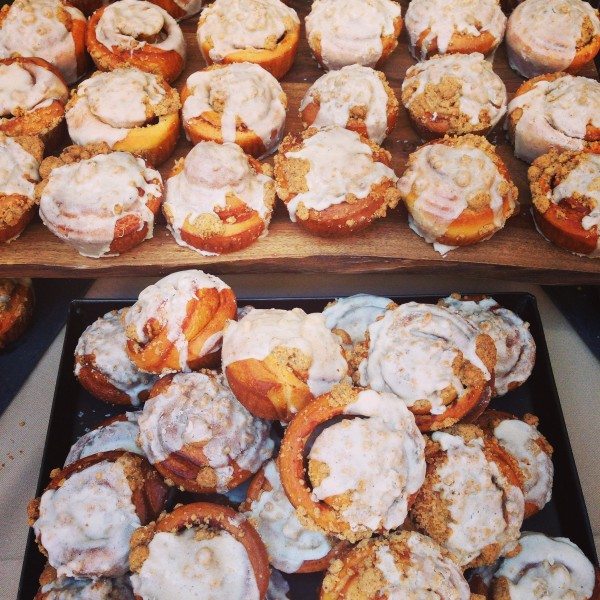 Cinnamon Rolls from Farmshop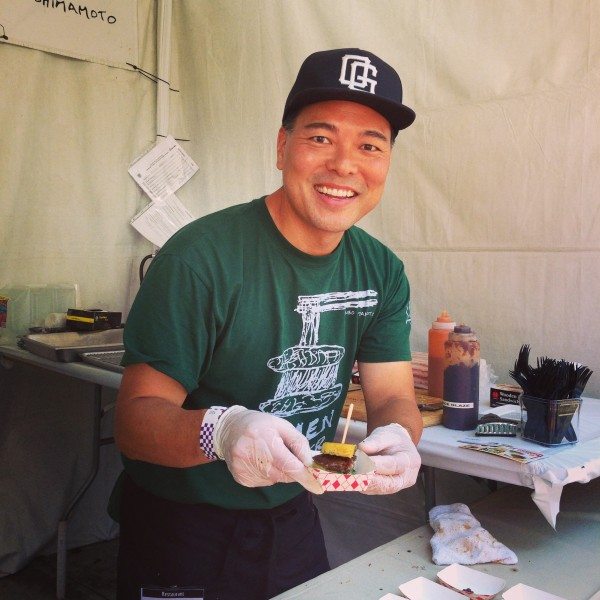 Chef Keizo Shimamoto with The Original Ramen Burger and his million dollar smile!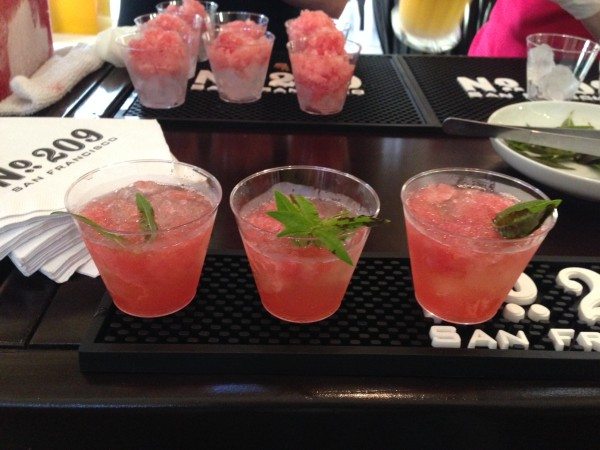 Delicious cocktails made with icy cold watermelon sorbet, lemon verbena and No 209 Gin – DIVINE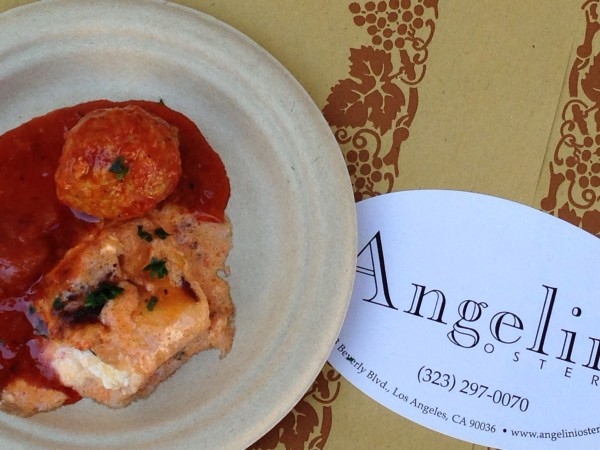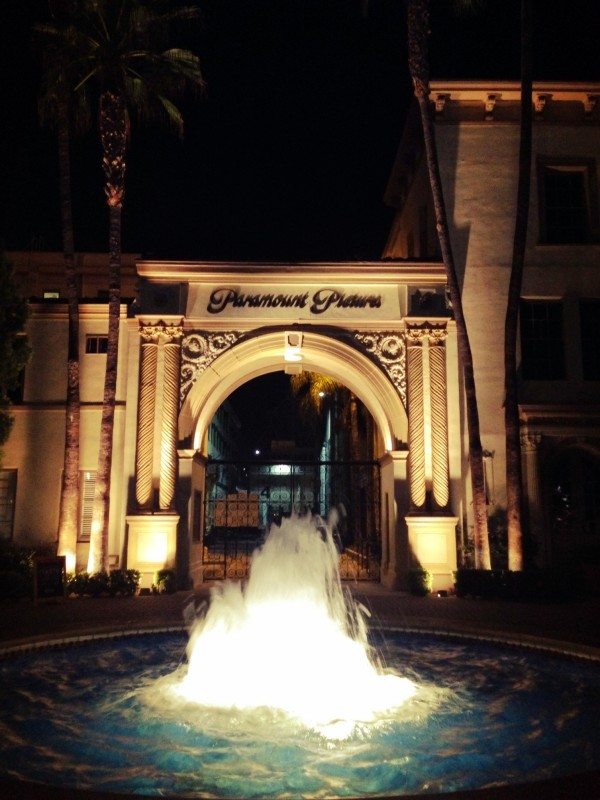 The ending of a perfect culinary adventure in Los Angeles
Have you been to a food festival lately? We would love to hear about it!
Suzanne