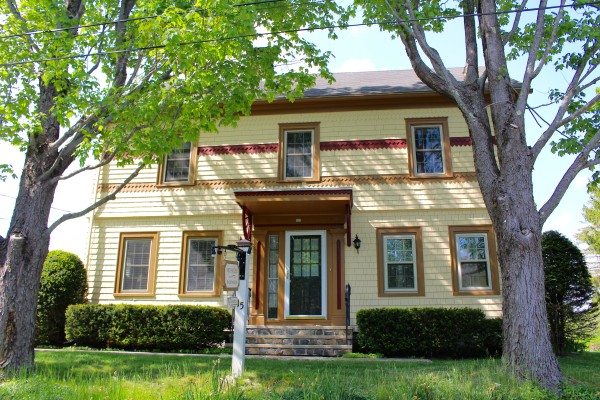 Now that the kids are grown, we can refocus our attention to our own dreams and passions. Planning for the future can be creative and fun! Has the idea of owning a bed and breakfast ever been a fantasy of yours? Part of this particular bed and breakfast dream is living in an enchanting historic home and cooking scrumptious breakfasts on English china for happy visitors. How fabulous would it be to meet new friends from around the world and swap stories? Fortunately for me, I was invited to stay at the 1802 House Bed and Breakfast in Kennebunkport, Maine. My vacation in Maine enabled me to participate in the midlife dream of Teri and Roger. Their adventurous dream that became a reality.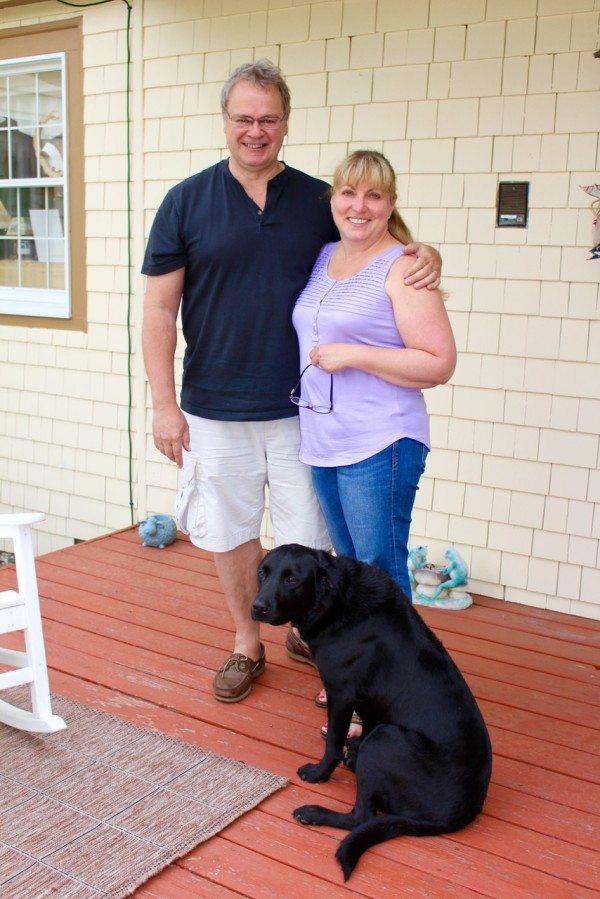 Teri and Roger were my hosts, the innkeepers, chefs, concierge and all-around Maine welcome-wagon. I slept in a comfy four poster bed in a lovely lavender room that still retained most of the original design from the 1800's, like the ceiling wood beams and a historic brick fireplace. Charming!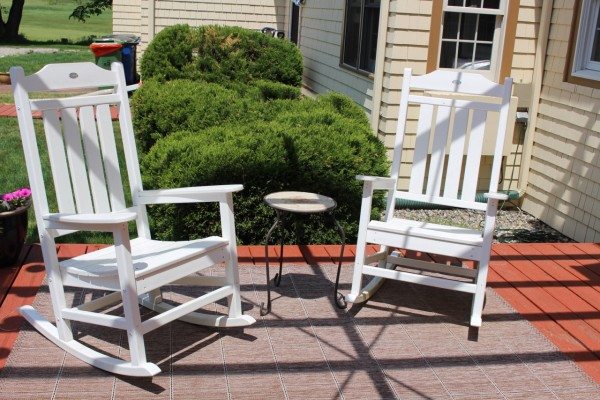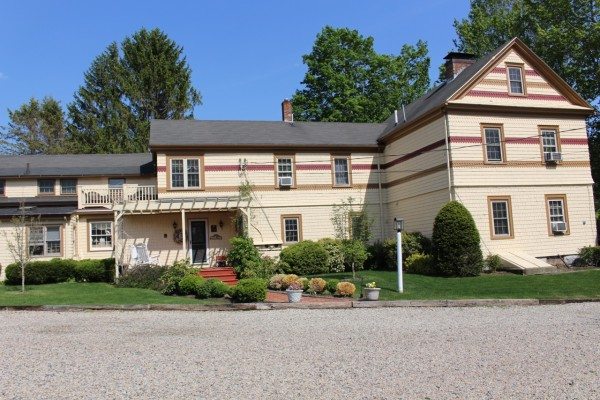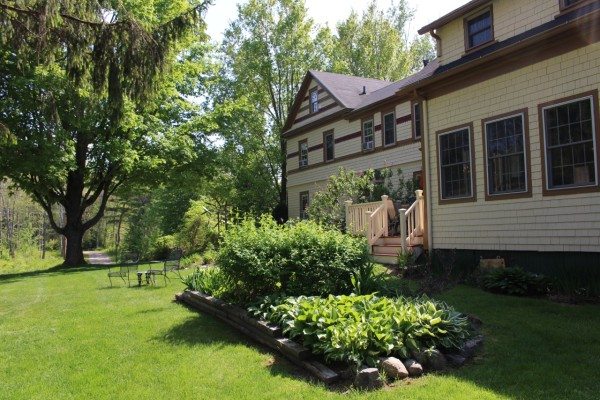 The beautiful 1802 House Bed and Breakfast is a member of the Select Registry Distinguished Inns of North America, has been awarded the TripAdvisor.com Certificate of Excellence, and is a BedandBreakfast.com Diamond Collection property.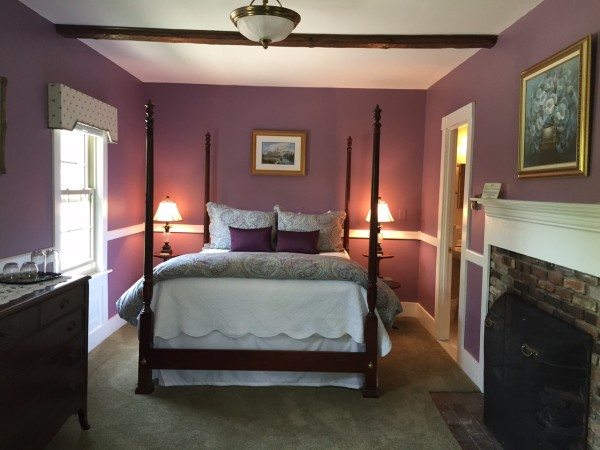 Connected to my room was a well appointed bathroom with a massage shower, large jacuzzi tub, thick, white, fluffy towels and views of a pink, flowering Crepe Myrtle tree and lush green golf course.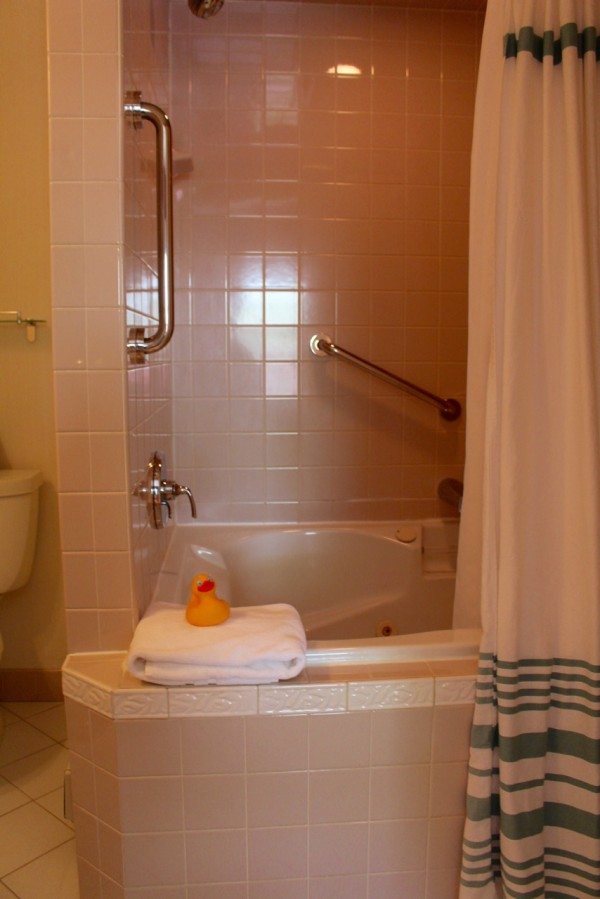 The vegetation is flourishing in Maine due to the extra rainfall and unique climate. In California we are suffering from a severe drought and unfortunately I watch the plants slowly die and our front lawn get more brown with each passing week. I am happy to do my part with water rationing, we even have plans to remake our yard to contain more drought tolerant plants.
Therefore, I was especially delighted to see the vibrant Spring plantings and incredible natural beauty along the river. The Kennebunk River flows right through the center of town and adds to the ultra beautiful landscape. I have been complimented for my picturesque photos of Kennebunkport, but honestly you can take a step in any direction there and take a gorgeous photo! Mother Nature and all of her glory is evident everywhere you look and just steps outside of the 1802 House.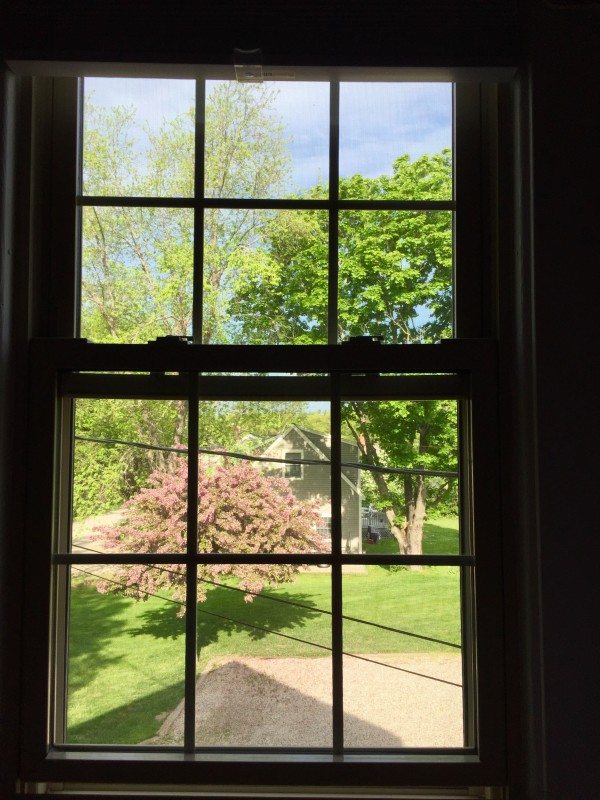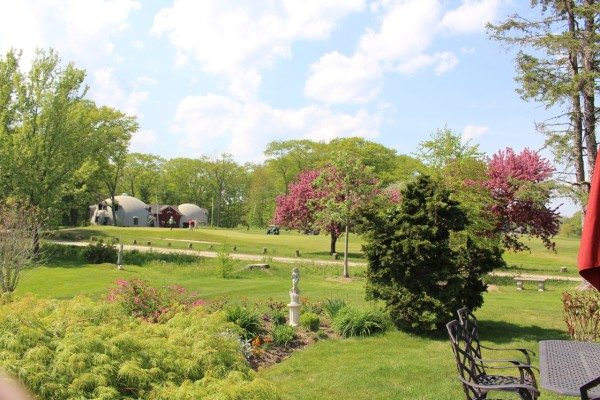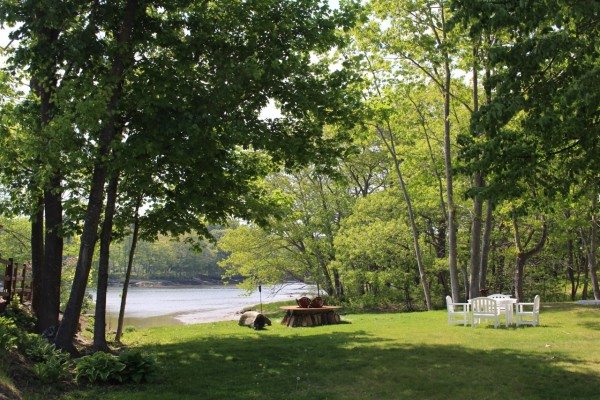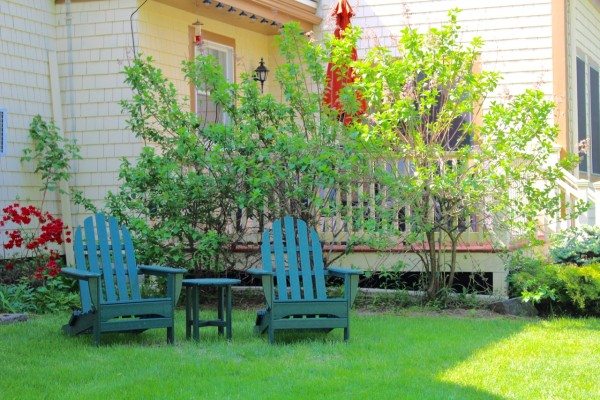 I asked Teri why they decided to make this major midlife career change and move to the United States after living in the United Kingdom for so many years. This is what she shared with me:
Roger and I met in Boulder, CO when we both worked at IBM and he was on assignment.  When we got married, my daughter and I moved to the UK to live (in 1993).  I worked with IBM, Microsoft and Xerox over the 20+ years of my career as an International Marketing Director.  Travelled all over the world and enjoyed it very much, but always had this desire to own and run a B&B in the US.  Roger didn't want to be an innkeeper but is very supportive.  His only condition was that he had his own space.  That was hard to come by.
We were on our first trip to Kennebunkport (Maine – tick!) and fell in love with the area first.  The inn we were staying at told us over breakfast that if we wanted to be innkeepers, there was one for sale down the road.  Came and looked at it that day.  It ticked all the boxes – location, small enough that I could do on my own and beautiful owners quarters.  Flew back to the UK the next day and started to buy an Inn.  Six months later, we were here!  Left the grown children behind in the UK.  Roger has stayed with IBM, but he can be found making coffee in the mornings on the weekends. 
Just had our three year anniversary as owners on May 9th and it's going very well.  We went from number 12 on TripAdvisor when we took over to being somewhere in the top 3 (really tight at the top have spent time as number 1, 2 and 3).  Revenues are increasing year on year, guests are coming back, getting new guests all the time.  Love it all!
Isn't it fun to live vicariously through their adventure? For Teri, running the inn doesn't feel like a job, it is a delightful challenge. She spoiled me with homemade pumpkin bread, Eggs Benedict (her lighter version) a mango smoothie, and baked egg dish with sautéed mushrooms with a the hint of spicy barbecue sauce. Walking downstairs every morning to see the table set and her waiting to make my tea made me feel so special. I loved it!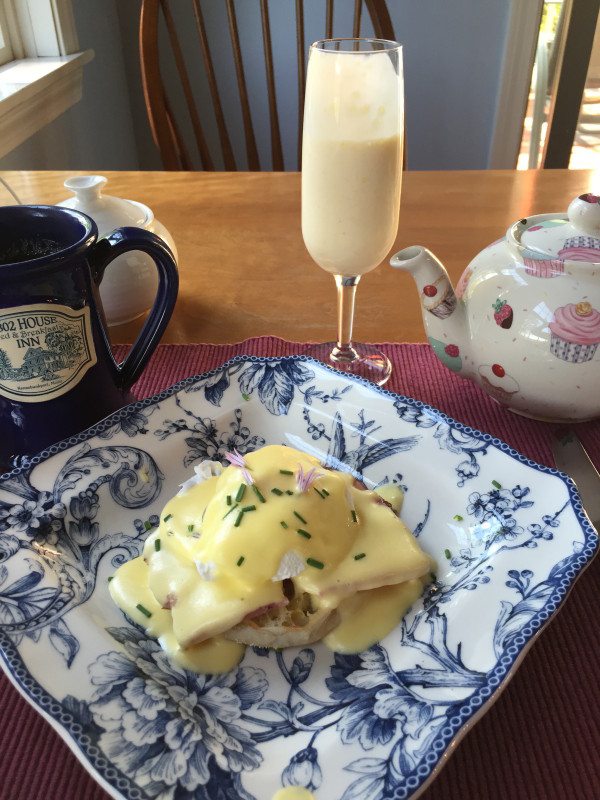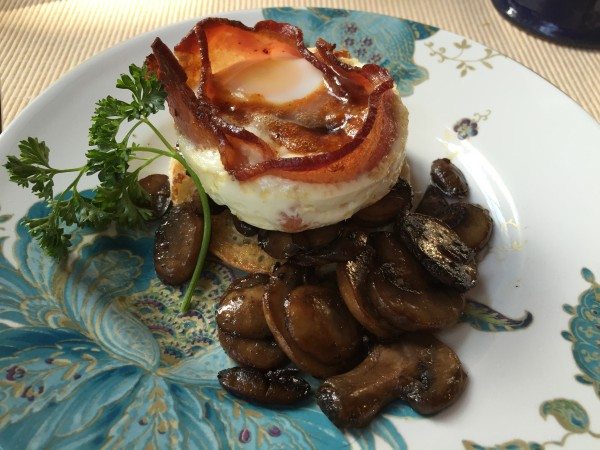 The pièce de résistance was Teri's own version of the Maine Lobster Roll. Since she did not grow up in Maine and wasn't tied to a family recipe, she wanted to experiment with the traditional recipe and add her own special touch. Those rolls were out of this world, everyone loved them. Teri kindly shared the recipe with us, but be forewarned, Maine lobster is better than any I have ever tasted. So if you make them with lobster other than Maine lobster, the result may be a little different, but still delicious.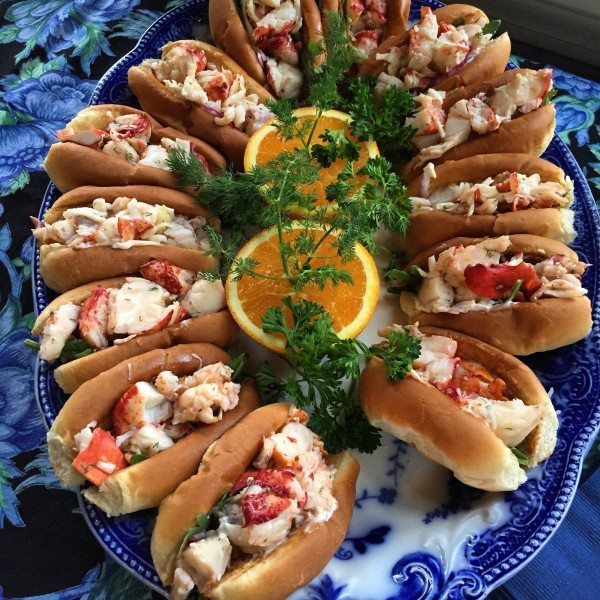 ---
1802 House Lobster Rolls
We don't come from Maine, so when we decided to create an 1802 House lobster roll for the annual Historic Inns of Kennebunkport garden parties (a Taste of Maine theme), we came up with a not-so traditional version. Guests and Mainer's alike love it though so we've stuck with it.
New England Style hot dog buns (we use club rolls for our mini version)
Softened butter
2 pounds cooked lobster meat
1 lemon, zest finely grated and juice set aside
1 teaspoon finely chopped dill
½ cup mayonnaise
½ teaspoon Sriracha sauce
Red onion, sliced thinly
Baby arugula
Cut your rolls open, butter lightly on the inside and toast to a golden brown on a griddle.
In a large bowl, combine bite sized lobster meat chunks with 1 teaspoon finely grated lemon zest, the juice of one lemon and the chopped dill. Toss well to mix thoroughly.
In a small bowl, combine the mayo and sriracha sauce. The amount of sriracha can be adjusted to suit your tastes. We keep it mild with only a little heat so you get the flavor of the chili but not too hot.
To assemble, take your toasted roll, spread mayo over it, add a couple slices of onion and a few pieces of arugula. Heap the lobster meat on top.
ENJOY!
---
My adventure at the 1802 House Bed and Breakfast was a highlight of my trip to Kennebunkport, Maine. You can read more about my trip on my post "A Postcard Perfect Vacation to Kennebunkport Maine".
So when do you plan to go? Let me know and I will alert my new friends in Kennebunkport!
Suzanne
Check out our new Find Adventure Luggage Tags! They are the perfect solution to make your black bags stand out in a crowd.