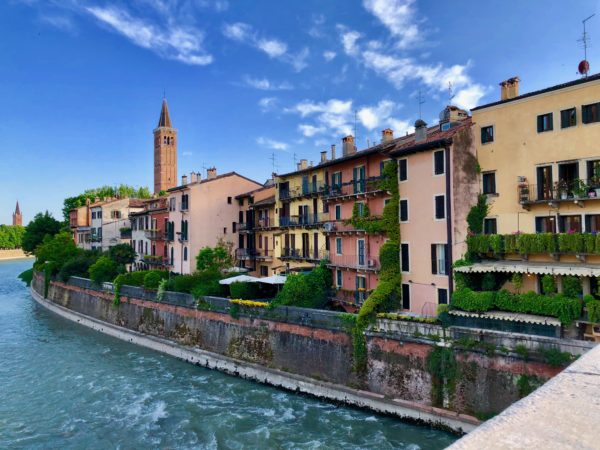 A Visit to Verona –  Absolutely!
When you decide to take trip to Italy, cities like Rome, Florence and Venice come to mind immediately, don't they? However there is a glaring omission from this list under the title of spectacular Italian cities and this charming city is Verona.
I have been to Italy six times and once each of the past three years. This is not to boast but to share that Italy draws you close like a magnet and leaves a lasting impression.I just can't stay away! My hope is that everyone should visit, at least once many times.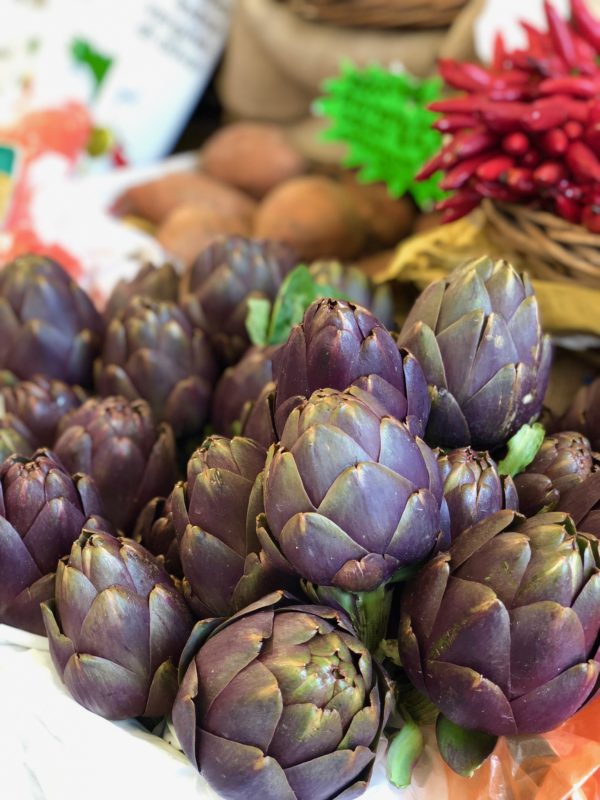 Some of what I love about Italy
The food is some of the most divine in the world and there is much more to Italian food than pizza and spaghetti. You cannot imagine how different Italian food can taste until you sit down in a small town in the Veneto Region where the artichokes were picked on a farm nearby, the tasty local cheese is organic and the olive oil came from the groves of a local family just minutes away.
I love this about Italy. The Italians are proud of their local regions and the foods that come right from home. They adhere to strict guidelines when creating cheese, olive oil, wine and sparkling wine, as well as many other products. Farmland is precious, family is the most important component of life and Sunday dinner is sacred.
I grew up in an Italian family and our gatherings were epic. Pasta, Italian cold cuts and antipasti salad always accompanied traditional American Thanksgiving and Christmas dinners. I have been happy to continue these traditions with my own family as well.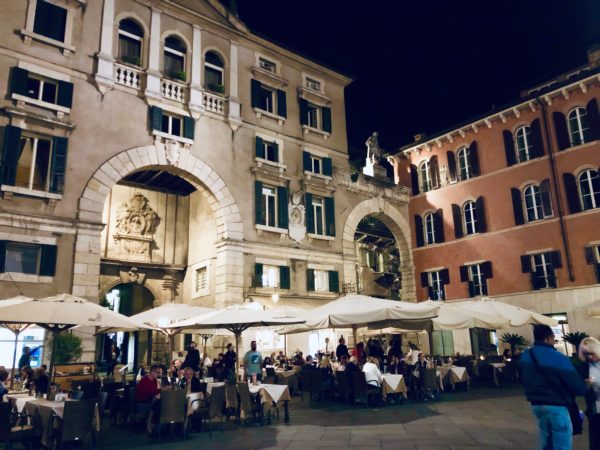 Let's talk about Verona
Verona is intriguing to many and made world famous because of the star-crossed lovers of Romeo and Juliet. However, this Shakespearean tale is a rather touristy aspect of the city and one that I did not pay too much attention. To me, this splendid medieval city was bursting with incredible architecture, a long, interesting history and the lifestyle there is enticing.
From the moment we arrived, Verona impressed me. Our tour focus was on the local foods and dishes of the Veneto Region of Italy. Verona is located in the North of the famous Italian boot and this region offers so much to see and experience.
It was Spring, the trees were lush, we endured only a few sprinkles and the tourist quotient was low. Verona is small enough to walk about easily, but large enough that you would never run out of things to see. I was there for three nights and I still wanted MORE. The air was rich with delicious smells from bakeries and delis, I watched the local Vernonese walking to the market, eating gelato and relaxing in cafes on the piazza.
The highlights of our visit to Verona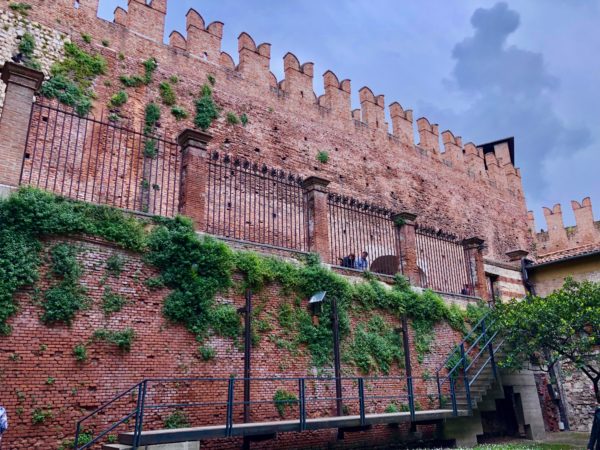 Castelvecchio
The Castelvecchio or "Old Castle" is the most important military construction of the Scaliger dynasty that ruled the city in the Middle Ages. Built of red bricks, it has seven towers and at one time was surrounded by a large moat. Being from Los Angeles and the land of Hollywood, I couldn't help but think that I was standing on a movie set. We climbed to the top walkway and looked out over the river Adige and castle bridge. It started to rain which made for a great photo op!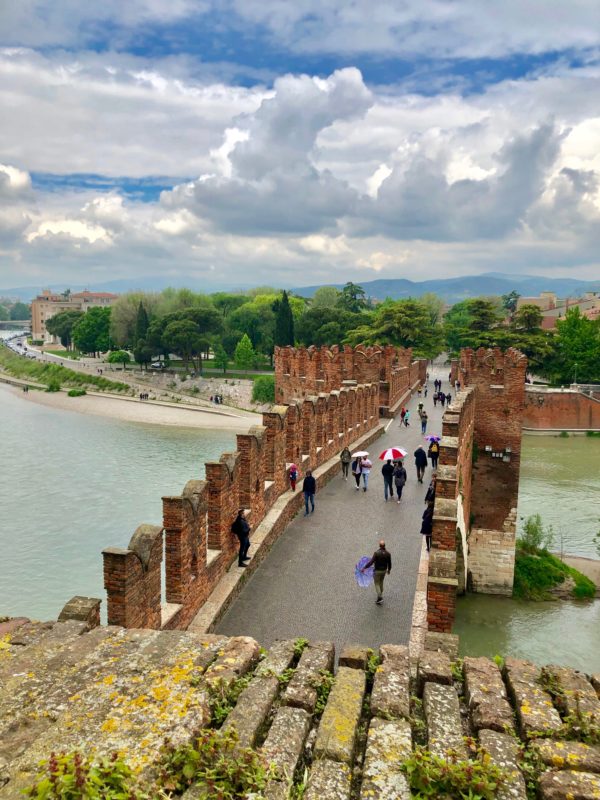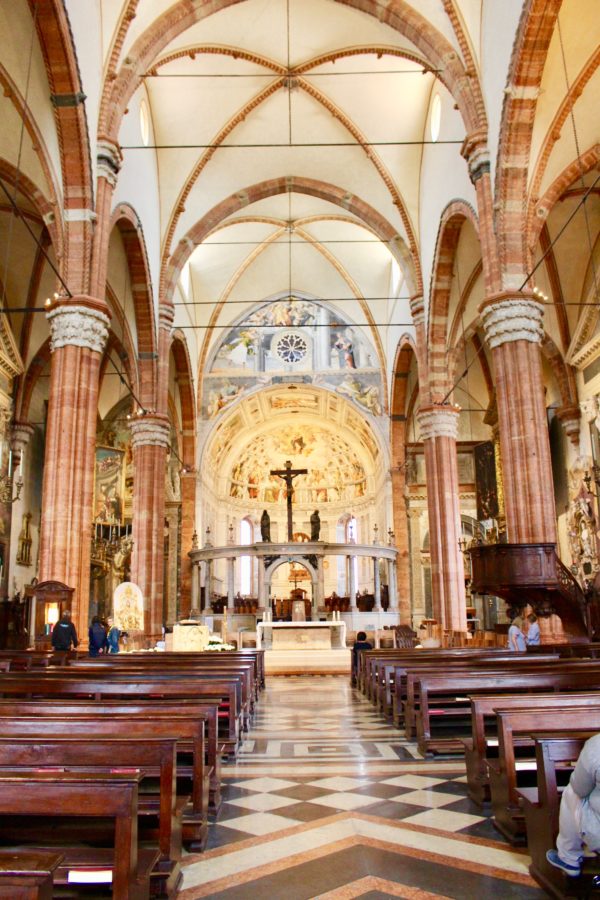 Verona Cathedral
The cathedral consists of a series of buildings and is dedicated to the Virgin Mary. With the tourist numbers low in the Spring, I was able to wander and sit and marvel at this vibrant color palate and tile mosaics. It was an unexpected highlight for me.
Piazza Delle Erbe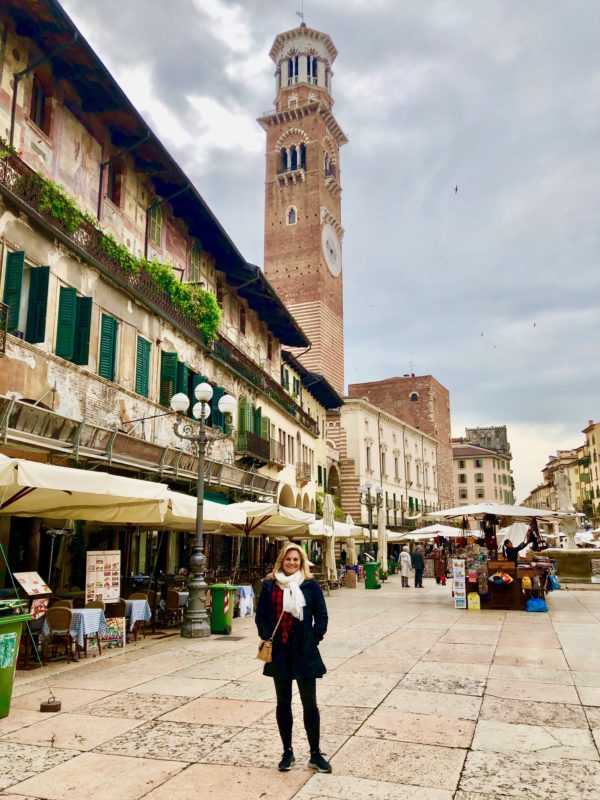 This is the primary market square that all visitors gravitate to most and where the famous Torre Dei Lamberti towers high above. This piazza was vibrant with lovely cafes and small shops. As we strolled through, we nibbled, we shopped and we admired.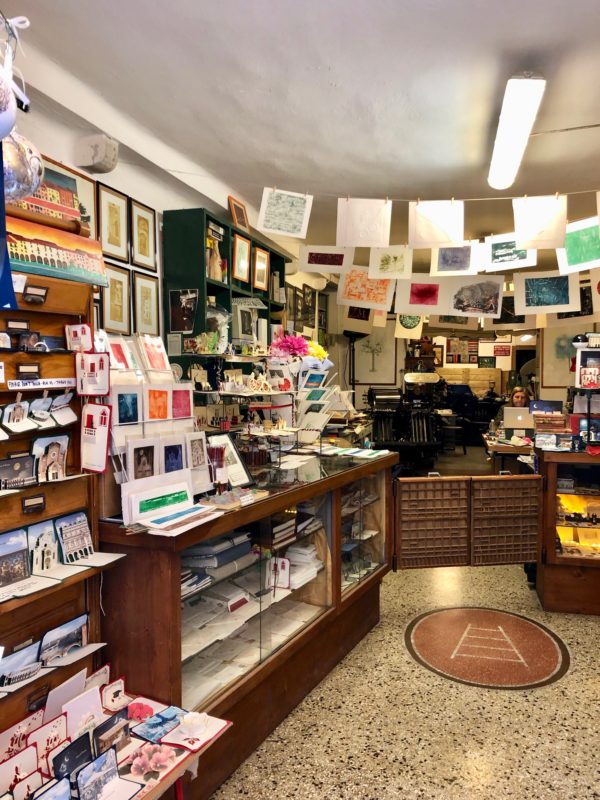 Antica Tipografia Artistica
In addition to the obvious must-see stops, our tour guide wanted to show us some very unique local history. We crammed inside Antica Tipografia Artistica, a room/store/museum full of historic printing presses and thousands of old printing blocks. To get this close to these antique inventions was special and the handcrafted cards and art pieces were stunning.
Arena di Verona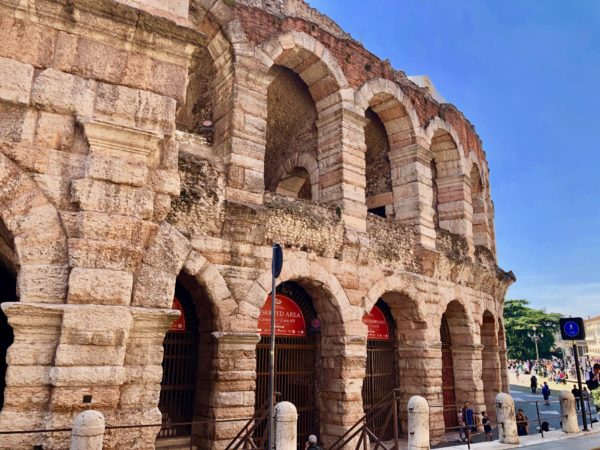 This Roman Amphitheater was built in 30 AD and much better preserved than the more famous Coliseum in Rome. The Arena is actually older than the Coliseum by about 50 years and it is now used as the location for the Annual Summer Opera Festival. The regal red curtains created such a rich theater atmosphere in an ancient structure. Never seen anything like it.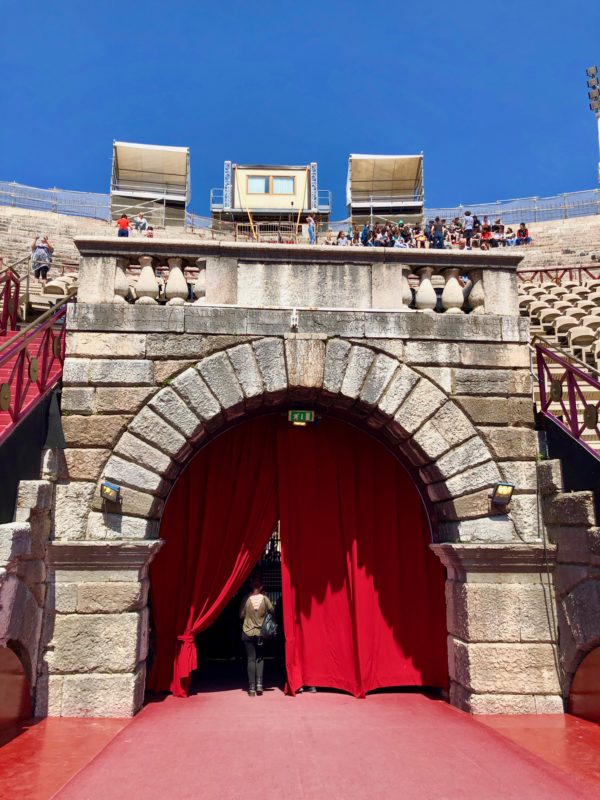 Romeo & Juliet
Follow the crowds to find the place where Juliet's balcony hangs over the alley. The crowds are enormous, so I would recommend getting up early to go take a look to beat the love-hungry crowds. I didn't take a photo; the area was too congested.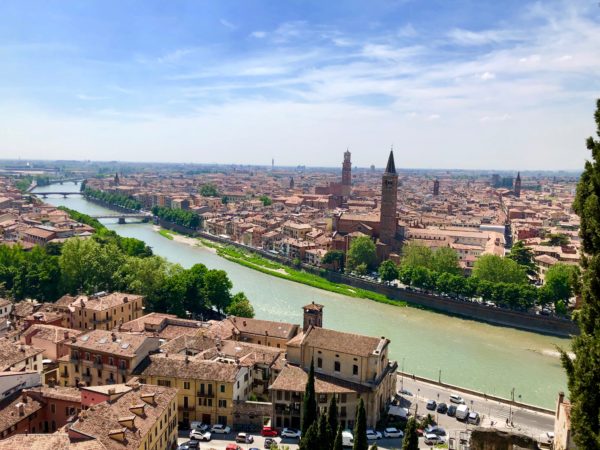 Castel San Pietro
Although I enjoyed every aspect of the city, my hike to the top of Castel San Pietro was my favorite adventure. I walked up to the castle to see the panoramic views of the terracotta tile roofs of Verona and Adige River. There is a newly renovated funicular for those who don't want to walk. I rewarded myself with a refreshing gelato cone when I made it back down the hill.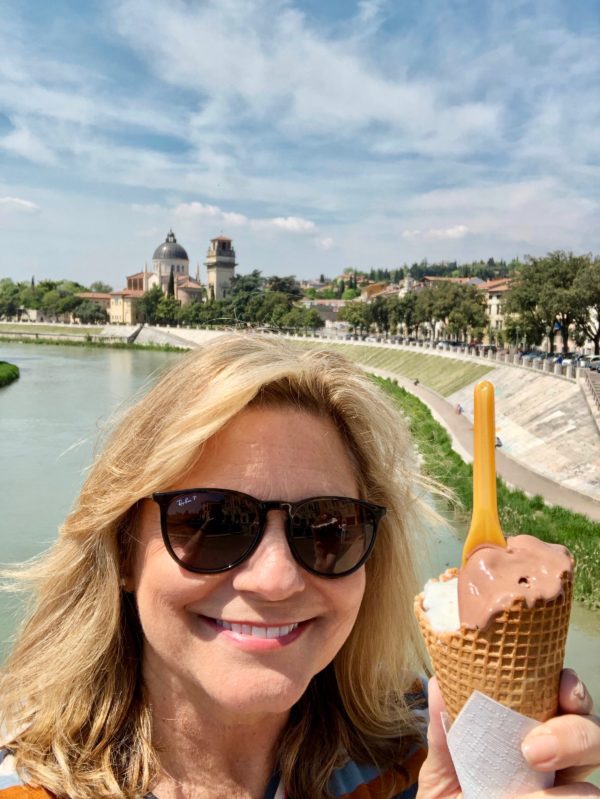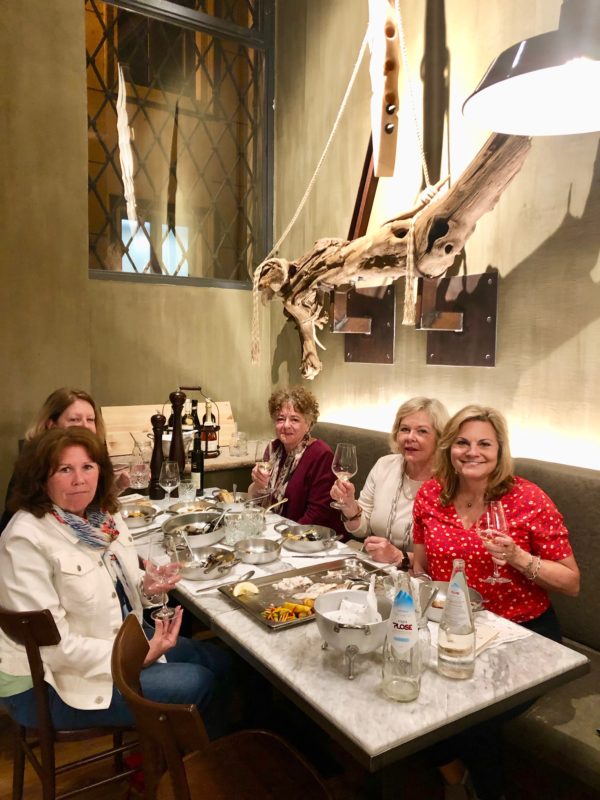 Dine!
We ate at several lovely restaurants but one in particular was especially personal. I joined several of my fellow tour mates and dined at Piscaria Vino & Cucina de Mare. Not only was the restaurant design fabulous, but this seafood restaurant was conveniently located just across from our hotel. They keep the fresh fish on ice in a case in the entry for you to peruse, the staff is fantastically friendly and the food was wonderful We had a blast!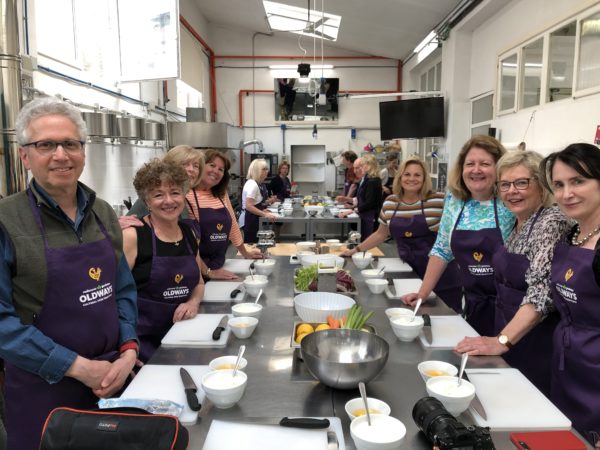 Cooking school
During our culinary tour of Veneto, we attended an extensive (in a great way) cooking class with three chefs who joined us from Boston. E Cucina in Verona opened their doors for the American chefs to take over and teach us new recipes and helped us hone our kitchen skills.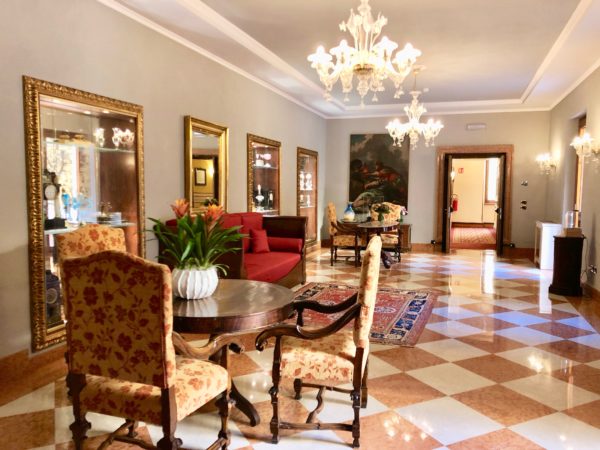 Hotel – Due Torri Hotel
We stayed at the Due Torri Hotel and I could not imagine a better experience. First class all the way. Hotel design makes me happy and the lobby here is to die for. My room was large and decorated with heavy scarlet drapes and the marble bathroom was gorgeous. The lobby offered unique elegance and was the perfect spot for an Aperol Spritz, my newest cocktail obsession. Presented in a tall stemmed wine glass, this drink is refreshing, sweet, but not too sweet and totally Instagram worthy.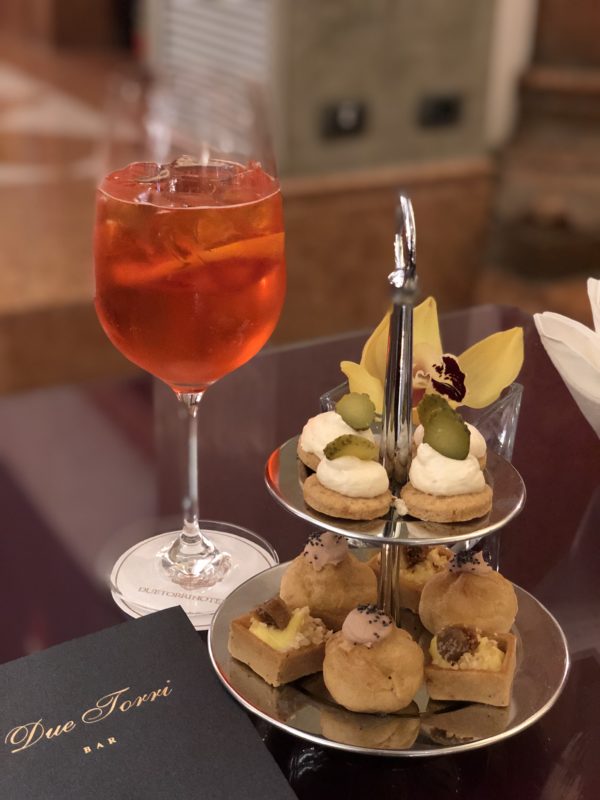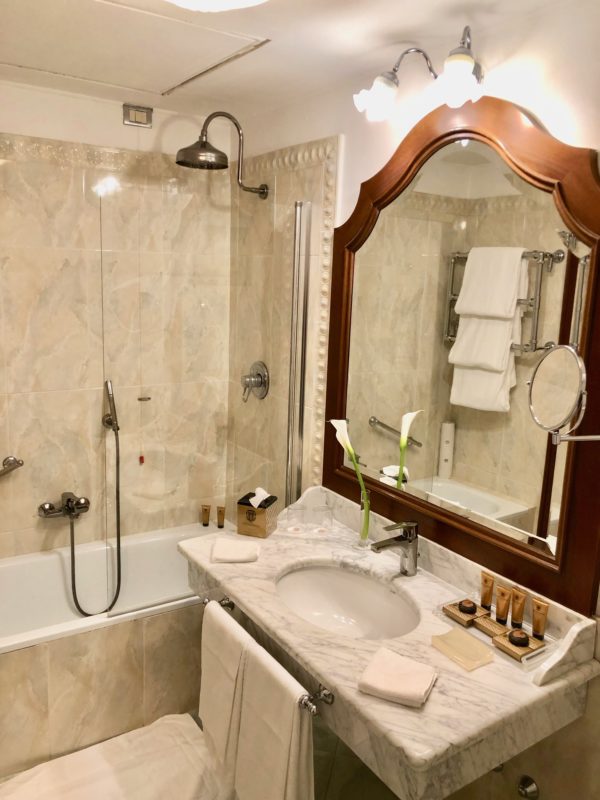 Travel offers another way to learn history
I don't know how you feel about joining a local tour, but they are a must do on my travel itinerary. It's like visiting a famous art gallery without listening to the audio explanation on headphones, you miss all the good stuff! Our guide Valeria of Tours By Locals is local to Verona and her captivating commentary took us through historically significant locations, where the origins of the city began, how the river affected the city, plus many other juicy tidbits.
Final thoughts on my visit to Verona
You may be enamored with the idea of Romeo and Juliet and I am a romantic at heart too, but Verona offers so much more. It is an easy day trip from Venice if you are short on time, but Verona is the kind of place that needs more time. I really think I could live there. Yes, really. If I can't stay and live there, then I would stay a few days more and sit back in a café and watch the strolling pedestrians, or sit by the river, enjoy the opera, or climb the Castle San Pietro steps again and take in the expansive view.
My host, Oldways worked with Valeria for our tours of the city and her professionalism, knowledge and delightful personality will give every visitor special insight in to this lovely little city that you could never find from reading a guide book.
Let me know when you when you plan your visit to Verona!
More posts from my culinary tour of Italy:
My Custom Made Adventure : A Culinary Tour of Italy
A Cheese Glorious Cheese Tour – Italian Cheese is the Best
Let's connect over on social media here ==>  Follow us on Twitter, like us on Facebook, check out our photos on Instagram, or pins on Pinterest
---
Save to Pinterest!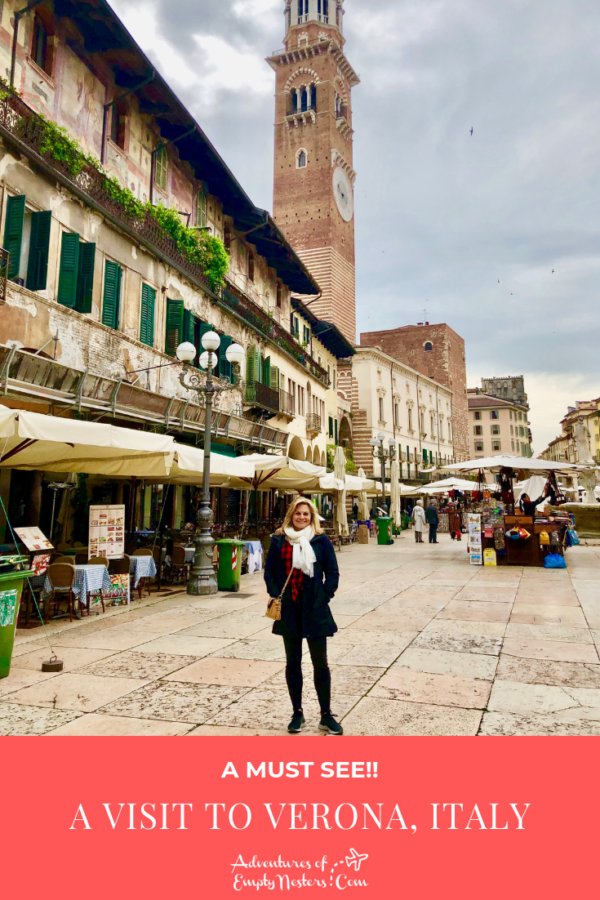 ---