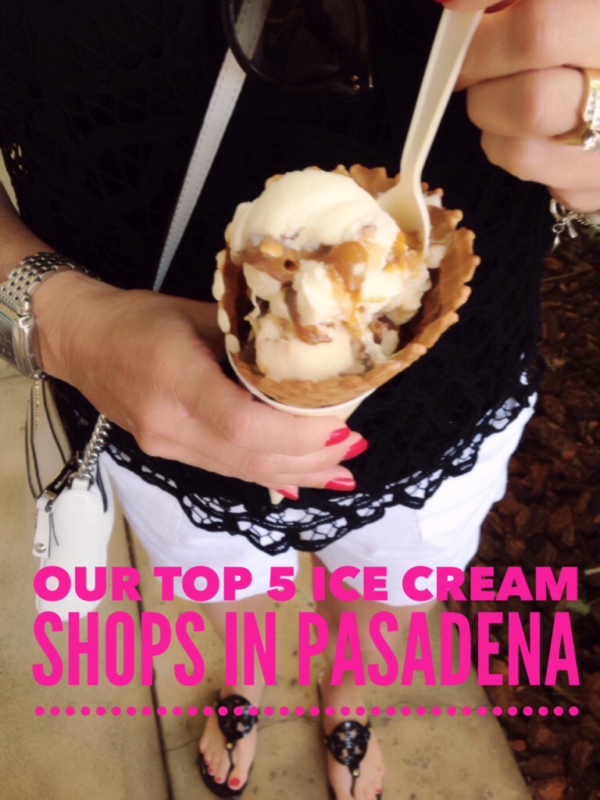 How to choose the top 5 ice cream shops in Pasadena? Although it was a pretty hard job, someone had to do it.
Summer is synonymous with ice cream, beach picnics, lazy days, pool parties, and so many fun activities we seem to save just for summer. Why is that? Why can't every week feel more like summer? I realize that the weather dictates this thought process, but from a dreamer's perspective, I vote for summer day activities all year long.
I plan to make more time for leisurely magazine reading, barbecuing, eating lots of fresh fruit, drinking cocktails on a Saturday afternoon and enjoying a little more ice cream!
Craig and I both grew up near Pasadena and when we were teenagers the downtown area was nothing like the hip, artsy, restaurant and great, food-driven town that it is today. Now visitors come from around the world to soak up little So Cal summer and enjoy the tasty treats offered here.
We gladly volunteered to taste test a handful of ice cream shops around the city. We wanted to determine our choices for the top 5 ice cream shops in Pasadena. I can attest to the authenticity of this report! LOL
I give each of these winners of the top 5 ice cream shops in Pasadena a 10. This was a super fun exercise in dessert happiness! We went with an open mind and no previous ice cream judging experience. The best part of this "research" besides tasting it, was ultimately understanding that each ice cream establishment offered its own unique take on ice cream. All were sweet, creamy and divine. To rank them would be a daunting and unnecessary task. Read the descriptions and decide where to go based upon your favorite way to eat ice cream. Or the better idea? Go to each of them and live it up, because after all, it's just ice cream!
Here are a few of our observations ~
They offer artisan ice cream in a cup as well as the famous Milky Bun. This tasty refreshment is a gently-warmed donut, sliced in the middle, stuffed with handcrafted ice cream with additional fabulous crunches inside. A-mazing! The actual shop is a renovated and adorable old filling station. There is plenty of room to sit, eat ice cream and soak up the nostalgia.
With 15 flavors and names like Cookie Butter, Milk & Cereal and Banana Walnut Fudge, the people from Afters believe: "Ice cream is cheaper than therapy" – I whole heartedly agree!
They have nine locations in Southern California and are VERY popular! Our daughter, who lives in Seattle discovered them on Instagram. Their photogenic ice cream teases you and makes you want to find one nearby. Lucky for us, a new store in Pasadena opened recently.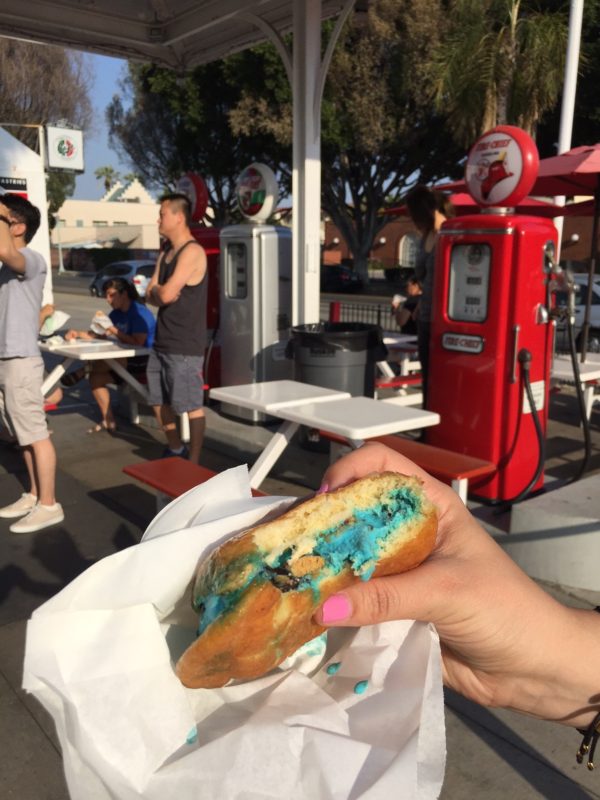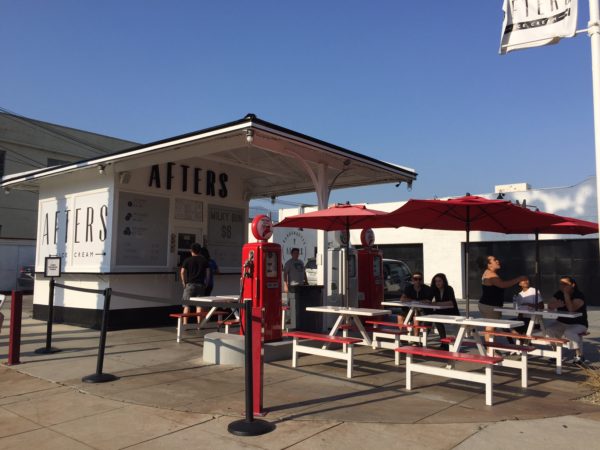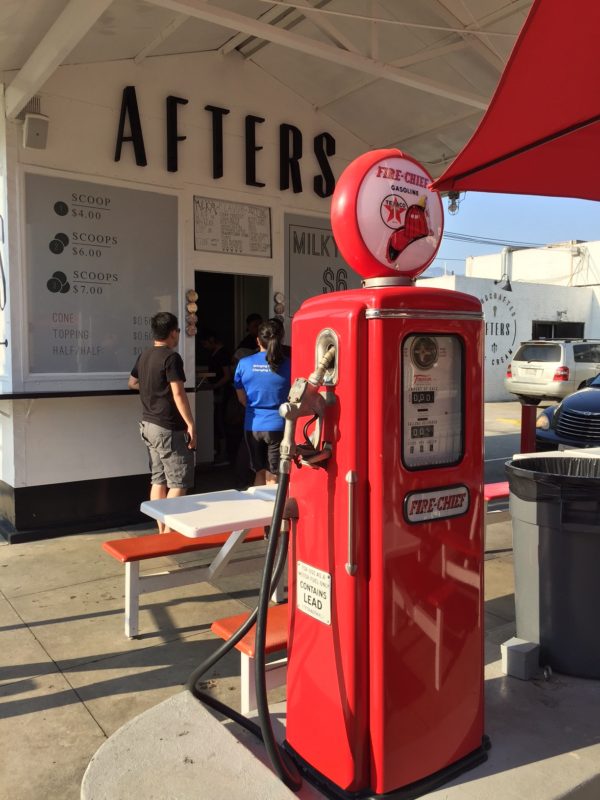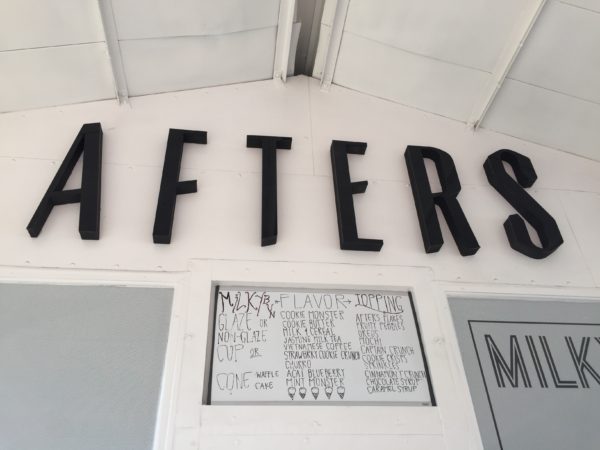 Bengees 901 E. Del Mar Blvd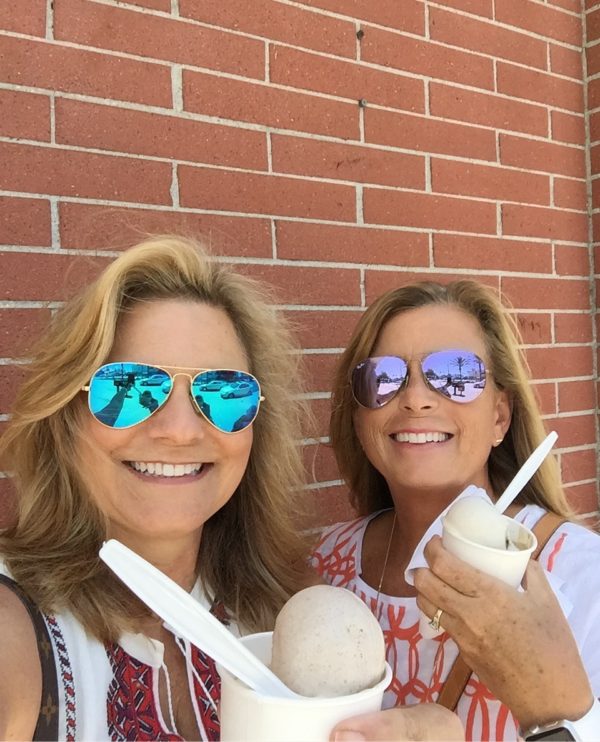 I "convinced" Keri, my longtime friend and fellow foodie, to come along with me to check out this tiny little shop. It has only been open since March and offers traditional ice cream in some pretty creative, awesome flavors, as well as some popular vegan flavors. Unique traditional ice cream flavors like Black Sesame, Espresso, Chocolate Covered Strawberries and Toasted Almond. The flavors do change periodically and this week's vegan flavors were Chocolate Raspberry Truffle, Madagascar Vanilla Bean, Thai Tea and Infinite Mint.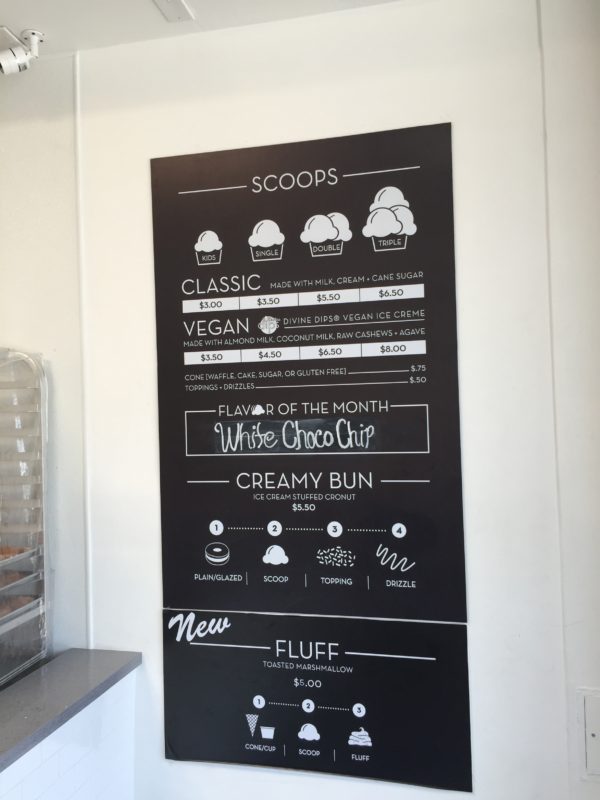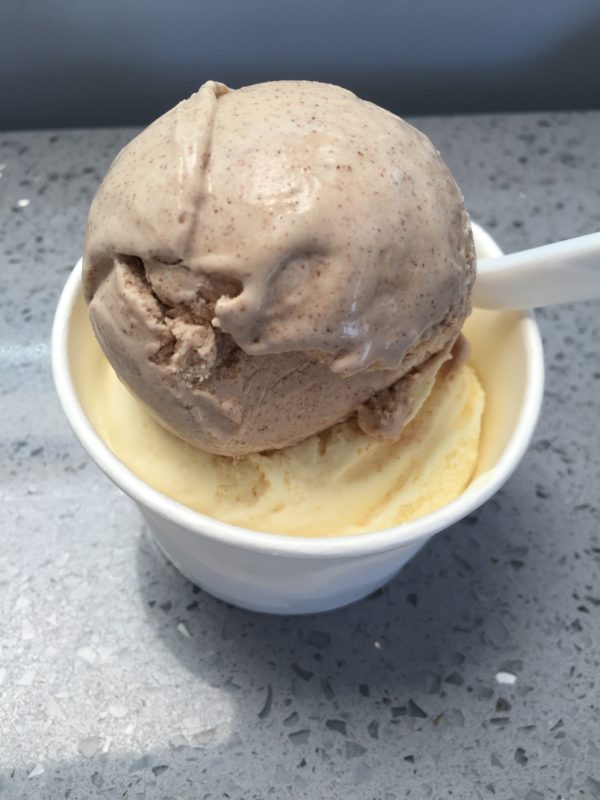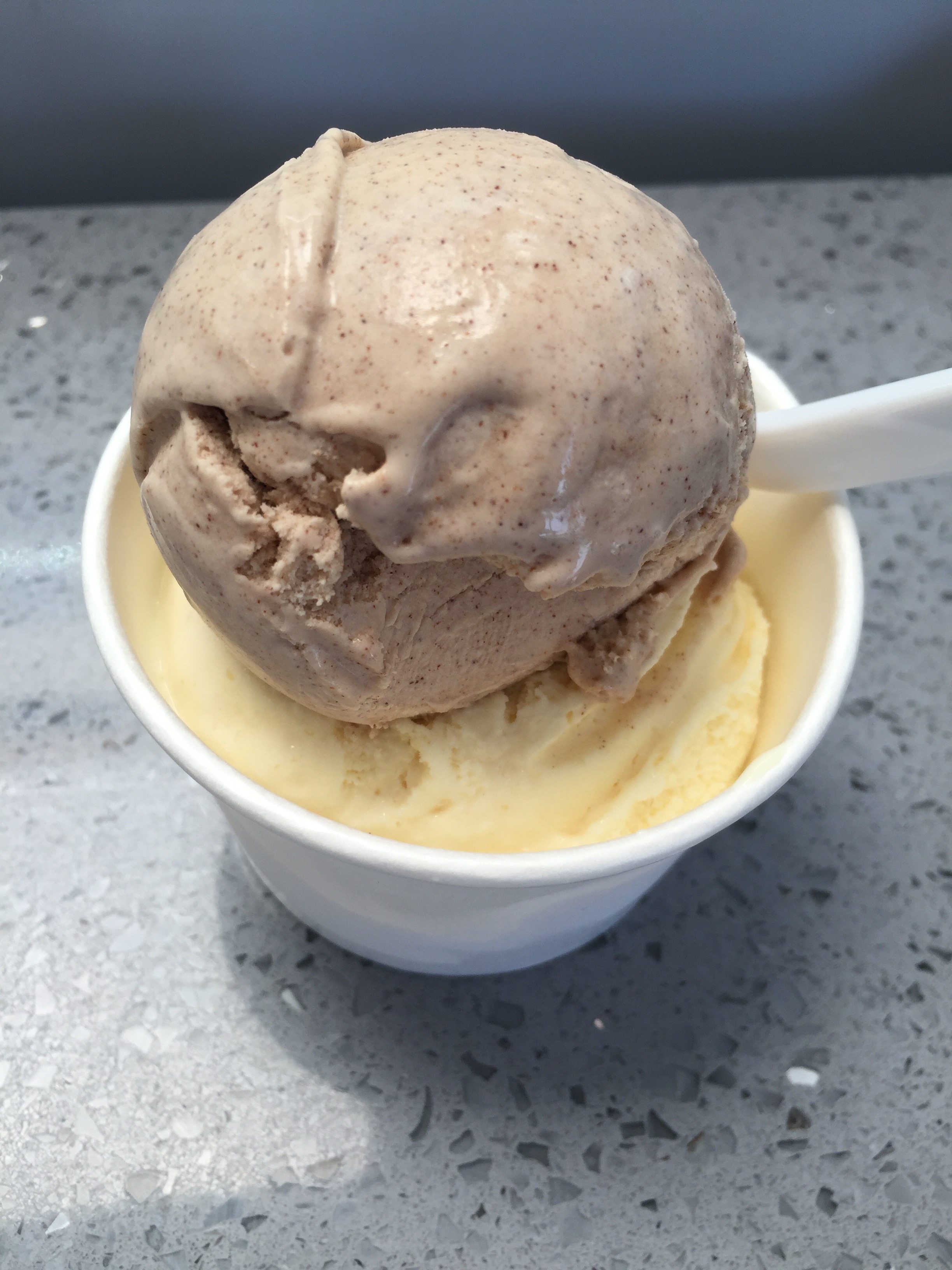 They also offer a "fluff", which is marshmallow on top of the ice cream that is toasted like a s'more, as well as a their "Creamy Bun" an ice-cream stuffed cronut. They offered us a taste of everything and it was hard to choose which to buy. You could taste the butterfat (in a good way) for the traditional ice cream and the vegan flavors which were made with cashew and almond milk were super tasty too.

Carmela Ice Cream Co is definitely a popular, well talked (and written about) little ice cream parlor. I had heard about the shop long before I decided to write about the top 5 ice cream shops in Pasadena. They opened in 2007 and focused on organic dairy and seasonal farmer's market produce. My choice was to split a single scoop in half to enjoy two flavors! Salted Caramel (which they are famous for) and Dark Chocolate with Cacao Nibs. Loved them both! Both were perfect and I loved the little bit of crunch in the chocolate flavor.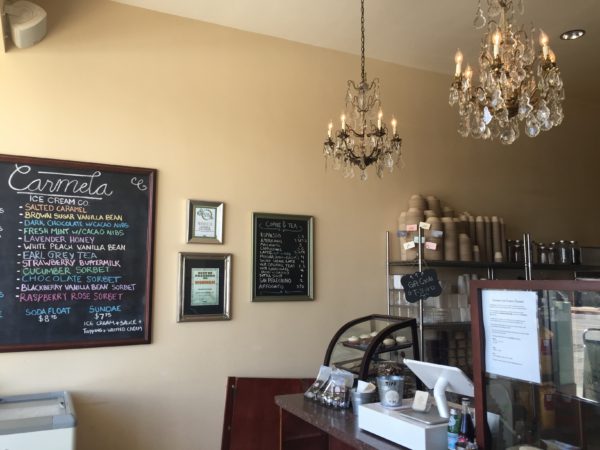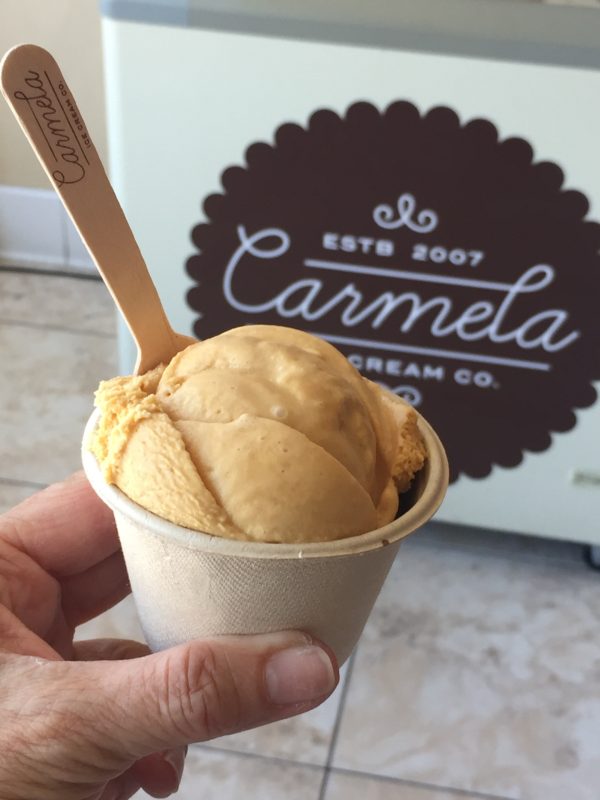 Craig's choice was a bit more exotic and not something I would have chosen. I was WRONG! They both were unique and heavenly! Raspberry Rose Sorbet was packed with a fresh raspberry flavor and a hint of rose. The second scoop he chose was Blackberry Vanilla Bean. Divine…!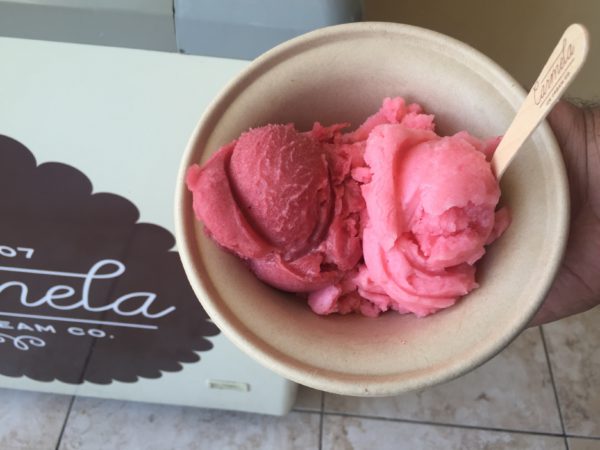 Cool Haus 59 E. Colorado Blvd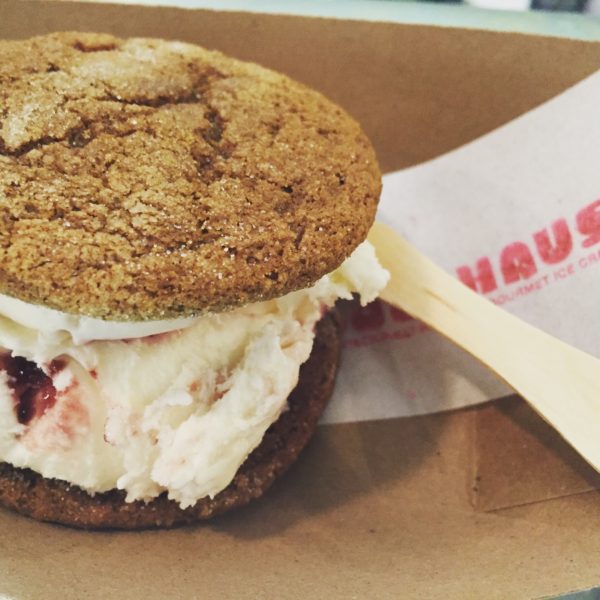 Founded in Los Angeles in 2009, Coolhaus exploded onto the food truck scene with gourmet ice cream sandwiched between homemade cookies. With a superior location right on Colorado Blvd, it is located in a restored, old brick building where they share the space with other creative food stores.
Coolhaus is known for ice cream sandwiches, and features ice cream flavors like Brown Butter & Candied Bacon, Fried Chicken & Waffles, and Dirty Mint Chip with Double Chocolate Cookies.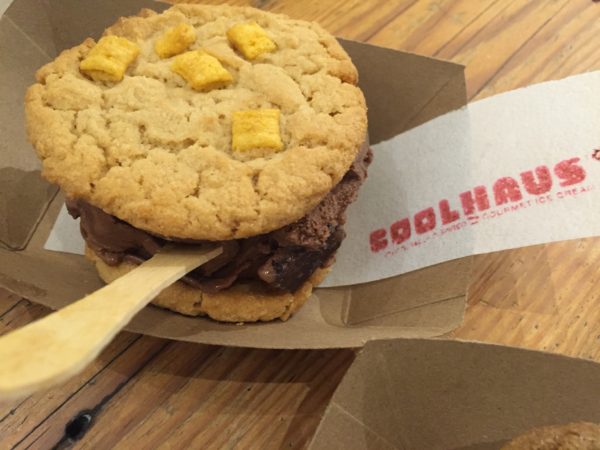 Never did I think I would gladly eat Captain Crunch Cereal as an adult or be intrigued by Fried Chicken and Waffle flavored ice cream. I would definitely admit I am not that adventurous with my ice cream flavors, but I made an exception (and was happy about it) at Cool Haus! So good!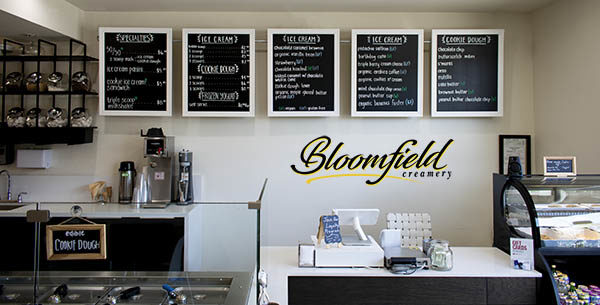 A Midwestern delight! A message from the owners- Bijan & Leila: "Upon moving to Los Angeles in 2010, we sought out a place to get the traditional, feel-good ice cream that we grew up eating in the Midwest. We were surprised to find that Southern California offered very few options for us. That's when we decided to start a business of our own, so we could create a product that would satisfy our desire for that creamy delicious ice cream of our youth. We now want to share our creations with you!"
All hand crafted, made in house, creamy and delicious. These are made with organic, super premium ingredients and add all natural, "scratch-made" mixins. Their vegan flavors look fantastic too.
Final thoughts:
I just love the fact that Pasadena has become such a mecca of great eating, superior restaurants, innovative cocktail bars, and wonderful dessert places like these ice cream shops.
I won't even try to decide which one is best, as they are all really tasty, refreshing, and clever. You may like one type more than another or may just be nearer to one and stop in for a yummy dessert.
No matter which ice cream dream shop you choose, the temps are hot in Pasadena in the summer and mild throughout the other seasons. Any day of the week is perfect for ice cream. If you are watching your calories, cut back on lunch and save room for dessert! If dairy doesn't agree with you, there are plenty of delicious vegan options, but whatever you do, don't miss these top five ice cream shops in Pasadena. They are all terrific and special, a great idea anytime.
Do you have a favorite ice cream store where you live?
Check out this post about Gelato University – A Visit to Bologna – A Delicious & Vibrant Must See City in Italy
---
Remember you can receive our posts via email every time we publish them. Just leave your email in the box above.