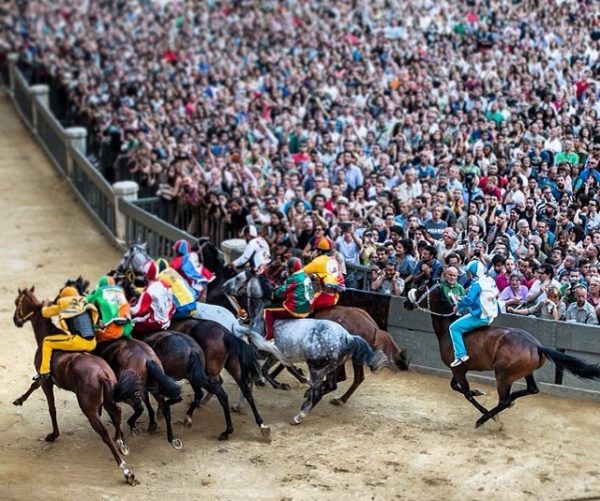 Are you familiar with The Palio in Siena?
The Palio di Siena is one of Italy's most famous sporting events. It is a horse race with unique rules and centuries-old history. My guess is that you may have never heard of it either! About ten years ago our close friends Nick and Victoria, who are world travelers (67 countries), shared their story of the Palio in Siena. Craig and I were captivated and totally hooked. We vowed one day we would see this special event as well!
Ah Siena~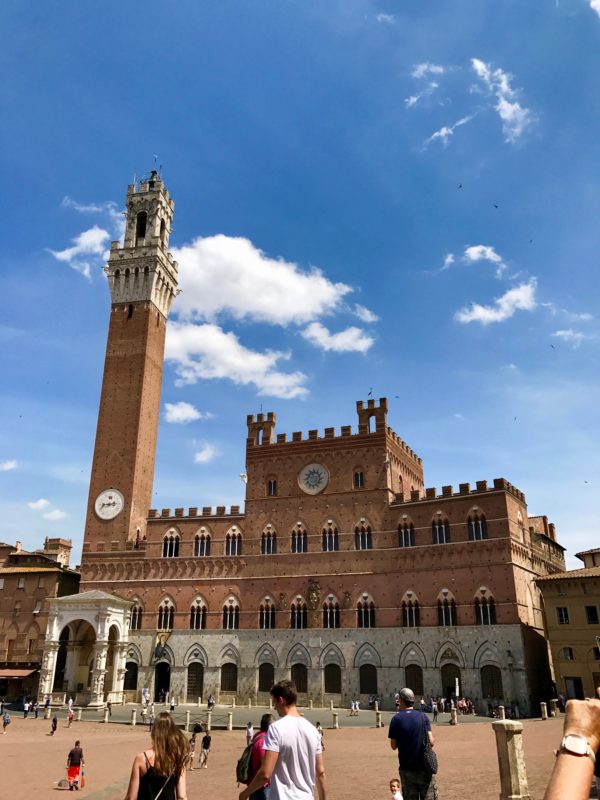 If you asked a dozen travelers which city in Tuscany is their favorite, many would likely say the lovely city of Siena. This walled city is a UNESCO world heritage site and you can feel the city's infinite charm around every corner and on every cobblestone street. It is an excellently maintained medieval town in the hills of Tuscany and in the city centre is the famous brick piazza called the Piazza del Campo.
I get goosebumps just thinking of strolling across the square and experiencing such a well-preserved authentic Italian city. The cafes line the square and the grand clock tower marks the time of day. But seriously, who cares what time it is, you are in Siena! So when we visit next week, not only do we get to enjoy the city's ambiance, we will be fortunate to attend their biggest day of the year.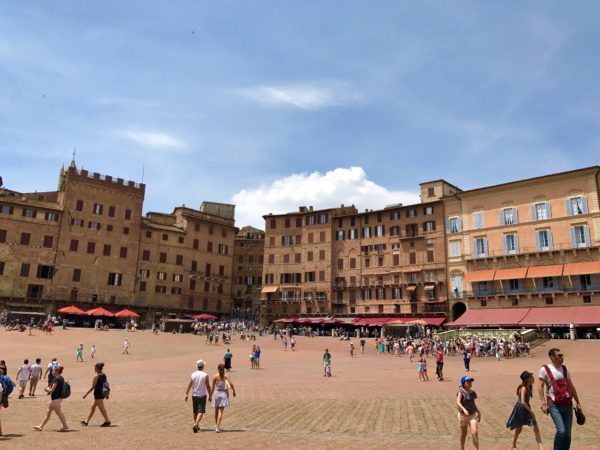 Prior to each Palio race, the large historic fan-shaped city center is transformed into a racetrack.Thousands of local spectators stand in the center of the piazza to watch the race which runs around the edges of the piazza.The famous race called the Palio is unlike anything you or I have ever seen. Truly.
After talking with our friends, my husband Craig moved this unique travel adventure near the top of his personal bucket list. Years ago I made a mental note that I needed to research how we could participate in this amazing Italian tradition. The challenge was that we didn't really even know where to begin to find out how to get tickets, where to stay or how crowded would it be etc? More on that in a minute…
The Palio
The jockeys ride bareback for this horse race which started a couple of years ago… in 1633!!  Incredibly popular among locals and tourists alike, this unique spectacle will host the tens of thousands of people attending the event every year. It actually takes places twice a year on July 2nd and August 16th.
The historic Tuscan city of Siena is divided in to neighborhoods or wards called contrada. There are currently seventeen of them and each is represented by a mascot and special colors. The mascot's image can be found hung on colorful flags and contrada members wear matching scarves as well.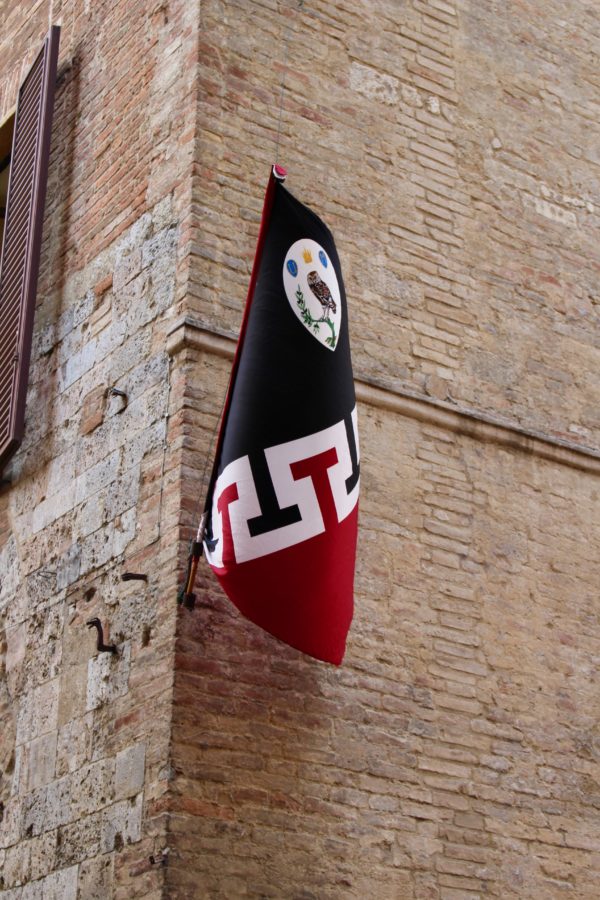 The Contradas of Siena ~
Aquila (Eagle), Bruco (Caterpillar), Chiocciola (Snail) Civetta (Owl), Drago (Dragon) Giraffa (Giraffe), Istrice (Porcupine) Leocorno (She-wolf) Niccihio (Seashell) Oca (Goose), Onda (Wave), Pantera (panther), Selva (Forest) Tartuca (Turtle) Torre (Tower) and Valdimontone (Valley of the Ram)
You are a member of a contrada by birthright, bloodline or by choice when you have a social relationship with the members of a certain contrada. There are serious rivalries and a few alliances, but make no mistake each contrada is in it to win it  – AT ALL COST. Yes, even funny business is allowed. Pushing, shoving, sabotage, etc.
The rivalries can be so intense that people of a contrada not only try to win, but also attempt to prevent the victory of their enemies. Since only 10 of the 17 compete in each race, even the non-competing contradas could possibly meddle in the outcome of the race by bribing a jockey and other devious tricks. These intense Italian Palio participants are serious, deadly serious.
Prior to the race several lively celebrations are held. On the night before the race each contrada celebrates with a dinner for the entire neighborhood. It takes places outside, at long tables with local wines, Italian dishes complete with music and team chanting. Think World Cup Soccer.
Additionally, there is also a blessing of the horses prior to the race in their local church. The passion and intensity the local Sienese people feel for this tradition is palpable. We will be eight American flies on the wall, soaking up this historic local event with our new friends from Italy.
How did I make this happen??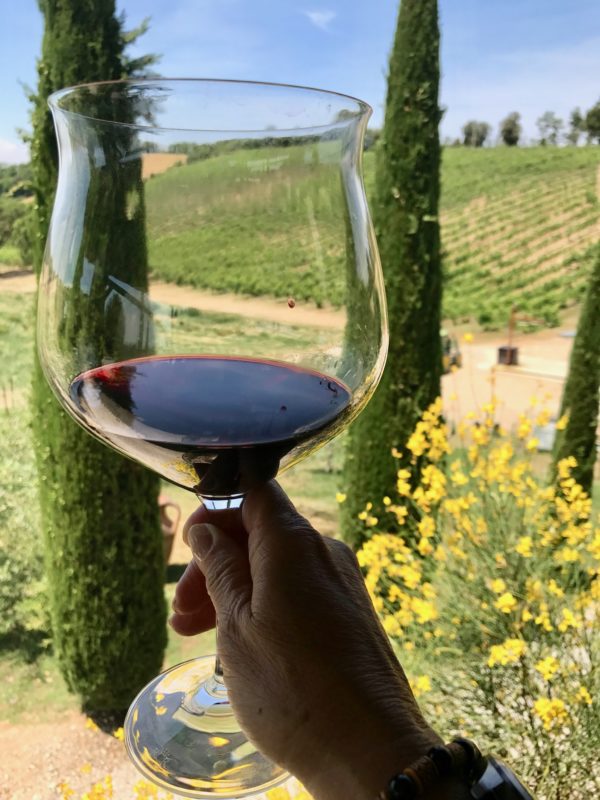 Well my friends, I was paying attention at the right time and place. You may recall last summer I enjoyed a week long adventure attending Tuscan Women Cook in Montefollonico in Tuscany. One of our daily outings that week was to tour Siena, to visit the Wednesday market and enjoy an amazing meal with our group and the local tour guide Cristina. I was lucky enough to sit next to Cristina and I experienced a valuable "aha" moment. I thought, "I bet Cristina could help connect me with the right people in Siena in order to get tickets to the race!" Yes, she connected me with Palio Tours and the trip was now possible! Craig and I both felt this would be a once-in-a-lifetime opportunity, so to experience this one of a kind event with our family, the dream of dreams, became a reality.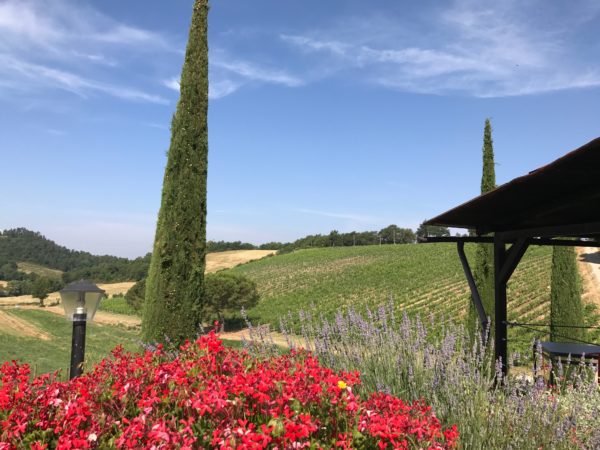 Each of the four couples is arriving in Siena from their respective homes in Seattle, San Francisco and Los Angeles and through the tour company we have rented a very lovely villa just ten minutes from town. We begin our Palio Adventure on Sunday afternoon with a tour of the city and visit to the Palio museum, and then… at 9:00pm we have purchased dinner tickets to eat with a contrada! Are you kidding me? They sell seats to tourists in order to help pay for the preparation of celebrations and horse race expenses. These are extremely private affairs and no one can come near this dinner without a personal invitation. The Staverts are coming too! Pinch me.
The Palio begins at 7:30pm on Monday evening and we will arrive earlier in the day in order to witness the blessing of the horses and pre-race pageantry. The race is just three laps around the city square, which is transformed into a track with tons of dirt they dump on the famous brick Piazza Del Campo.
We will not be standing in the center area, but have seats along the track in the bleachers. It will be a blisteringly hot afternoon, crowded beyond crowded, with most everyone speaking only Italian, it will be a tad confusing and maybe a little scary, but I cannot wait!!
If you research this race, it is not well covered by the media, but The NY Times just recently published a really terrific article offering many of the juicy details.
As a family we are stepping way out of our travel comfort zone and even my adventurous seventy-eight year old Mom and her husband were game to try this!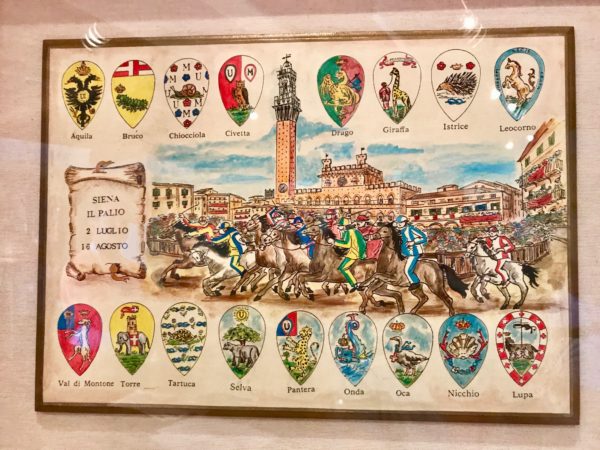 The next time you read about our Palio adventure on the blog, it will be my personal account and personal photos!
Readers Please Note ~
Make sure you click over to the Home Page to see what else is happening on the blog – At the top of the home page you will find The Empty Nest, Restaurants & Food, Travel, Work with Me, Press and Contact. We have lots to offer here on AdventuresofEmptyNesters.com
---
Are you receiving our posts via email? If not, sign up over on the right side of this page.
Let's connect over on social media here ==>  Follow us on Twitter, like us on Facebook, check out our photos on Instagram, or pins on Pinterest
Pin For Later!