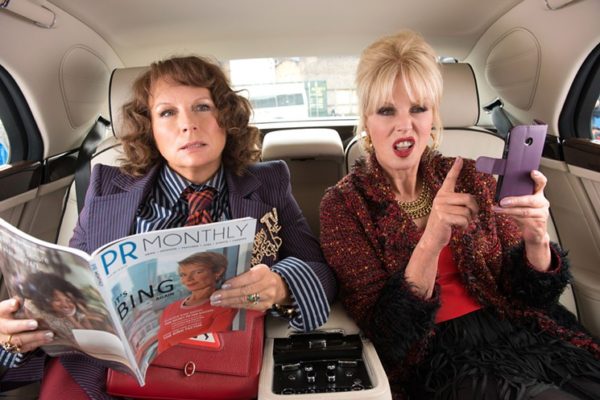 This post is made possible by support from Fox Searchlight Pictures. All opinions are my own.
Sometimes you just need a laugh and boy have I needed to laugh for quite a while. We were invited to see the Absolutely Fabulous movie and we certainly got what we were looking for. Clever dialog, crazy circumstances, even situations that made you cringe…in a good way.
"Absolutely Fabulous, also known as Ab Fab, is a BBC television sitcom created by, written by and starring Jennifer Saunders. It is based on a 1990 French & Saunders sketch created by Saunders and Dawn French. The series features Saunders as Edina Monsoon, a heavy-drinking, drug-abusing PR agent who spends her time chasing bizarre fads in a desperate attempt to stay young and "hip". Edina is joined in her quest by magazine editor Patsy Stone (played by Joanna Lumley), her best friend and enabler, whose drug abuse, alcohol consumption, and promiscuity far eclipse Edina's comparatively mild self-destructive behaviour."
So now that you understand the premise – More about the movie!
I took one of my college besties and she is nothing like Edina or Patsy, but she is a fun-loving, ready for adventure kind of gal. I am blessed to have known Angela since we were 18 and 19. Me 18 and she 19. I will always be younger. Ha!  But seriously, Angela gets more lovely and fit as every year passes and has been there for me through thick and thin. UCLA sorority sisters for life. We are the lucky ones and who better to go to this screening but with her!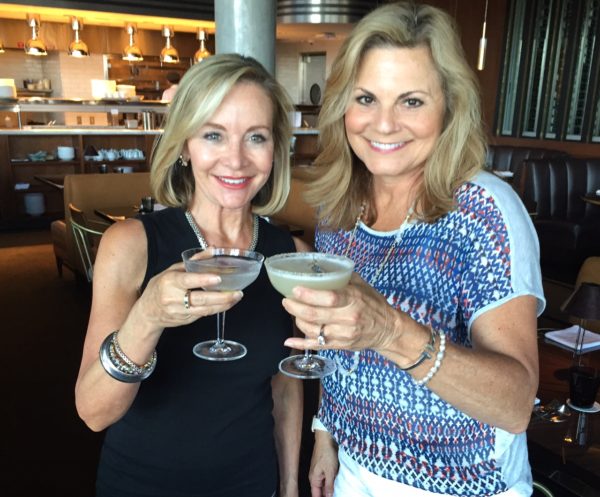 Quick anecdote:
After a fabulous cocktail and delicious dinner at a new restaurant called Paley, named after CBS visionary William S. Paley, Angela and I stepped up the stairs to the landing at the Hollywood ArcLight Theater on Sunset Boulevard. We were offered a complementary glass of champagne, Edina and Patsy's favorite. As Angela sat on the aisle and I was next her, she accidentally knocks her full champagne glass out of the cup holder and it shatters on the floor with a loud crash. Such a great sport, she quickly mopped it up with paper towels and proceeded to drink my glass of champagne at my insistence!
The cup holder really was not well suited for a slim champagne glass, so as it turns out we heard eight different crashes throughout the theater in the fifteen minutes before Absolutely Fabulous began. So apropos for the film! You would think it was planned!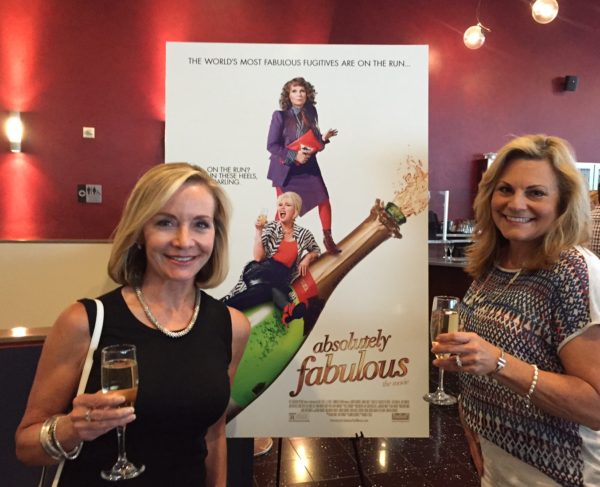 Ninety minutes of non-stop shenanigans, social commentary, fun quips and fabulous quotes later, we emerged very entertained and happy we came. Grab a friend, have a glass of champagne before hand darling and enjoy a short movie that will entertain you and certainly make you laugh out loud and cringe (a little).
---
Remember you can receive our posts every time we publish them right in your email.  Don't miss an adventure!
Please follow us on Facebook, Twitter, Pinterest and Instagram and we look forward to following you!