Between the Lines – This is my guest blog for the series and you can click on the Katherine's Corner graphic ===> to check out the rest of the other bloggers.
Just when I thought I knew a large number of female bloggers, I was introduced to a whole new group! Katherine, from Katherine'sCorner.com invited me to be a part of a blog series written by some f-a-b-u-l-o-u-s women over 50. Age is just a number, but as we get older, not only do we get wiser, but we are more confident to offer our thoughts that come from years of experience. The best part is that everyone is unique and every woman has a fresh perspective on the world.
I was thrilled to participate with over 80 other women over the age of 50 – what an amazingly large and inspiring group!
Katherine asked us to write about why we started our blogs and why we continue! She also asked each of us two questions and every one of the questions was very different from the other. Here are mine.
Q.When was the last time you watched a sunset?
A. I try to watch the sunset wherever we go! It is my favorite part of the day. The challenge as a photographer is to catch it at just the right moment. I snap one photo and then another one minute later, and so on. Every time thinking that I captured the perfect shot. At times the sun goes down very quickly so you need to be prepared and camera ready! Of all of the sunsets in all of the world, I would say that a Maui sunset captures the vibrancy of the moment the best. Sitting by the edge of the Pacific Ocean with an adult beverage, watching the golden sunset is one of my greatest joys.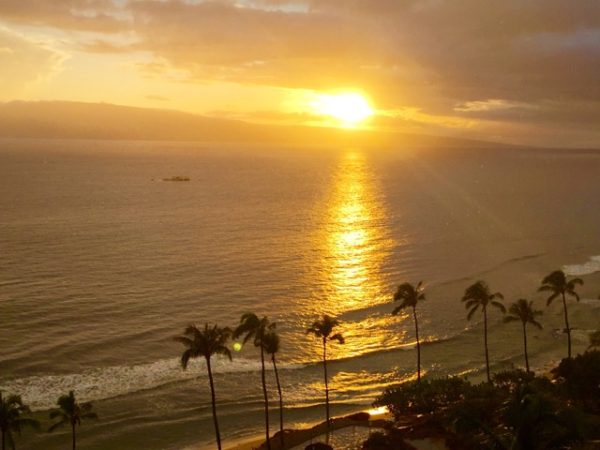 Q. How did you decide which blog service to use?
A. WordPress was recommended to me by my web designer. I wanted to use something that was user friendly and could change with the times. I created the blog two years ago and we have redesigned it once already. You don't really know what you like until you get started. I like the flexibility and reliability of WordPress.
---
I created my blog Adventures of EmptyNesters in January 2014.
What is life without adventure? Now that our children Alexandra, 28 and Nick, 23 are grown and happily living on their own, it was time to focus on our dreams and desires! My goal was to help bring together a global community of people who don't plan to spend this valuable time in life sitting on the couch, but to thoroughly embrace it!
I write about travel, lifestyle, family and most recently our newest adventure; leaving a lovely beach community after 27 years and moving inland, closer to our ailing parents and extended families. We completely downsized and purchased a 1937 Spanish Colonial home in Pasadena, CA . This 6 month, 10 month renovation is almost complete and we couldn't be happier. We can see the light at the end of the tunnel and will move in on June 23rd.
When I started the blog I had no idea what I was doing, where I was going with it and what the future would be. After two years, I have met so many new supportive friends, it has turned in to a real business and slowly but surely amazing opportunities have crossed my path. I have enjoyed things like filming an infomercial, writing for a luxury travel magazine, writing for the Huffington Post, been an invited guest at several amazing destinations and most recently guest blogging for The Container Store as part of their nationwide travel sale.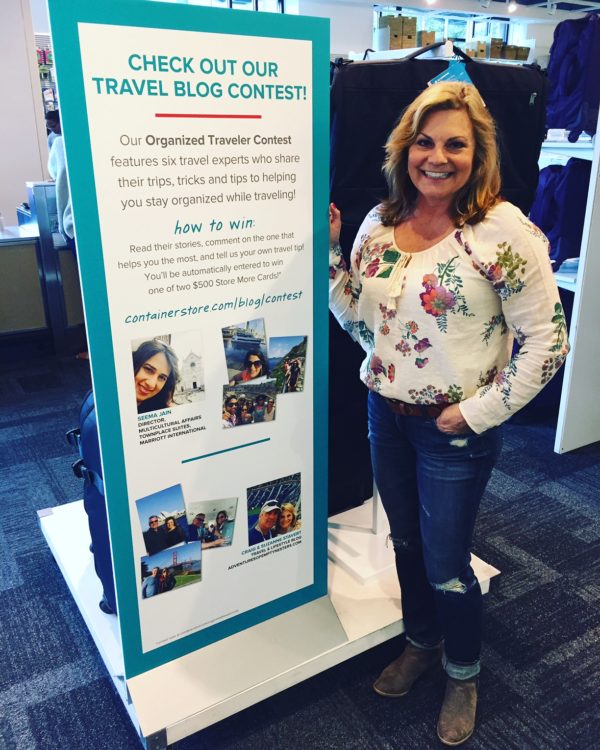 At 54, it is exhilarating to be part of an industry where I am constantly learning something new, as well as improving my skills, while I expand my world. I am investigating career possibilities that I never would have dreamed of considering.
I believe that each of these other amazing over 50 bloggers writes their blog to help support the lives of anyone who may be experiencing the same challenges. Our kids are grown and we are now allowed to turn the focus upon ourselves. No longer tethered to our children's schedules, we have the time to dream and attempt new adventures.
Why the heck not? Why not try something new, plan a trip to some exotic location, start a new hobby, improve your health, or get back to something you have long since abandoned.
I find that women seem to fall in to two categories, those that want to embrace this time in life and those who don't seem to think they are worthy. They are too "old" and too uncomfortable with change. Those are their descriptions not mine and are so not what is happening now in 2016. Women are stronger than ever, and midlife is the prime of life. Don't you think?
When you were a child, do you remember looking at your grandma, who was probably around 60 years old, but looked 80? Those days are over and age really is a number. 60 is the new 30 these days. I am not suggesting that we look 30 when we are 60, but we sure can have the energy, vitality and vibrancy that we had when we were that age.
What I know for sure is that there is room for every one of these lady bloggers and more in the blogging world. No two blogs are the same as no two women are the same. How awesome is that? It may take some digging, but you can find what you are looking for, what interests you, what you relate to, it is all available to you in the vast world of blogging.
This writing series began in April and finishes this month. I hope you will check out all of the 88 bloggers and their blogs, I am certain you will be entertained and will most likely find a kindred spirit.
Thank you to Katherine from Katherine's Corner for your organizational skills to put this together. I hope you will check out all of the other prior weeks.
Cheers to your next adventure!
Thank you for reading and supporting Adventures of Empty Nesters ~ I truly appreciate you.
Suzanne