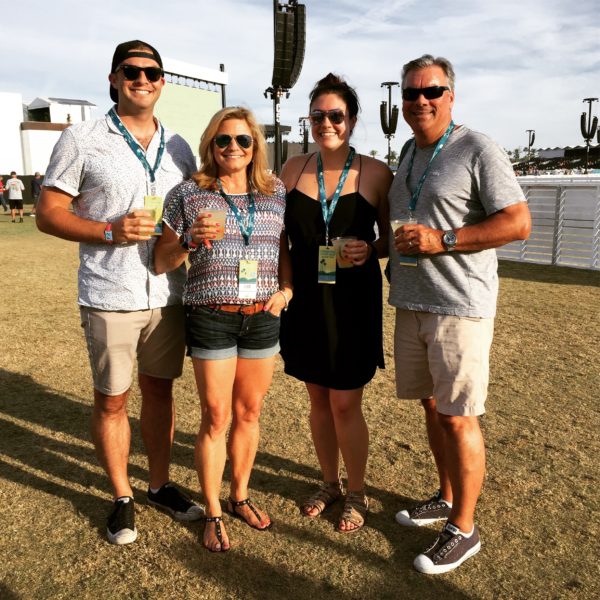 "Close your eyes and I'll kiss you, tomorrow I'll miss you." Paul McCartney
It has been a challenge for me to collect all of my thoughts and emotions that get tangled together over our incredible experience at Desert Trip. Nostalgic emotions emerged that bring back memories of high school, no responsibilities and the joys of being a teenager, sprinkled with rock and roll.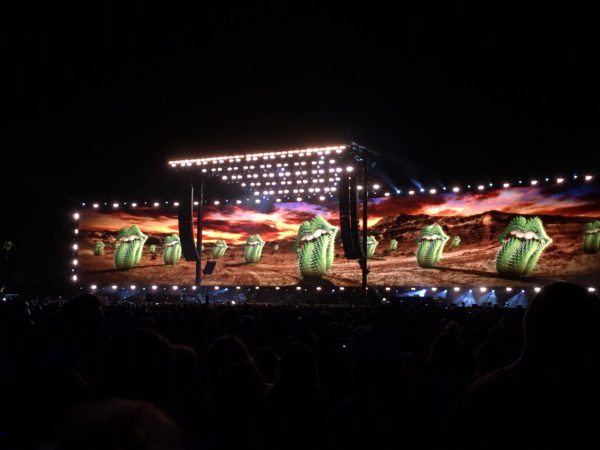 Since our kids were little Craig would say, "Who is the greatest band in the world?" The correct answer was always: "The Rolling Stones". Music and concerts have always been a huge part of our lives, so when we learned the news that Desert Trip was created and coming soon, we knew that the experience of seeing these iconic classic rock bands from our youth was something we needed to share with our grown children.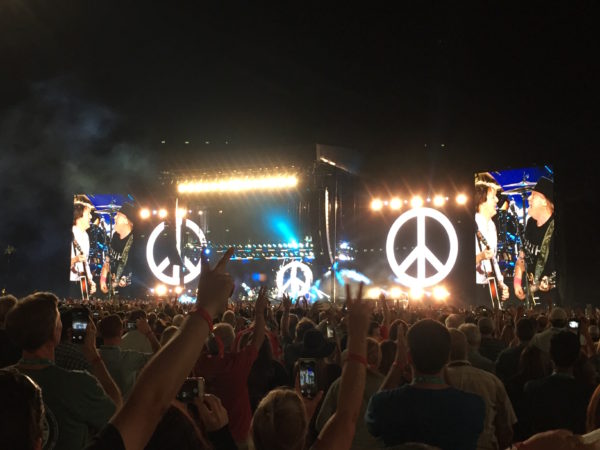 If I had to guess I would say that the audience consisted of 90% Baby Boomers and 10% everyone else. Nick: "I have never actually seen that many old people at a music festival." Alex: "It's like stepping in a time machine".  Oh and can we talk about the outfits? Where did they dig up those old t-shirts? Hippies from years past showed up in their 70's "rock and roll concert" attire, but for the most part the crowds were a mixture of fashionable and "I don't give shit what I wear" type outfits. Sensible shoes, belly bags and backpacks were abundant and comfort reigned supreme.
Desert Trip or "Boomchella" or "Oldchella" is mega music festival featuring performances from the Rolling Stones, Paul McCartney, Bob Dylan, The Who, Neil Young and Roger Waters to be held over two weekends on October 9-11 and October 16-18 in Indio, California.
The Concert Highlights~
Watching a 70-something fit, athletic, vibrant Mick Jagger dance, run, walk and sing for 2 1/2 hours like a rock star makes me laugh at his naysayers. I read several comments on Facebook about how these bands are "past their prime" and "not relevant at this age", I say, "You are missing out". I would like to see a few of his 50-something critics do half of what he can do. The Stones were crazy great and as fabulous as I have seen through the decades. Yes, they are old, craggy and grey, but who cares, their music is still some of the greatest ever played.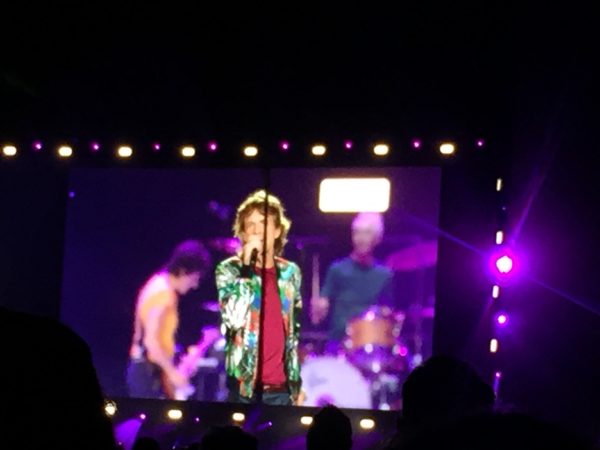 Standing while watching the concerts under a pink desert sky, with warm breezes blowing, singing the familiar lyrics at the top our lungs, linking arms with my 28-year-old daughter was priceless. It brings tears to my eyes to feel this moment in time with our kids. Both Nick (23) and Alex (28) were blown away by the Stones, The Who and Sir Paul. "Truly fu%king awesome!"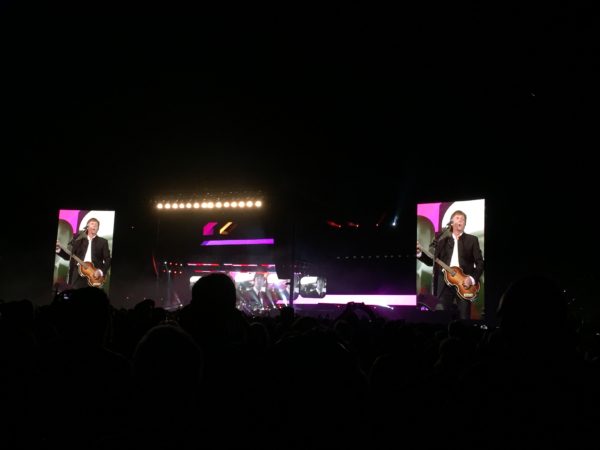 Paul brought it like the boss that he is. He played iconic rock and roll from the Beatles, Wings and from a solo career that spans over 50 years. What??? The crowd was enchanted by his charming and sweet banter and we couldn't get enough when he paused to share an anecdote or two. His uber-amazing rendition of Live and Let Die was complete with fast-moving colorful graphics, fireworks and fun pyrotechnics. So fabulous! However that wasn't even the real end of his performance, he then came back to play two more songs.It's like he didn't want to leave and wanted to make sure we got our money's worth.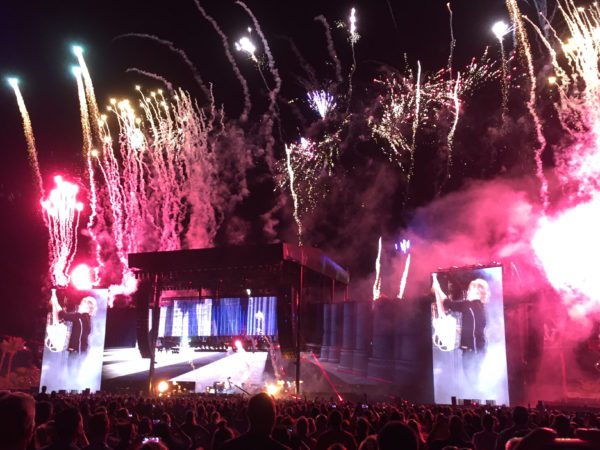 I don't like to be negative, but Bob Dylan sang unintelligible lyrics, never said hello, goodbye or one word to the audience. Enough said about that. Neil Young sounded amazing, he played a few songs that we knew, but very few of the songs we hoped to hear. He came on to jam with McCartney which was very entertaining, however, he definitely had an agenda with "Water is life" written on tepees and t-shirts and incessant political lyrics that were meant to criticize "the establishment" and beat some sense into his audience.  It's not that I don't agree with his philosophies, but enough already, we heard you. You are preaching to the choir.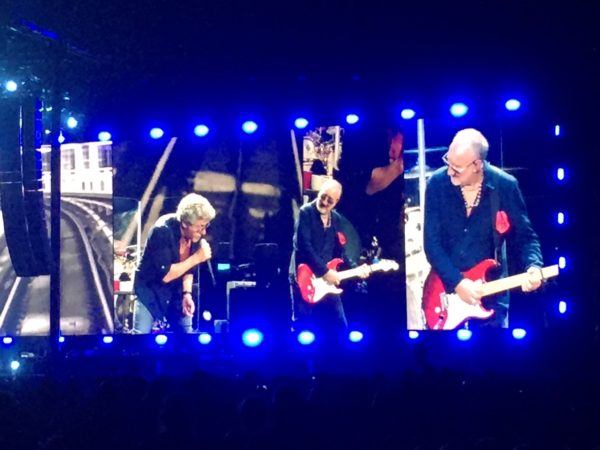 My last music comment is about The Who's performance. Ditto with all of my septuagenarian comments. Pete Townsend played his guitar and sang like a man in his 20's, but with maturity, style and composure. They played every song we wanted to hear and then some. Roger Daltry rocked his open-to-the-navel shirt with a well tanned, fit, chest and his voice was still unique and fabulous. They put on a dynamic show and again we all sang the words to every Who song. You don't realize how many hits they had until they started playing one after the other.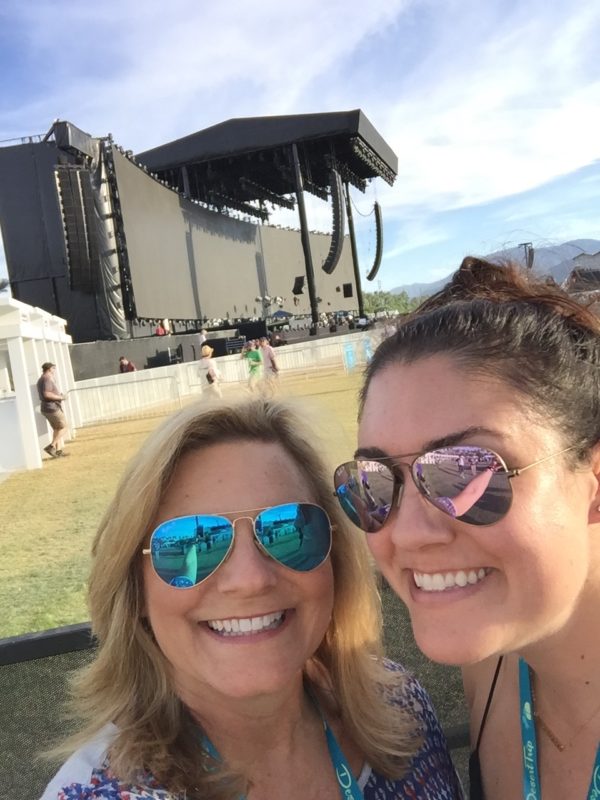 Honestly I have NEVER been part of a crowd as large as Desert Trip. There must have been easily over 100,000 people as far as the eye could see. The happy crowd was standing, sitting, leaning, sitting in beach chairs, cushioned folding chairs (me) and sitting in the grandstands.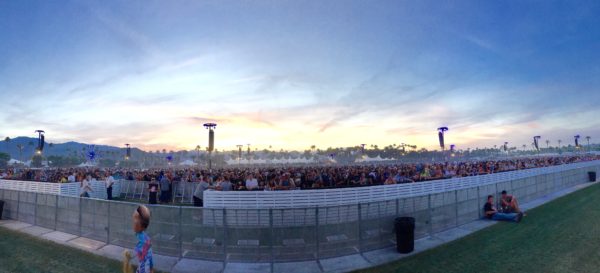 At times the heat was unbearable, but we marched on. No wimps on our team. We drank gallons of water and just enjoyed the moment for what it was. This is not an experience for a non-fan or the fussy "I don't want to get dirty types". We were covered in dust and dirt by the time we got home each night and we weren't roughing it at all. I cannot imagine what the campers there experienced!
Was it worth it?
Enduring dry, dusty mile-long walks from the parking lot three days in a row ~ Yes!
Blistering heat in the 90's – Yes 
Crappy Stadium food – Yes! 
Getting back to our condo exhausted at 1:30 am – Yes! 
Ruined sinuses from dust and heat – Yes! 
Walking through crowds like a sardine – Yes
The Awesomeness ~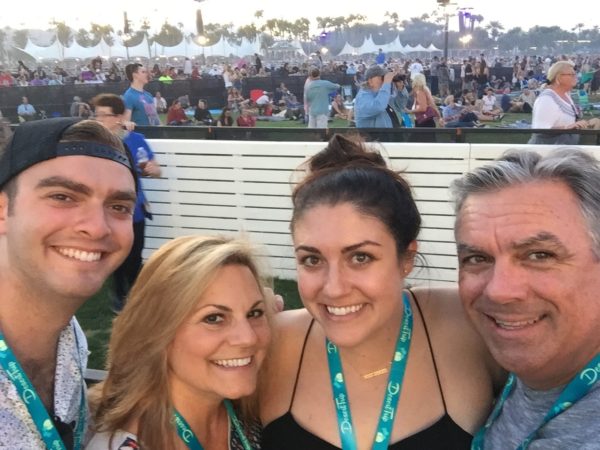 Nowhere will we be able to enjoy these bands all in one place like this ever. Enjoying bands that fully represent our carefree teen years with classic, fantastic rock and roll is a gift. Spending three whole days focusing on memories, music, laughter and sharing stories of our past concerts and watching the faces of our kids as they watched in wonder was too good to be true!
My kind and generous cousins Lisa and Bill offered us the use of their brand new beautiful condo, just eight miles from the venue. What a luxurious stroke of luck! No cramped hotel room, but lots of space to live in comfort! In the morning, prior to each concert, Nick would make breakfast burritos and Alex made tea and coffee, while we watched College Game Day, checked the Dodger and Giants scores, watched Sunday football and enjoyed the pool, was simply the best.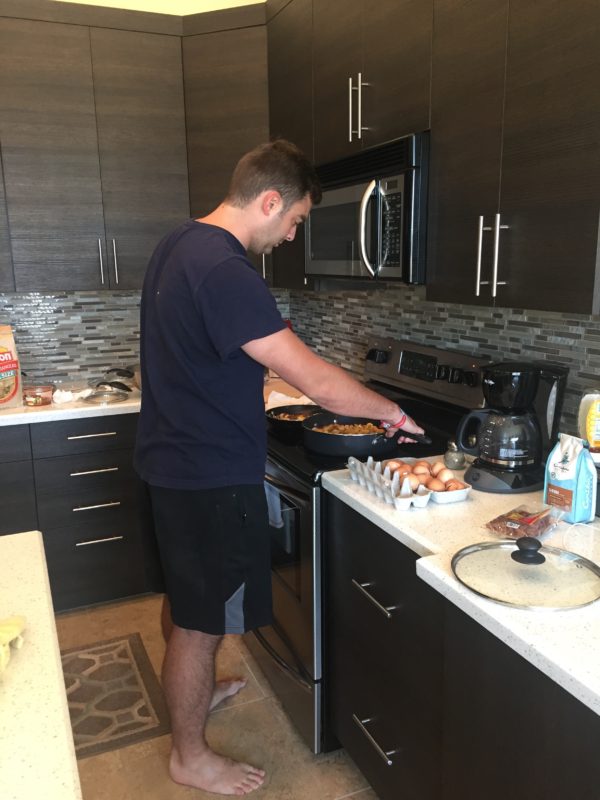 About the food – No post of mine is complete without a recap of the food
The Polo Grounds of Indio are HUGE. We logged over six miles each day from walking to and from the car, to checking out the photography exhibit, walking to the air-conditioned port a potties*, all the way to the Craft Beer Garden, the handcrafted cocktail Cabin, as well as the chicken and waffles stand.
*These fancy toilets were only for those people who purchased floor seats – Did I say it was totally worth it??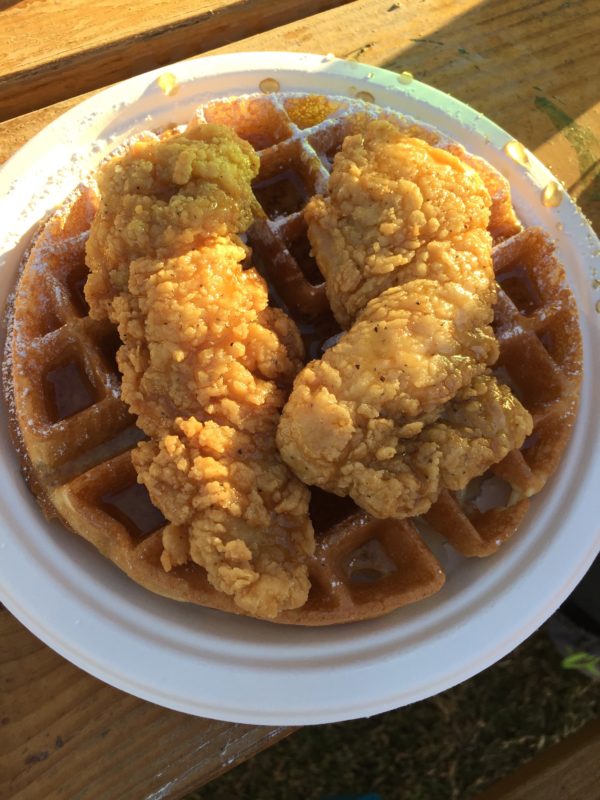 The festival food was ok, not terrible, we found some great pulled pork over mac n cheese, pretty good grilled tacos and even piping hot chicken and waffles. It was "kind of better than normal" stadium food. However, Desert Trip offered a Culinary Experience and after the second day of junk food, we opted to break the bank and buy four tickets to culinary heaven.
In the last few years, concert food has been elevated to new heights, with food trucks, local chefs and this (although quite expensive) culinary experience of pop up restaurants was fantastic. The Rose Garden of the Polo Grounds was sectioned off and as you walk in the gate, you are greeted with icy cold wash cloths and glass of wine or Fiji Water!  Yes please! About fifteen different restaurants from as far as New York offered absolutely delicious full-size portions of some crazy great food! This is the upscale flavor forward type of food you would find in all of the hip delicious Los Angeles restaurants.
Here are a few delectable highlights ~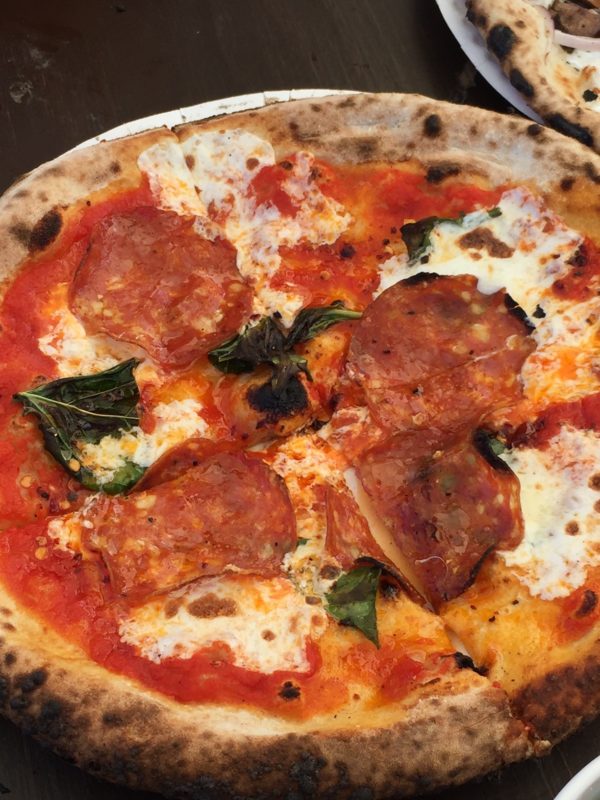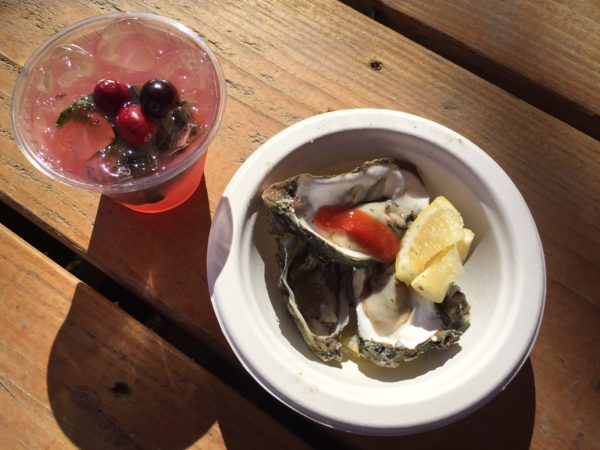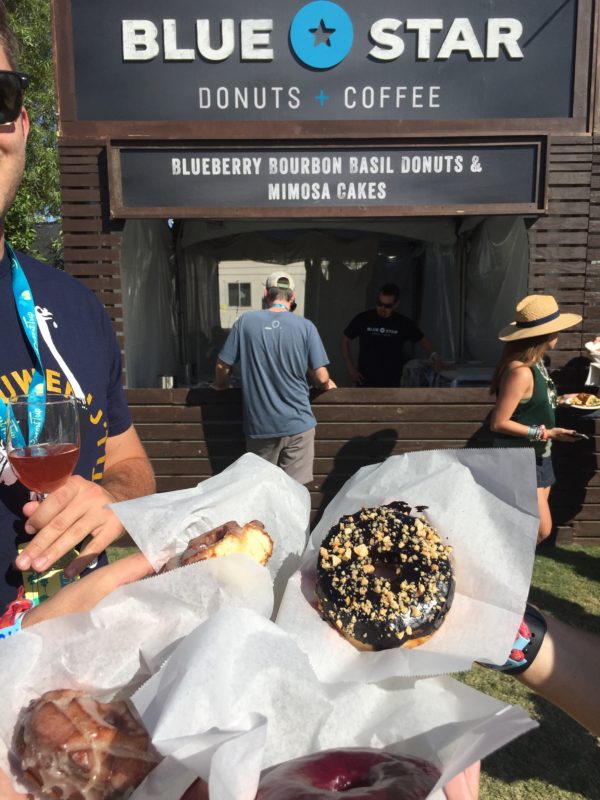 To invest in experiences instead of things is exactly what all we empty nesters need to do. Long after these bands have stopped touring, Alex and Nick will share this multi-concert story with their kids. They will tell them how Grandpa and Grandma took them to an amazing music festival in the desert, like no other in history, where they sang together for hours and days.
---