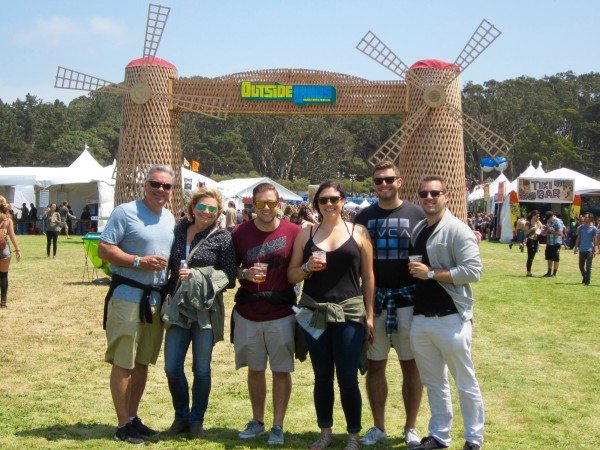 Outside Lands reigns supreme in my new world of music festivals. A three day, thoroughly engaging, eclectic, excessively HUGE, outstanding music festival for all ages. Who knew that two people in their mid-fifties could mix and mingle successfully with the hipsters, hippies and young music lovers in their 20's and 30's? Designed to showcase over 100 bands and offer headliners like Elton John, Mumford & Sons, The Black Keys, Sam Smith and even Billy Idol. I expected to like it, but I honestly loved every morsel.
I went to Outside Lands for three reasons:
To Experience:
To gain entry into the world of my twenty-something children and experience their passion for music from the inside. It was so special to see how by teaching and sharing his passion for music, my husband fueled the musical interests of our children. From the time they could talk, Craig would quiz them, share stories and play all kinds of music for them.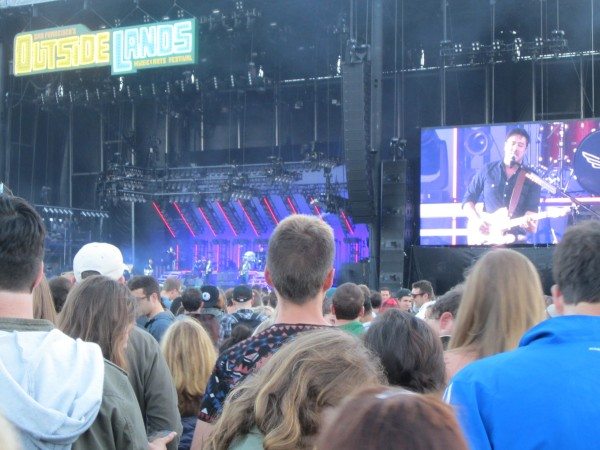 To participate on such an intimate level with a younger generation of music fans was such a privilege. For the three day festival, we managed to adjust our schedules to please all involved. One day of concerts for me, three days for them. They could investigate and enjoy the music of their choice and I could listen to many bands I wasn't familiar with (but still enjoyed) and focus on the spectacular food-lover's feast. The musical reason for my attendance was Mumford & Sons and they were phenomenal. Fortunately, I have been to hundreds of concerts in my life, but have never had the opportunity to see them. Professional and lively, Mumford & Sons made my long day of walking, overwhelming crowds, sometimes sunny, cold and windy San Francisco, worth every minute.
To Eat and Drink: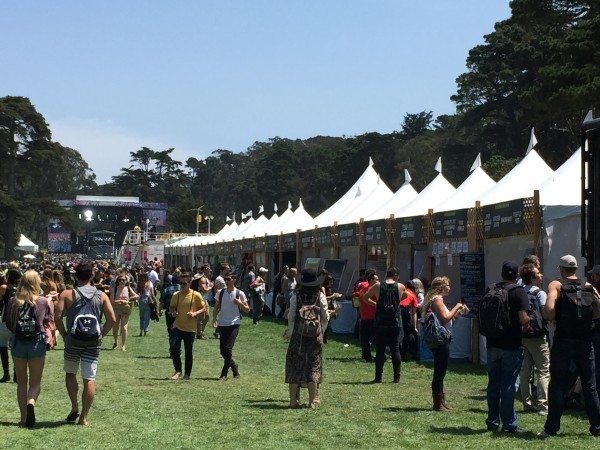 The food was over-the-top fabulous. Organic, artisanal and sometimes creative junk food, the foodie experience was unlike any concert food I had ever eaten. Since we traveled in a small group, we shared and sampled and photographed each others snacks. There were so many food stands and trucks, it just wasn't possible for us to try them all, however, we made a substantial effort. Forty-nine Bay Area restaurants, thirteen food trucks and thirty-five wineries were there for the sampling! Here are some of the highlights:
Wine Lands – Besides the typical beer options at the festival, we frequented Wine Lands – A huge burgundy and gold tent housing the different wineries. We tasted some great wine in fun, plastic, refillable glasses. It seemed to sophisticated and adult and with Napa Valley so close by, made complete sense.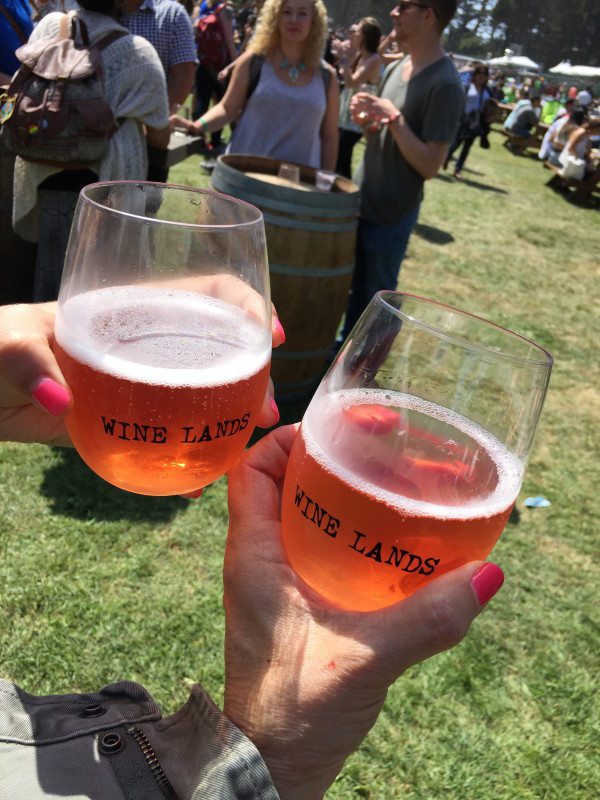 For the full list of participants click ===
Here!
To Observe: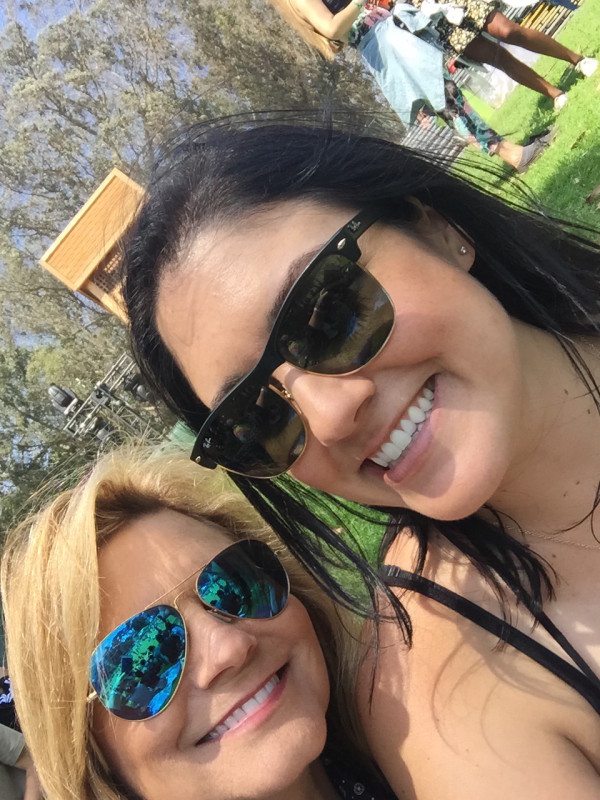 Because of my height challenge (not very tall) and possible Enochlophobia or "crowdphobia", I spent a great deal of time watching from afar. My daughter and I sat off to the side to watch Robert DeLong (I had never heard of him) and truly fell in love with his performance and his music. What you are able to observe from a distance is the raw excitement of the (mostly) younger generation enthusiastically jumping, dancing and singing to the music. Don't worry though, I did venture in much closer to see Mumford and Sons. We stood on the side next to a fence and I felt safe and had a great time.
With over 200,000 attending, at times the smell of weed permeated the air (yes I remember what it smells like, we used to call it Pot) and lots of alcohol was consumed. That being said, I thought the crowds were respectful, fun loving, amiable groups of all ages. We never had one issue or difficulty, except perhaps a bit of anxiety (me) from the massive crowds.
However, I do think I only counted 15 heads of grey hair… it was a decidedly young crowd, but I never felt out of place.
Extra bonus:
Colorful and clever, The Polo Fields of Golden Gate Park were transformed into an adult Disneyland of sorts. It's kind of Ranger Rick meets Candy Land with a cartoon map and creative marketing. Walk over to Choco Lands for dessert at the Candy Bar Lounge, or go to Cheese Lands next door to Wine Lands and finish with a trip to the Pan Handle Stage or Twin Peaks, there is something to please every taste.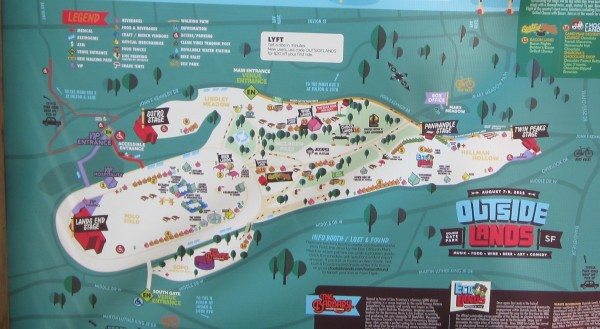 For other posts about music:
A Spectacular Evening with Elton John in Hawaii
Coachella From an Empty Nester's Point of View
The Eagles Concert – Hotel California
---
Sign up to receive our posts when they are published!
Leave your email in the right hand corner of this page.