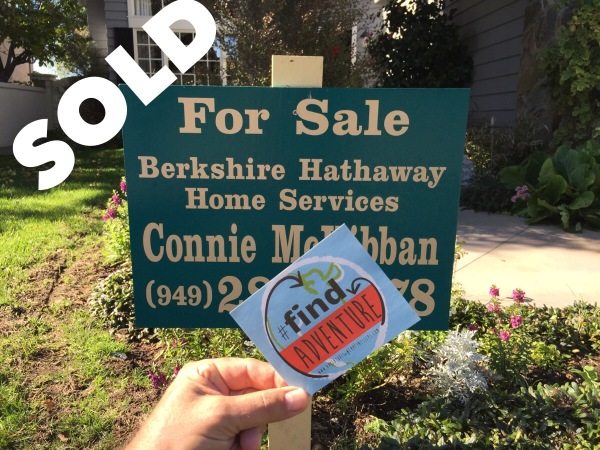 As you may be aware, I am the ultimate advocate of adventures, the #findadventure promoter, the supporter of new ideas and the author of the Inevitablitlty of Change. It is now time that I take some of my own advice. But what if this change is something so big and life altering that life as you know it will never be the same? Oh yes, that big change is life in the Empty Nest. Our kids leave and go off to college and call other cities home. Helping them to gain independence and succeed as an adult was our goal, right? Some of us handle this life-change with ease and others need to work harder to succeed in this newly empty home.
I even went as far as creating stickers to inspire taking photos of a new adventure. Just recently, I embarked on a new adventure, a really big one.
The natural progression of the family is that the children grow to be adults and then create fulfilling lives of the their own. Their lives intersect and intertwine with their parents', but the line isn't linear any longer. The family dynamic is more like many spokes on a large wheel.
Empty Nester Downsize
My tale for today is actually NOT about my kids, it's about us. Craig and I have made the mind blowing decision, to sell our house, downsize to a much smaller house and move away from the city we have raised our children. Whoa that's a big one. There is one caveat, we are moving back to the area where Craig and I grew up, back to our families, back to a place that is familiar, yet has grown and changed with the times.
We spent our childhood and teen years in Arcadia, a lovely suburban town in Southern California. You may have never hear of this charming little city, home of the Santa Anita Race Track, Taco Lita (known for the legendary jumbo burrito) and the Los Angeles County Arboretum and Botanic Gardens. Do you remember the show Fantasy Island from the 70's? Do you recall when Tattoo and Mr Rourke stood in front of a darling Victorian cottage waiting to greet "Da Plane, Da Plane"? That familiar scene was filmed at the Arboreteum, very close to my childhood home.
Arcadia is nestled adjacent to another charming city called Pasadena. Our new home is located about 1.5 miles from downtown Pasadena and 1.5 miles from the legendary Rose Bowl and home of the spectacular Tournament of Roses New Year's Day Parade. It's a phenomenal place to live, with a trendy downtown and glorious views of the San Gabriel Mountains. We were very fortunate to find a 1937 Spanish Colonial home on a tree lined street just minutes from my parent's house. It is only 20 minutes from Downtown Los Angeles, and 30 minutes from our son Nick at UCLA.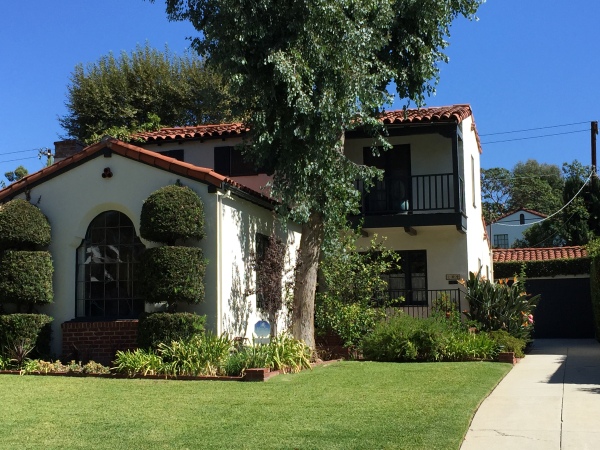 Since we became empty nesters three years ago, Craig and I have talked about downsizing to a smaller house with less overhead, less headaches. Our larger home takes a lot of time, effort and money and with Craig's intense travel schedule and my busy blogger life, it has become too much to handle. Additionally, we no longer have the ties to the school district and to the youth sports teams as we did when the kids were at home.
We do have amazing friends, incredible weather, glorious beaches and wonderful memories from living here for 23 years. We could have chosen to downsize here in South Orange County, but there were extenuating circumstances that contributed to this monumental decision.
My Dad was diagnosed with cancer almost 2 years ago. As many of you know that is a very difficult call to receive. My Dad is my rock, nothing rattles him, he is strong and is fighting a great fight. We will most likely have years to enjoy his company, but why not be ten minutes away instead of ninety? Craig's father passed away 15 years ago from pancreatic cancer and we had just one year from diagnosis to him passing away. It was ugly and awful. Absolutely the worst thing that had ever happened in our lives.
Fast forward to now, and Craig suggested this past January: "Why don't we move up to Pasadena so we can live closer to your Dad and our families?" Our brothers, their kids, as well as our mothers will now live within 20 minutes of us. Perhaps we were quite selfish moving away from them 23 years ago.
We loved living in Laguna Niguel, a family oriented, beautiful beach city in South Orange County. Truly one of the prettiest places you will visit. With beach walking trails, miles of parks, great people and boasts three five-star hotels within just a few miles. This is where people come to vacation and we get to live here. Our friends here have been like family, incredibly supportive and raised their children right along side of us.
In June, we announced to the family that we would put the house on the market and move home. My Dad's response? With a huge grin he said:"You made my life." It makes the decision so simple. Of course we would make this choice and so would you.
These next few weeks will be hectic, stressful and at times fairly complicated. As it turns out, we will be renovating the house and need to find a temporary home. Some of you have already experienced downsizing and redecorating your homes and some of you may be just contemplating a housing change. Any advice and support is welcome!
Stay tuned for much more of this story filled with change, some drama and indeed adventure. I am always pontificating about how important "adventure" is – now I need to practice what I preach!
Have you downsized or moved since the nest has emptied out? Have you changed or remodeled your home?
Please keep us in your thoughts!
Suzanne