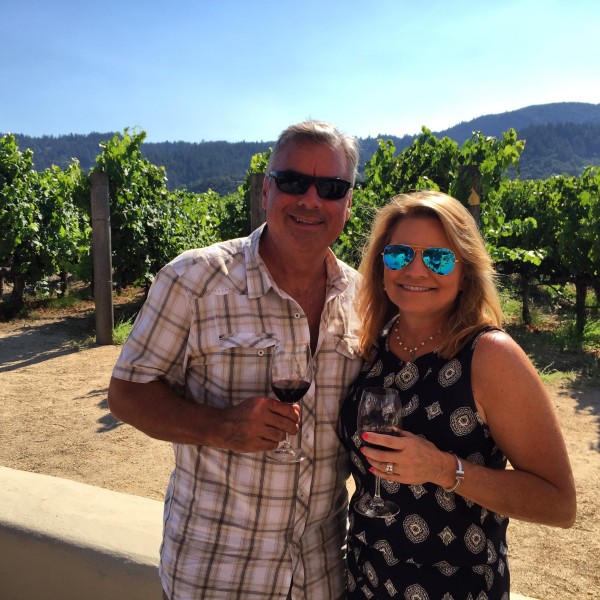 Making it happen in the empty nest.
Fall has arrived and a new class of empty nester parents are drying their eyes and lamenting the fact that their last baby has left the nest. What will they do now that Johnny and Sally are at school? Where did all of the time go? What shall we do next?
Have some fun.
Experiences for empty nesters are the answer.
My husband and I are four years into enjoying life as empty nesters. I do not wish to make light of this emotional, transitional, monumental time in our midlife years. However, what I have learned through these past four adventurous years is that there are many ways to be happy in the empty nest.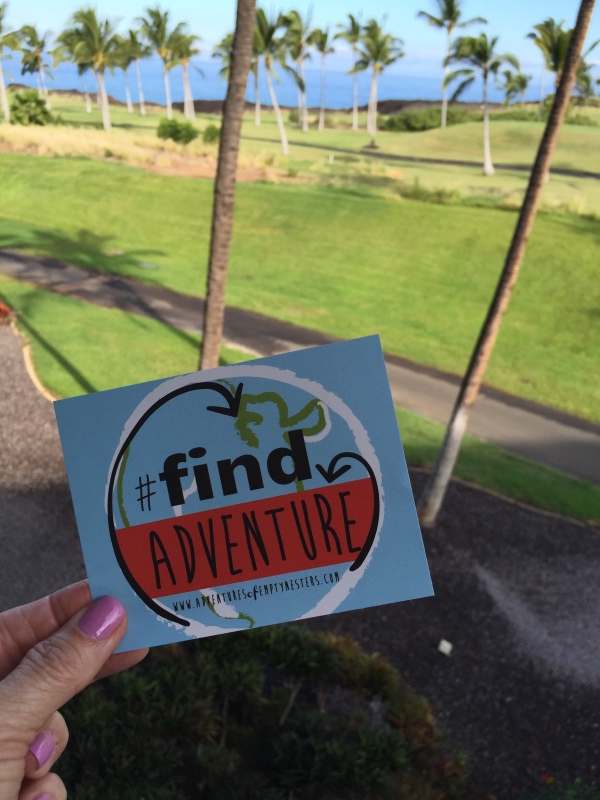 Make lists, take a class, dream big, explore the world, perfect a skill! However, what I truly believe will get you out of that slump and put a smile on your face is to go out and find adventure. Get out and make experiences happen and you will thrive.  Pick up this motivating bestseller called Thrive by Arianna Huffington. It is an inspirational book to help you "remake the world in your own image, according to your own definition of success"
Don't sit back and let everyone else have the fun. Be innovative, spontaneous, free-spirited, make a plan that involves activities that you LOVE.
Honestly, the less time you spend on the sad, emotional parts of life in the empty nest, the more you will realize that experiences are what we need most.
We have empty nester friends that are really making it happen. Couples that are taking amazing vacations, wine tasting, running 5K's, diving with great white sharks (yes she really does). They are starting businesses and now have more time to rekindle friendships that have been left dormant while we were raising our children.
My husband Craig and I recently enjoyed a three day outdoor concert festival in San Francisco, called Outside Lands. A  thoroughly engaging, eclectic, excessively HUGE, outstanding music festival for all ages. We took our adult kids, our nephew and our son's best friend. Two generations of music lovers combined to experience amazing music and phenomenal local food, Napa Valley wine and handcrafted beer.
My recent post of our Outside Lands experience,Two Generations: One Music Festival, was published in the Huffington Post and it also caught the eye of the folks at Eventbrite. Eventbrite is an event management website where you can create your own event or attend someone else's. I have used the website many times with great success. While we empty nesters were out creating experiences, Eric Meyerson from Eventbrite, published an informative and exciting blog all about us! Not me and Craig, but all of us empty nesters/baby boomers. "Eventbrite wanted to dig a little deeper and figure out how Boomers view events and experiences now that they're into their golden years. And the results for this generation are quite refreshing. Experiences trump material possessions across generations." To read Eric's entire post click => Here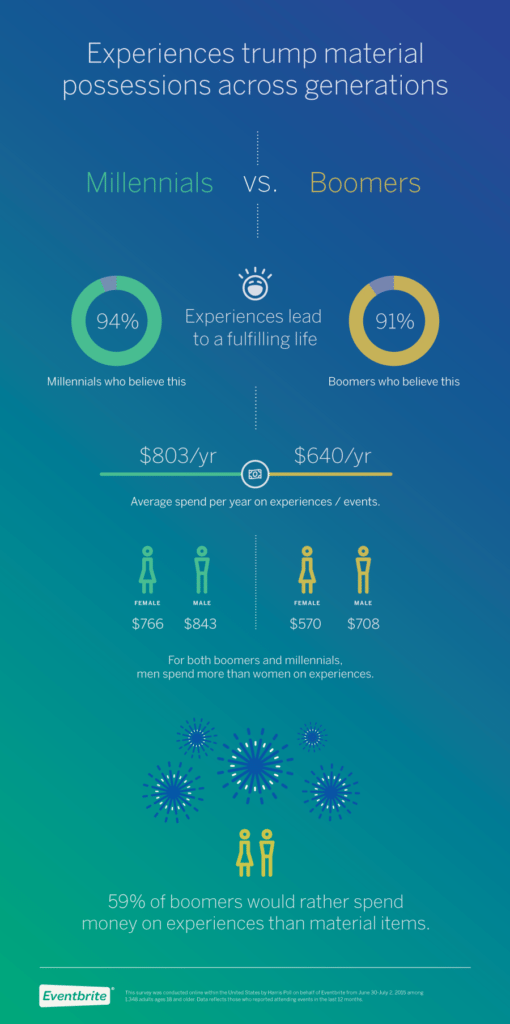 Parents of adult children are having a blast and are attending even more music events than their kids! Eventbrite shared these thought provoking infographics and I couldn't be happier. Validation is always a good thing and they think our generation is cool, applauds our activities and wants the world to know about it! We couldn't ask for better PR.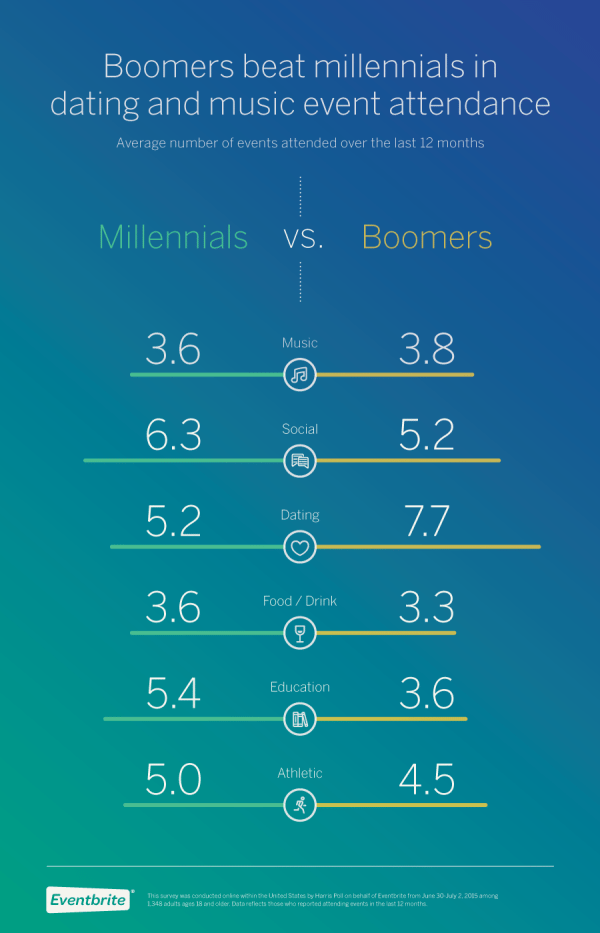 We live in our own empty nester world, but the lines between generations are blurred. I am finding that my kids' friends in their late twenties and thirties are reading my blog AdventuresofEmptyNesters.com. They want to know what's next for them and have fun living vicariously through our adventures.
Stories of adventures and experiences is what Adventures of Empty Nesters is all about. Inspirational parents in midlife that are newly invigorated and finding creative ways to live life to the fullest. Going to concerts, live theater and sporting events are first on our lists now that the obligations of soccer practice, homework and carpooling are behind us.
What's next for you? How about an exhilarating trip to Iceland and Ireland like Jon and Angela or renovating an urban condo in NYC like Meg and Doug? Want to go with Steve and Christina to Coachella next April? They go every year! What about a glorious trip to Italy like Kathy and Kevin or taking a train ride to Del Mar to watch horse racing like Wendy does? The possibilities are truly endless.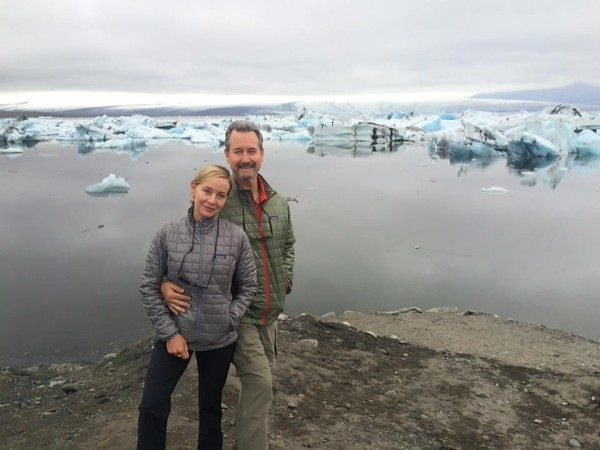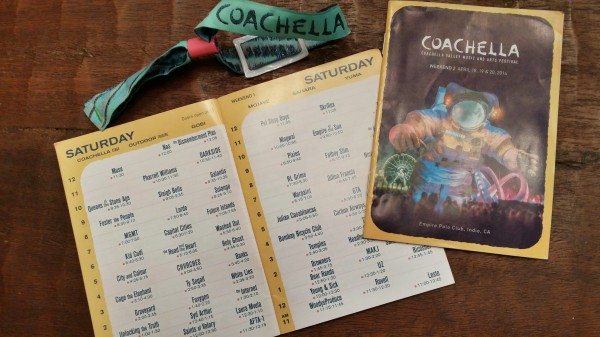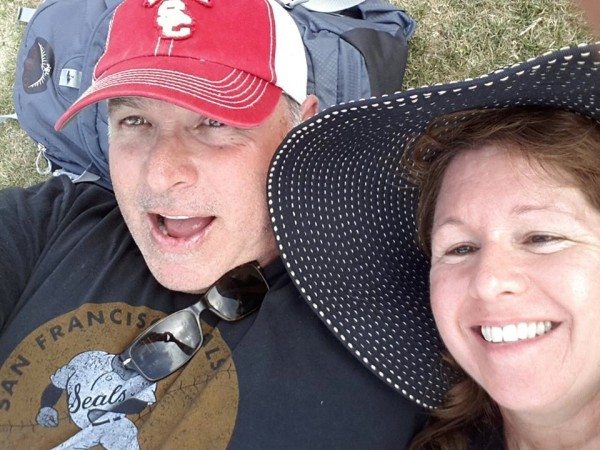 Can you see a pattern here? These empty nesters don't consider age as an obstacle, they inspire us to look for experiences instead of buying something. Adventures do not have to be on a grand scale, they can be as a simple as a concert in the park or taking an art class. The best news is that now that the kids have moved on to run their own lives, we have time to nurture ours.
Do you have experiences you would like to share with us? Any new ideas we haven't yet thought of?
Let us know and keep up the great work!
Suzanne