Please join me and give a round of applause to Christina Mueller. She is a midlife ROCKSTAR! She took on a huge challenge in order to get healthy in midlife. She looked this Spartan Race in the eye and owned it. I am in awe of her determination, strength of character, enthusiasm and her willingness to seek adventure in a big way! She has guts and is ever so humble. I begged her to tell her story and I promise you will be inspired. Thank you Christina!
---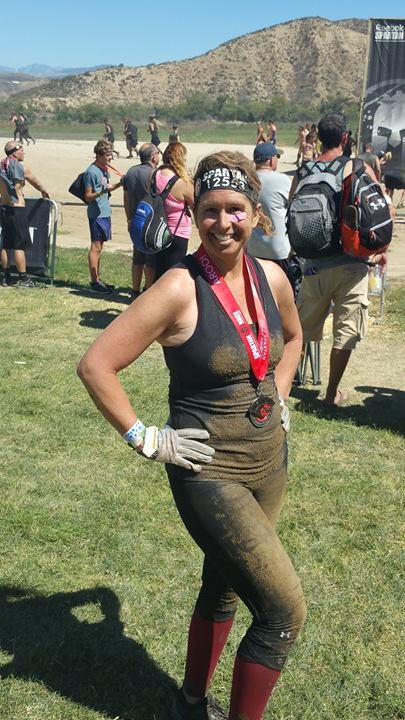 How to get healthy in midlife ~
It began as a journey to lose weight. It ended with feeling more accomplished and fit than I had since I was in my 20's. And I also lost weight. So what is the middle part of this story? I became a Spartan.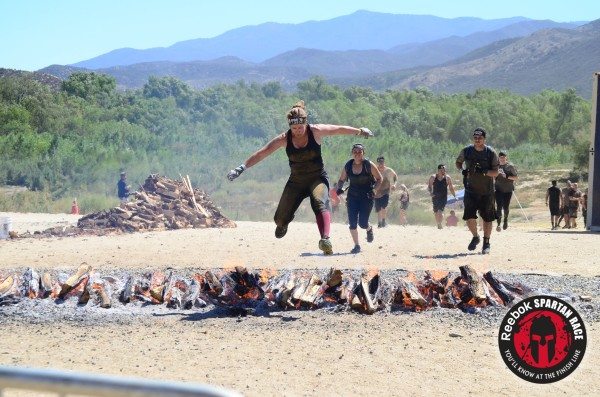 One of my best friends, Kim, had worked out with Cynthia Hill, an amazing trainer, and a fitness group to complete a duathlon (running, biking and more running). It was a program several weeks long and Kim did an amazing job melting away weight and body fat. In June 2015 Kim told me Cynthia was forming a new group to compete in a Spartan race and she suggested I join with her. A Spartan race is an obstacle course race. There are three primary races of increasing distance, the Sprint (3-5 miles, 15+ obstacles), the Super (8 – 10 miles, 20+ obstacles) and the Beast (12 – 15 miles, 25+ obstacles). It is similar to a mud run except the obstacles are tough (rope climb, crawling under barbed wire, buckets filled with rocks to carry, you get the idea). If you do not complete an obstacle, you must pay a penalty of 30 burpees. A burpee is an exercise of torture combining a squat, a push-up and a jump that is extremely taxing on the body. One is achievable. Thirty? Outlandish. I reluctantly said yes.
At this point I should also say that I have been fairly athletic most of my life, competitive roller speed skating when I was a teenager, snow skiing and water skiing as an adult, along with various gym memberships along the way. When I signed up for the Spartan training I was going to boot camp and yoga a few times a week but it was clear most of the group was much more fit than me. When I started, I was rapidly approaching my 50th birthday in July and one aspect that was helpful was that I was not alone in my age group. For 14 weeks we were to train 2 days a week as a group and 4 days a week on our own. One day for our weary, sore bodies to recuperate before starting again.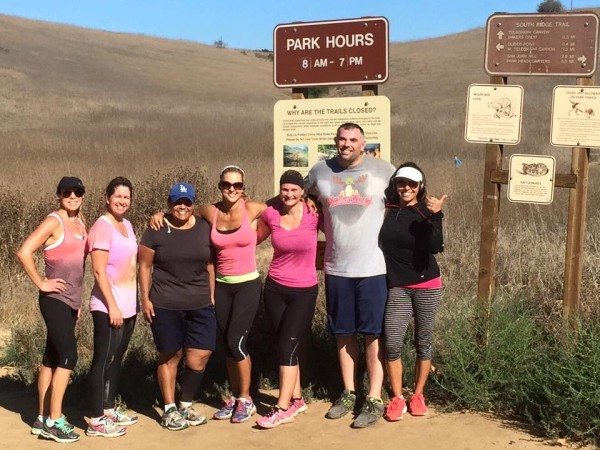 At our first group practice, Cynthia announced our group workouts would be as a team twice a week and that she would train some of us to compete in the Sprint, while some would compete in the Beast. The races were scheduled for September and those were the only two races scheduled that weekend. I was relieved. I could walk 5 miles if necessary.
My body was not designed well for running. I joined the cross-country team in high school to improve my endurance for speed skating and found out I am flat-footed, a natural heel-striker with over-pronating thrown in just to make it even more colorful – the perfect ingredients for a severe case of shin splints, which are pretty painful. Had I not stopped running in high school, my doctor sternly warned me I would wind up with stress fractures.
After two Spartan practices, it was pretty clear running was a huge part of the training. Almost immediately I began to feel shin pain. I decided if I was going to continue I had to change my running mechanics and try to change my landing from heel to mid-foot. I watched YouTube videos on running techniques, I read all sorts of articles about shin splints, did exercises to help strengthen the shin muscles and wore compression sleeves on my shins everywhere except the shower. I was concerned. I almost quit but it was really my beloved partner, Steve, who convinced me to keep going. He coaches baseball and knows a few things about working through pain. My mantra became "just show up and do the best you can." I did. I kept showing up and trying. My running was awkward, it didn't feel natural and everyone was faster than me.
In the first couple of weeks, the weight started to fall away and that was very encouraging. That was my main goal, not running the race. After about a month my running started to feel more natural, I could tell my endurance was improving and my shin pain was not as intense, all very positive signs! In addition, I was continuing to lose weight and body fat. The workouts were beginning to be more fun, even though they were increasing in intensity, I liked the weekly challenge. I was getting to know the team – all fun and super supportive people. We learned how to throw spears, we sprinted up hills, we crossed monkey bars, and did countless burpees. Cynthia counseled us on nutrition and hydration. As Kim says, Cynthia was not training us to simply participate, we were being trained to compete!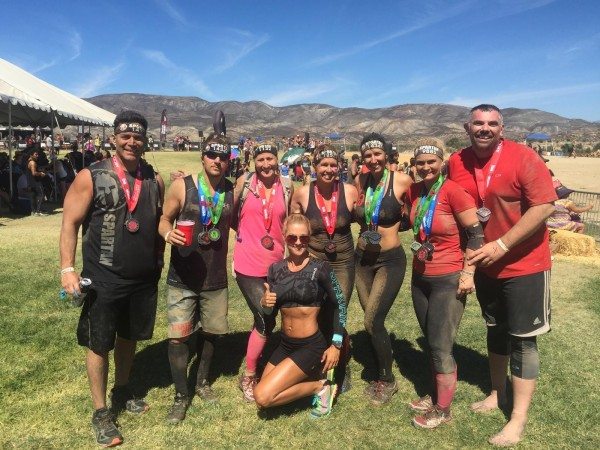 The race was the end of September. I was ready and excited. It was a hot day, about 105°, but I began the race mid-morning, I had my own water supply on my back and a couple of snacks. The hills were tough but I felt pretty good with most of the obstacles in the first half. Spartan racers are some of the nicest people on earth. At every obstacle there were racers helping other racers and giving lots of verbal encouragement. You never know exactly how long a Spartan race is until you finish. I had just finished doing burpees after missing the spear throw when I reached the mile 4 sign. It was a mental "uh oh." I wasn't sure how long I had been on the course but I knew it had to finish before the 5 mile mark. I hadn't eaten anything and I was supposed to keep my energy up. I sipped on my water – empty. I hadn't filled up at any of the stations because I thought 50 oz. on my back was enough for the whole race. Not on a dry, hot day. Crap. I kind of melted down a little bit. I was tired, my arms were sore and I was not done. The last part of the race was one obstacle after another. I failed at the traverse wall (like a wooden version of a rock climbing wall but you move sideways) and the multi-rig (monkey bars + rings + ropes = lots of upper body strength) I had to do two more sets of 30 burpees. I was spent.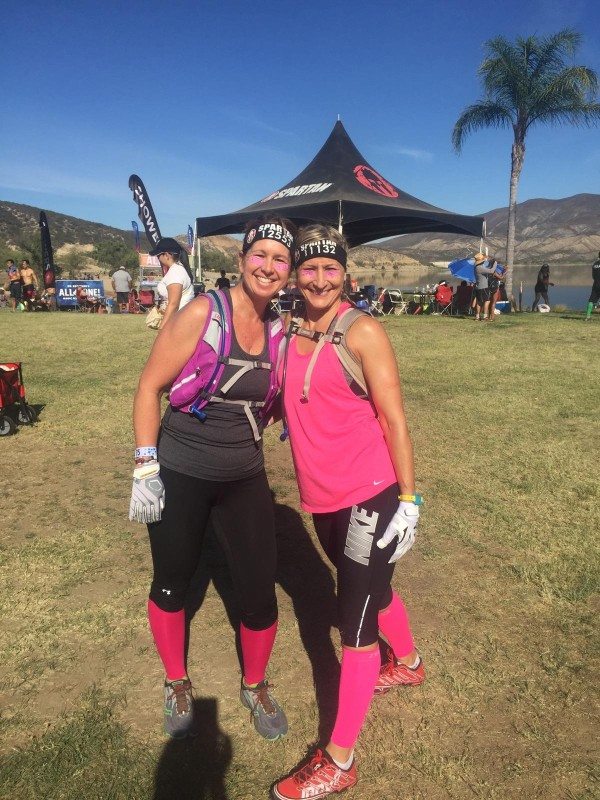 The final strength obstacle was the rope climb. I learned a technique of wrapping the rope around your legs to help give your arms a break when climbing the rope. I could do it at practice! I had been doing it for a couple of weeks! Not on race day, not enough arm strength left. Slowly I walked to the burpee zone. My teammates were nearby, all cheering me on! Ugh, do I really have to do burpees in front of everyone? Yes, and there were a ton of other people doing them too. I did a couple and all of a sudden, one of my teammates, Lee, is next to me, encouraging me to keep going! Lee is a very tall English gent who looks like he plays rugby and snaps people in two for fun but he's really super nice. In the moment I was thinking that if I passed out, had a stroke or a heart attack at least Lee could rush me to the first aid tent. He stayed right next to me and even did burpees with me at the end. I will never forget his kindness and big heart! He totally got me through those final burpees! The last thing Spartan racers do before crossing the finish line at most races is jump over a line of fire. Psssh, that was nothing, I was kind of excited to do that part because the finish line was so close. I got my medal and officially became a Spartan race finisher.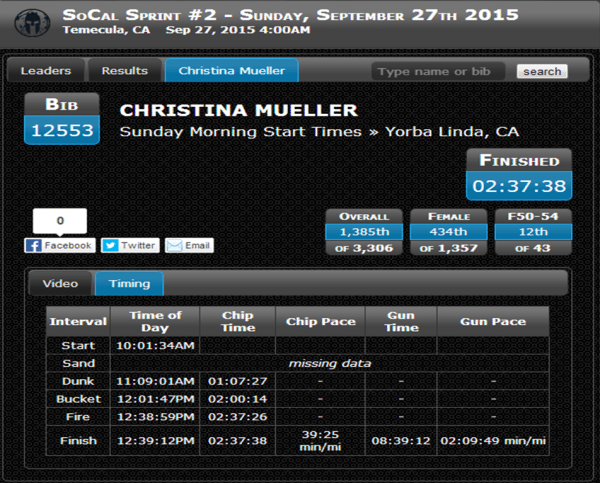 Overall, it was super fun. I loved the challenge of the obstacles, the camaraderie with other racers and being outdoors in a beautiful setting. I lost the weight I wanted to lose – 15 pounds plus 19 inches and 9% body fat – gained several new friends and signed up for another Spartan race (the 6 – 8 mile Super) in January 2016*.
*I am happy to report that I completed my second Spartan race (a 9-mile Spartan Super) this past weekend, on 1/30/16, and am planning to do more obstacle course races in the future.