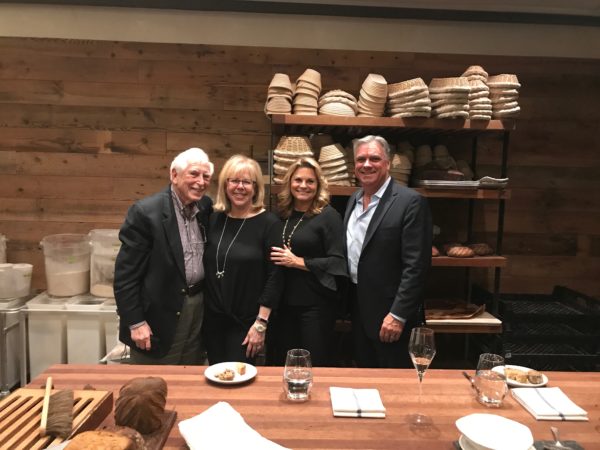 A Fairy Tale Dinner at Blue Hill at Stone Barns ~
How well do you know your food? Have you thought about where it comes from? How it is grown? How it is prepared?
Dinner at Blue Hill at Stone Barns, Pleasantville, NY
We traveled by train thirty miles outside New York City to enjoy the holiday season and to meet up with my good friend and fellow travel writer Irene Levine of Getting on Travel and her husband Jerry. Irene and Jerry live locally and have visited Blue Hill at Stone Barns on several occasions. The restaurant mood was calming and a lovely stone fireplace lit the path to our seats for a magical four hour meal.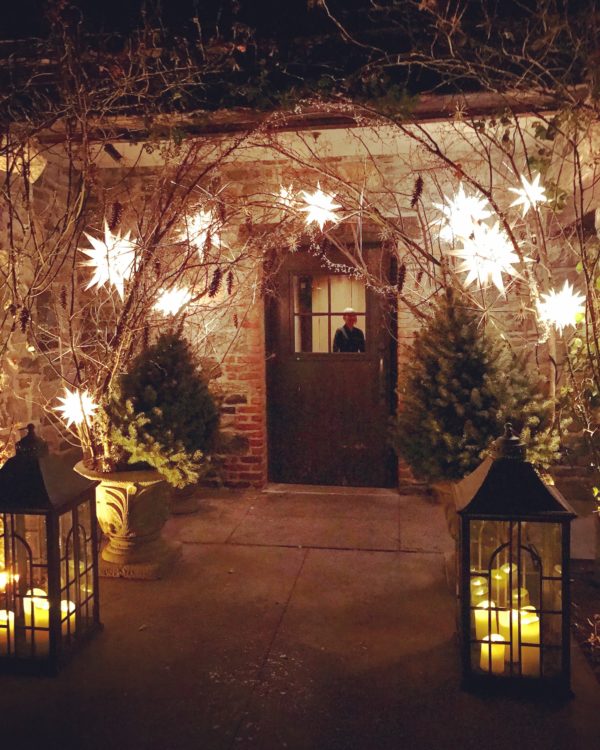 Although this is fine dining in a category all its own, the ambiance is unpretentious and friendly. This meal is more on the vegetable centric side of the menu spectrum, thoughtfully prepared and presented in ways you have NEVER ever seen before in your life.
Our latest culinary adventure went something like this…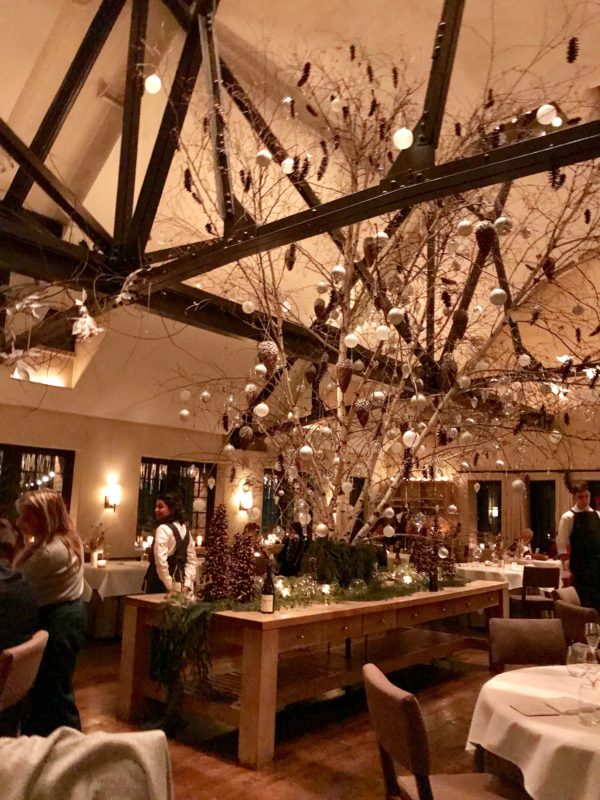 We were greeted at the front entrance by candlelit lanterns and local Christmas greens and as we walked across the threshold we began our culinary adventure! The dining room is a gloriously restored barn with a vaulted ceiling and iron beams, an outdoor fireplace, long wooden farm tables covered with beautifully displayed vegetables and an enormous winter centerpiece made from birch branches, twinkle lights and white and silver glass ornaments.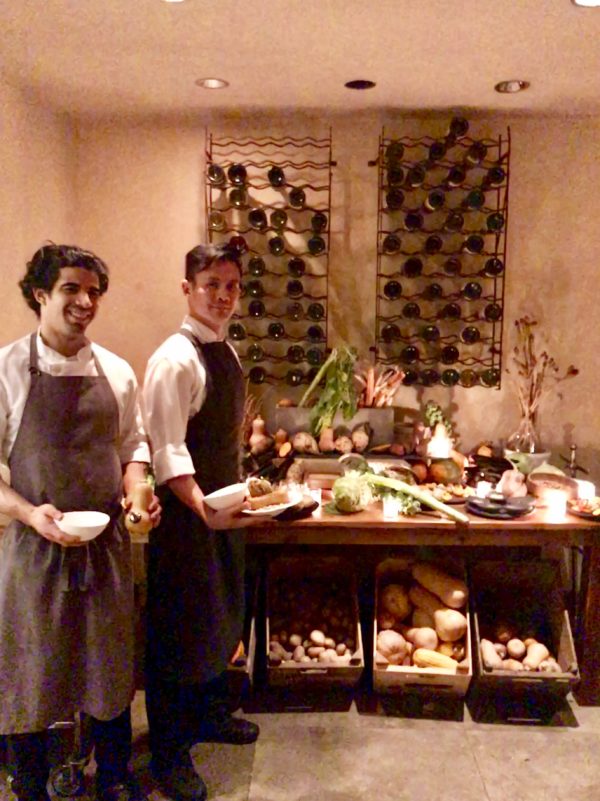 It was dining as an art form where the wait staff glided softly around your table presenting you with many colorful gifts made from savory food bites and flavor combinations (like chocolate and paté) you never dreamed of tasting. There is no printed menu, just a questionnaire sent prior to arrival to learn of any allergies and other personal food preferences. I asked for no organ meat and no lamb (they are just not my favorite).
The Menu
Every table enjoys their own personal menu and the chef tailors the dishes based upon the diners' preferences. They even asked me several times during the meal if I was ok with a certain ingredient. Yes, I am not kidding.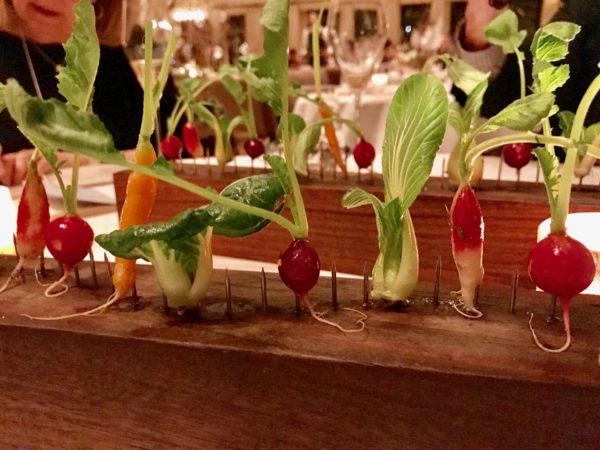 After more than twenty different courses of bites, small plates and spoonfuls we kind of lost count. It was impossible for us to keep up with the intriguing ingredients and flavor profiles, so we gave up writing them down and enjoyed the meal in the moment! Every plate came with a story, every dish came with instructions for how to best enjoy each bite.
The first several courses were all designed to be eaten with our hands. There were beautiful veggies and Habanero peppers that were bred to not be hot. What? We were presented with silverware in a cloth and leather pouch around the sixth course!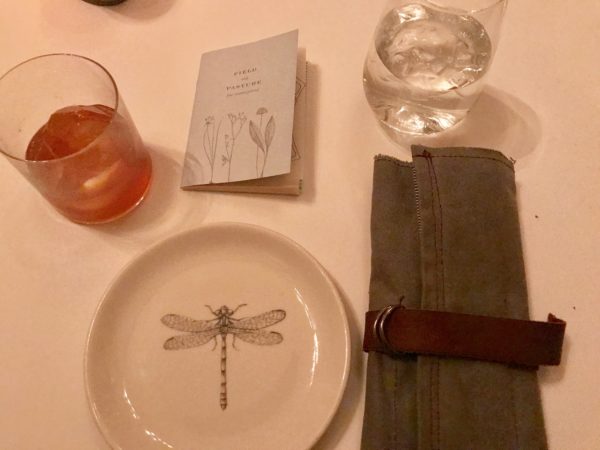 We came away with an even better appreciation for the importance of farm to table cuisine. Why we all should care where and how our food is grown and raised. To care how the earth is treated and what we can do for future generations is a responsibility for all of us. There were many conversations discussing how certain vegetables were grown and how the animals on the farm are fed and treated. The restaurant adheres to a "no waste" policy, every part of the vegetables are used and where even the animal bones are charred and used as briquettes for grilling. We even sampled "single udder butter" with our bakery bread.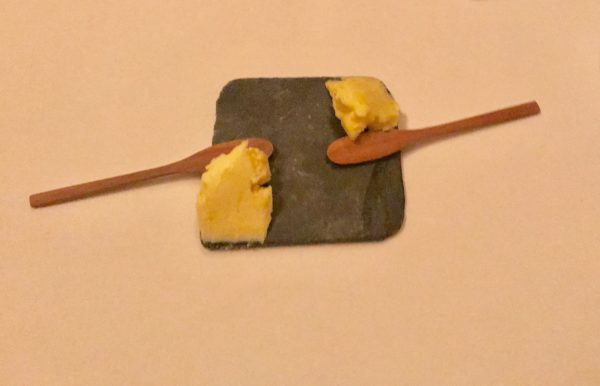 Single udder butter (n): Butter created from milk by a single cow. In our case, two cows, Lottie and Alice.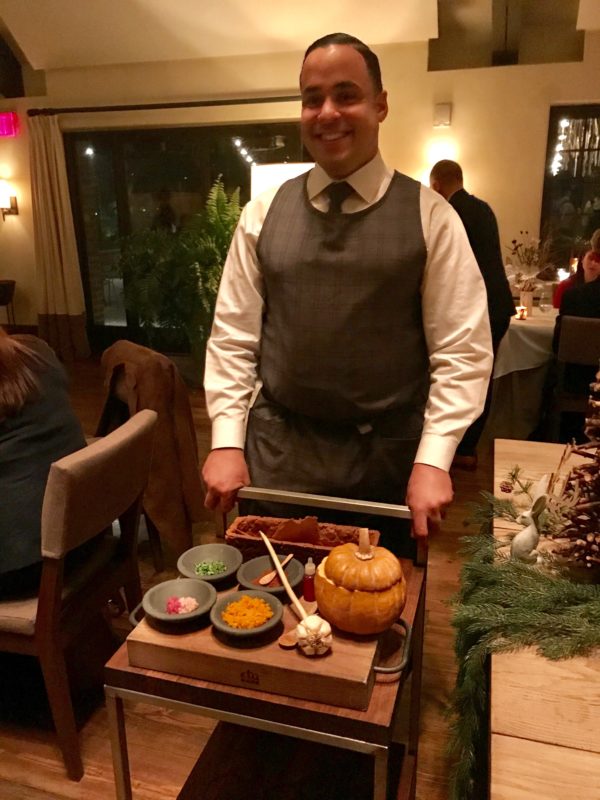 With no detail too small, our meal was clever and exciting, mysterious and enlightening. It felt like our server Ronald was the narrator of our own twenty act play. We were educated and treated to succulent pork, creamy potatoes, polenta made from "eight row flint corn", roasted trout and unique vegetables like kohlrabi, koginut, bolero carrots and honey nut squash. Even the dessert was made from squash!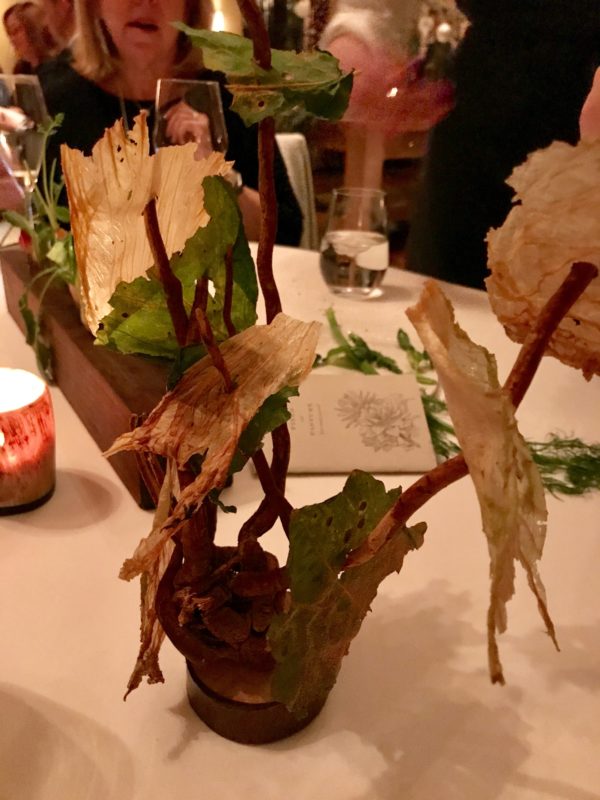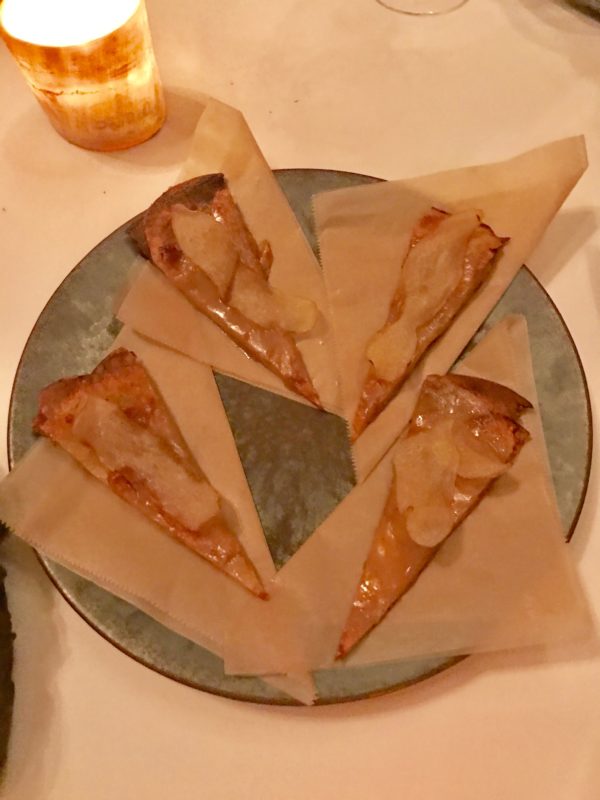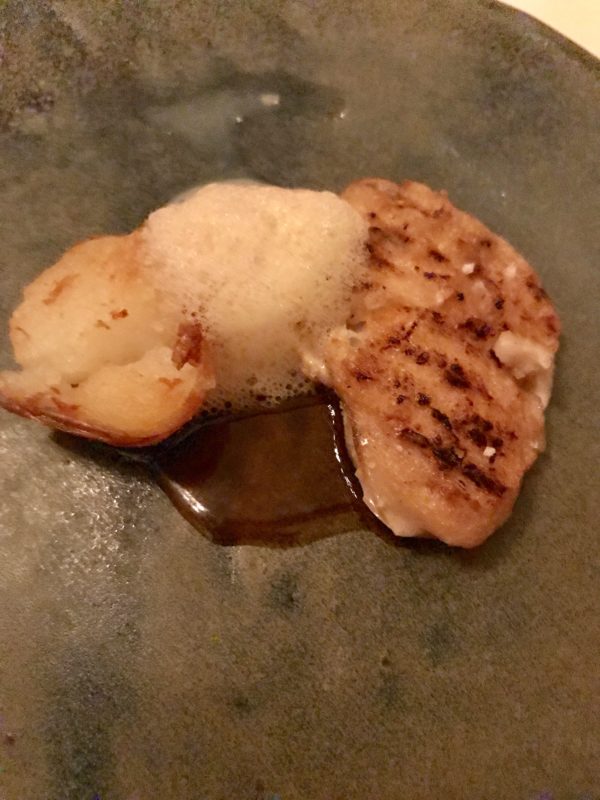 Whole Roasted Trout wrapped in vegetable leaves and newspaper just out of the oven.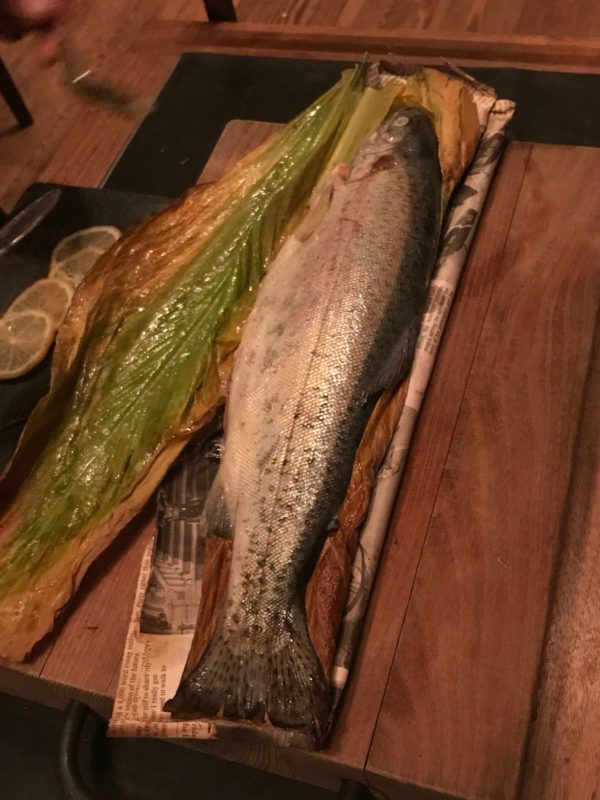 The presentation of the roasted trout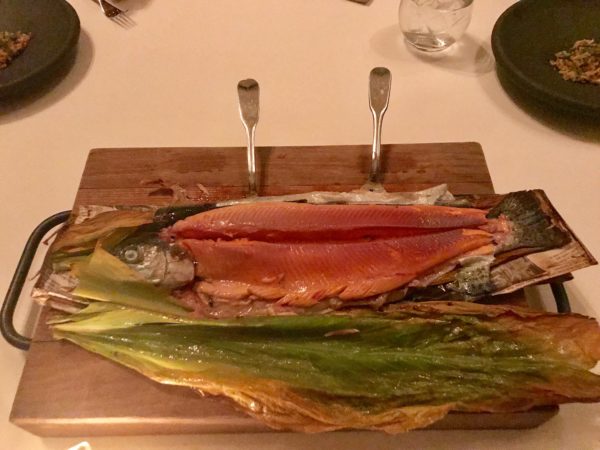 Meeting Chef Dan Barber
It was a culinary performance with one last cherry on top! Irene, Jerry, Craig and I were invited to see the bakery where they grind their own wheat and bake their own bread with the visionary himself, Chef Dan Barber. It was a pinch me moment.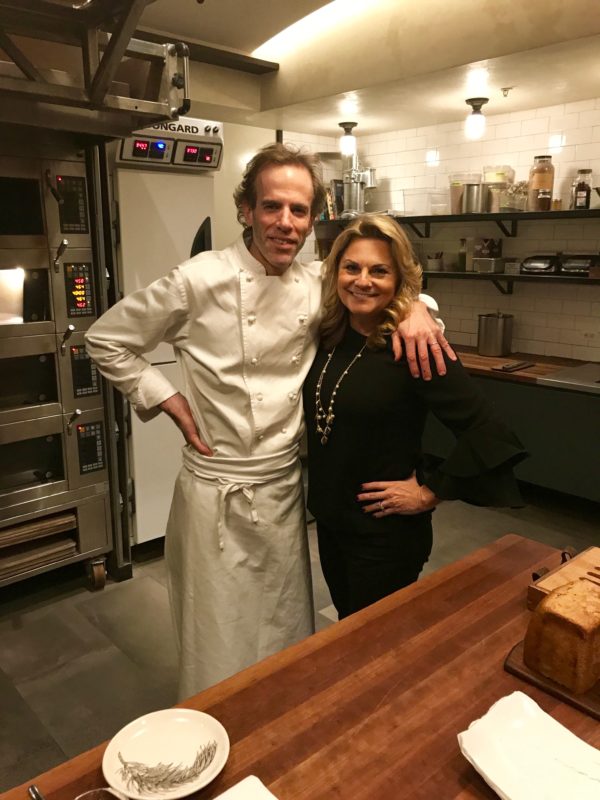 Chef Dan was gracious and informative carefully explaining how the "Barber wheat" was created and sliced the most delicious bread for us to taste. The bread was tasty and airy, yet it was made from just wheat, salt and water. Amazing.
The presentation of each course was always playful and sometimes tongue in cheek like these two dishes.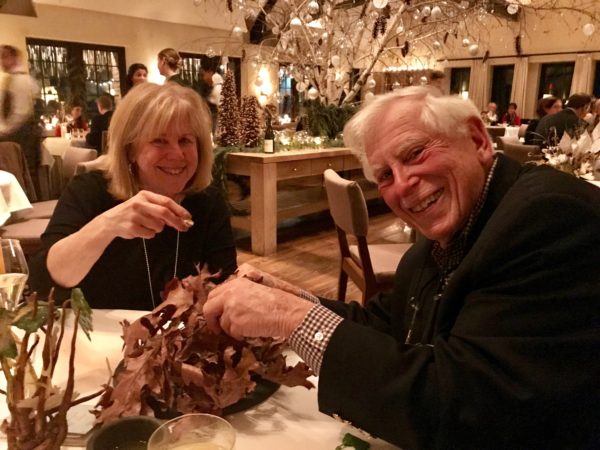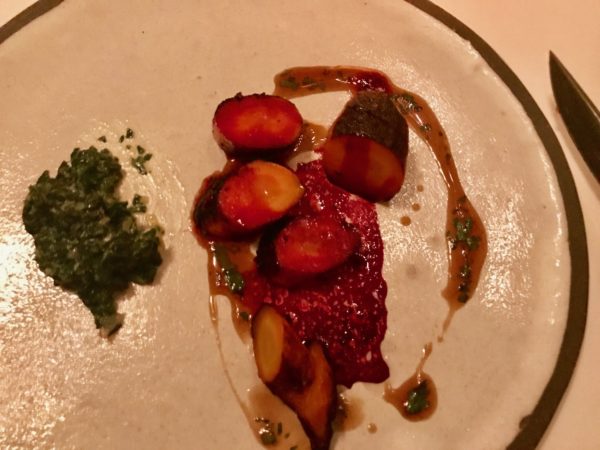 Our special dinner at Blue Hill at Stone Barns with Jerry and Irene, Chef Dan, Ronald and many other chefs and servers was so unique and memorable. There were so many clever dishes made with harmonious ingredients that I just can't stop thinking about it.
And then there was dessert ~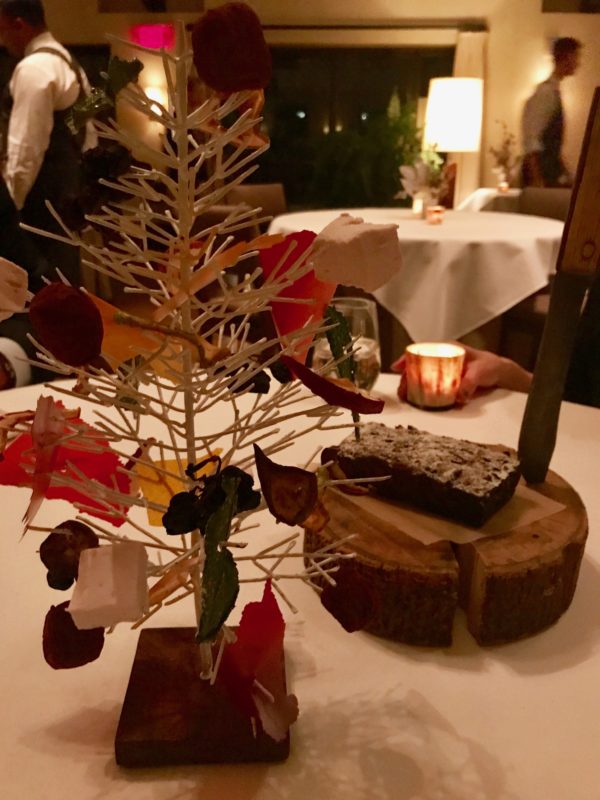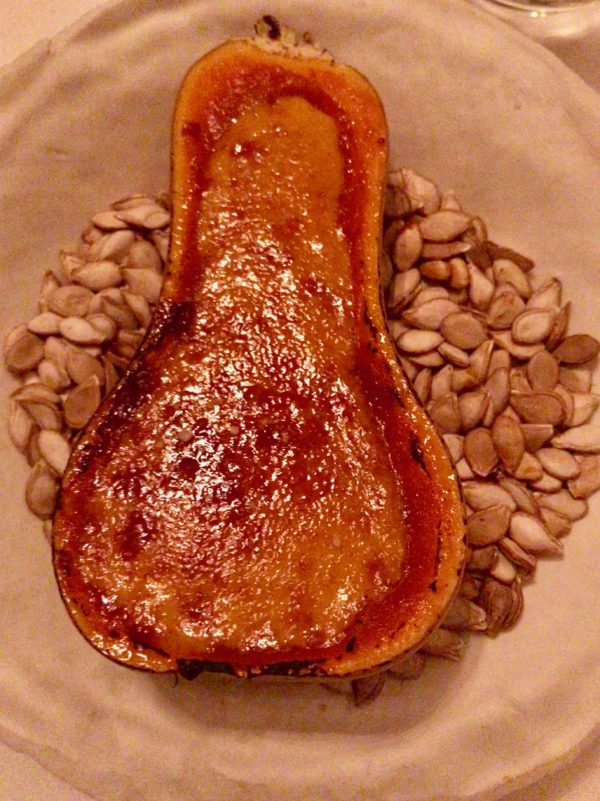 This restaurant is especially wonderful for those foodies who don't mind spending time and money to travel to a destination restaurant where diners from all over the world visit everyday. Giving up control of deciding what to eat and how it is prepared is also required. But the experts who serve us dinner at Blue Hill at Stone Barns strive to make an unforgettable dinner you could never experience anywhere else on earth! The guessing game for what comes next was so fun! I loved it. Craig loved it and our dining companions Irene and Jerry loved it too.
We took a culinary vacation in New York and I am sending you this postcard so you can see the details. The lighting was not favorable to taking photos and flash photography is a no-no in my book. I did the best I could with what I could!  To learn more about the ideology of Chef Dan Barber you can also check out his book called The Third Plate.
Pin for later ~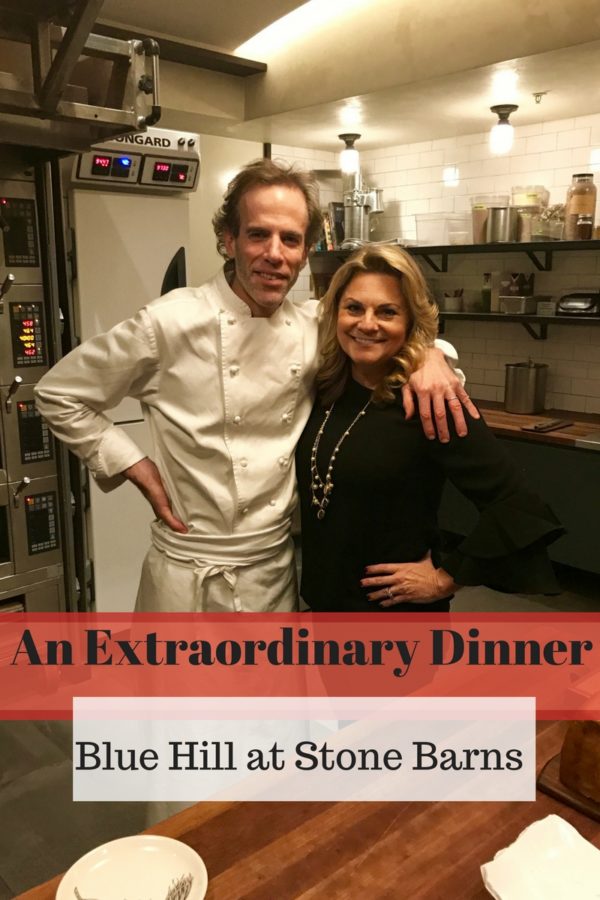 ---
Do you know other traveling foodies who would enjoy the post? Please forward to them!
You can find us here:  Follow us on Twitter, like us on Facebook, check out our photos on Instagram, or pins on Pinterest