Another food tour adventure? Why yes! Thank you!
Just recently I took a fantastic tour by Chris Milano's Foodie Adventures in San Francisco's Mission District. The Mission, Latin Food Tour was so delicious and I loved it so much that on my next trip there I just had to take the North Beach and Chinatown Tour!  It is no surprise that once again Chris dazzled us with his knowledge, charm and passion for the delectable food of San Francisco.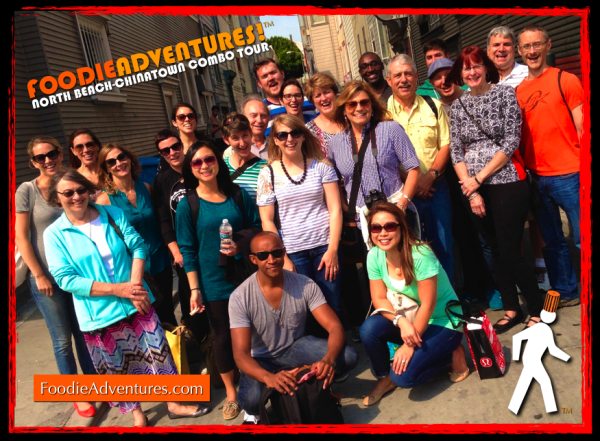 On this tour we sampled everything from buttery, coconut buns from the Chinese Bakery to five different types of dim sum from Delicious Dim Sum – nine stops in all. Yes, nine. We most certainly got our money's worth and a very full belly. What a delightful way to spend the day in a city that is known world wide as one of the absolute best cities for an outstanding variety of delicious cuisine. This tour was so unique and filled with hidden treasures that I could have never created it on my own. We were fortunate to take advantage of the personal relationship Chris has developed with each of these small business proprietors. When we arrived at every one of the stops, our food was piping hot and ready for us to savor and then gobble up!
The North Beach area of San Francisco is in the Northeast area of the city and adjacent to Chinatown. The area in San Francisco's Little Italy has historically been home to a large community of Italian Americans. There is still a large representation of Italian bakeries and restaurants, however as Chris explained, the Chinese entrepreneurial community is expanding and has taken over several of the Italian eateries and small businesses.
There were about 20 in the group of "foodie adventurers" who gleefully followed Chris as he led us through a maze of streets, an assortment of cuisines and unique locations for some absolutely incredible specialty dishes.
Take a deep breath, put on your elastic waist pants (for extra room) and join us as we go on the North Beach and Chinatown Foodie Adventure! We honestly went to so many locations it was difficult to keep it all straight in our minds. Anyone can visit the vast array of beautiful sights of San Francisco like the The Golden Gate Bridge, Fisherman's Wharf and Ghiradelli Square, but on this tour we were smack in the middle of a community, experiencing their culture on a very personal level. I thoroughly enjoyed the opportunity to be invited to view San Francisco on the inside, talk with the locals and share in their passion of their unique heritage.  We were not in the touristy areas of these diverse culinary areas of the city. We visited the family owned, small eateries where the owners work six days a week (or more) and put their heart and soul into every bite of food.
Lovely San Francisco – My view from the 34th floor of the Grand Hyatt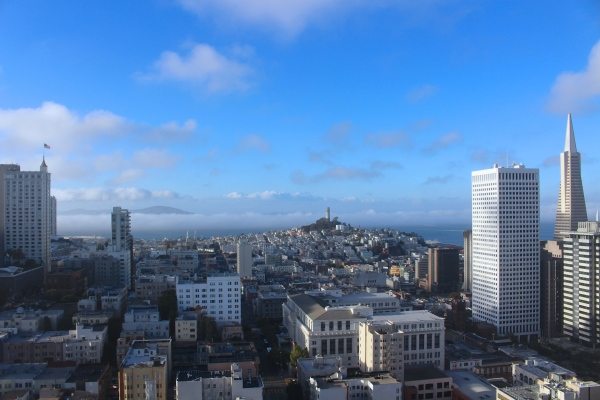 The Tour Begins:
Chris Milano sharing fresh foccacia from the Italian bakery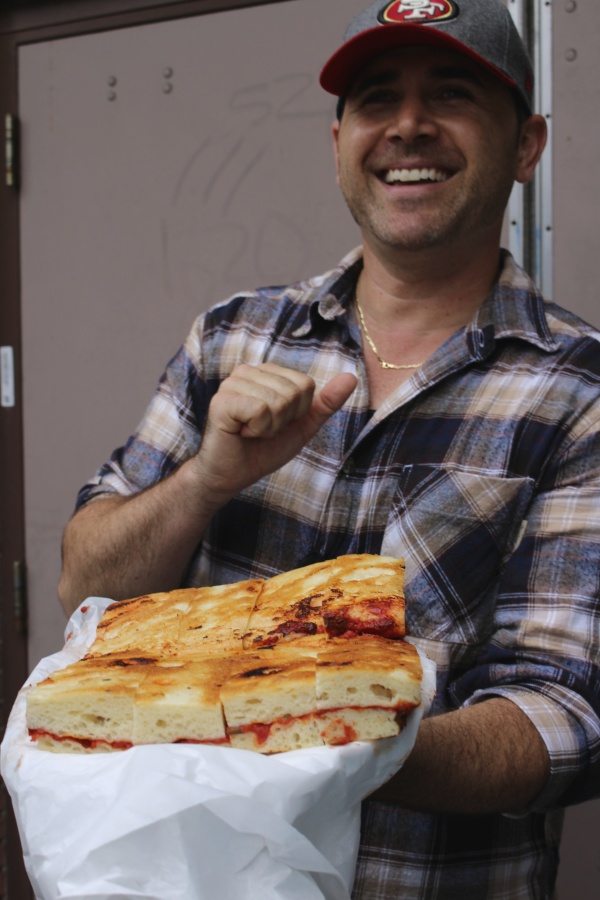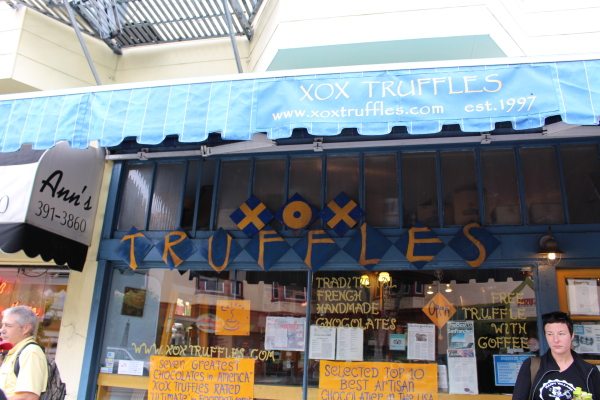 All of the ingredients to make our decadent truffles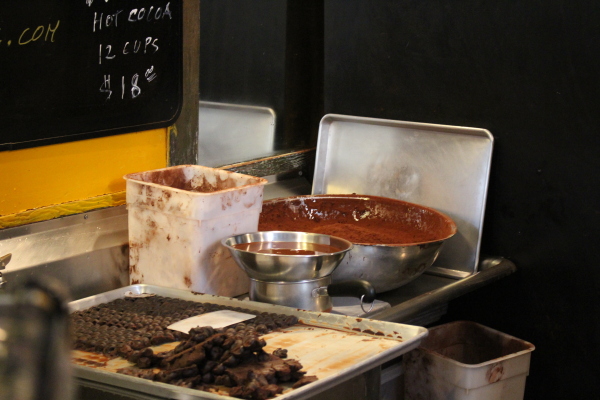 Chef Jean Paul making our divine truffles by hand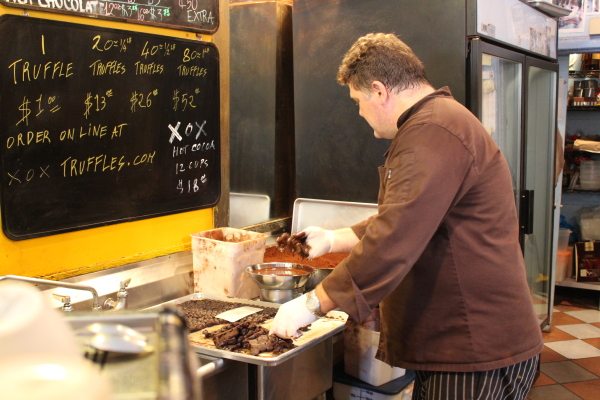 I wanted a ladle full of chocolate!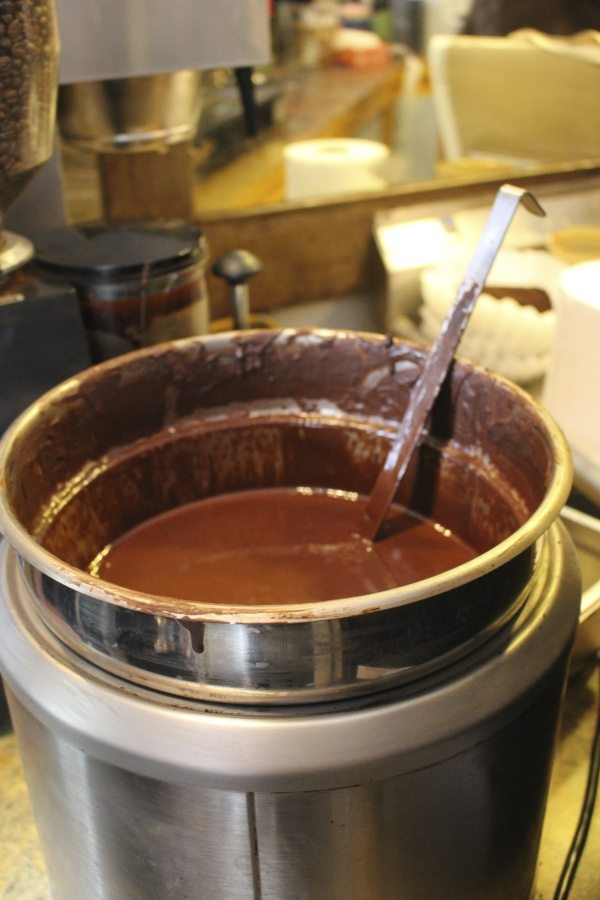 The finished truffles, still warm, lovingly made by hand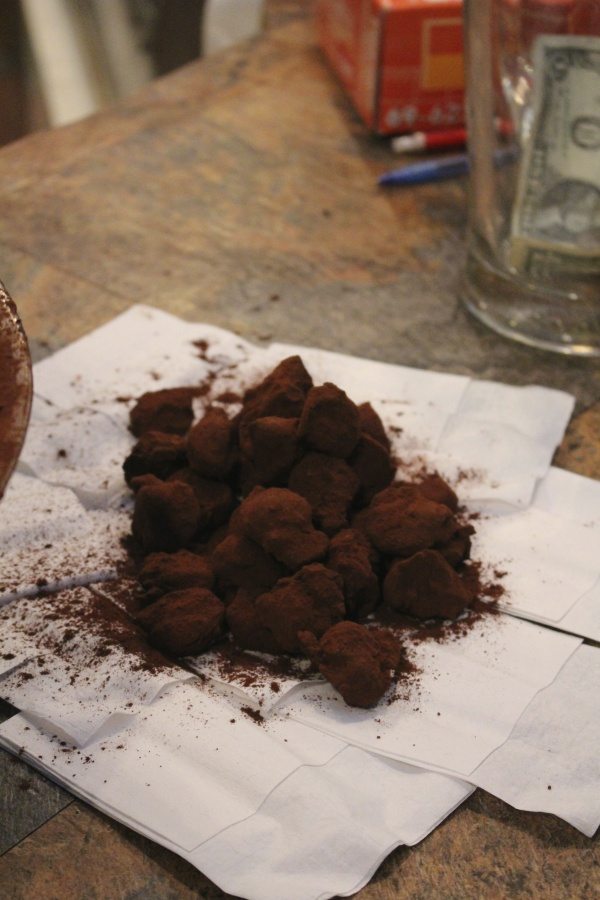 Mmmm Dim Sum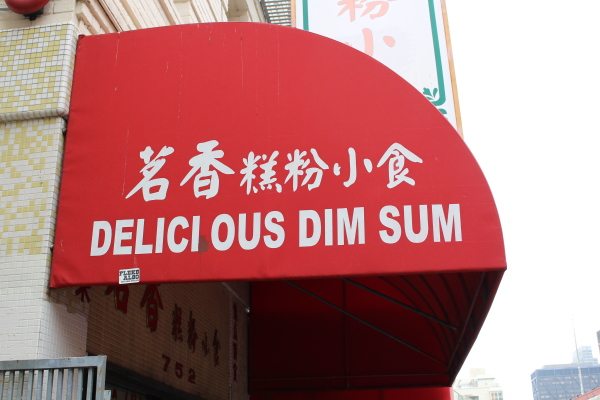 Chris with camera-shy Annie, owner of Delicious Dim Sum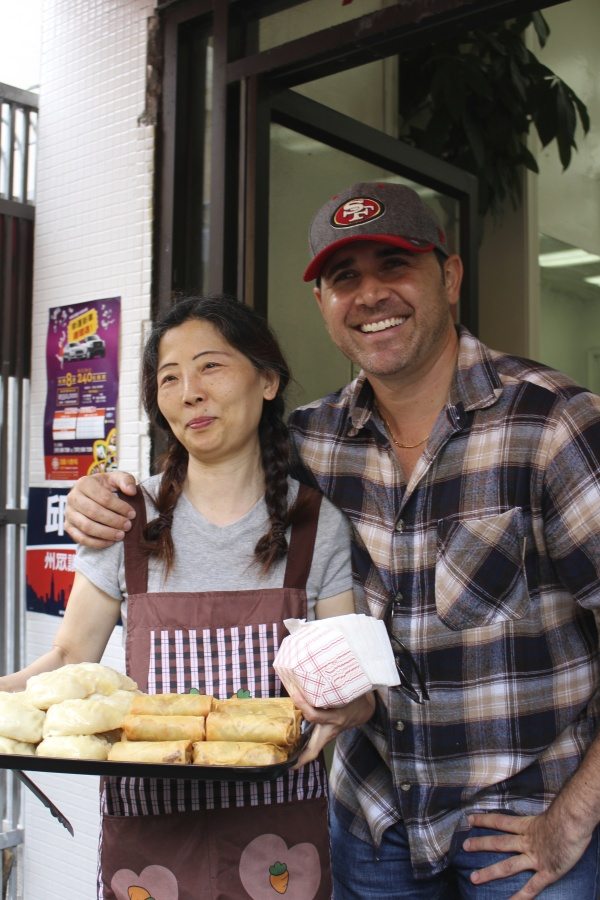 Part of our group enjoying many different kinds of Dim Sum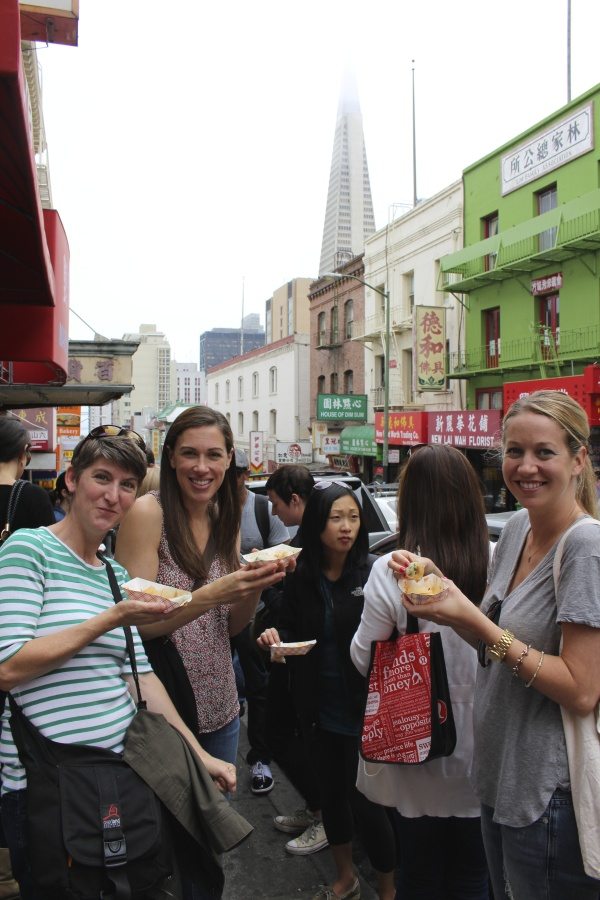 A delicious roll and steamed dumpling with chili sauce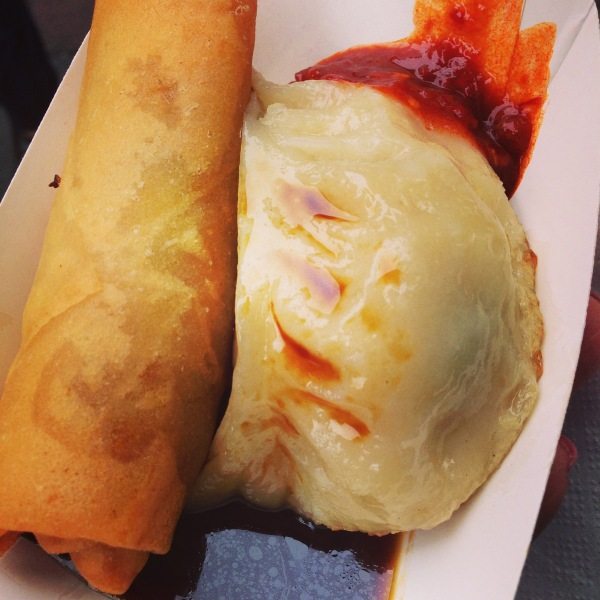 The Goldengate Fortune Cookie Factory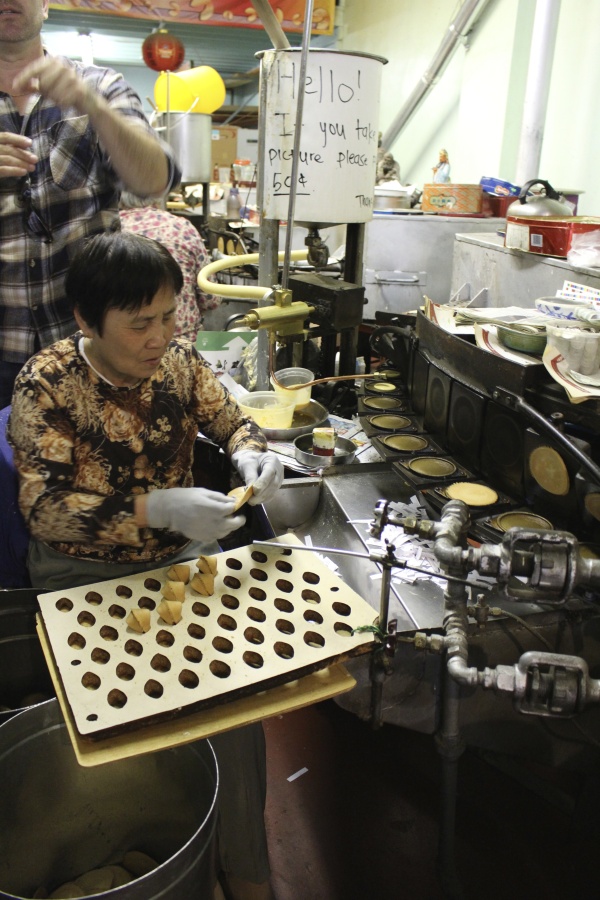 The Goldengate Fortune Cookie factory really touched my heart. This sweet lady makes every cookie by hand on the antique cookie press. Notice the cookie press assembly: a hose sprays the batter on the piping hot press and then the machine presses down on top to bake off the cookie. She then pulls off each cookie, inserts the fortune, then bends the still-warm cookie in to the form to make the famous fortune cookie shape.
In addition to the traditional Chinese fortunes, the owner is famous for her "adult" yet tame, versions. They are very funny! See below.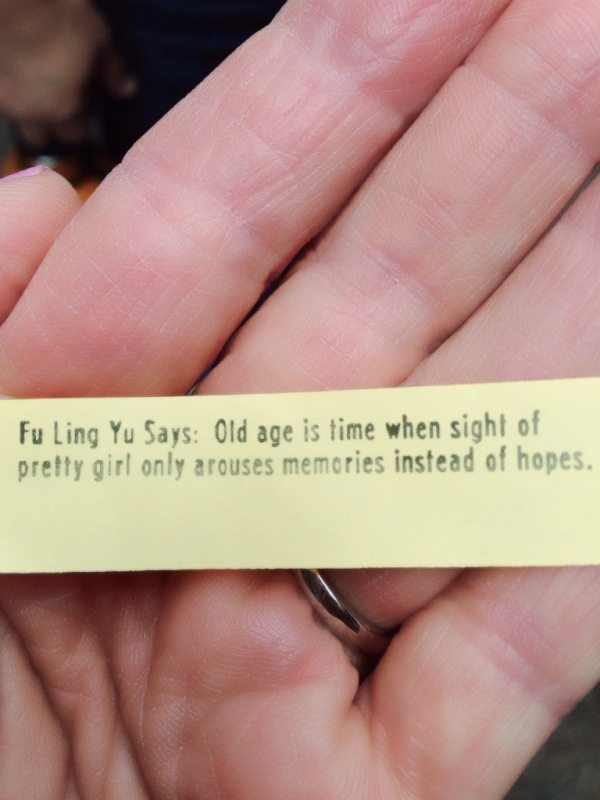 The beautiful red lanterns decorating Waverly Place in Chinatown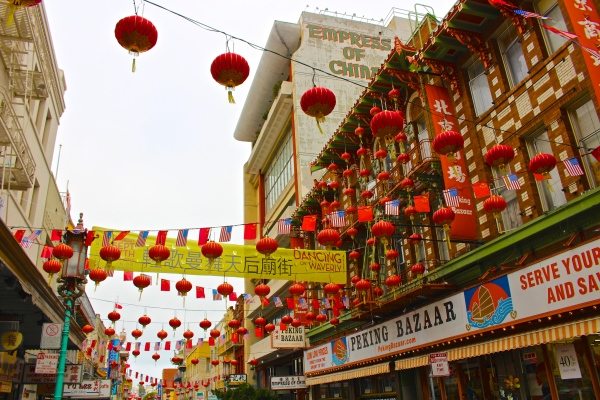 Tin How Temple – Built in 1852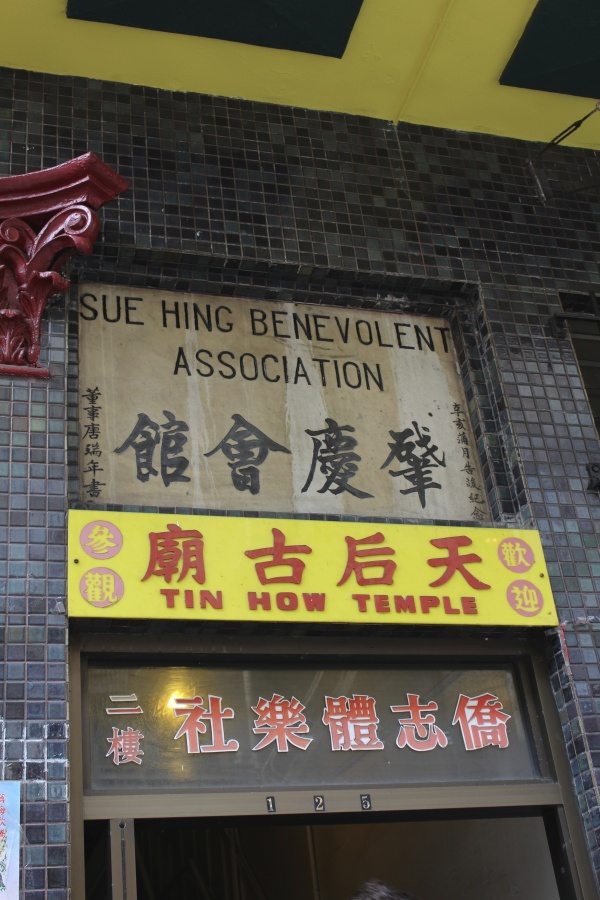 Visiting the Tin How Temple was a very new adventure for me. We were not allowed to take photos in the temple. and as we climbed three flights of narrow stairs, the smell of incense permeated the air. In 1852 the Cantonese Clan of San Francisco built the Tin How Temple which is one of the earliest Chinese temples in the city. Inside the temple there is a shrine with offerings and hundreds of small red lanterns that hang from the ceiling. Devotees pledge money to the temple in hopes of a bright and successful New Year. I have never seen anything like it and I enjoyed the colorful experience. We were allowed to take the photo below of the urn, incense and oranges.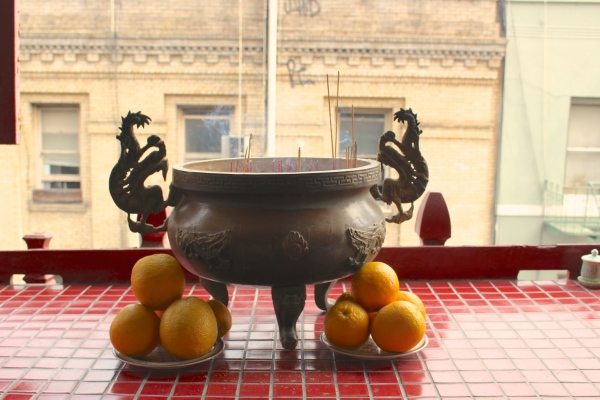 Red Blossom Tea Company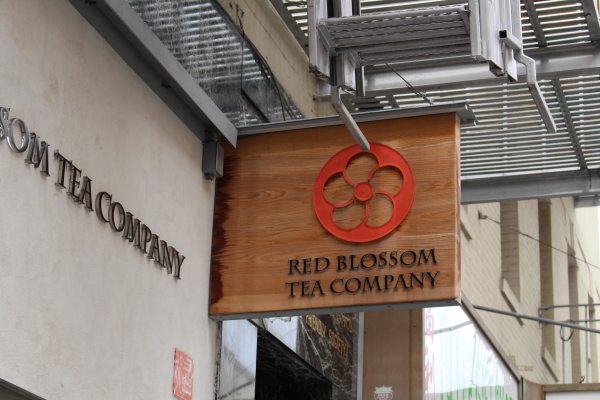 A sampling of orange blossom Chinese tea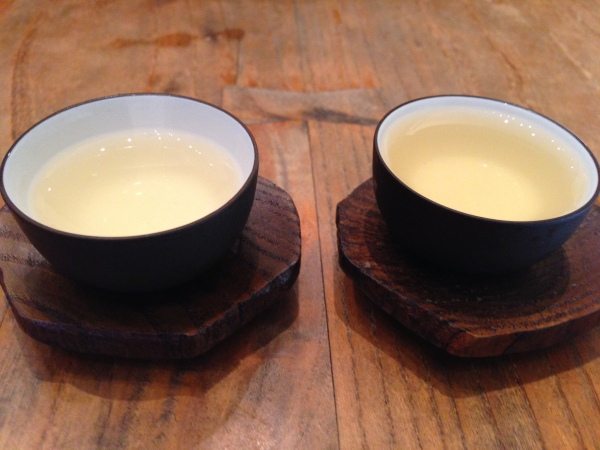 We were treated to a short lecture about tea from China by the owner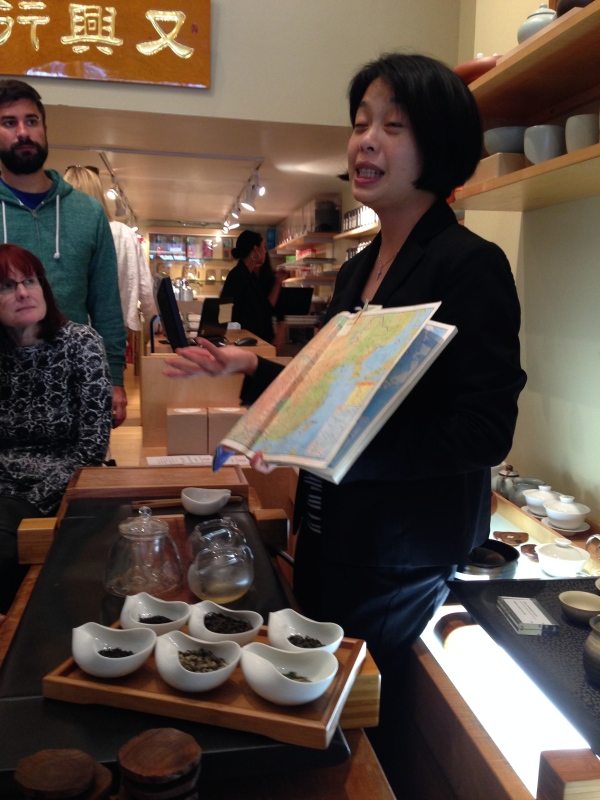 Chinese tea in beautiful vessels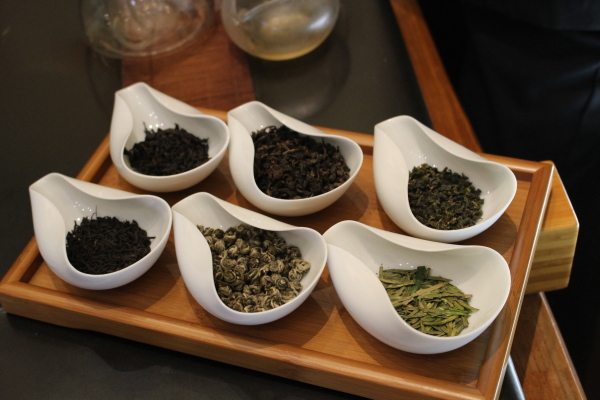 The lovely cannisters of tea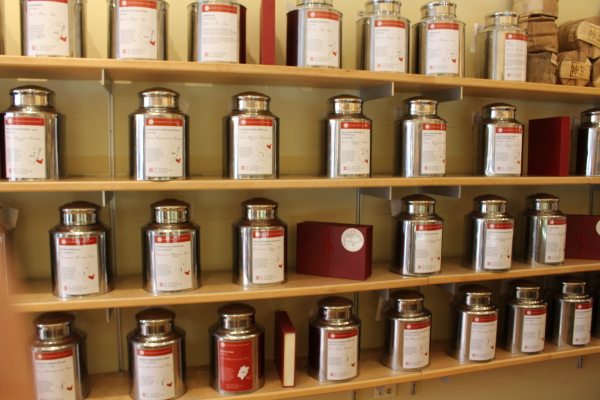 Blossom Bakery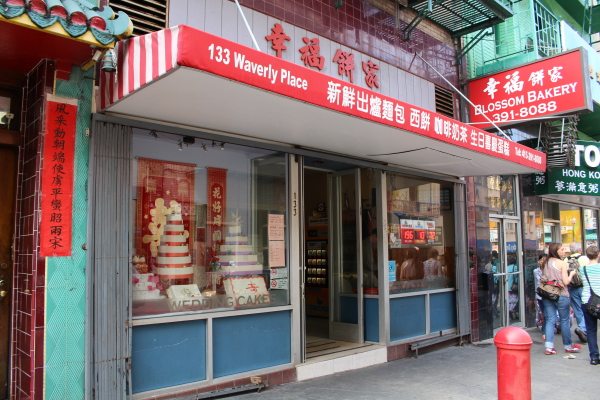 Warm, buttery coconut rolls (my favorite)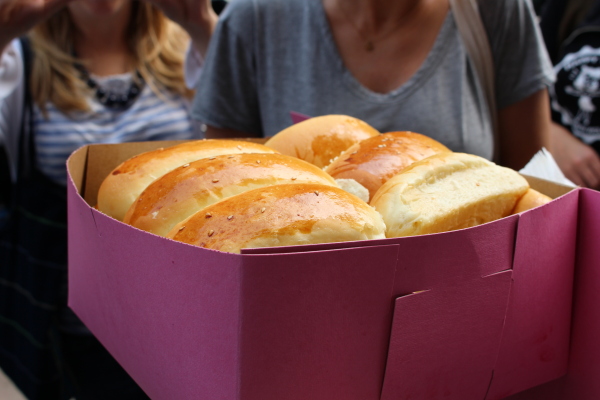 Inside the bakery, men & women sit for hours playing Keno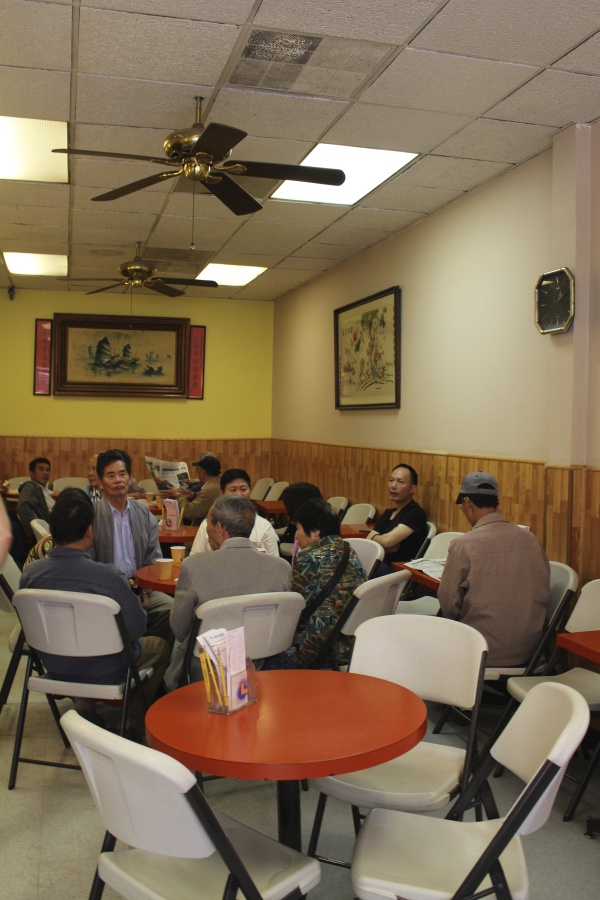 The very popular Z & Y Restaurant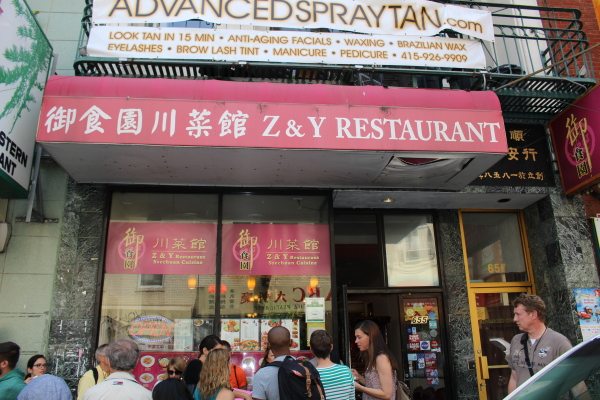 Chris is ready to share our vegetarian pancakes and beef rolls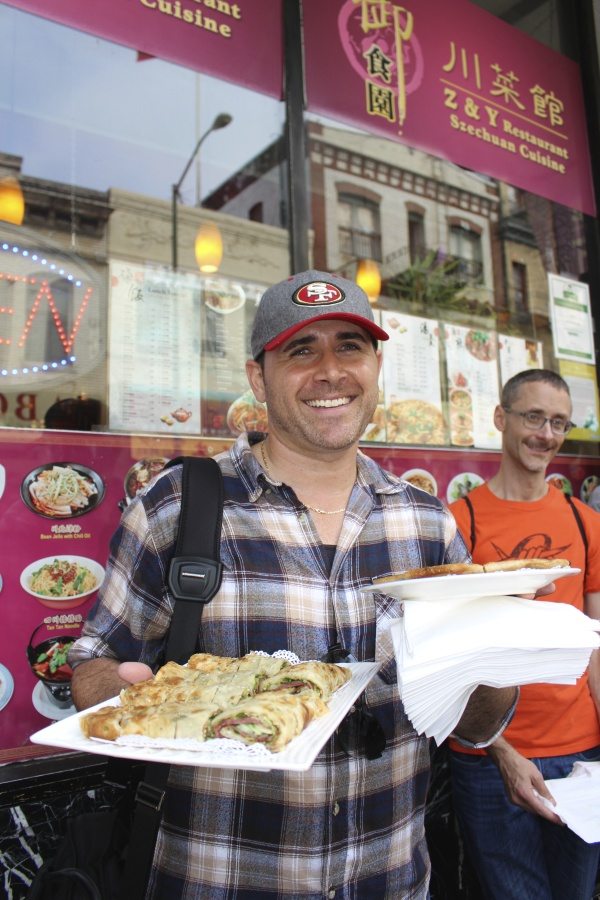 Last Stop: Golden Boy Pizza, North Beach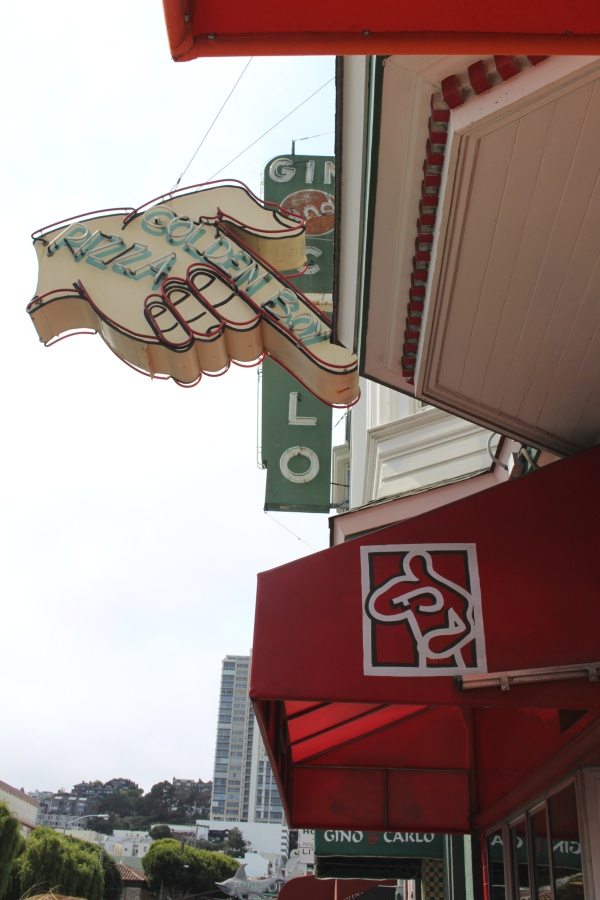 Our final bite of the day was this delicious handmade pizza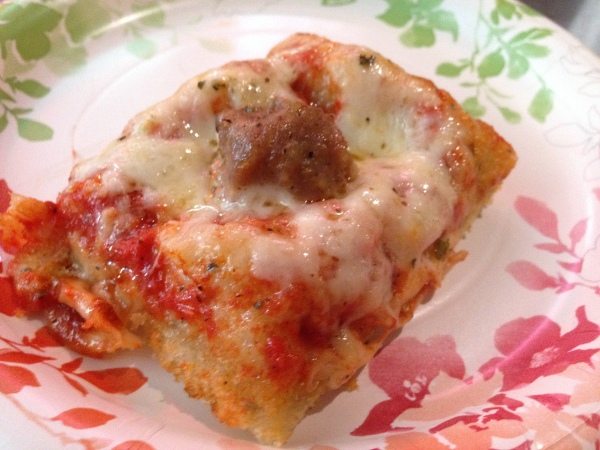 A a parting gift – Chris's favorite Chinese Candy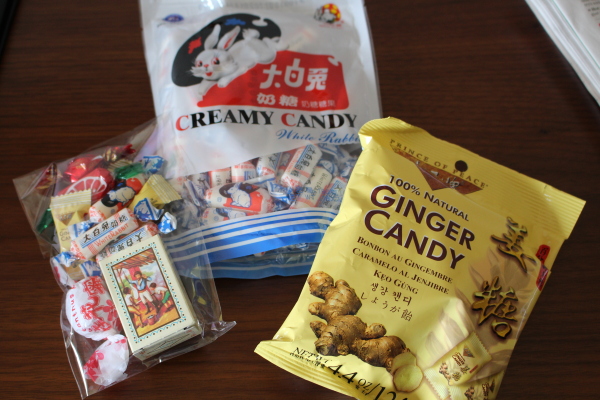 This was my second tour given by Chris Milano of Foodie Adventures. I love different types of food and the idea of eating and walking off the calories was very appealing to me. Not only do I get to experience the local culture, but I was guided safely through a very large city in areas I would never have ventured on my own.
Our eclectic group of enthusiastic eaters mingled and shared their personal stories throughout the afternoon. Some members of the group were locals, some were returning for a second time bringing a visitor with them.  There were tourists from all over the nation and abroad learning and eating together!
I only took a bite or two of each dish, but I was still incredibly full.  I would highly recommend taking ANY of the Foodie Adventures tours. They are so personal and authentic, which is not typically what you would expect from a tour in such a big city.
I plan to continue my quest to find delicious food in every city we visit.  Have you found special out of the way places to eat while traveling?
Safe travels,
Suzanne