Our trip to Seattle was perfect in every way, even the occasional rain didn't dampen our spirits. When we arrived on Friday, the sky was clear blue and the sun was shining. On Saturday it showered intermittently and on Sunday it was a typical Seattle rainy day. However it was no big deal, because we had a wonderful time!
We had a truly memorable and breathtaking day at the Chihuly Garden and Glass. Dale Chihuly creates the most colorful and awe-inspiring art made of glass. I have visited the museum once before and although viewing it for the second time, it is still just as spectacular. It was so thrilling for me to see Leslie and Delaney's faces as they walked into the first exhibit. Chihuly has pushed the boundaries of glass as an art form. You have never seen anything like this in your life!
In my photo below, you will see the first glass display, The Glass Forest. "The Glass Forest elements are created by simultaneously blowing and pouring molten glass from the top of a stepladder to the floor below, where the deflated bubble solidifies. The glass stalks or stems are arranged in an enclosed space and illuminated with electrically charged neon and argon."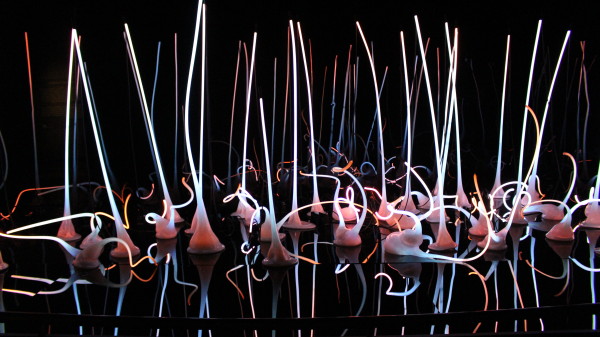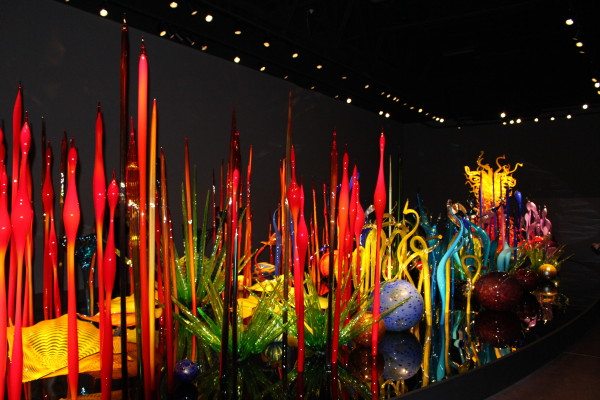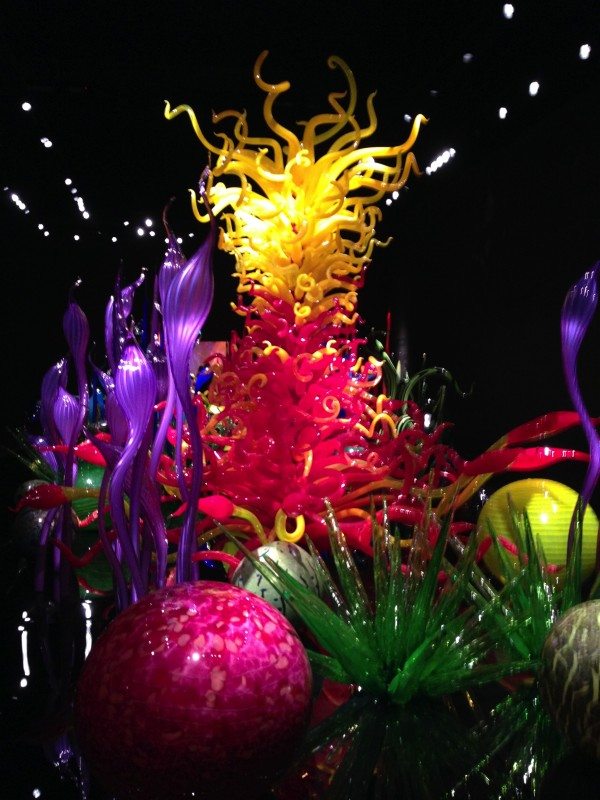 A quote from the exhibit says,"The centerpiece of Chihuly Garden and Glass is the Glasshouse. A 40-foot tall, glass and steel structure covering 4,500 square feet of light-filled space, the Glasshouse is the result of Chihuly's lifelong appreciation for conservatories. The design of the Glasshouse draws inspiration from two of his favorite buildings: Sainte-Chapelle in Paris and the Crystal Palace in London."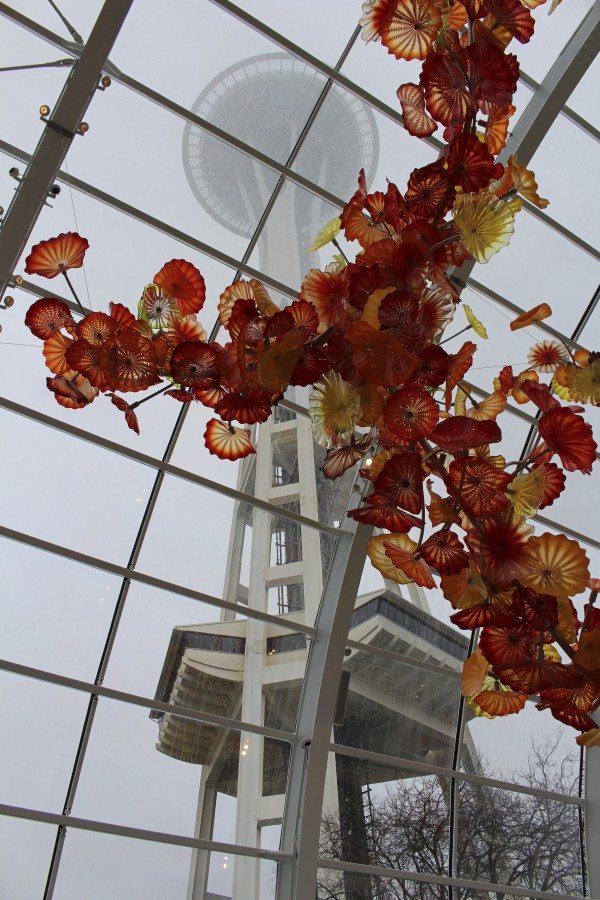 Standing in the exquisite Glasshouse looking up at the magnificent glass flowers, they seemed to be floating up toward the Space Needle. While we were there, a young man got down on one knee and proposed to his bride to be, right in the middle of the Glasshouse! Just as he was ready to propose, their families came out from hiding and watched it all happen. They all took photos and cried as they watched. It was so exciting!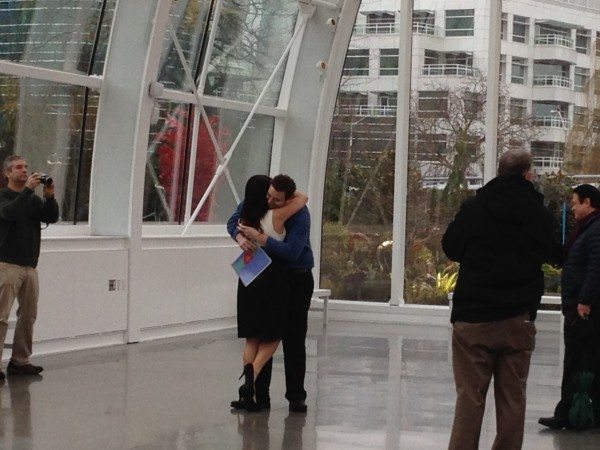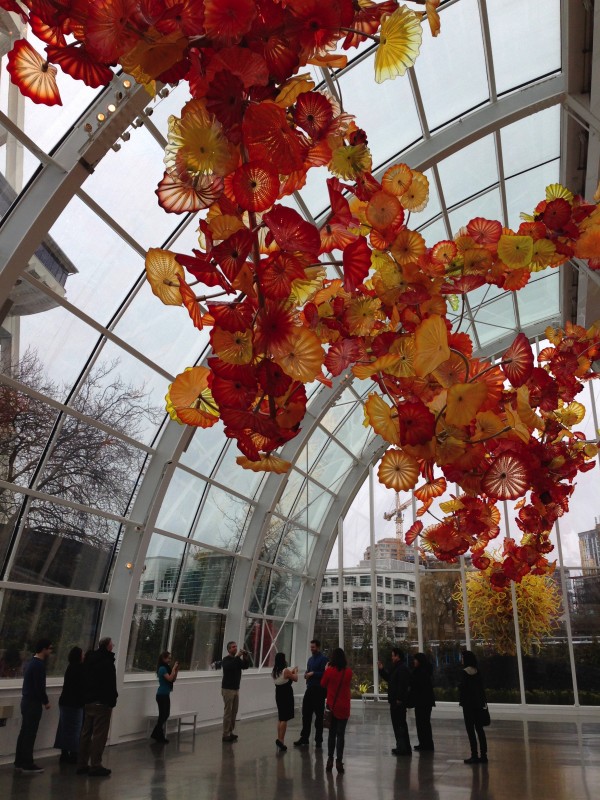 Chihuly has often said, "I want my work to appear as though it came from nature so if someone found it… they might think it belonged there." Chihuly takes his work beyond traditional indoor gallery presentations creating elaborate installations that flow on floors, walls, ceilings and the outdoors. The installations take on new life when placed within the natural environment.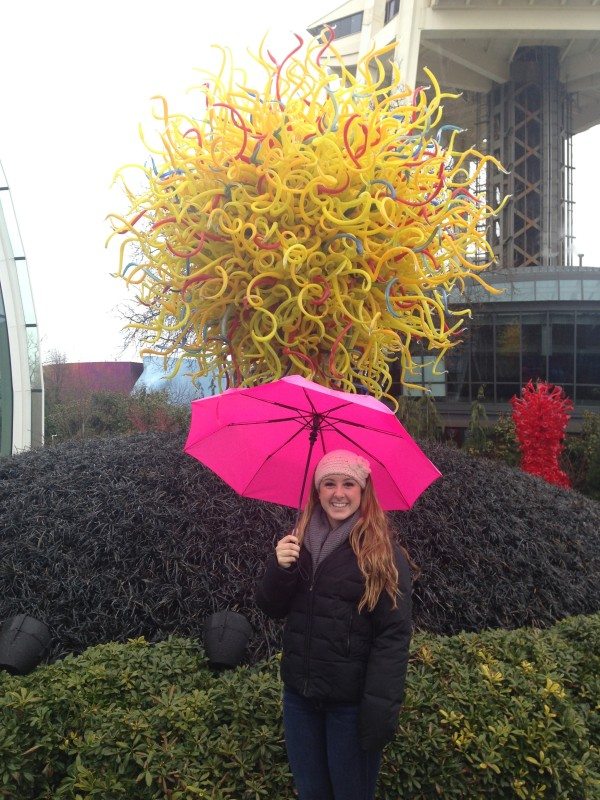 When you are out in the Garden it feels like you are strolling through a glass fairyland. All of the plantings enhance each glass vignette like they naturally belonged together. Dale Chihuly has installed his glass art exhibits all over the world as well. Even if you never have the opportunity to travel to Seattle, you can go to the Chihuly Garden and Glass website and investigate the wonders of Dale Chihuly.
Stay tuned for more adventures in Seattle!