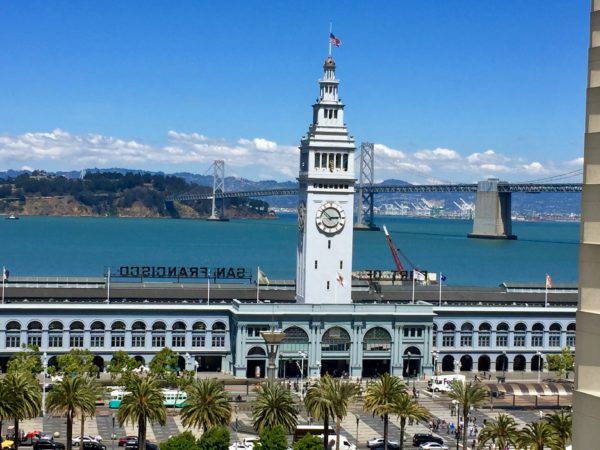 A visit to the farmers market is always at the top of my list, especially when I am traveling. Saturdays are slower in the city and there seems to be a little more leisure time. But when the weather is perfect it is even better! I love to visit the markets in other metro areas to see the differences between regions and also observe what is popular with the other shoppers.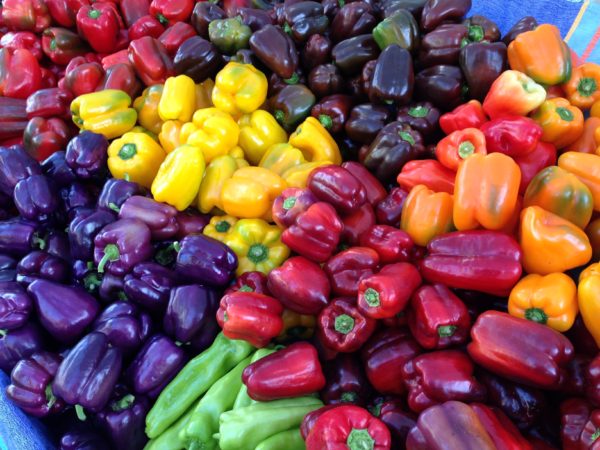 On our recent visit to San Francisco, we were lucky to be there on a Saturday and able to stroll through the farmers market just behind the Ferry Building. It has been a while since I have been there and they have carts now for the chef's to pile on their produce purchases in order to carry them back to the restaurant. How fun!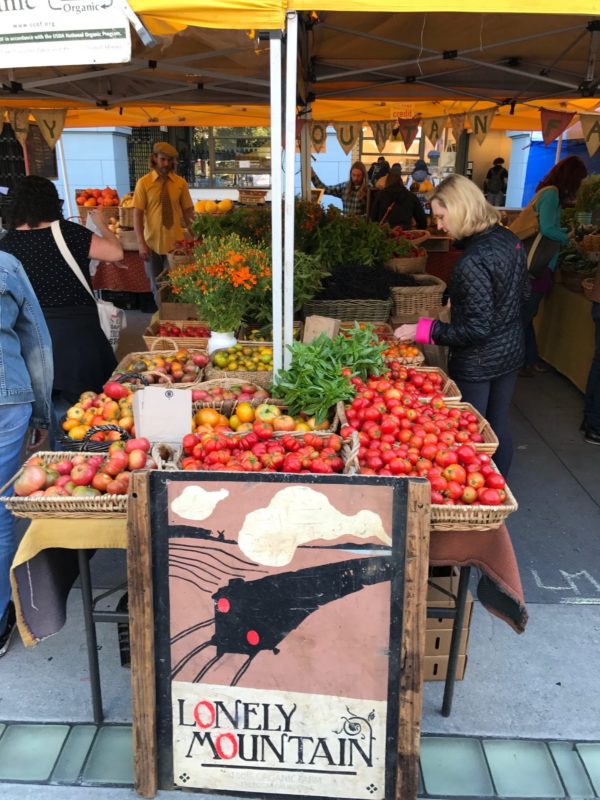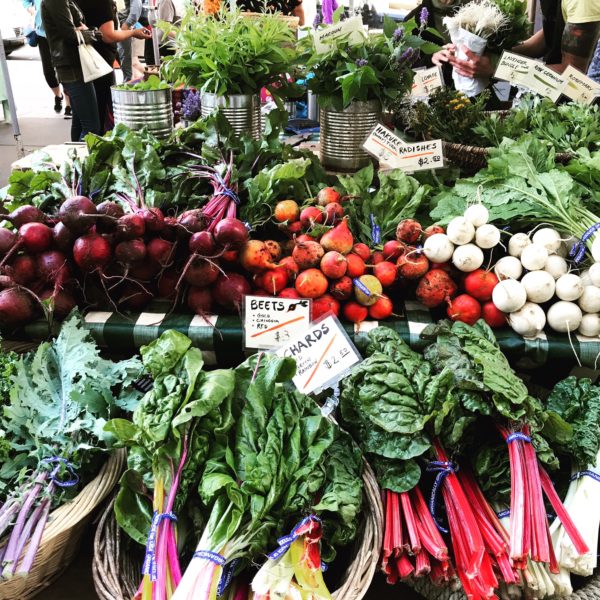 The local restaurants often practice a farm to table philosophy, by looking for the freshest, local ingredients they can find. No wonder the food is sooo good in San Francisco.
While staying in a hotel, I can't really partake in the produce bonanza that sits in front of me but we can always buy items that won't perish by the time we return home. However our favorite treat is to eat some really great breakfasts!
On this visit, our son Nick and girlfriend Kylie took us to their two favorite breakfast spots at the market and we did a little tasting. OMG the food was amazing.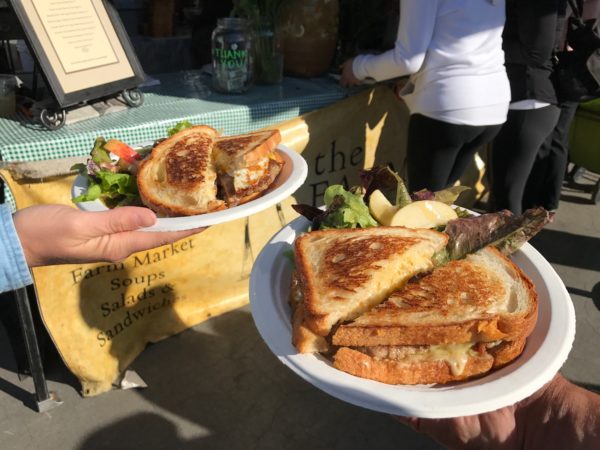 First stop – The Farmer's Wife for an egg sandwich with house made sausage, cheddar cheese and fried egg, grilled on bakery bread. This was seriously up there in the very best bites we have ever had for breakfast!  Piping hot with gooey cheese, paired with perfectly seasoned sausage. Yes you should be jealous.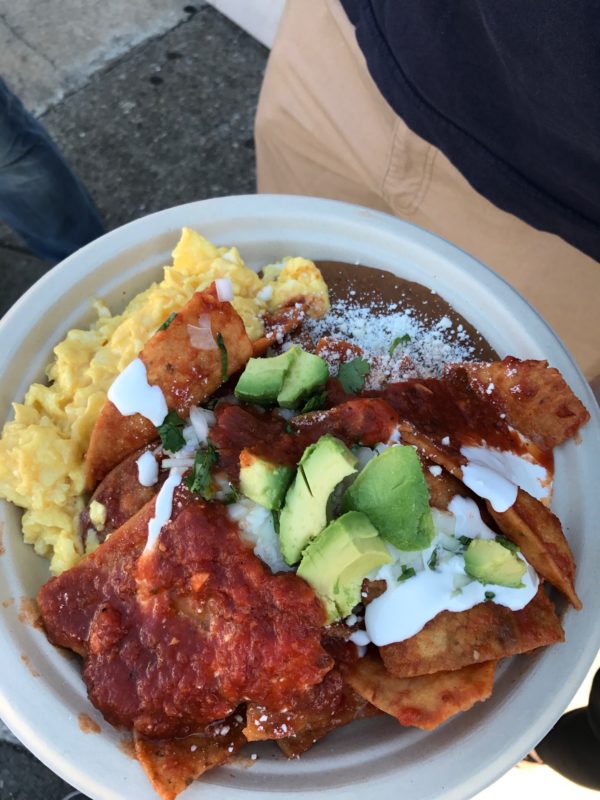 Since we were sharing… we still had room for one more stop at the super popular Primavera Mexican Food for the chilaquiles – They make the best plate of Mexican chilaquiles you will find anywhere. There is always a line and worth any amount of time you need to spend.
Chilaquiles are made from hand-made tortilla chips, a spicy red sauce, sour cream, buttery scrambled eggs, refried beans, cotija cheese and avocado. Nope I am not kidding. So good!
In addition to the rich and satisfying breakfast, Nick and Kylie ordered vanilla cold brew iced lattes and we just walked around on a very sunny 75 degree day. No fog, no wind, just a super sun-shiny morning at one of our favorite spots in the city.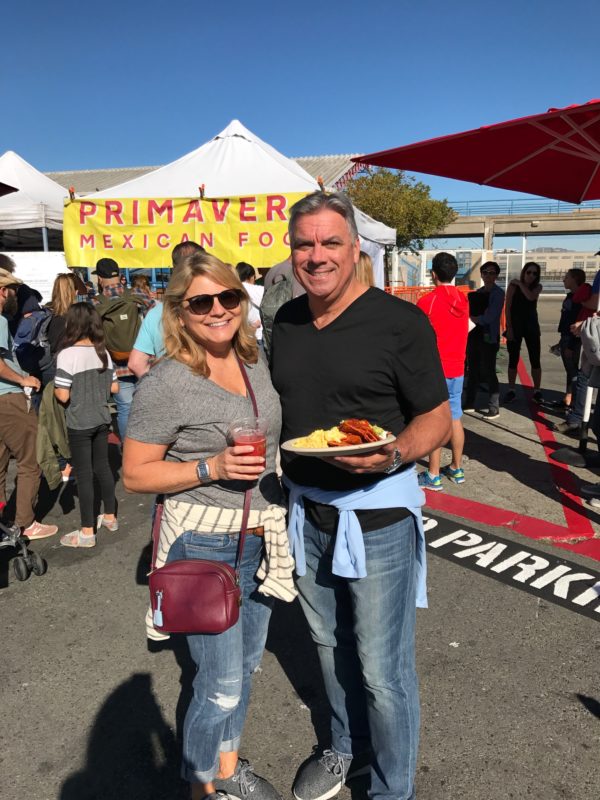 Have you been to the farmers market at the Ferry Building? When you plan your next trip to San Francisco, make sure you are there on a Saturday!
---
For more posts about San Francisco, type it in the search box to the right ===>
Do you know other food-lovers who would enjoy the post? Please forward to them!
You can find us here:  Follow us on Twitter, like us on Facebook, check out our photos on Instagram, or pins on Pinterest