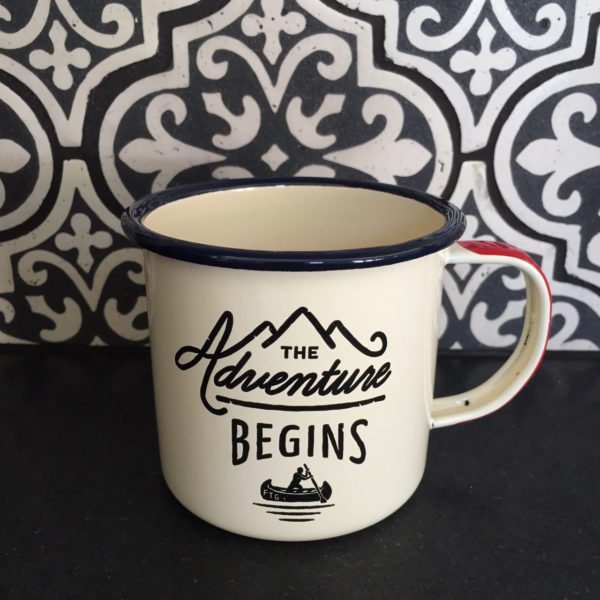 The fixer upper recap~
This past Thursday, we finally moved back in to the fixer upper. Ten months later we are attempting "the new normal".
Sometime last year I wrote a pretty popular Huffington post about the inevitability of change. How life throws us twists and turns and we need to learn to adjust. This is especially apparent when you become an empty nester.
Your life is so vastly different when you no longer have the day-to-day activities, as well as the interruptions of having kids in the house. You are proud of their accomplishments, but now they are living away at college, trying to detach themselves, learning to be independent and more mature.
Furthermore, we as parents are experiencing similar emotions. Trying to learn how to turn the focus BACK on to us and learning to live without our children in tow.
Initially it can be fairly emotional and sad, but ever so slowly we begin to realize that we can still be exceptional parents and have a great deal of fun as well.
We can make these major life changes and understand that change is good; it is exciting and develops our outlook in ways it could have never been with no change.
A quick recap of our adventure~
Craig and I chose to downsize and move from our comfortable, familiar coastal community, our dear longtime friends, great weather and a spacious updated home. We bought an old (very old) fixer upper, close to our families and my Dad who was sick.
We adjusted to using Yelp and Google maps every time we drove out of the driveway. Our house was really old, needed a great deal of work and we were subjected to sub-standard living for nine months while we hired an architect, a contractor and waited for the renovation to be completed.
We decided to move to Seattle and rent an apartment in a high-rise building in order to experience the adventure of living the city life. Our daughter Alex was residing in the same building and this made life convenient and super fun. To rent an apartment in Seattle was nearly half as expensive as renting a nice home here in Pasadena. It sounds crazy, but it was amazing.
I traveled every two weeks to visit my Dad and help with his care; it was exhausting, but necessary. I was happy to be of help.
Of all of the changes that we have endured, living in Seattle was the most fun, overseeing the house was the most gratifying and watching my Dad's health fail was the most heart wrenching.
Living as suburbanites our entire life, we found city life invigorating, easy, fast, delicious and youthful. We walked everywhere, learned which bars served the best Old Fashioneds (A must!), walked to the gym, to the Space Needle, parks, lakes and the ocean. Yes it rained, but not nearly as much as you would think.
Fashion is different and so much more hip in a big city with seasons! Living in So Cal the opportunity to wear a coat happens only a few times in winter. Wearing great jackets, scarves and boots made dressing everyday a pleasure! Rocco adapted and we learned to live in a very small space with very few of our belongings.
Upon our arrival in Seattle, we went to IKEA and bought a stylish table and chairs, pullout couch, a bed with storage underneath and a few lamps. You would be so surprised what you can live without. I was living with the bare minimum and it is quite liberating.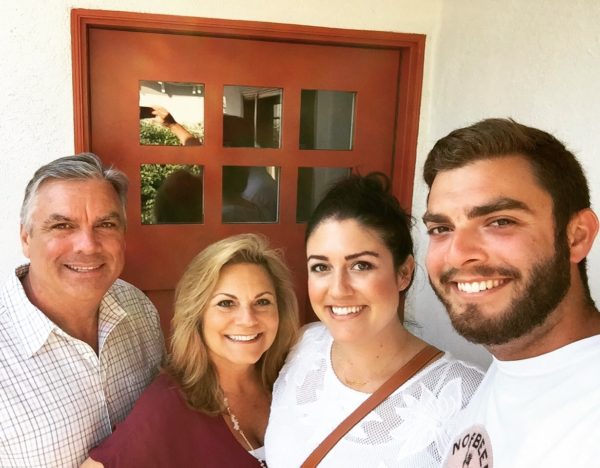 The challenges of making decisions for an old home was time-consuming as well as frustrating. Every time we turned around there was something else that needed fixing, something else that needed to be replaced. However, our contractor was phenomenal and the experience was life changing in a great way. Who knew we could do this? We are super proud of the end result and happy to have shared our journey with you.
My dad passed away this past January, but we were fortunate to spend one year with him living only ten minutes away. Before we left for Seattle he was feeling much better and we were able to spend some real quality time doing things that meant something to him. In the final months we were able to get on a plane and be there within two hours.
Lots of change – lots of change. What is normal now that we are empty nesters and have downsized, renovated an old home and lost a parent? I think there is no such thing. I will say that being home in one place with ALL of our stuff is much easier.
However, to be clear, once you downsize you do not have room for what you think you need. You have room for what you need. No more than that. All of the extras have to be sold or donated. That's not so bad either.
After 32 years of marriage, my husband and I have been through it all – we know we can face anything together. New adventures do provide extra sparks to a relationship. Even the hard stuff is beneficial. I have always said that you learn much more from the challenges in your life that you do from the triumphs.
I am looking forward to sitting by the pool with a cold beverage and enjoying the fruits of our labor. The new normal is just being happy where you are. Change is inevitable and maybe a little shake up is good for the soul.
I have said thank you before, but I sincerely thank you for reading my posts and for all of your supportive comments. It is so wonderful to know there are nice people like you cheering for us.
Love,
Suzanne
The (almost) finished house
Here is the final video of the renovation before the furniture, drapes etc. There are so many thoughtful and clever details that the architect designed for us. Extra plugs in just the right spots, under counter lights, light switch placement and the addition of the kitchen library and banquette. She has created a small, lovely, efficient empty nester home.
The pool was plastered just yesterday and we filled it with water. It takes two weeks for the plaster to cure and the pool chemical levels to be stable. Check out the final pool photos too.
The pool is almost ready to swim!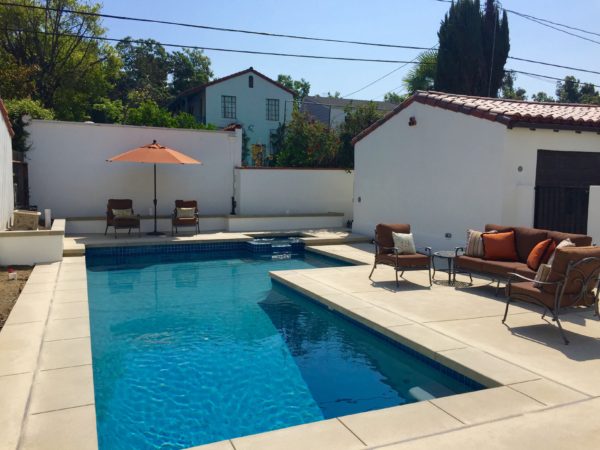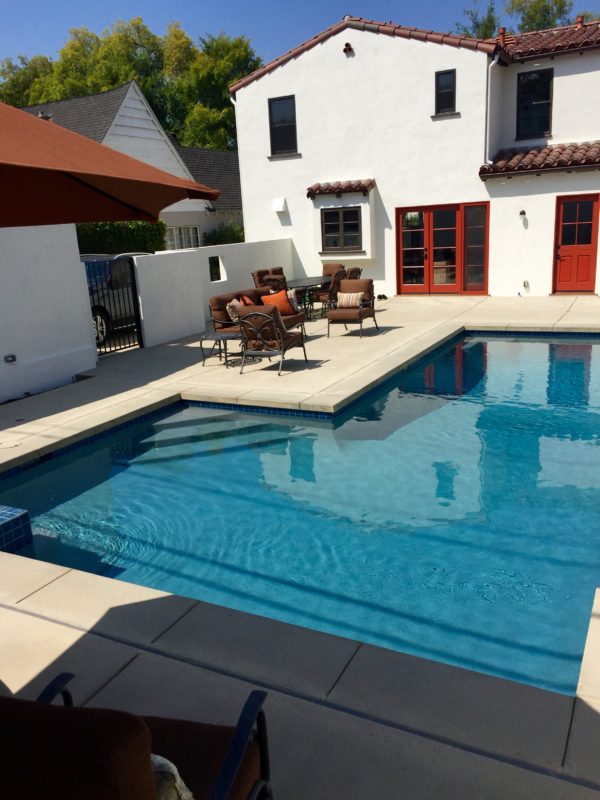 When we get all settled and the landscaping is finished I will share the furnished house and completed design. I hope you enjoyed this fixer upper adventure as much as we have.
Have you done any thing like this?
To read more about the fixer upper renovation just click on The Empty Nest on the home page of the blog. There is lots more to read and many photos.