Our stay at the new Hyatt Regency Seattle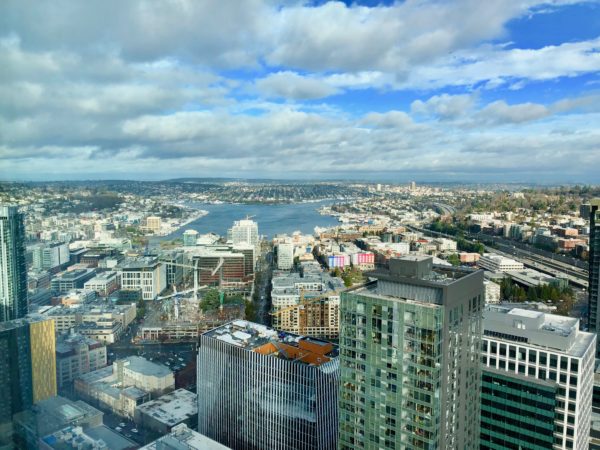 Spectacular views from every direction
Grand, epic and uniquely Seattle, the brand new Hyatt Regency Seattle standing forty five floors in the sky is impressive from the street and certainly the minute walk you through the front glass doors. The floor to ceiling windows in the lobby area welcome natural light into the building so even on a grey, rainy Seattle day, light fills the room.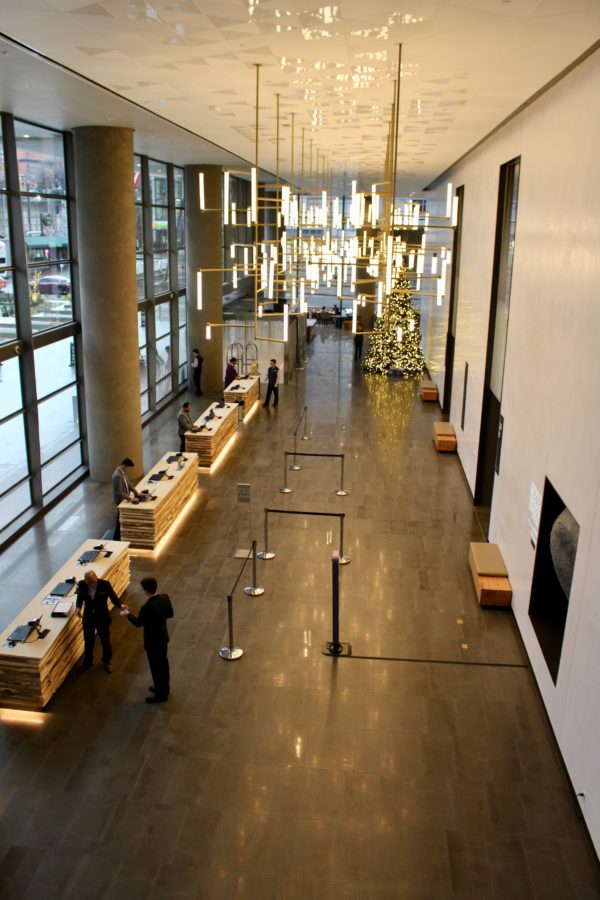 Every design feature has been thoughtfully created, prepared and executed to take the guest through a Northwest Experience. Lobby ceiling tiles are designed to mimic the reflection of the sunshine on the ocean or lake, textured wood walls flank many hallways, etchings of diagonal lines celebrate a Seattle rain shower. There is no question, you are standing in a hotel that reflects the values of the people here as well.
We were greeted with welcoming smiles by a kind and professional staff. After the warm reception at check in, the General Manager Tom Wolf, also came by to say hello and talk a bit about the hotel. We arrived on the day of the grand opening party and the hotel had only been open a week.The excitement in the air was palpable!
A hotel that cares
Seattle is known for its philanthropic heart, love of nature and protector of the environment. This building was built with conserving the environment in mind by using sustainable, products and materials. The laundry system (which must be an enormous operation) was created to save water and energy while not using harsh chemicals that can hurt the environment. No more little plastic bottles in bathroom! The shower products are in pump bottles. Think of how many containers are thrown away each year? The Hyatt Regency Seattle is doing something to make a difference. I love it!
We have been traveling and staying in Seattle for many, many years. My husband stayed in the Grand Hyatt when it officially opened about twenty years ago and he was just starting out in his career. The Hyatt Olive 8 has been a favorite spot for us to stay when we visit and the Urbane restaurant has fed us beautifully prepared, thoughtful dishes each time we stay.
So, this presented us with a problem. We wanted to check out this new hotel, but we truly felt like we were cheating on our friends at the two other Hyatt Hotels in the city. These three hotels are only one block away from each other!
Hotel tour and design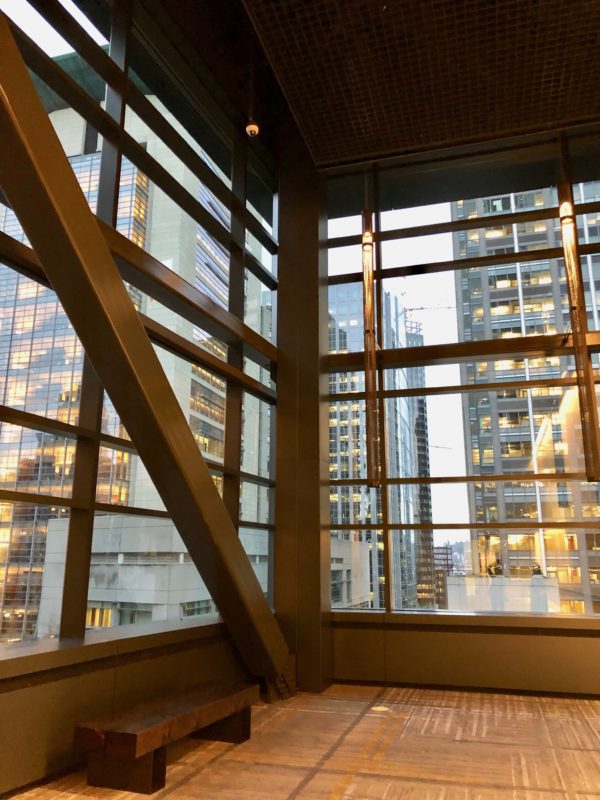 However, each hotel compliments the other and all have their own personalities. I was fortunate to be taken on a tour by Kendra Anderson, Senior Marketing Manager of the new Hyatt Regency Seattle and she enthusiastically filled me with design details of the new hotel that totally blew me away.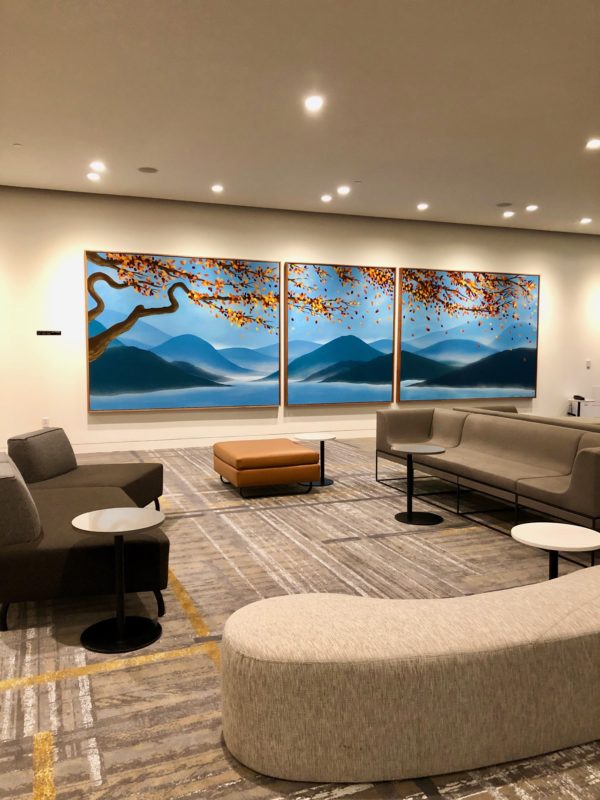 Custom artwork from local artists, clever light boxes outside each room displaying sepia photography and highlighting the grand nature of the Northwest enhance the overall look.The primary interior design color palette is greige (grey beige) and complimented with pops of other colors, along with beautiful stone and wood stained ombré. Yes ombré, so cutting edge!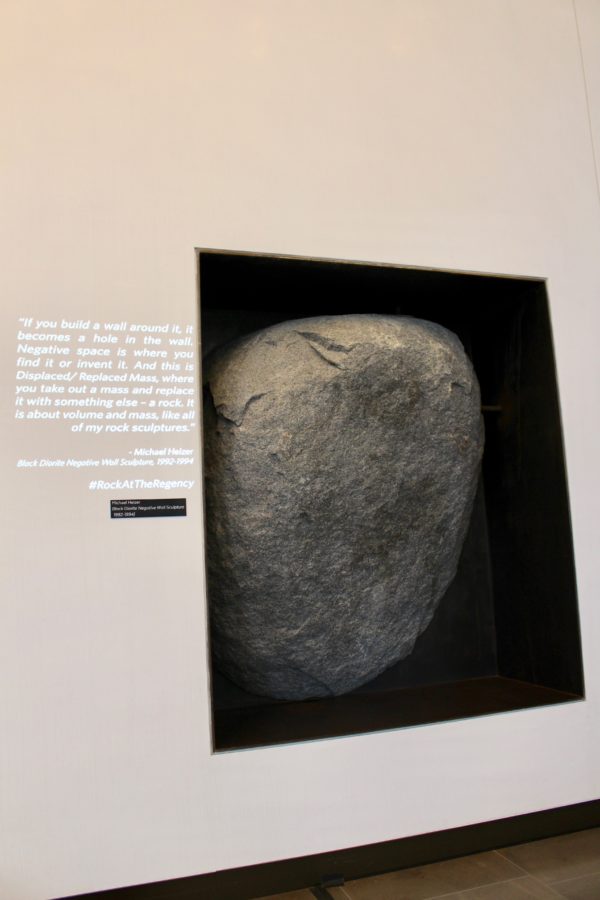 The hotel offers 1260 rooms and that is very VERY large. Evidently it is the largest hotel in the Pacific Northwest! However, that being said, it still feels personal, and would be a perfect hotel for a couples getaway or family vacation. Seattle is a fairly compact city in that you can walk to all of the tourist sites pretty easily. The number of restaurant choices from small, quick and inexpensive to higher end foodie havens is fantastic.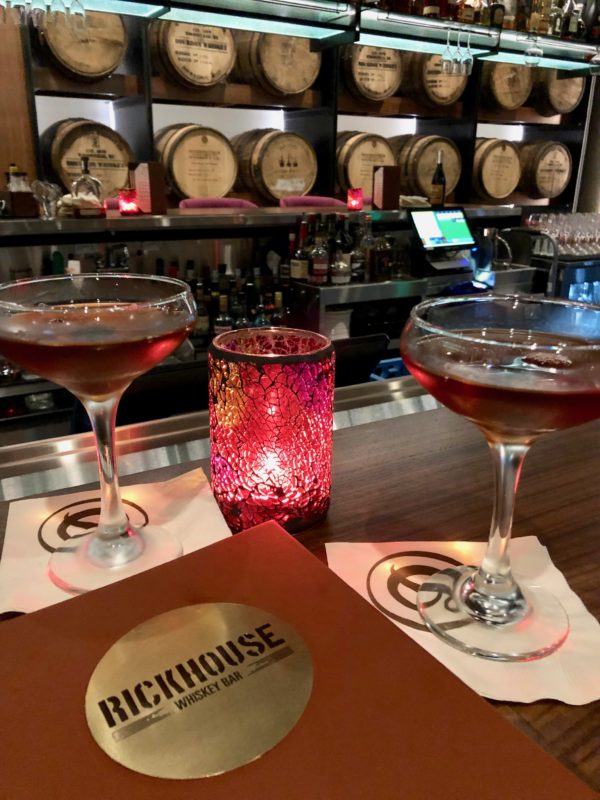 Although I am not in the convention travel business, I can easily see how staging a business conference here would be over the top fabulous. All of the beautiful, impressive event spaces don't feel like cold cement boxes like most large hotel ballrooms can feel. No old fashioned design, but updated and contemporary installed with all state of the art technology. Additionally, there is a brand new convention center annex being built just across the street from the Hyatt Regency. Can you say fortuitous location?
The Regency Club
My husband and have experience staying in Hyatt Hotels around the world and this new Regency Club is enormous and is beautifully designed with views to die for. There are warm fires and comfortable seating areas where you never feel crowded.The staff continually asked if we needed anything and the food options are impressive. Such choices! I would definitely recommend upgrading to a Regency Club access or Club room.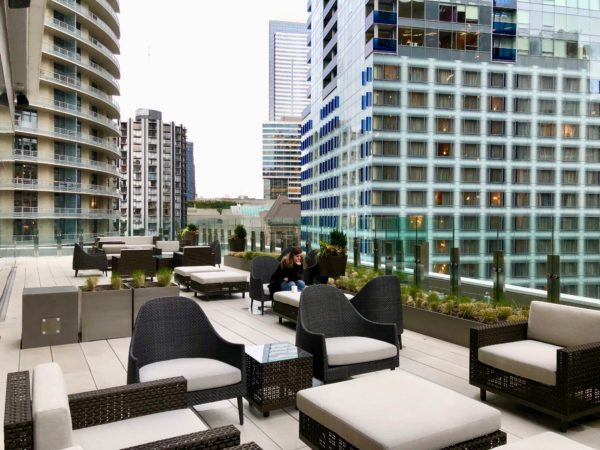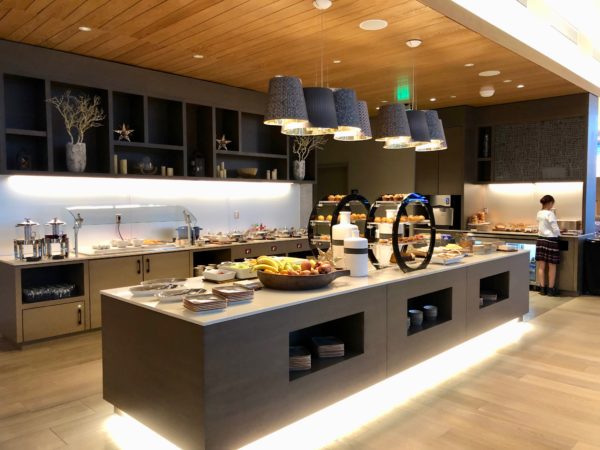 Final Thoughts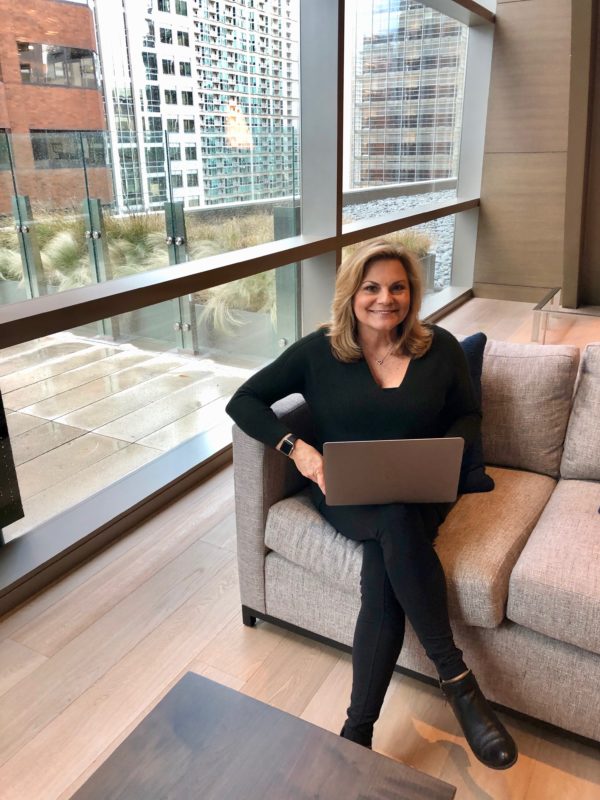 I am gushing over this new hotel because it deserves the praise. Hotel design is a favorite interest of mine and when a project of this size is so well done, I think every traveler should know. Since I visited in December, my husband has visited the hotel three more times and has had equally notable and luxurious stays.
As a loyal fan of the Hyatt brand and a frequent visitor of Seattle, I would make a reservation today for the new Hyatt Regency Seattle because a)you will love it b) when the word gets out this fantastic new hotel will be booked c)the pricing is very affordable, yet it feels like a luxury hotel. Sounds like the perfect trifecta to me!
Pin Me!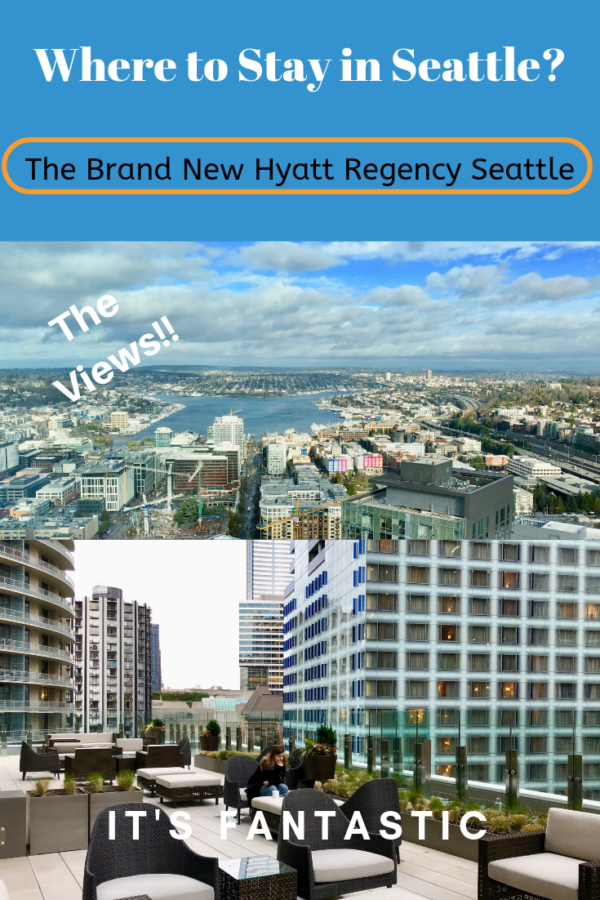 All photos are mine and cannot be used without my permission.
Check out this post about Seattle as well – What to See and Do in Seattle – Our Favorites!
---
Do you know someone who would enjoy this post? Please forward to them!
Let's connect over on social media here ==>  Follow us on Twitter, like us on Facebook, check out our photos on Instagram, or pins on Pinterest