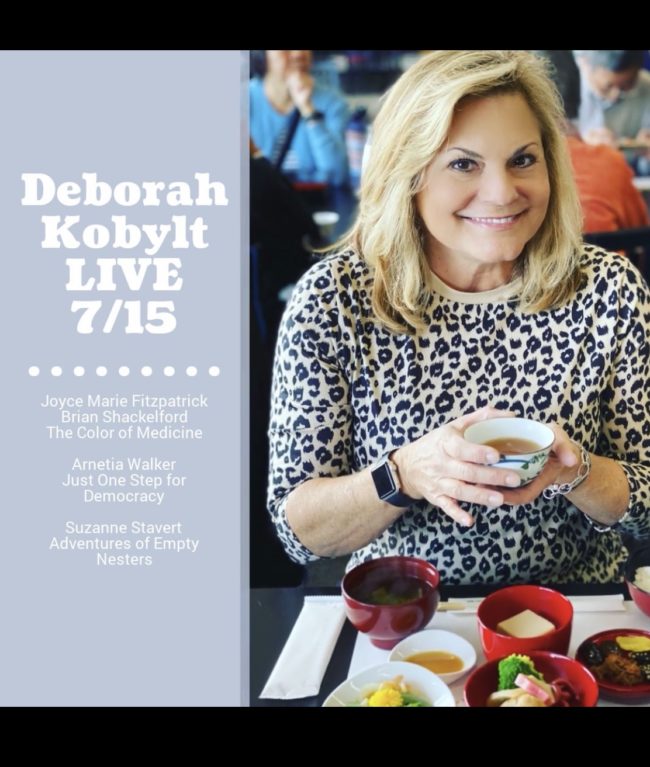 An interview on Deborah Kobylt LIVE
Since we are all working from home, I have an idea for you. Are you looking for something fun to do during your lunch break tomorrow? How about tuning in to a video podcast with Deborah Kobylt! I will join Deborah via Zoom to chat about life as an empty nester.
What changes have we experienced? How are the challenges different now that the kids are grown? What fun adventures do we have planned? Where have we been and where are we going next? I will share about the origin of Adventures of Empty Nesters and a whole lot MORE!!
Please tune in to see and hear my conversation!
Deborah is a journalist and worked as a reporter for KCAL-9 News, Fox 11 News, and CNN, covering news, business, sports, and entertainment. She decided to create her own show, "Deborah Kobylt LIVE," which was encouraged by journalist friends who started podcasting. Deborah loves the free form of podcasting, and she is committed to focusing on High-Performance People. What inspires them, motivates them, and drives them.
She wants to talk with ME! How cool is that? I look forward to sharing how I created Adventures of Empty Nesters and where this empty nester career has taken me. We will talk in-depth about my travels, my brand partners, our new Cocktail Adventures Video Series and how to help others find adventure.
Are there secrets to a great life? No, but I hope to offer suggestions that will inspire and encourage everyone to find what lights them up and motivates them to live their best life.
I would genuinely appreciate it if you could click over to the Deborah Kobylt Live Facebook page to watch and make a comment, that will let me know you stopped by!
Thank you so much. See you on Wednesday, July 15th, at 12:30 pm PST
Here is the link again: Deborah Kobylt Live Facebook Page
---
Pin for Pinterest