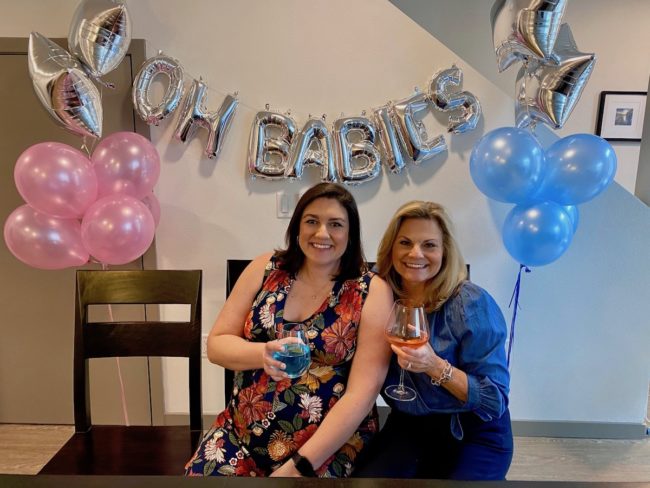 Highlights of our virtual baby shower!
Did you ever think you would be planning a virtual baby shower? Was that even a possibility last year or the year before? Now that Zoom is part of our everyday culture; we used it to celebrate our daughter.
I am not going to lie; having a virtual baby shower for our daughter Alex was an emotional decision. Well, truthfully, it was the only decision that could be made, but still so hard!
No friend, co-worker, or family member would see her in person and get to hug her and admire this physical feat of strength. She is carrying two enormous humans in her body! 
Oh, COVID-19, you have changed our lives forever. I am not going to get into the politics of any of it, but suffice it to say I am angry, but managing my thoughts. My sweet daughter deserved to be celebrated, and I was going to figure out just how to do it. I have never attended a virtual baby shower, have you?
Because I am a blogger, I will write all about it, share the details and you can receive the benefit of my experience. I want you to have the best shower or celebration EVER, so if my design ideas help you, I am happy!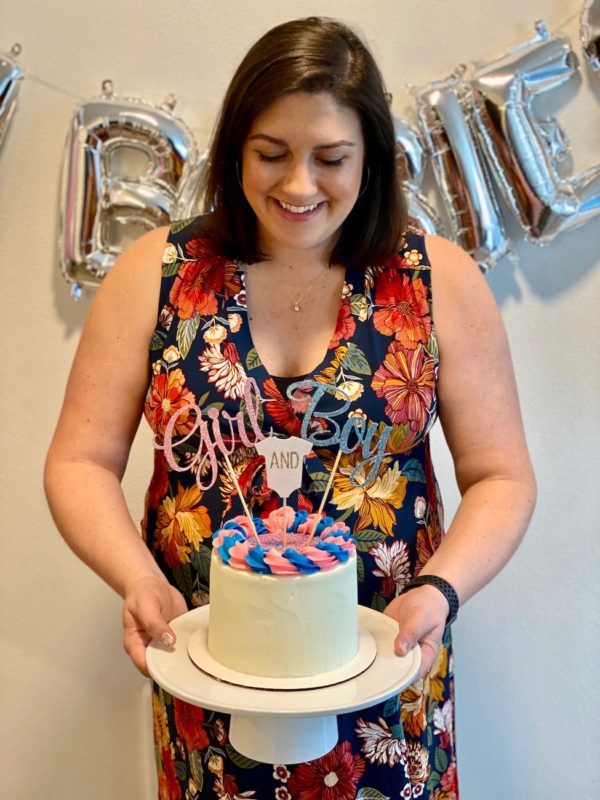 The Details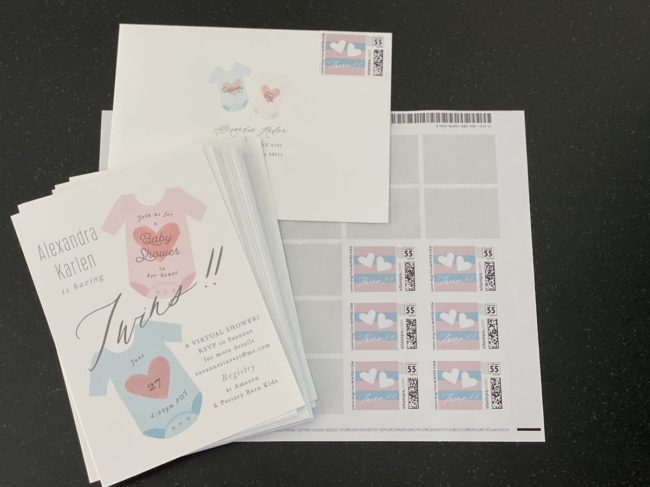 Since we were not meeting in person, I wanted to create a lovely paper invitation to be mailed instead of an evite. That's just me, but you can do it either way. Evites are just fine.
Additionally, I took another step in that I wanted to send a heartfelt thank you gift to each guest. I felt like we were asking friends, family, and co-workers to send a gift without reciprocating with any kind of party or luncheon. "Hey, send a gift! We won't be getting together, but send a gift!" Do you know what I mean?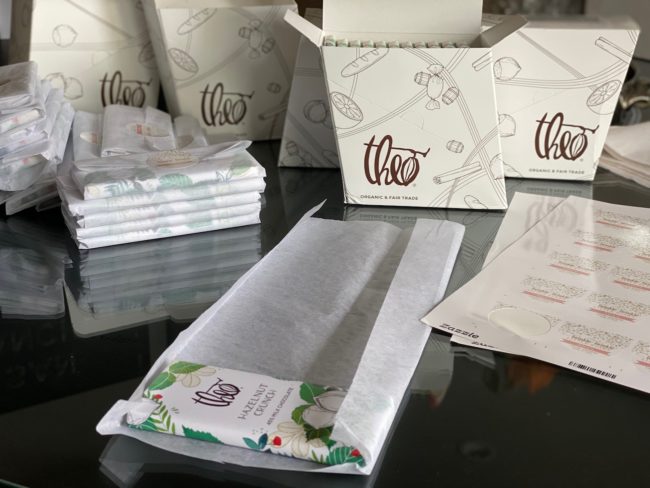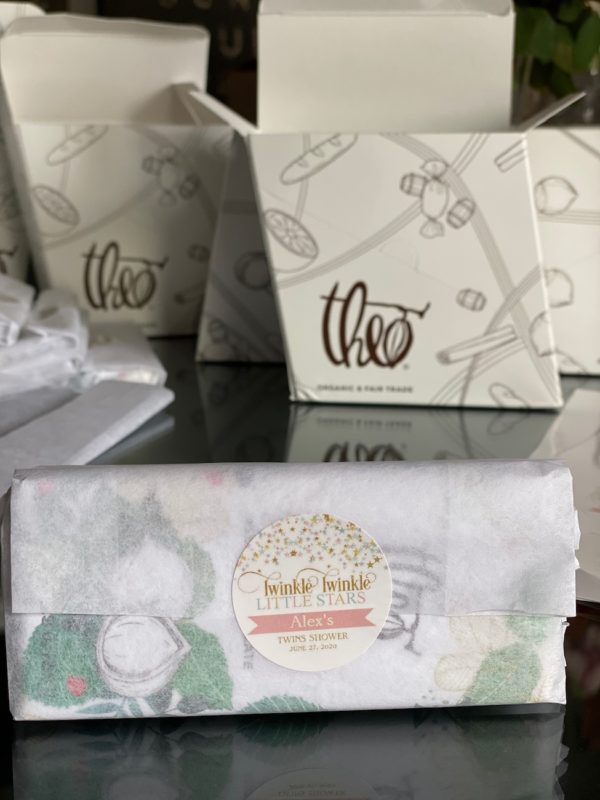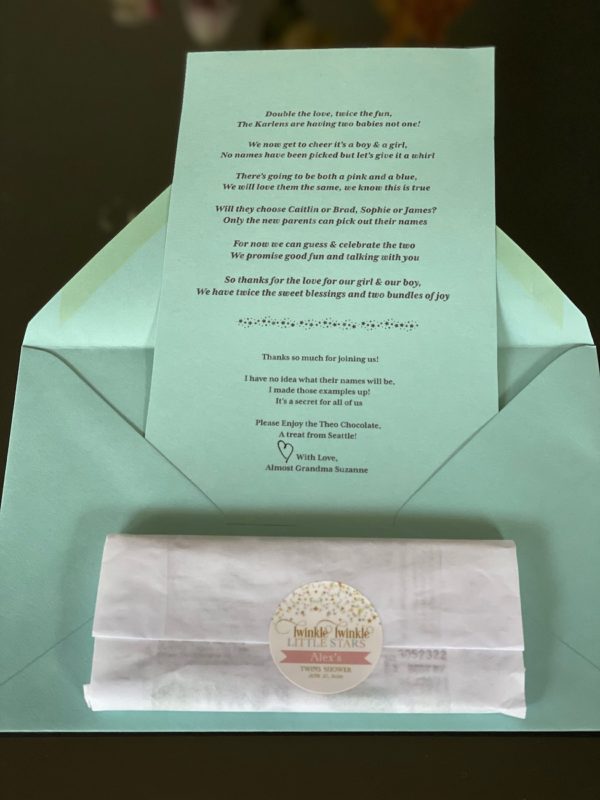 I must say that I know her list of attendees would gladly send a gift, but it was important to me. Additionally, I was pretty proud of my creation. I wrote a thank you poem printed on pretty blue-green stationary I ordered from Paper Source and sent a bar of specialty chocolate from Theo Chocolate of Seattle.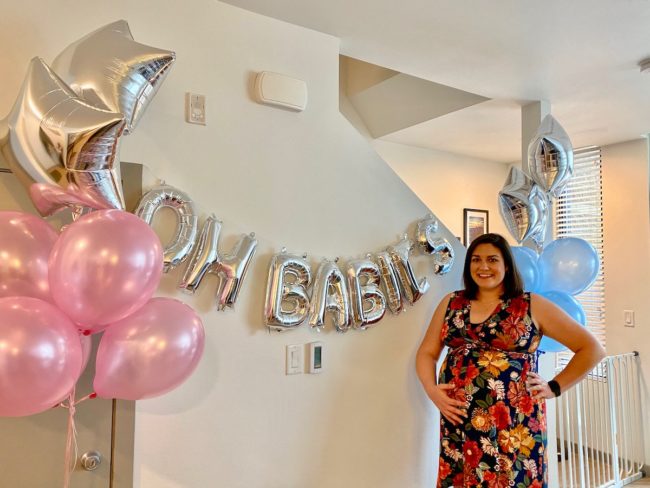 I also needed to have a festive backdrop and decided on balloons from Party City, a creative cake topper from My Painted Designs ( I found them on Etsy), a blow-up "Oh Babies" banner from Studio Pep (also on Etsy), and gorgeous handmade cake and cookies from Seatown Sweets in Seattle (Kayla from Seatown made their wedding cake too!)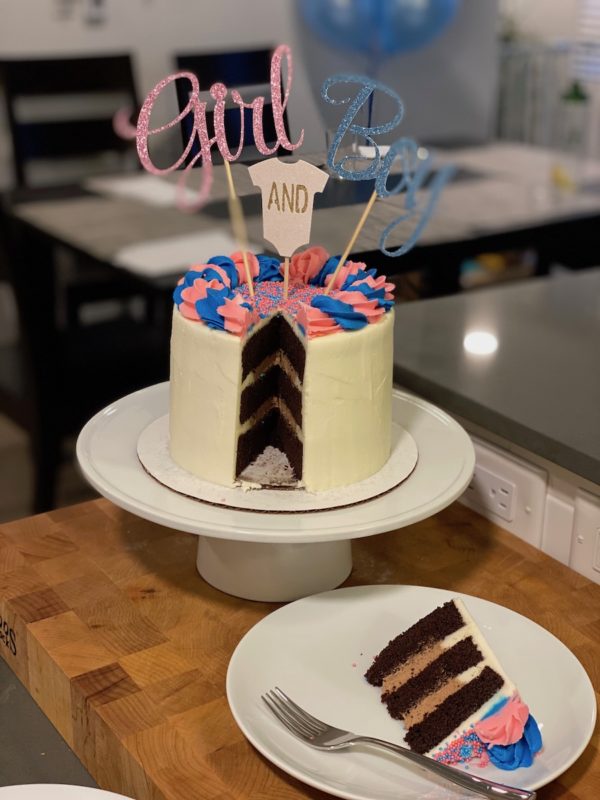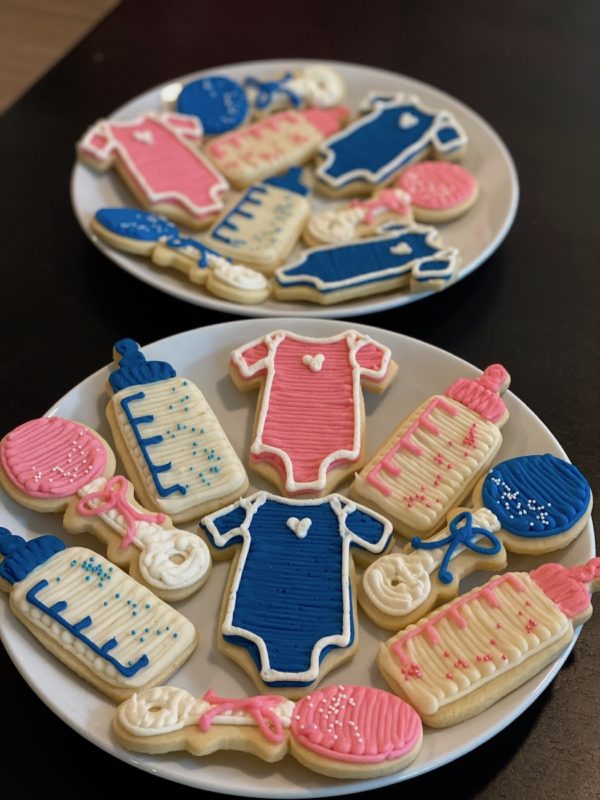 Agenda for Virtual Shower
Welcome
Introductions/ Zoom etiquette/pad and paper
Thanks for attending
Where do the attendees live?
Decorations/cake show and tell
Presents (Can't open now because of recent move)
Chocolate thank you gift + personal thank you's
Alex Q and A (PowerPoint begins)
Additional Questions from the Audience?
Games
Wrap up
My thoughts about the agenda: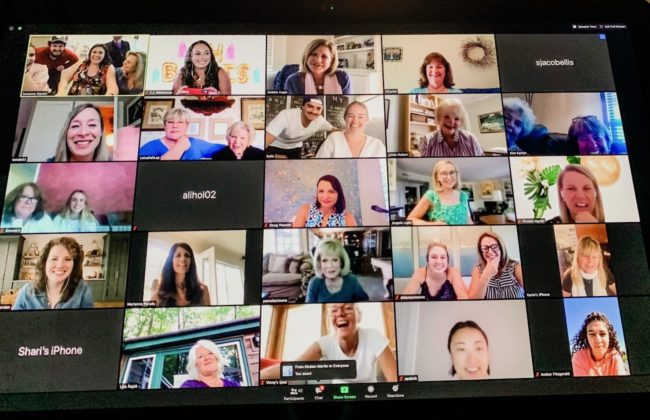 Covid-19 has changed so much about getting together in groups. Since we could not all gather, and Alex and Brent have family members that live all over the US, we could invite everyone who wanted to be on the call. There were 60 people invited to the Zoom call! With that many little windows of people, it would be a total time drain to open 60 gifts! We would be there for days! Additionally, Alex and Brent are moving, and most of the beautiful gifts they had already received were packed away.
She thanked them all and then will be sending a personal handwritten note to each guest.
The pad and paper were used for a couple of games we thought were cute. 
Game #1 
 A matching game for mama and baby animals. On the PowerPoint Presentation, we typed a list of twenty animals printed on the left side of the page numbered 1-20. We gave them a corresponding list of baby animal names they could match them up. I think the winner got 15 of them correct! It was hard!
For example: Kangaroo ==> Joey Frog ==> Tadpole Dove ==> Squab
Game #2
We played a game called "Who Knows Mommy Best?" I read a phrase like, "Does Alex like chocolate or vanilla? Or "Would she buy a purse or shoes?" or "Rom-Com or Horror Movie?" You get the idea. We created 16 of them. Several people got almost all of them right! They knew her well!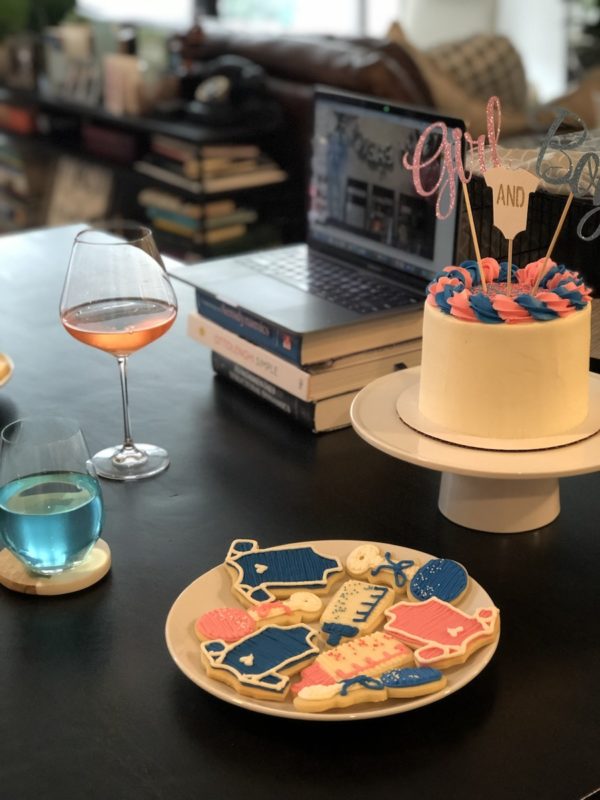 PowerPoint Presentation
Kaleigh, Brent's sister, had the BEST suggestion! She put together an adorable PowerPoint Presentation that contained a page for every question asked of Alex. We asked our guests to email questions. If there are not enough, make up your own! These are the questions we used for the Q and A:
What have you been doing during the Quarantine? (There were nine photos shown of what she had baked and pictures of the new house)
How does Rigby feel about all of this? (Rigby is their one-year-old puppy, two slides of Rigby photos)
Did you have a Baby Moon? (A babymoon is a trip a couple takes before the first baby arrives. Yes, they did. Several photos here).
How big are you? (BIG! I am having twins!)
How big are the babies?
How are you feeling?
Are you going to have help with the babies?
How much time are you taking after the babies are born?
Are you still working?
Do you have any unusual cravings?
What will the nursery be like?
How is Brent doing with everything?
What are the baby names?
Game Time! (You can incorporate a page for the animal baby name game)
Game #2 – Who Knows Mommy Best? I read a list of This or That, and the guests wrote their answers down.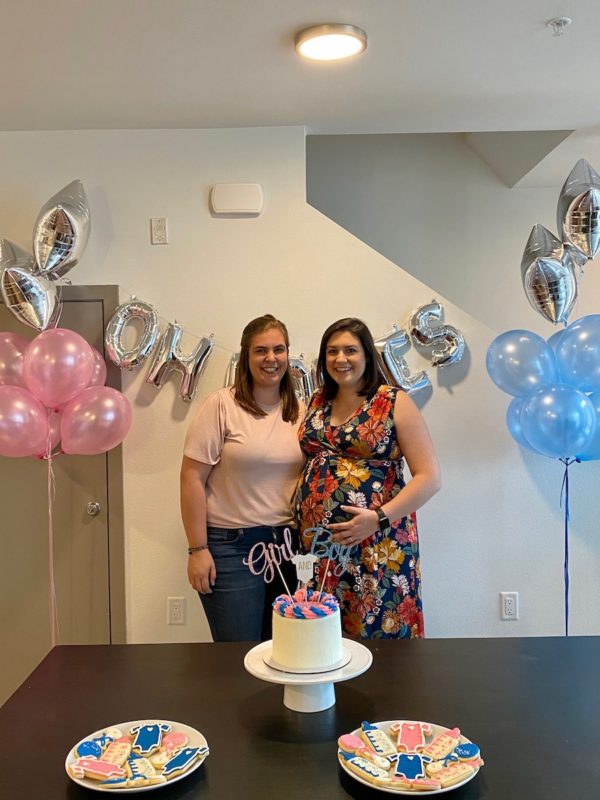 Final Thoughts:
The virtual baby shower created for our daughter Alex exceeded my expectations. Everyone was so kind and engaging; my heart was full. The PowerPoint Presentation is an excellent idea! However, our mom-to-be happens to be an excellent public speaker. This idea might be a challenge for a shy, new mom to be.
If the shower was smaller, with about 20-25 people, you might be able to open the gifts or share what has arrived. It would be fun to see the baby things or have them already opened and just show and tell.
You can also send out a suggested mocktail or cocktail recipe to toast the new mommy. Since I sent the chocolate and we were doing games, I didn't want to ask our guests to prepare anything.
If you didn't know the sex of the babies, you could also ask the guests to dress in either pink or blue to show their guess!
Make sure you take lots of photos and make the mom-to-be feel extra special. I tried my very best to make this a fun and unique experience, even though we could not all be together.
I like the idea of a virtual shower for families who live far away from each other; it allows groups to be together when they can't travel for other reasons. Since we now live in a COVID-19 world, doing virtual activities is here to stay. If we are creative, we can use Zoom to support a myriad of different circumstances.
Did I need to be there for the virtual shower? No, but I wanted to be there so much! Kaleigh is living with them now and will be the twins' nanny! I think Alex appreciated me being there and being a part of it. You hate to see that the guest of honor would have to set up her own decor and tasty treats!
The virtual shower was a big hit, and I think our daughter and almost mother of twins felt loved and enjoyed the entire experience! I sure did!
Another post about being a grandma!
A Brand New Adventure! I am going to be a grandma for the first time!
---
Pin for Pinterest