Curious what it is like flying during the Coronavirus?
Have you given any thought to taking a trip? Are you itching to get away? Fearful? Undecided? I have some first-hand experience that I look forward to sharing with you. I hope it will help and give you a little perspective.
Let's go back a few months to my first flight during the Coronavirus.
As a travel writer and empty nester with no immediate family commitments, my travel calendar is always full. In between my scheduled business travel, my husband and I travel together a great deal as well. We are always on the go, just ask our friends and family! Non-stop unpacking and packing, watering the yard in between, living a semi-chaotic existence. Maybe it was too much? We had the chance to discover just how insane our lifestyle really is/was—more on that in an upcoming post.
The virus has caused all of us to pause and appreciate our health and our blessings. My husband traveled for business every week, at times we were like ships passing in the night. However, the hotel points and accumulated air mileage allow us to book amazing empty nester adventures around the world. Life has its trade-offs.
Just about mid-March, we were all grounded, abruptly stopped in our tracks from leaving our homes, let alone travel anywhere. We were receiving conflicting news from all sides and just trying to feel our way through this world-wide catastrophe. 
A little family back story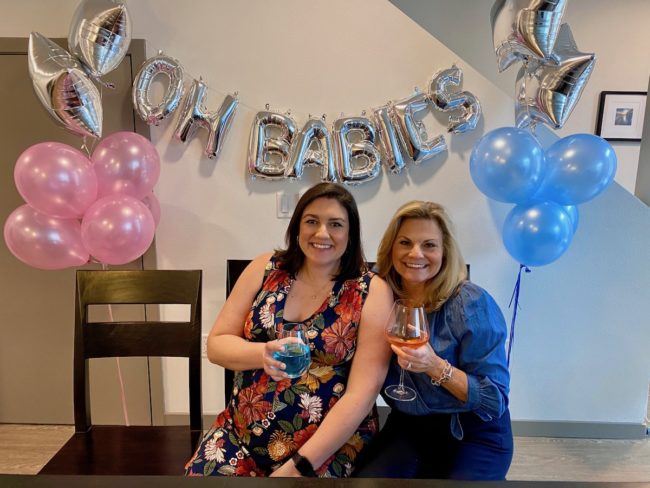 In January 2020, our daughter discovered she was pregnant with twins and lives two states away outside of Seattle, Washington. I was planning a trip in March to see her pregnant for the first time, check in with her in person, and just revel in the moment. I am going to be a grandma for the first time!
At this point in the Coronavirus Pandemic, we were told not to wear masks, to be cautious, and only travel if necessary. I agonized over the decision to visit her. Should I go? Was this necessary? What if they close the state borders? Cancel air travel in the future? I hade no idea what was coming next. What you may not know about me is that I am a rule follower, not a rule-breaker. This situation was way out of my comfort zone.
Was it possible that I would never see our daughter pregnant? My new-grandma heart was breaking. This can't be? She and I talked about it a lot, and I read everything I could. Typically I announce to my readers and social media audience what I am doing next and where I am going. I decided to keep it to myself and report later.
To be truthful, I knew many would find it shameful that I was so selfish to travel, but they weren't in my shoes, were they? I asked a handful of friends what they would do, four of the five said they would go. I made my decision.
Then, there was a lot of medical guesswork about how the virus was transmitted. Questions like whether the virus lives on surfaces and the idea of social distancing were being considered.
This is my story.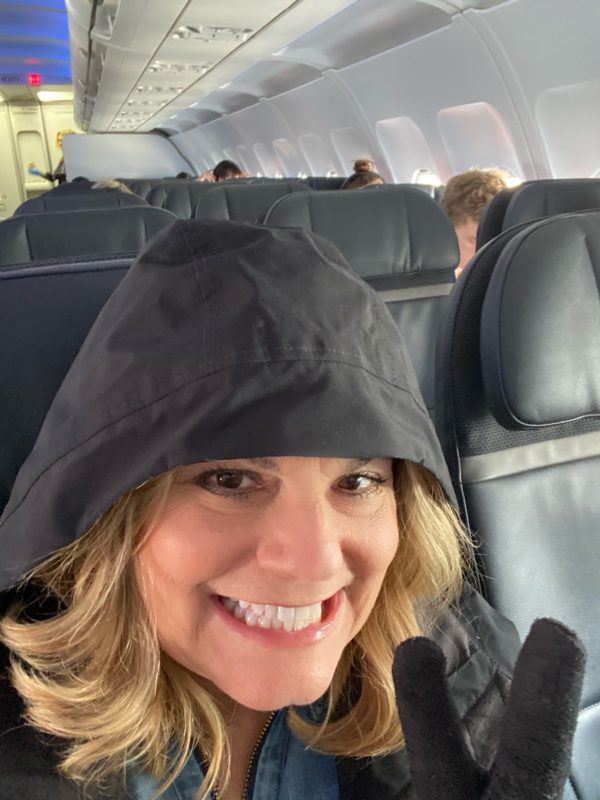 Flying During the Coronavirus
I dressed wearing a scarf and knit gloves and arrived at a completely empty Hollywood Burbank Airport. I planned to pull the scarf up over my mouth and nose if I came in contact with another human, and the gloves were obviously helpful.
I could not believe my eyes. The airport was empty and felt almost post-apocalyptic. Everything felt eery, scary, and unsettling. I thought to myself, forge on Suzanne, I am seeing my daughter, Mama Bear is coming.
On the Alaska Flight north to Seattle, there were about 17 people on my flight. The passenger sitting next to me huddled at the window with her back turned; the atmosphere was troubling. At this point in the Pandemic, the flight attendants were not wearing masks yet; however, some of the passengers were wearing them. There was an empty seat between us.
I pulled up my hood and read my book. No bathroom, no water, praying it would be over soon. My son in law picked me up curbside at Seatac with no hugging. When I arrived at their apartment, I took off all of my clothes and hung them up for my departure day, making up my own safety rules as I went. If ideas like the germs stayed on our clothes were indeed true, they would die by the time I left. I re-wore the same airplane outfit home.
Although I was unnerved the entire time I traveled, I was so glad to see her and spend valuable time with them. It was all worth it.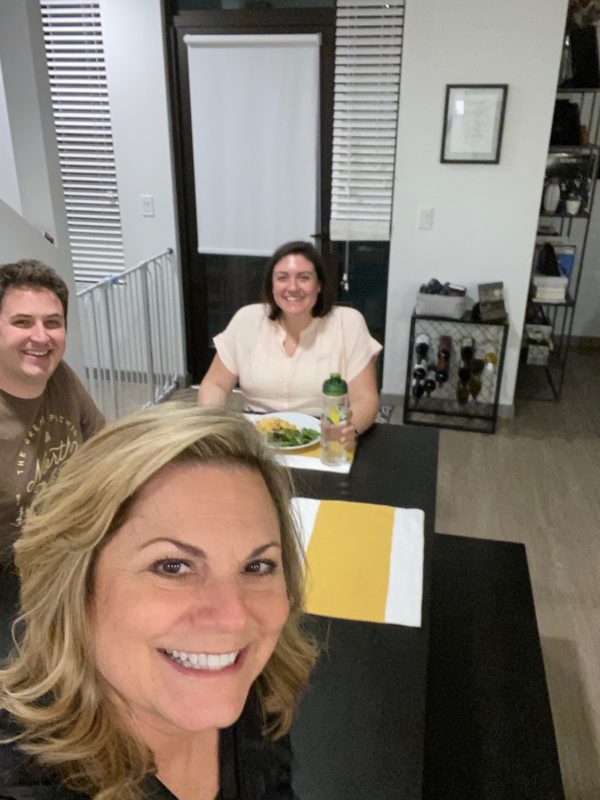 Fast forward three days on my return back home
Seatac airport was a ghost town; not a soul was in the Security TSA line. Not a soul! In my experience, this was impossible! If you have ever flown from this international airport, it is always insanely busy. Where were the people? Never in my life would I have imagined this scenario.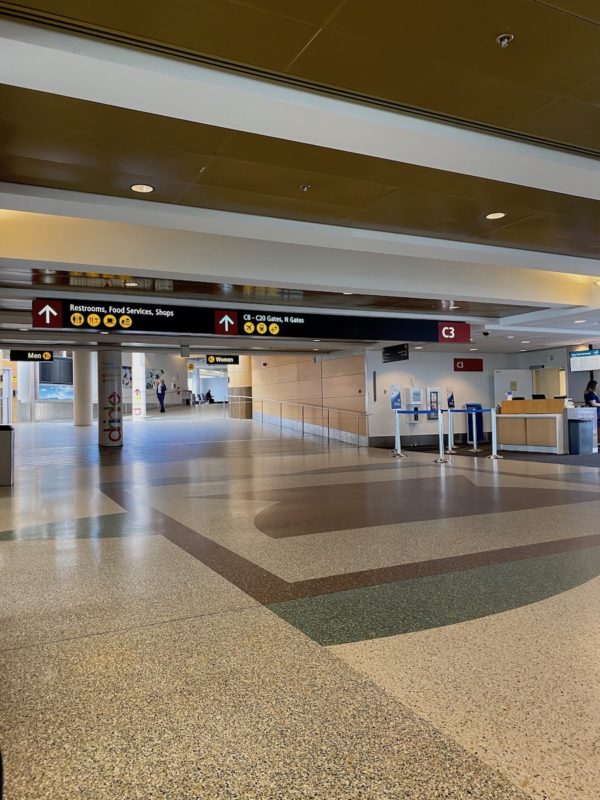 C-Gates are usually buzzing with people, and there was no line at the very popular Beecher's Cheese! No one was anywhere, it was like there was a fire drill and no one told me about it. It seemed like everyone was out on the tarmac waiting for the All Clear to come back to the terminal. It was so freaking weird.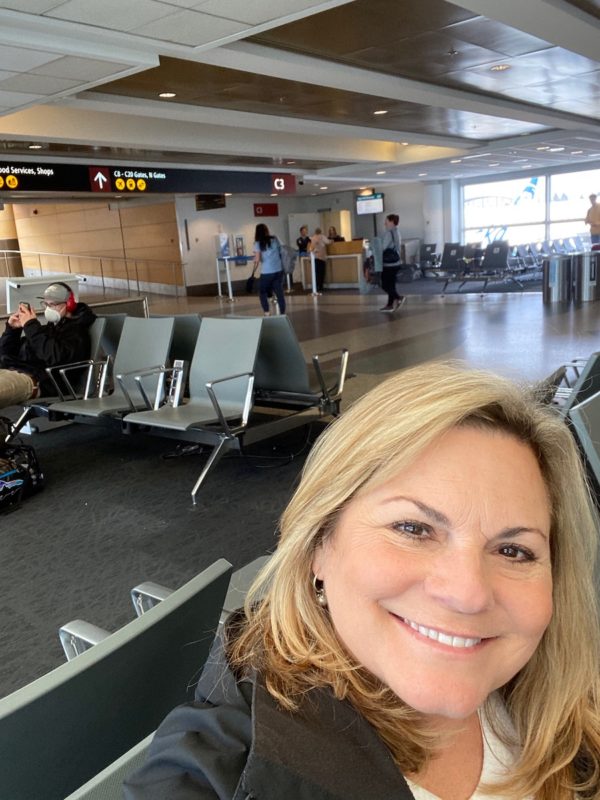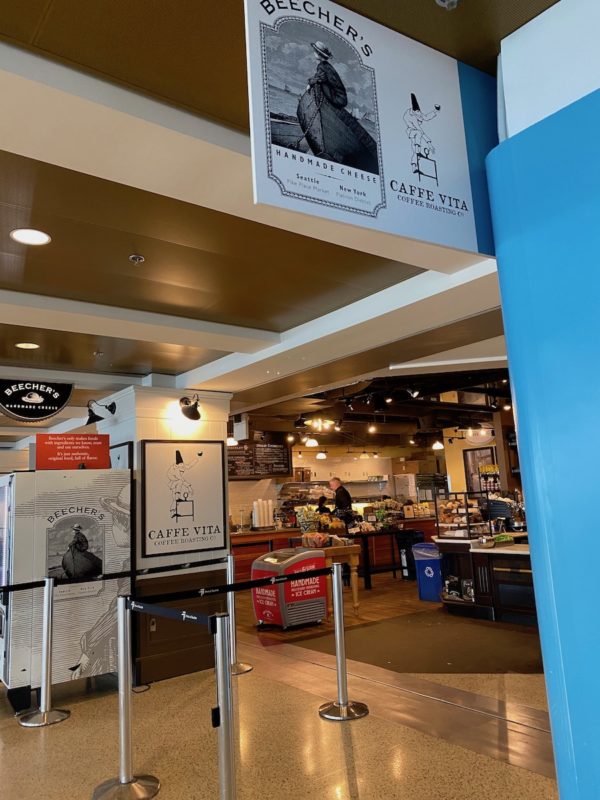 On my flight home, there were 13 people! I counted them. There was massive social distancing before that was a thing! 
I was safer and exposed to far fewer people on the plane and in the airport than waiting in Costco's long lines! 
I took the chance to go with my gut, and ultimately it was all fine. Besides, the only person that was suffering was me, and if I had sacrificed then, not knowing how much worse the situation would become, I never would have seen her until now. My daughter will be pregnant one time in her life, and I will not miss it. Haters can hate, but I know that I did my best to keep others safe and will defend my decision forever.
Flight number two:
Three months and one week later, we took another flight. Wow, the world is sure a different place, isn't it? As I look back on my first flight decision, I am grateful I did it. Upon my return, I quarantined for two weeks before I saw my parents and mother in law. 
Alex is now VERY pregnant, she and her husband bought their first home, they're packing up, navigating a house redecorating project, their sweet pup recently spayed and they could really use some extra parental back up!
The flight experience
This time flying during the Coronavirus was much more comfortable. I knew what to expect and was prepared. From the time we were dropped off to the time we were sitting in the rental car, we wore our masks. We purchased bottled water at the airport and brought along our own hand sanitizer.
The Hollywood Burbank Airport in Southern California was reasonably busy for a Thursday at 6:00 am. There were long lines for those travelers checking bags on Southwest and plenty of COVID -19 protocol signage everywhere. There were many stickers on the floor to indicate where to stand for proper social distance and additional signs every few feet, giving clear directions.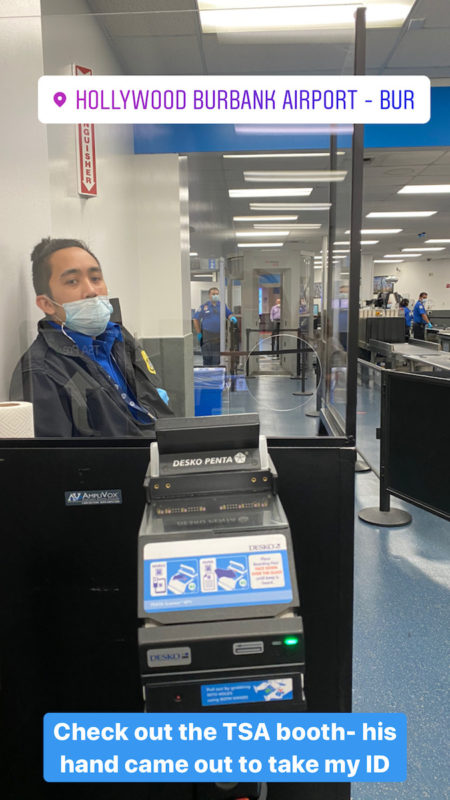 I had an easy time at TSA pre-check, and there is now a plastic barrier around the agent. Additionally, a hole is cut for his hand to reach out and take my ID. So weird, but necessary. These agents see thousands of people every day and need to stay safe.
There are placards on the seats in the waiting area, reminding travelers not to sit too close and a slow and careful loading of the plane with lines on the floor of the boarding area to keep you social distancing.
The rules are easy to follow, and we both felt safe the entire flight. Every passenger was seated alone, and the flight attendants offered a very reduced service with just water, Diet Coke, and Coke.
Our flight home was much the same; the rules for getting on the plane were more detailed; we still sat alone in our row and were served the same beverages. Again I felt safe and thought that all passengers abided by the rules.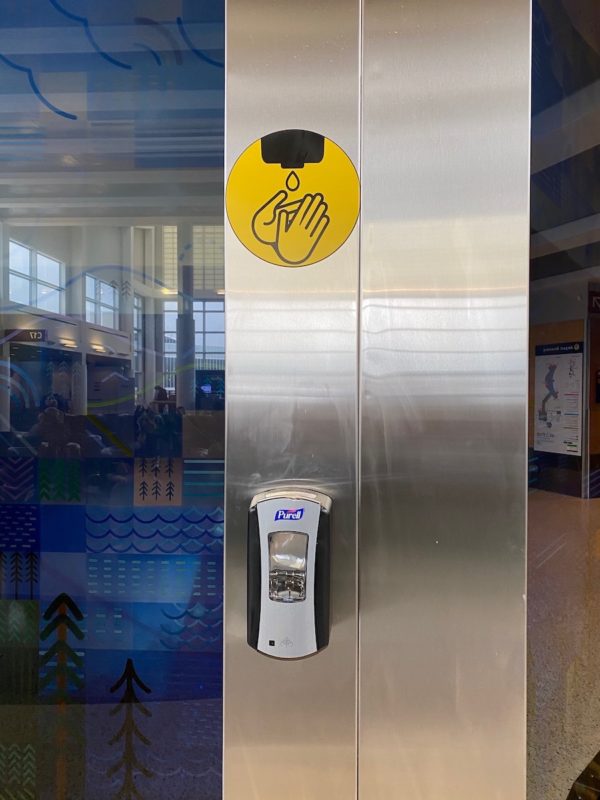 Keeping your mask on is the best way to keep everyone safe. I did not see one passenger on either flight disobey. I feel like if people choose to travel during the Pandemic, they need to respect others and keep everyone they come in contact with safe. Non-rule followers should stay home.
Here's the deal, right now, travel for pleasure is a challenge. I wouldn't be traveling to Seattle to go sightseeing, only to see family. In order to travel for vacation, it is best to stick to the great outdoors and stay home if you are remotely nervous. Travel is not for those who are anxious about getting sick or have immune deficiencies. 
Would I do it again? Absolutely. However, I do not have any underlying conditions, and I am not afraid. Fear is a powerful emotion, and the world outside our homes is not the friendliest. With everyone wearing masks, you cannot read a situation as easily as before. I enjoy smiling and being smiled at, right now, this is all hidden from view. 
Tips for safe travel while flying
Carry on – To avoid lines, do not check a bag

Only travel if you can handle it emotionally and obviously don't fly with underlying conditions or when ill.

Wear a mask from the time you step on the airport's grounds until you are safely at your destination in a rental car.

Buy your own bottled water at the airport.

Watch for social distancing signs, be patient.

Give yourself plenty of time, BE KIND to all.

Smile with your eyes if you can!
I am not a healthcare professional, just a sensitive traveler. I love to travel and want it all to be ok for everyone to travel again soon. I think we have to be patient, but if you're going to get out, there are rules to follow, and I hope my experience will give you a little more insight into what is happening right now in June 2020.
Do you have more questions? I would be happy to help. If there was a detail I didn't cover, let me know.
Safe travels, friends. We will travel again.
More posts with Travel Tips!
How to Eat Everything & Still Stay Fit
Can't Travel Today? 8 Ways to Help You Dream Now Play Later 
---
Pin for Pinterest