Virtual Cooking Classes – What do you think of this idea?
Are you tired of the same old thing, day in and day out? Does a new type of cooking adventure sound interesting? A virtual cooking class is a great place to begin! Whether I take a cooking class tour or one close to home, I have learned a ton about the craft of cooking delicious food. These types of classes not only boost your cooking talents, but there is always a surprise tip that you would have never picked up from just reading a recipe. 
Are you looking for virtual cooking classes now that we are not gathering in large groups? The Food Network & Cooking Channel, along with the New York City Wine & Food Festival, have created NYCWFF at Home.
The beauty of wine and food festivals is that they enable the everyday cook to mingle with accomplished and often famous chefs while tasting bites of local restaurant food. Due to COVID-19, we aren't able to attend festivals and do so many other things, and one of those activities is to take a cooking class with a large group of people.
However, during the Stay at Home mandate, this group of enthusiastic food lovers at NYCWFF managed to put together a cohesive, organized, and delightful cooking class series. 
While safe in our homes, we can all participate in a unique opportunity to cook alongside and engage with an NYCWFF personality.
I have already taken two classes and absolutely adored the experience. These chefs are incredibly generous with their knowledge, tips, and cooking techniques. You never know what new cooking gem will be uncovered!
The Virtual Cooking Classes with NYCWFF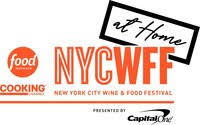 The fee for the classes is $25, AND the proceeds benefit the NYCWFF Restaurant Employee Relief Fund established to support the National Restaurant Association Educational Foundation's Restaurant Employee Relief Fund. This vital cause will help thousands of New York State restaurant workers who have been affected by the COVID-19 crisis. Bank of America is the presenting sponsor of NYCWFF at Home. Bravo to them!
My first class with Rocco Di Spirito!
When perusing the class schedule, I was looking to learn a new technique that I could add to my kitchen arsenal. I have made Spaghetti Carbonara before; it was good, but not nearly the creamy consistency I was looking for in my dish. My husband Craig thought my first attempt was great, but I knew something was missing in my final product.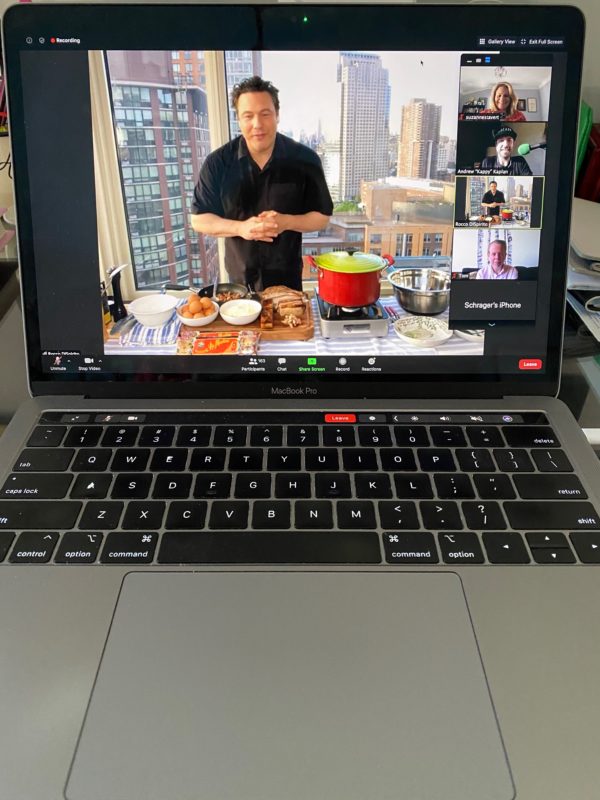 Our teacher, Rocco DiSpirito, is an approachable, talented chef, and I thought learning just the right skills from an Italian cook would be an excellent plan! The actual recipe only has a few ingredients, but I learned it's all in the wrist!
Rocco's Tip: 
The carbonara is mixed in a separate bowl where you begin with the egg yolks, add the parmesan or romano cheese. Once you have cooked the pasta, you pull the pasta out from the boiling water and drop into the bowl with egg yolks and cheese. By gently whirling the pasta and the other ingredients together, the sauce is emulsified and creamy! It is all in the wrist!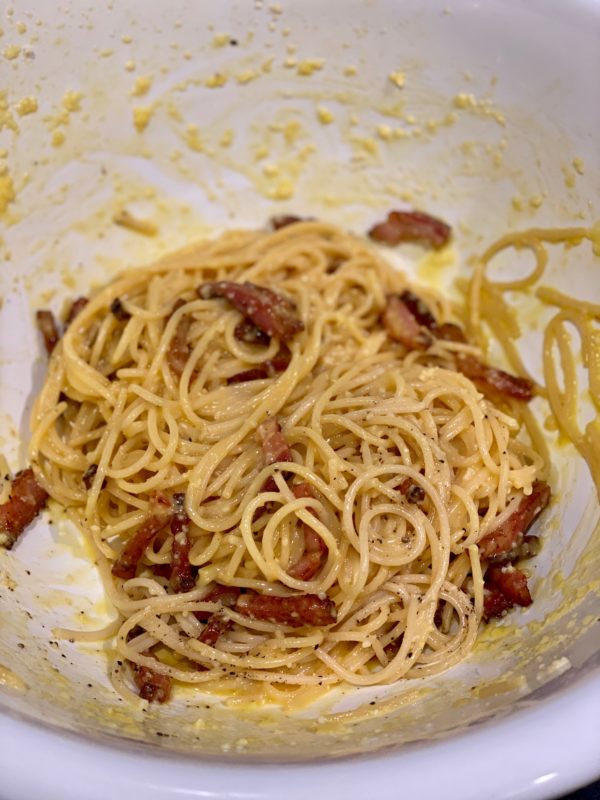 During the class, it is fun to see enthusiastic home cooks from all over the US joining in to see and learn from these big-hearted chefs. There are moms with kids, couples, and singles working from kitchens that are fancy as well as charmingly small and modest.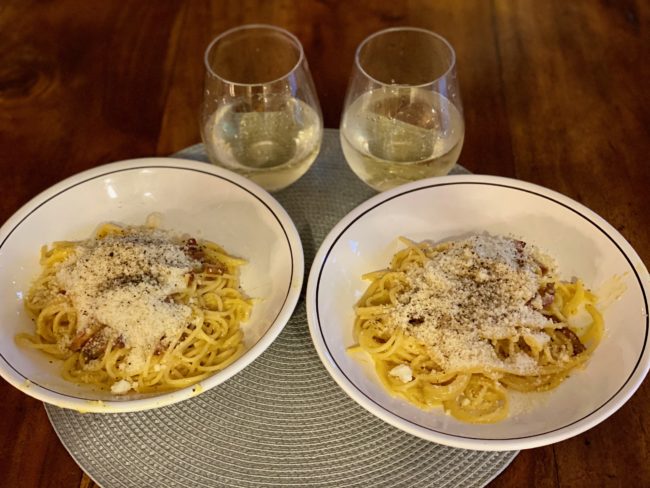 The Zoom call felt welcoming and Rocco was happy to answer questions and not in a hurry to conclude the class. He was patient and kind and sincerely delighted to be giving up his Wednesday evening to teach a lesson for free. How wonderful.
My second class is with Martha Stewart!
I must begin by telling you that I love Martha. I have been following the teachings of Martha Stewart since 1989 when I purchased the first Martha Stewart's Christmas Book. From this book, my young daughter and I made wrapping paper, cookies, and wreaths and baked many new types of holiday treats. At Easter, I followed her creative instructions for gorgeous color-coordinated Easter Baskets, and our family's Halloweens were often inspired by her and her magazine Martha Stewart Living. Any time she had a television special or series, we watched, and I have followed her vast career ever since.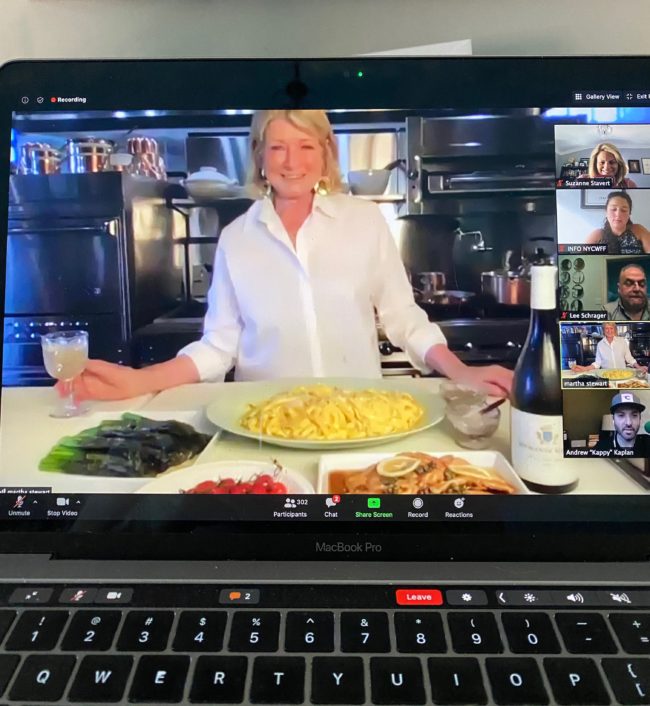 A few years ago, I learned about a health symposium where she was speaking, along with Dr. Oz and Deepak Chopra. It was an undersold event (who knows why), and I was able to sit in the front row. They all shared the wisdom of health and well being and the experience was out of this world amazing!
Martha likes to tell stories and educate, and I always learn something from her!
For the NYCWFF class, Martha was as engaging as ever, ready to share her expertise, offering several cooking prep ideas, all while showing us how to make Chicken Piccata.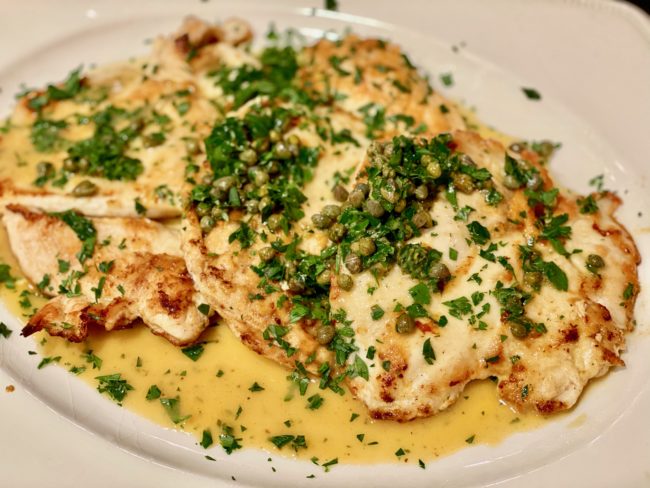 Chicken Piccata is a favorite of mine, but I usually only order it in a restaurant. With her tips, I made a splendid new version! She cooked in her palatial farm kitchen, sharing captivating stories of farm life, gardening, and gave a mini-tutorial of egg sizes from various birds. Fascinating stuff.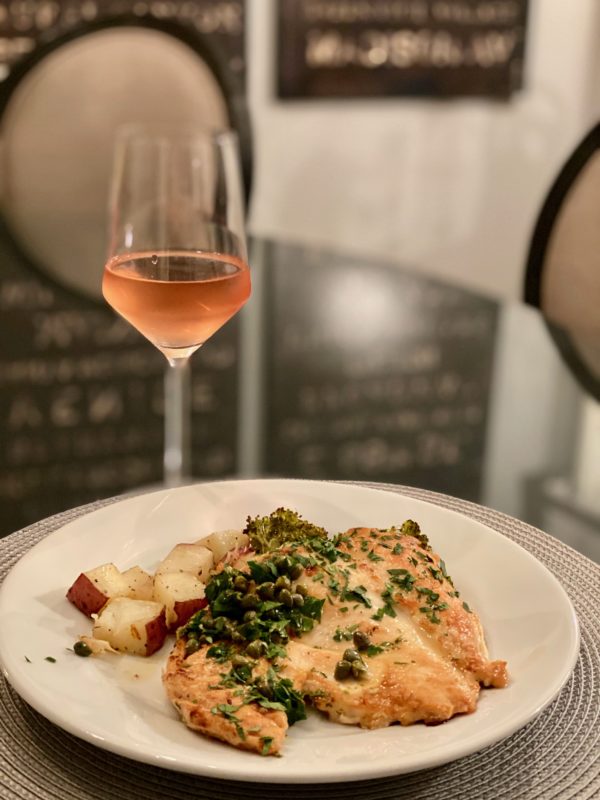 Tip from Martha:
To get the most juice from a lemon, slice the pointed bottom off of the lemon half to have a flat surface in order to squeeze out the most liquid. Martha also demonstrated the best way to butterfly a chicken breast into one, flat piece.
She graciously answered a bunch of questions and then showed us a Tree Peony cut from her garden. The bloom was part of her dining table centerpiece and the size of a dinner plate!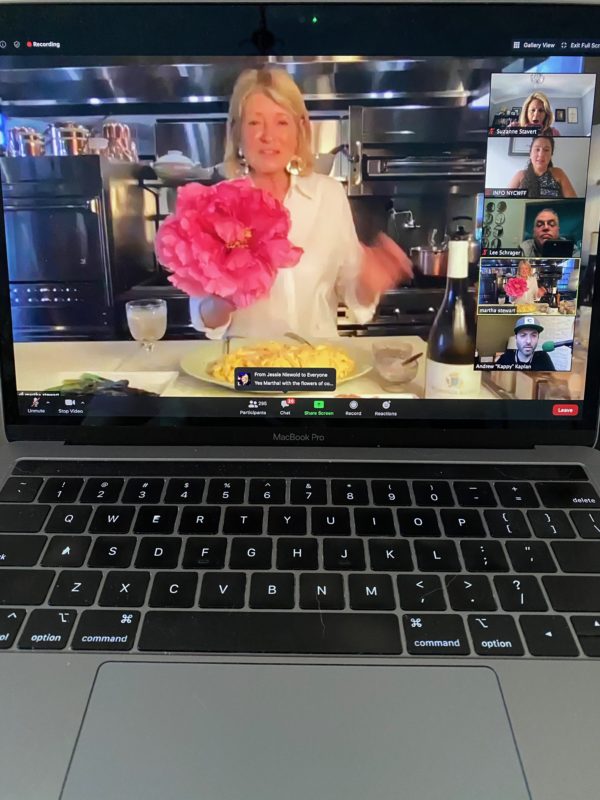 If you have had experience with Zoom, you will probably agree that the reception is clear and the experience is interactive, unlike a television show. These classes aren't scripted and you have the warm feeling of cooking with this famous chef in his or her home kitchen. To find these types of happy diversions during these challenging times is a WIN!
Final thoughts
Since I have not been traveling for the last three four months, my world turned upside down. Our lifestyle was such that we were always planning or packing and continuously on the go.
When I would return, there was a pile of photo editing and writing to do, then it all came to a halt. Boom, I was done.
We all have suffered a great deal, but as a travel writer, I had to scramble to find my relevance and identity when I could not work at what I have been doing for the past six years. No one wanted to read about travel, did they?
Taking classes was part of my therapy, as well as a way to strengthen my commitment to #findadventure. To find adventure during such challenging times takes extra effort.
This blog post is not sponsored; I truly wanted to share it with you so you too could enjoy the same cooking adventure as I did and also help NYCWFF to receive crucial financial donations.
Please share with your friends who are interested in cooking! Hurry – I believe the classes may end in June.
I have one more class scheduled in June to learn from the renowned French chef Daniel Boulud. I don't know what he will be cooking, but whatever it is, I will love it!
Culinary Tourism is So Much Fun :: Learning How to Make Macarons
Eat, Drink & Discover – Culinary Travel to Northern Italy
An Italian Cooking Class in Tuscany for the Whole Family
Seattle Cooking Class: How to make pizza at home (It's pretty easy)
---
Pin for Pinterest