More of our best cocktail recipes for you!
So the project continues.
Our little video Cocktail Adventure has been moving along and catching speed. You all have been so supportive with your comments and enthusiasm, and we aim to please! Even our non-drinking friends are enjoying this little escape as well!
We began this adventure six weeks ago to connect with everyone stuck at home during the COVID-19 pandemic. Many people are baking amazing new recipes, letting their creative juices flow, and investigating new personal talents. Also, liquor sales have gone up dramatically! Hello? You are making cocktails too!
Not exactly sure how we could contribute, we created Cocktail Adventures, where we film a short 4-5 minute video and offer a little cocktail history, our favorite recipes, and a travel memory that is enhanced by this drink.
My husband Craig does some research, we include our signature recipes, and I add my friendly spin on our travel memories.
Today you are in for a treat! A tasty trifecta of the perfect ingredients and stories as well as the three videos we filmed in one take. Yep, one take. Why waste time on perfection? There's no such thing!
Our Old Fashioned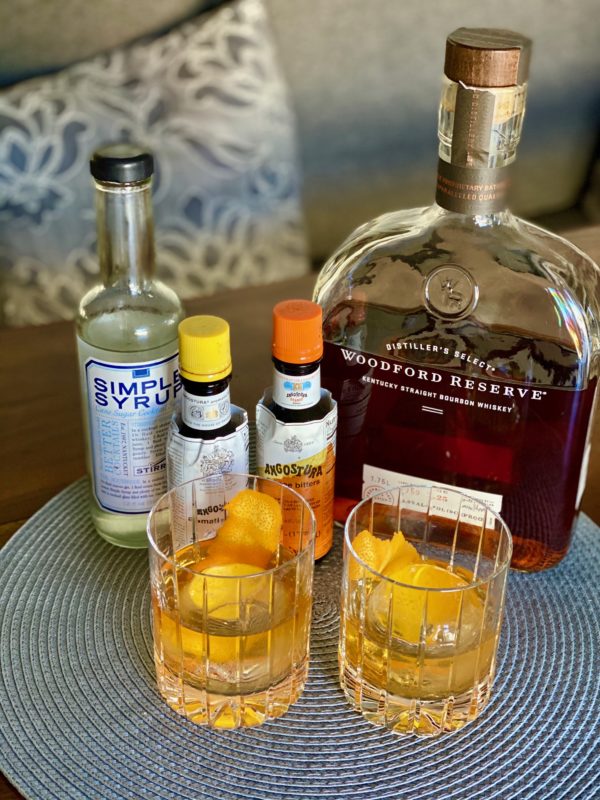 The origins of the Old Fashioned trace back to the 1860s. It was most likely invented in a Louisville, KY club but popularized at the Waldorf-Astoria hotel in New York City.
This heavenly cocktail served on the rocks in an old fashioned tumbler fills your nose with divine notes of caramel, and the taste is exquisite. Our recent road trip through the Kentucky Bourbon Trail was filled with several Old Fashioned cocktails. We highly recommend this empty nester road trip through a beautiful area of the US, filled with history and peaceful landscape.
2 1/2 oz Woodford Reserve Bourbon
1-2 T Simple Syrup*
2 Dashes Woodford Reserve Cherry Bitters
*In a saucepan, stir in one cup of sugar into one cup of water. Heat slowly until sugar dissolves and chill.
Aperol Spritz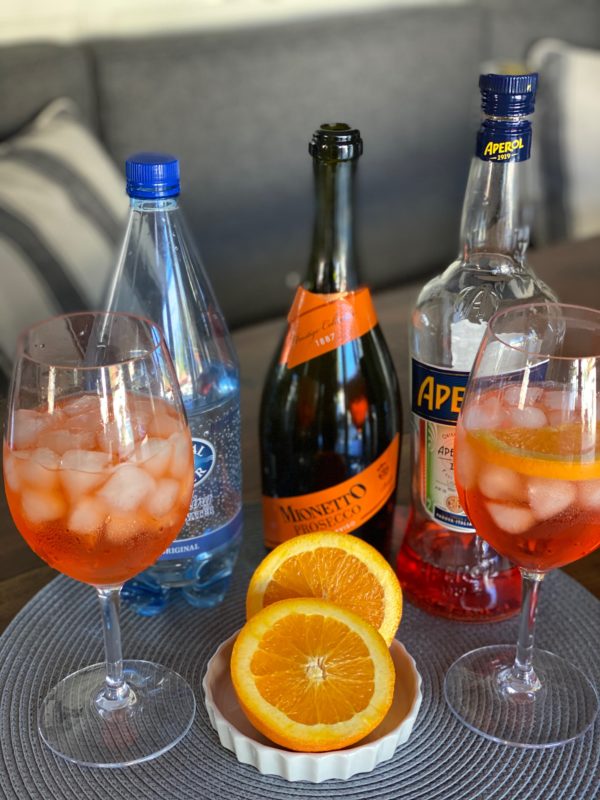 We love to sip our Aperol Spritz from a large wine glass, and according to Craig, my cocktail historian, the Spritz, was created in the Veneto Region of Italy in the early 1800s. At that time, the drink consisted of just wine and a splash of soda.
The Italian aperitif Aperol was created in Padua in 1919, but by the 1950s became much more popular. Now, the Aperol Spritz is red-hot popular, colorful, and best served with a slice of orange. Our favorite Aperol Spritz memory is traveling to Siena, Italy to see The Palio, one of the most unique horse races in the world.
How to Make an Aperol Spritz – Our way!
Fill a large wine glass with ice, add two parts Aperol, a dash of sparkling water, and top with prosecco
Manhattan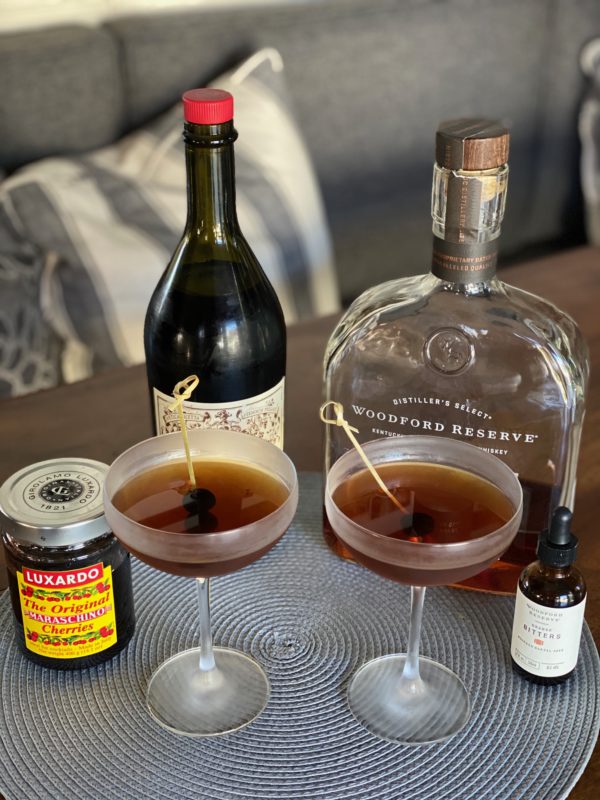 In the video, Craig offers a fun story of the origin of the cocktail and then raises the question as to whether the Manhattan ingredients line up like the New York Area Code (212, two parts bourbon, one part vermouth, 2 dashes bitters). We prefer the Chicago area code (312) because we like our Manhattans with a bit more bourbon!
This classy cocktail originated in the New York Clubs in 1860-1870s. It was traditionally made with Rye whiskey and then evolved to bourbon. Our visits to both the Newport Beach Hyatt and Hyatt Carmel Highlands in Carmel by the Sea, CA are always enhanced by kicking back and sipping a Manhattan.
In a glass cocktail pitcher filled with ice add:
3 oz Woodford Reserve Bourbon
1 oz Carpano Antica Formula Vermouth
2 Dashes Bitters (Angostura or Woodford Reserve Orange or Cherry Flavored)
Stir with cocktail spoon and strain into a chilled martini or coupe glass
How to Make a Manhattan
As empty nesters, our lives changed dramatically when our children grew up and left the "nest." We seldom drank alcohol during the week because we were so busy driving back and forth from practices and school activities, as well as helping with homework, etc. in the evening.
Now that our lifestyle is more couple-centered, wine with dinner is probable, and a weeknight cocktail is always possible.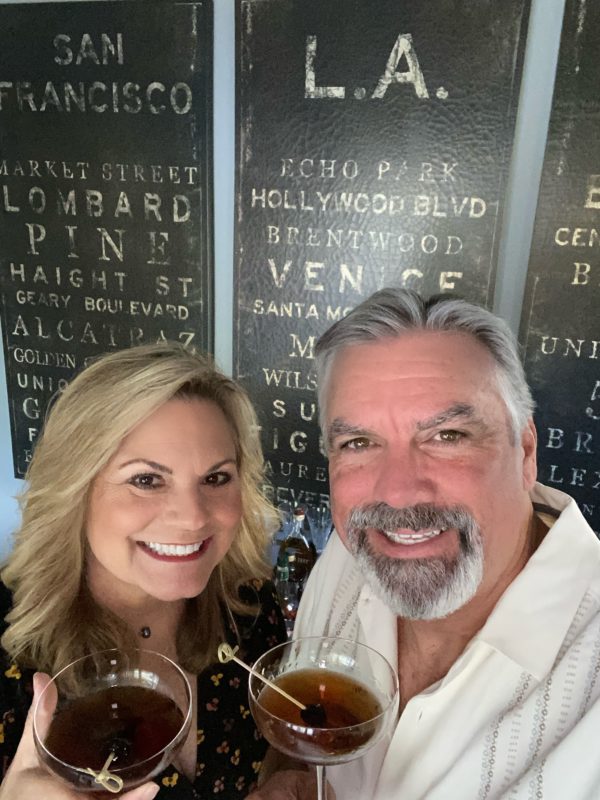 Stayed tuned for another "Thirsty Thursday" Cocktail Adventure coming this Thursday.
Thanks so much for watching and for sharing our Cocktail Adventures with others!
---
Pin for Pinterest