A New Cocktail Video Series – Making the best of the Stay at Home mandate
Today we live in an unfamiliar universe where we can't leave our house or hug our parents, and toilet paper is at a premium. You can't make this up if you tried.
Social media is overflowing with people trying to make a difference, make you smile, perform a family dance, share personal anecdotes, encourage, and even educate. New Video Series are popping up frequently from celebrities as well as everyday folks. I say, "Bring It! 
I welcome any positivity and encouragement, and I am always happy to see that people are trying hard to "live happy" during this new restricted existence without losing their minds. Even cookbook author Ina Garten got into the act with a cocktail video that went viral. According to The Wall Street Journal,  "Many social drinkers find they are consuming more as they look to cheer up or relieve stress".  Tell me something I don't know!
So, Craig and I decided to share our passion for handcrafted cocktails and published our first cocktail video in a series called "Cocktail Adventures" We have two already published and we publish on "Thirsty Thursdays". 
Our skills can only get better from here! In our relationship, Craig is so incredibly supportive of me and my quest to share Adventures of Empty Nesters with as many people as possible. When I approached him with the video idea, he was fully on board. 
He is working full-time via Zoom calls talking with co-workers and customers from all over the world. Some industries are maintaining some semblance of normalcy at a reduced capacity, and for that, we are grateful.
So we put our filming on the calendar based upon his schedule and so I also remember to shower and look presentable! Ha! No, I am serious. Of course, I shower,(most days) but I am not my best and prettiest self during this Stay at Home mandate.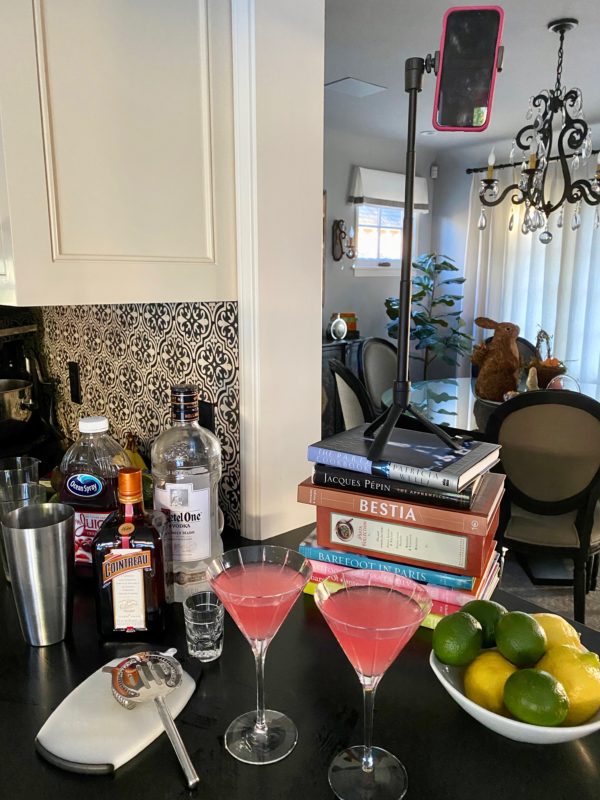 On to the cocktails!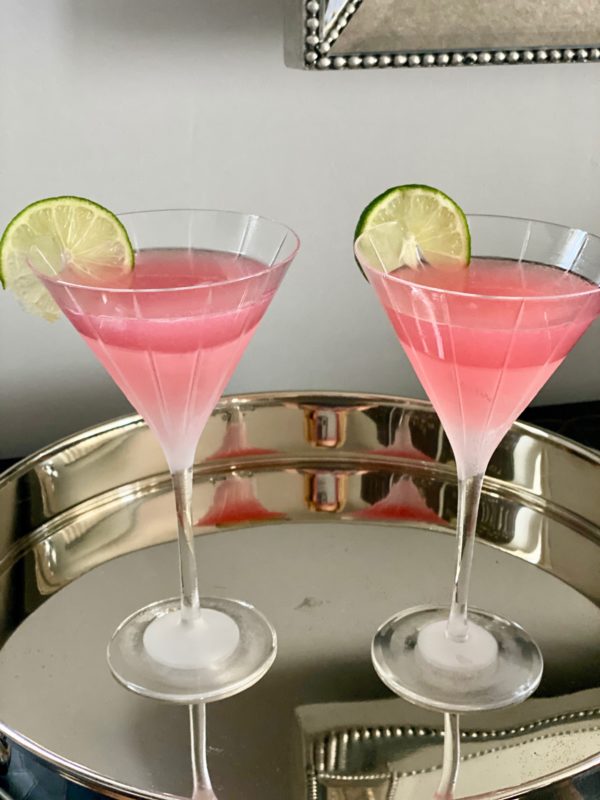 Recipes
Cosmopolitan  – Pink, not red is the optimal color!
In a Boston Shaker, mix all ingredients and pour into a frozen martini glass. We keep our cocktail glasses in the freezer, as well as our basic alcohol, like vodka and bourbon.
2.5 -3 oz Vodka
.5 oz Cointreau
Large dash of cranberry juice (make it the color you wish)
Freshly squeezed lime juice from one whole lime
Rosemary Greyhound
Fill an Old Fashioned glass with cubes, pour in the vodka, the rosemary syrup & top with grapefruit juice
3 oz Vodka
2 T Rosemary Infused Simple Syrup
Grapefruit juice – freshly squeezed if possible
Recipe for Rosemary Simple Syrup
In a saucepan, pour in water and add sugar, stir, warm at low heat until sugar is dissolved and liquid is clear. Take off heat and nestle a sprig or two of fresh rosemary in the liquid for about 30 minutes. Put in a glass container and refrigerate.
We had fun with this cocktail recipe. In either Imbibe or Food & Wine Magazine, we saw a version of this recipe and tried it last summer. Super refreshing, a little bitter, a tad sweet, which makes the perfect combination in this handcrafted cocktail.
Additionally, if I can use any of the herbs I grow in my tiny urban garden, it's a win.
For each cocktail video, my thoughtful husband does a little research to find some fun tidbits on the history of the cocktail and we add a little of our personal history to the story as well.
Come over to my Amazon Shop to find our favorite items for making cocktails!
Check out my Instagram feed this Thursday for our newest video production!
---
Pin for Pinterest