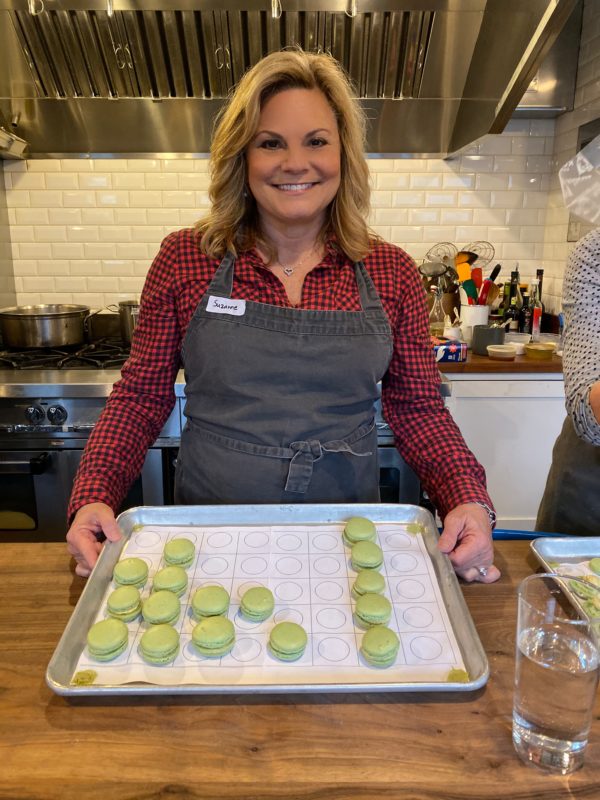 Travel offers so many types of learning experiences
Is learning how to make macarons a worthwhile life skill? To some, not so much, but to the rest of us, baking challenges enhance our culinary skills, create BIG smiles and a happy sense of accomplishment!
As I write this post, we are in the middle of the Coronavirus pandemic, and flour is at a premium. It took me two weeks to find five pounds of white flour, and I only have it because my stepfather found it for me! Whoever thought that finding baking flour would be a problem?
However, during this small window of time, many of us are turning to baking as therapy as well as a way to learn a new skill. Some are honing our baking chops to see if we can up our game as well! So far, I have tried my hand at Foccacia and Blueberry Scones – Successfully!
Just a few months ago, when flour was an ingredient I took for granted, I learned how to make macarons. I traveled to Seattle to see our daughter and included this culinary adventure. The class was held at The Pantry and was taught by Marianna Stepniewski, a skilled pastry chef, who showed us many special techniques and offered tips and tricks. After she demonstrated what we needed to do, we tried it ourselves and took turns. We divided into four groups of three and each made a flavor.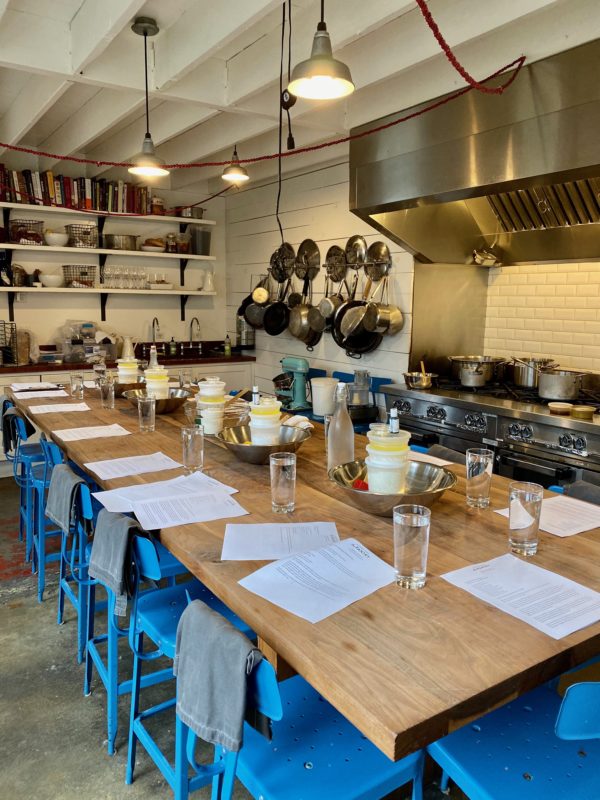 What is a macaron?
A French macaron (pronounced mack-a-ROHN) is a confection made of two round, flat, merengue-like cookies made with almond flour, egg whites, sugar & food coloring. These two pieces sandwich a filling, like ganache or jam. Most of the flavor comes from the filling, but the recipes we worked on contained some additional flavors in the cookies as well.
A macaroon (with two oo's pronounced mack-a-ROON) is a mounded cookie made with shredded coconut and often dipped in chocolate.
I was always under the impression that a macaron was a fancy French pastry that I would most likely always purchase from a bakery. This idea is mostly accurate; however, I did come to learn that making a tasty macaron is a possibility!
I once again joined a class at The Pantry, a community cooking school located in Ballard, Washington, about 20 minutes outside of downtown Seattle. I have taken many fantastic courses from this school and come away with lots of knowledge that has greatly enhanced my cooking expertise and many of the recipes I have tried successfully at home.
Culinary travel
Because I love all kinds of food and cooking, I try to include a culinary-type tour on most of my trips, and when I can, add a cooking class.
As I look back through my travel history, I have been lucky enough to experience a paella class in Barcelona, Spain, pasta making in Tuscany, touring olive oil groves outside of Verona, watched cheese-making artisans in Parma, Italy and I even learned how to make ceviché from a local chef in Costa Rica.
How to make macarons
This post is NOT a how-to make macarons tutorial, but a way to inspire you to step up and look for classes to take when you travel. I found the idea of baking a French macaron intimidating, but now realize that nothing is out of reach if you apply yourself.
Hands-on classes offer such a stellar opportunity to learn skills from an expert, to practice while in class and to connect with other like-minded people.
What did we make?
Gingerbread – A spice blend cookie with spiced orange buttercream filling
Pistachio – Pistachio flavored cookie with pistachio filling
Peppermint Chocolate – A chocolate cookie with a chocolate ganache filling rolled in peppermint candies
Fig – Plain cookie colored purple with a fig jam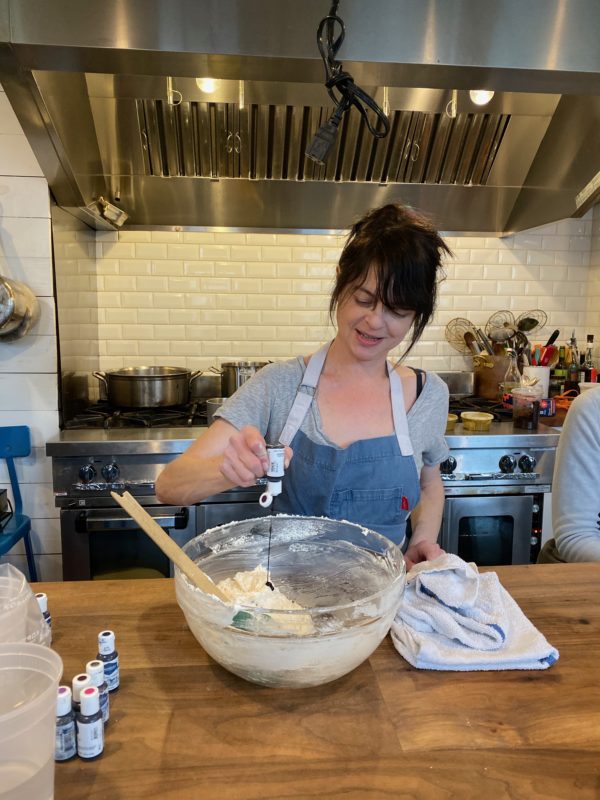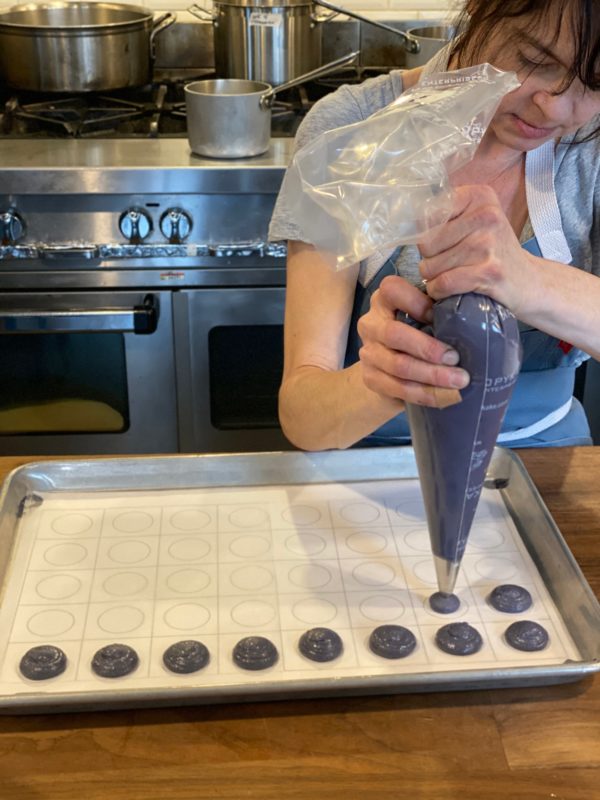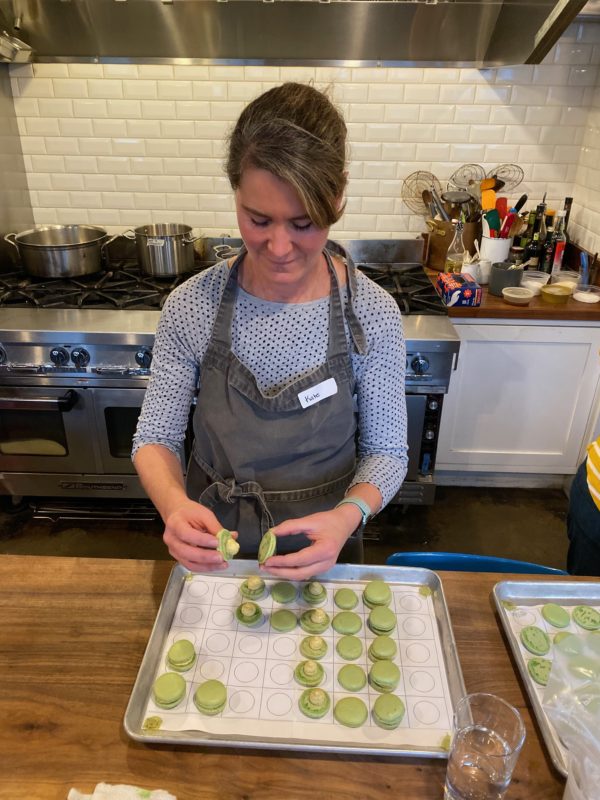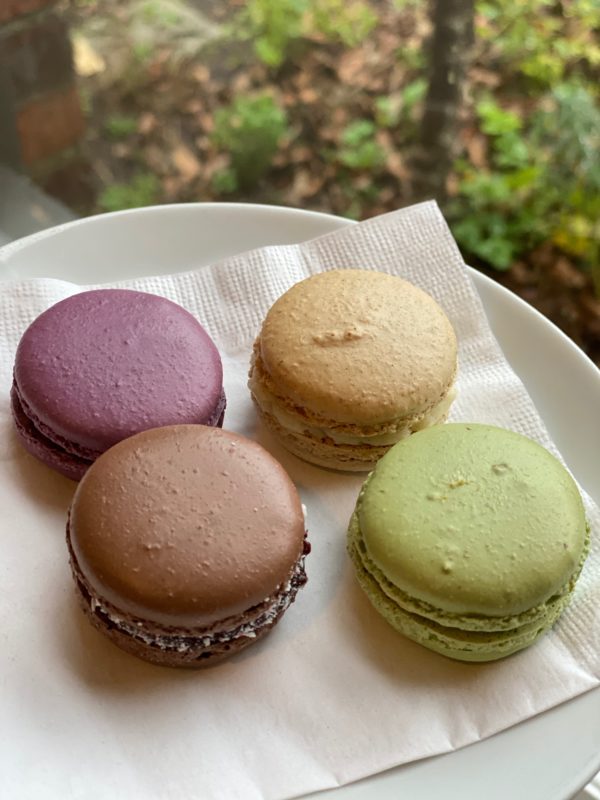 Learning more about food and culinary traditions are the perfect way to travel deeper into a destination. By touring and taking classes we can learn so much about the local culture and share in something that is vital to the hosts of the region. We can then bring this knowledge back with us and teach our family and friends or at least dazzle them with our new skills!
Do you take cooking classes? Are culinary tours something that interests you?
Here are some of the posts about my other culinary adventures:
An Italian Cooking Class for The Whole Family
Seattle Cooking Class: How to make pizza at home (It's pretty easy)
An Oktoberfest Cooking Class with Sheena the Punk Rocker
Tuscan Women Cook :: My Italian Cooking School Dream Adventure
A Special Cake Baking Class Seattle Style
My Custom Made Adventure: A Culinary Tour in Italy
What To See and Things to do in Barcelona
How to Make Ceviché Costa Rica Style
---
Pin for Pinterest