What do you need for your future travel life?
Are you missing the exhilaration of an upcoming adventure? Do you dream about your future travel life? You do know that we will travel again! No question. Will it feel different? Absolutely. Will there be new rules in place? Most assuredly. However, an adventure to a new or favorite destination will fill you up again in ways you may have forgotten.
Like you, I have been house-bound, safe at home for a while, although it feels like an eternity. Do you feel that as well? But my dream of strolling through a new city or tasting a delicious local dish has never left me. I know we will be out there again, discovering and living our lives as we have in the past.
While we are patiently doing our part to keep the virus from spreading, it is essential to keep our thoughts lively and hearts full. 
Plan ahead, get organized, dream BIG, research, create, prepare, and make lists! How about a recipe for a successful future travel life! Here are a couple of suggestions for you.
Organize Your Travel Photos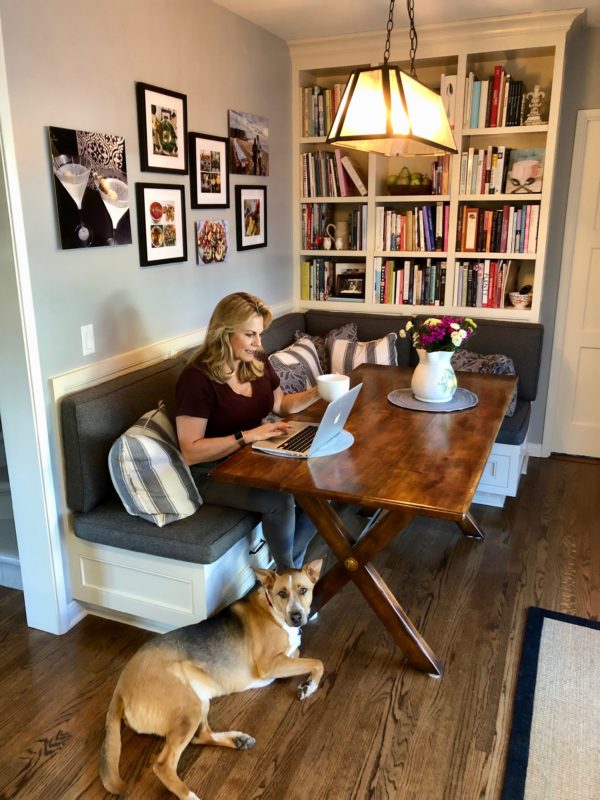 What have you done with those fantastic vacation photos? Are they tucked away sitting in boxes? Have you taken the time to create photo albums? Have you thought about framing some or enlarging a few? These photos are unique to YOU! No one has what you have captured! Why not create art to hang on your wall to remind you of those precious moments in time?
When I returned from Iceland, I was so enamored with my experience and the photos we took; I turned a few of them into artwork for our home.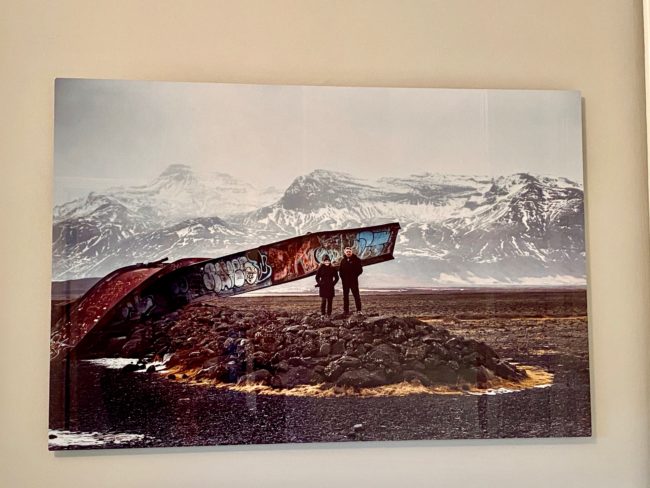 Our daughter introduced me to Social Print Studio, and I was fascinated by the idea of printing my photos on metal! I was also lucky enough to have a professional photographer (Thank you to @DannyKern & @DrewRomano) take this particular photo, which makes this art piece extra spectacular!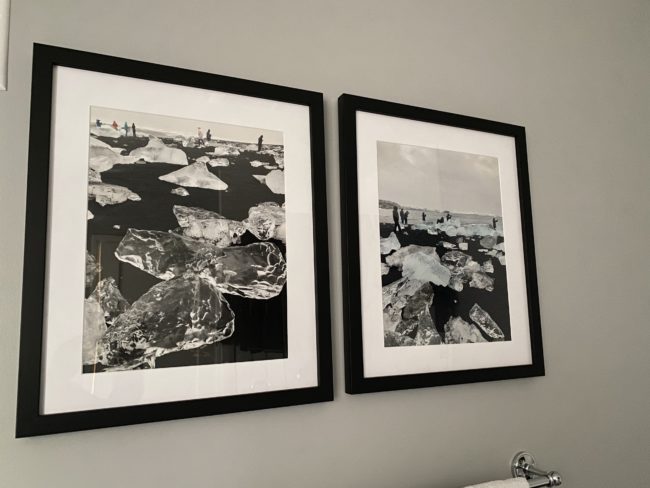 However, I also utilized this same medium for food photos I hung in my kitchen. The grouping looks super cool and makes me smile every single day! Mixing metal with black frames was a fun and updated look. (See above)
Make Memory Books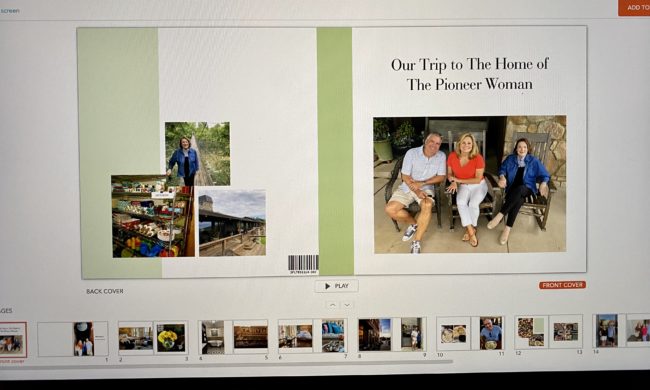 Let's face it. We have lots of extra time now, so a project should be a welcome idea! Create a photo memory book for yourself or someone else. Mother's Day is around the corner, and this would be a perfect time to create this gift.
Last summer, we took Claudia, my 85-year-old mother in law to Pawhuska, Oklahoma, to visit the most adorable small town created by the Pioneer Woman, Ree Drummond. Click ===> HERE to read about our fantastic trip to Oklahoma.
We indeed had the best time, and I created a memory book for Claudia so she could revisit the experience. She looks at this beautiful travel memento almost every day.  
I created hers through Shutterfly,  but there are other websites like Chat Books and Snapfish, where you can easily create personalized photo books.
One more thing – If creating a book is too much to deal with right now, invite a few family members or friends to a Zoom party and share your trip with them.  Our friend Rich Hua arranged for a family vacation photo party for this evening! What a great idea too!
Create a New Toiletry Bag or Dopp kit
For years I would lug around an enormous pile of toiletries when I traveled. This strategy is not practical or logical. I have painstakingly trimmed my cosmetics stash way, way down. So proud!
Now is the perfect time to decide what you find absolutely necessary to feel good and maintain your appearance. You need no more than that. Keep the travel bottles full and purchase travel-size items too. 
This activity is the kind that you put off because it is such a tedious chore. However, the next time you go to pack for a trip, you will be so thrilled you took the time in April 2020 to do this!! Click here to see my Adventures of Empty Nesters Amazon Store, where I share my favorite travel items. I think it might be helpful!
Research Your Next Trip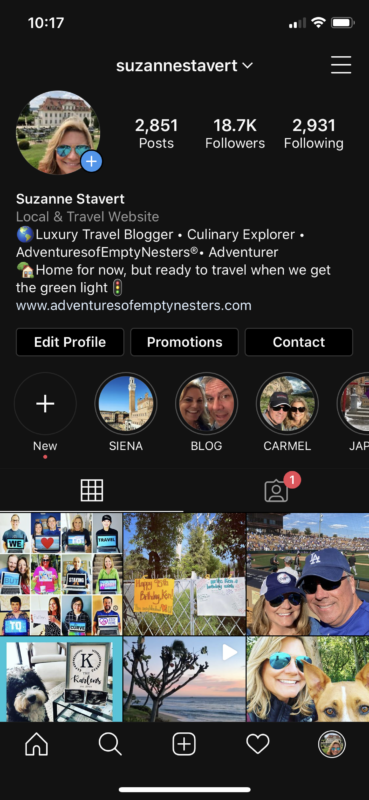 Are you an Instagram fan? This photo and video sharing social network is my go-to place for inspiration and for learning about new, as well as familiar destinations. Photos taken by amateurs and professionals will bring you inside of thousands of possible travel locations. Check out the websites of tour operators like my friends and collaborators at Collette. I enjoyed a spectacular tour of Japan, and our trip to Iceland was out of this world, literally. We are now in the planning stages of our third tour together. Request a brochure, send an email, ask a friend, just get started.
Don't find yourself unhappy in September because everywhere you wanted to go was booked, because another ambitious traveler put in their deposit first! 
Get Your Packing List in Order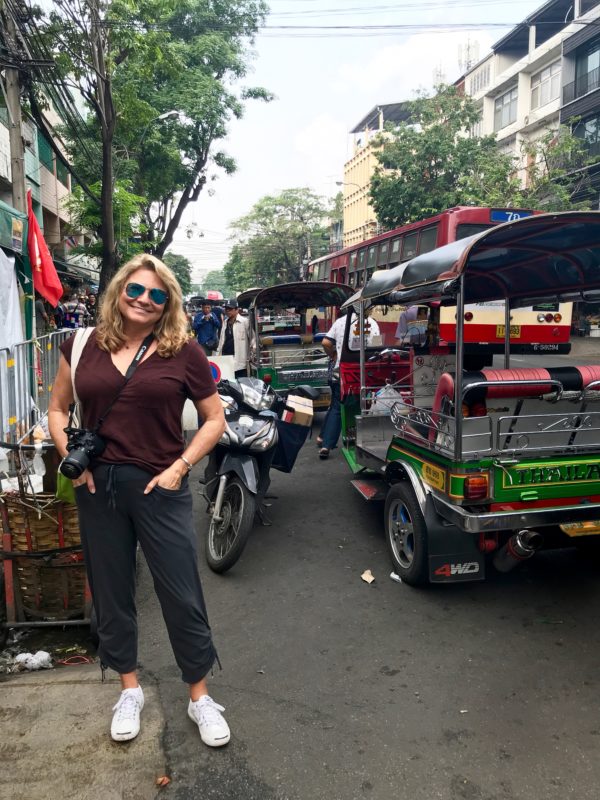 Do you honestly have the right wardrobe for your next adventure? Do you have that lightweight rain jacket you have meant to buy? How about the perfect backpack to use while on tour? Is your bathing suit looking tired? Is there a pair of comfy travel pants ready to go? Sun hat? Travel-worthy shoes?
What about for a Fall trip? Is there a fun and versatile scarf in your drawer? How about a pair of lightweight rain boots? Something to keep you warm on the plane?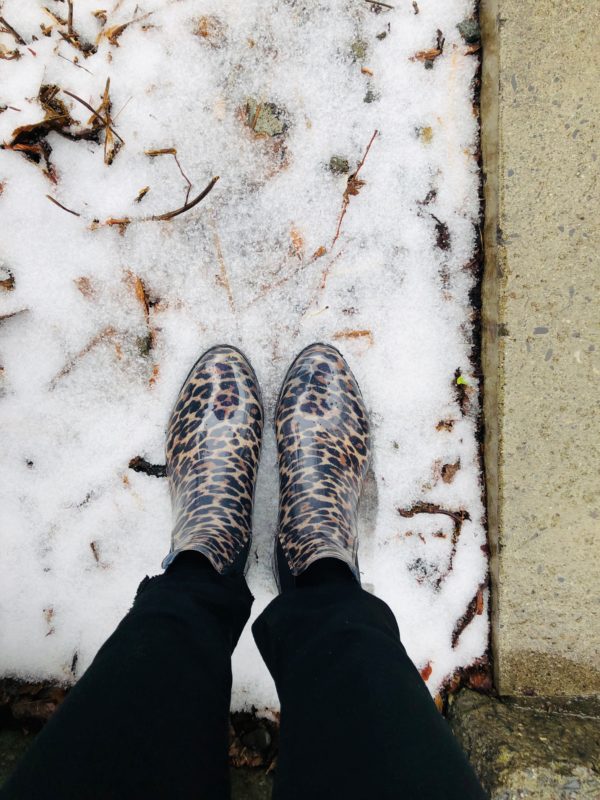 These boots turned out to the lifesavers of all lifesavers! While in Japan in March, it was 80 degrees in Downtown Tokyo, but then we traveled to the mountains where the temps dropped dramatically, and it began to snow!!
Who packs rain boot and snow boots? There is no place for all of those shoes in my suitcase! I was pretty proud that I packed these fun and practical rain boots. Are they perfect for trudging through three feet of snow? No, but they were just fine for a small snowfall. The lists below are not complete packing lists, just items that should be a priority in my opinion.
List of essential travel items
lightweight rain jacket

proper sun hat

bathing suit you feel good in

comfy travel pants

e-book reader ( a lifesaver, books are too heavy)
Fall travel essentials
versatile coat

fun scarf

rain boots that can double as snow boots if necessary

packable sweater for the plane
Is your future travel a priority for you? Maybe not right now, but certainly going forward. So many of us had to cancel a particular trip, a business trip, even honeymoons. Now that is disappointing! I know a special bride who was married in December and planned the honeymoon of her dreams for March. What a disappointment.
In the future, our travel philosophies may shift; it is hard to know right now. What I know for sure is that we will travel again. Now is the time to dream and plan for our next exciting adventure.
Did I leave something off the list? What else do we need for our next successful trip to a dreamy destination?
Do you know a friend who might enjoy this post? Please forward it on to them. Thank you.
---
Pin for Pinterest