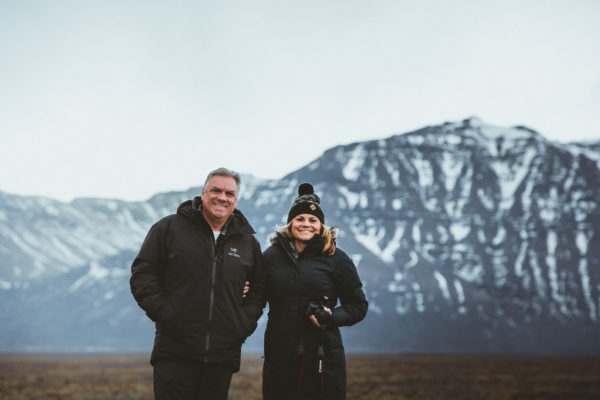 A Tour of Iceland with Collette
Where do I begin? Iceland is so unique and so insanely interesting that I have had a challenging time trying to organize how I am going to share this with you! This post is a long one but filled with interesting facts and engaging photos. You can always bookmark it for later or better yet start a new travel adventure file for a future trip! Here we go!
Iceland is called the land of fire and ice, but it should be considered the land of water as well. It is a watery wilderness with waterfalls so tall it is difficult to see the very top and others so enormous they would dwarf Niagara Falls. Around every bend in the road there is a new natural wonder to enjoy!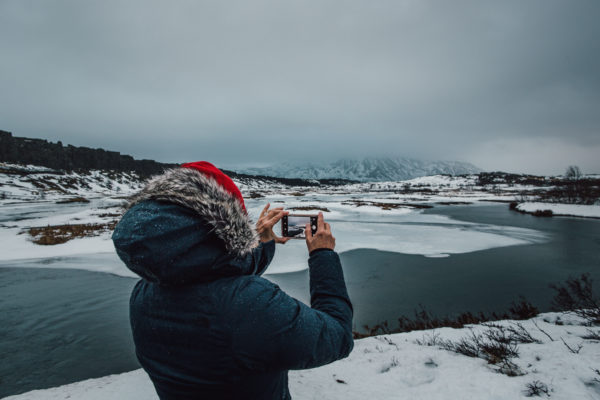 The fire description is attributed to the fact that the island is covered in volcanic rock and volcanoes. There are 130 volcanoes and 30 active ones!  As you drive along the primary touring highway, the Golden Circle, the landscape changes from rocky mountains and meadows, to snow covered land, to a rocky volcanic surface which looks like you just landed on the moon.
The Northern Lights Tour by Collette manages to pack a great deal in to just seven days. Everyday another fascinating aspect of nature was ours to enjoy and photograph. In addition to traveling with the tour group, my husband Craig and I traveled with Dan and Drew, the professional photographers whose goal was to capture on film what it was really like on this extraordinary tour. I will describe this bonus experience in another upcoming post.
Reykjavik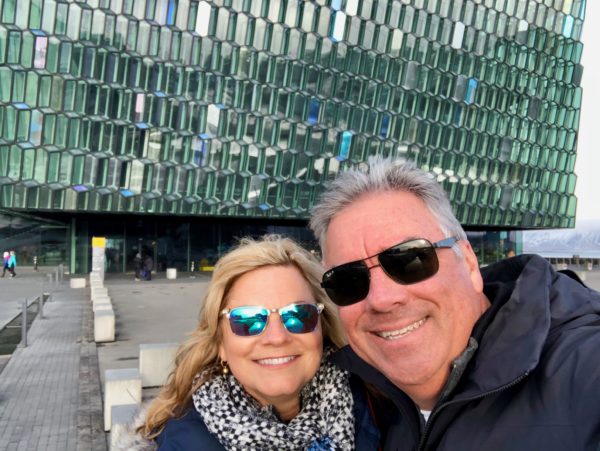 The tour began and ended in the capital city of Reykjavik and it offered so many wonderful places to see. We loved the old world charm, woven with modern architecture, Icelandic culture and beautiful areas to walk and experience. We had a chance to see a little of the city and enjoyed everything about it! Reykjavik has no crime, everyone seems to know everyone and there is a happy family atmosphere.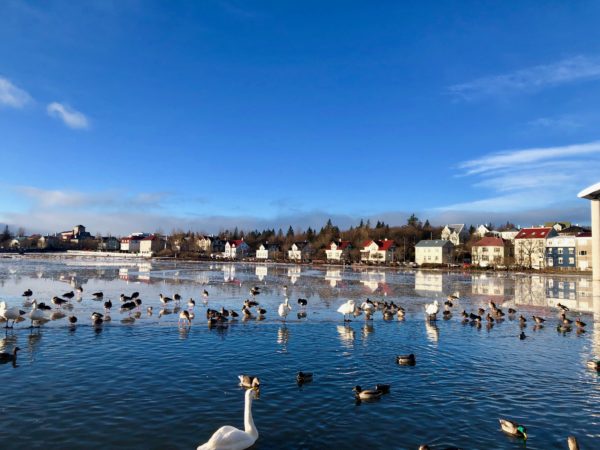 Nature so big you honestly can't believe your eyes
The only way I seem to be able to describe the landscape and nature of Iceland is that it is BIG. So big, so grand, so incredible, so unique, so unusual, so interesting, so unlike anywhere you have ever visited and SO AMAZING!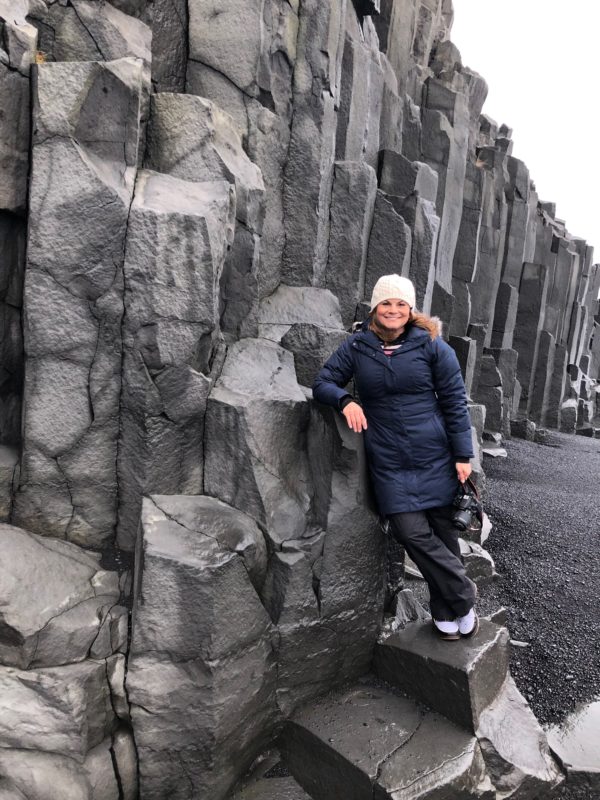 As you drive around this small country the view out your window changes often, sometimes drastically. We would be driving along a flat road engaged in the scenery of the ocean and then BOOM there is Gullfoss Waterfall towering and churning with more water than you have ever seen.
The Waterfalls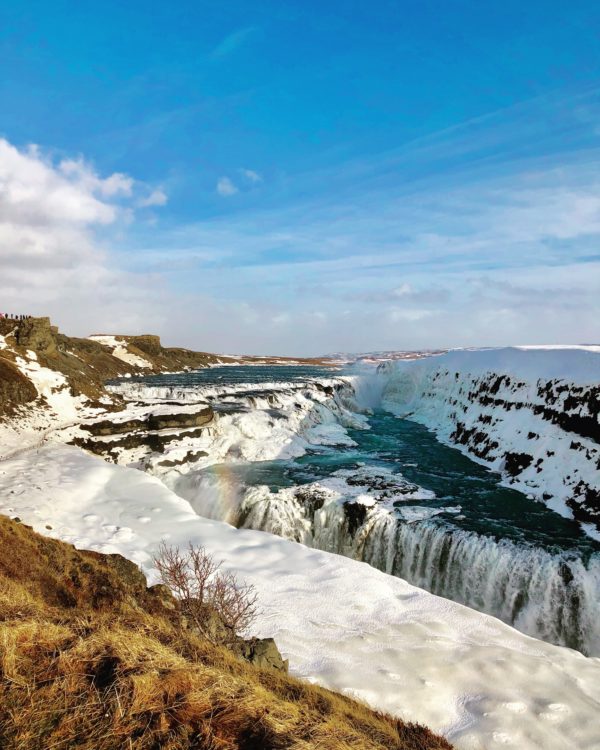 Each waterfall delivers another wondrous impression. You cannot get that close to Gullfoss, but the magnitude and the enormity of it blows your mind. Seljalandsfoss was wet and misty. We waited for the tour buses to go and had the place to ourselves. Skogafoss was fun because we could get incredibly close! Craig and I climbed 450 stairs (but who's counting) to get to the top to observe it from there. We were so high that the people below looked like tiny ants. It was truly magnificent.
Seljalandsfoss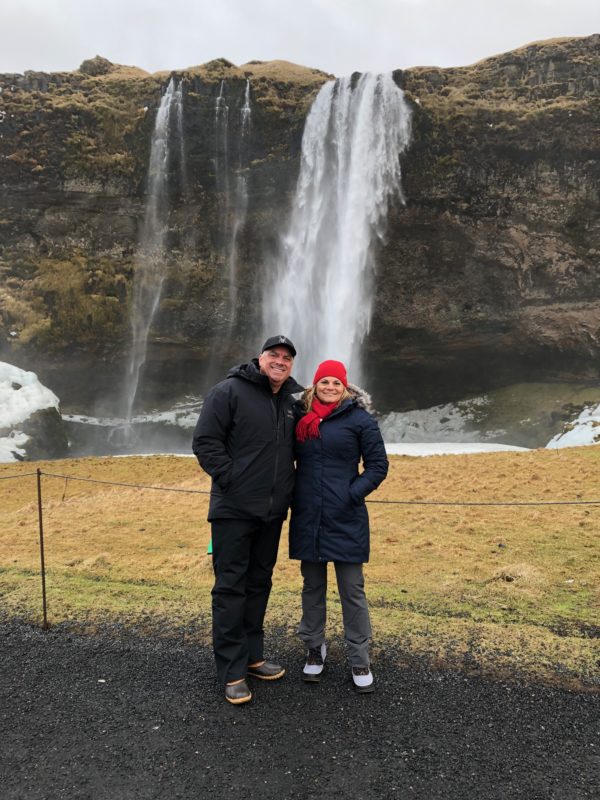 Seljalandsfoss is one of the country's best known waterfalls. "Foss" means waterfall in Icelandic. In the summer you can actually walk behind the waterfall on a small path. However in the winter it is closed because the path is too icy to walk on. There is a very charming snack stand that serves hot chocolate and homemade pastries. The lines are long but the goodies are worth the wait!
Skogafoss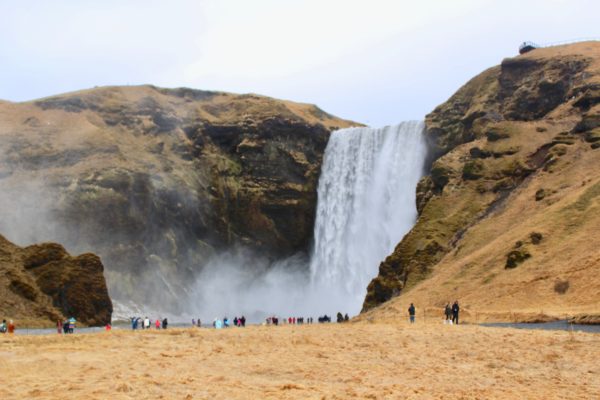 Iceberg Lagoon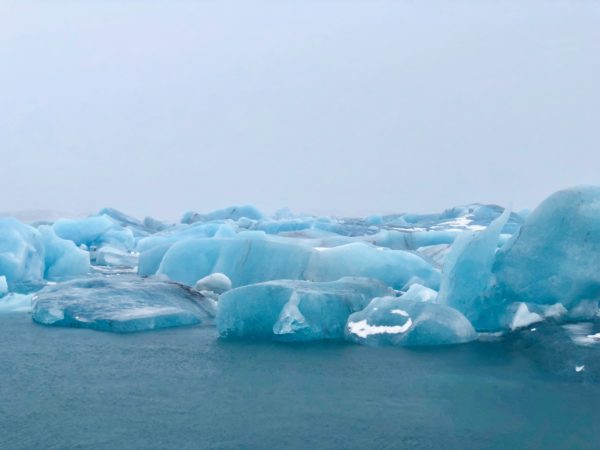 The famous Jokulsarlon Glacier Lagoon is about five hours from Reykjavik and some of the ice is over 1,000 years old. The lagoon connects with the ocean and is therefore composed of a sea and fresh water mixture which causes its unique color.
Seeing Iceberg Lagoon took place on my favorite day of the tour. Honestly it is impossible to even say "favorite" because there were seven of them! The turquoise blue of the icebergs shocked and delighted us. The weather was really rough and Craig and I shuffled our way over to see them in the strong wind and rain. Smiling ear to ear.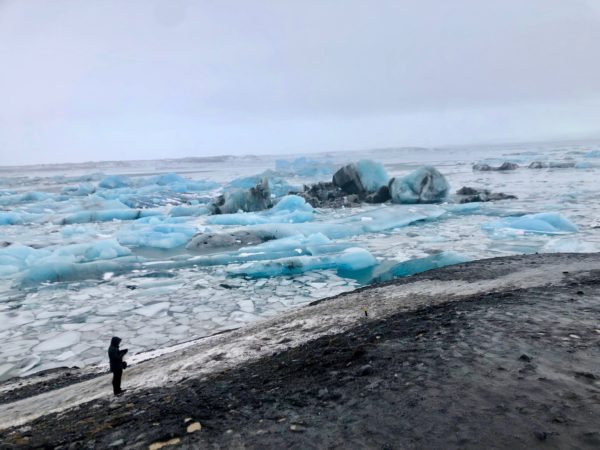 Diamond Beach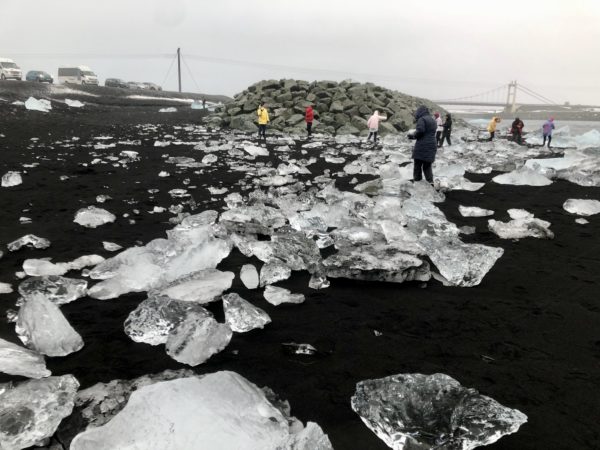 Without a doubt this is the coolest natural setting I have ever seen. Nothing prepared me for the wonder of this beach. The black volcanic sand was one aspect, but adding in the blue icebergs in the distance and the crystal clear small icebergs was beyond anything I could ever dream could be real. I would go back tomorrow and endure any weather to see this all over again. I cannot emphasize enough how spectacular this was. Thank you Collette for inviting us!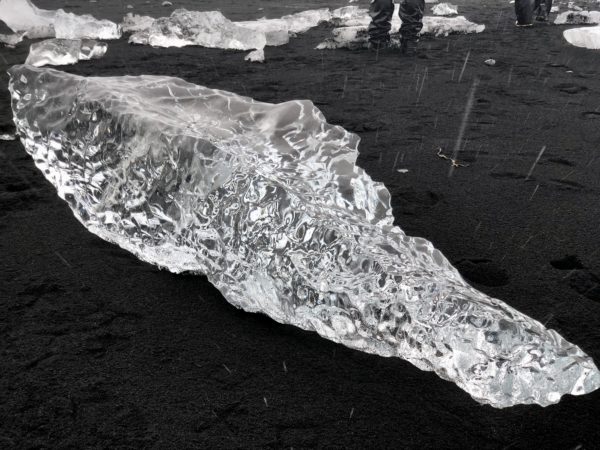 Blue Lagoon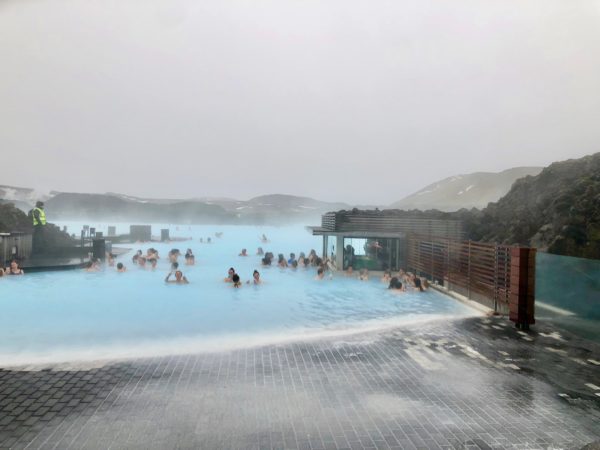 The world and Instagram famous Blue Lagoon delivered as promised. This gigantic pool contains water heated from the earth. This geothermal water is relaxing, rejuvenating and unforgettable. You bop around and enjoy the hot soothing pool, have a drink at the bar in the pool and then shower off all of the minerals and salt. This is a once in a lifetime, must do, experience!
It was unusually windy (40 mph) and the sleet and wind were hitting us in the face like blunt needles. We met up with a few of our tour mates from New York and they were having a grand time. I asked them whether the wind was bothering them. The answer: "We love it! We feel like we are having an adventure unlike anything we have experienced. This is awesome!" Yep, truly awesome.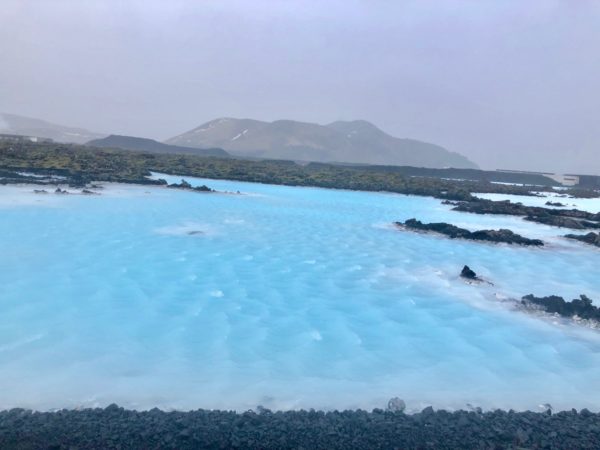 Northern Lights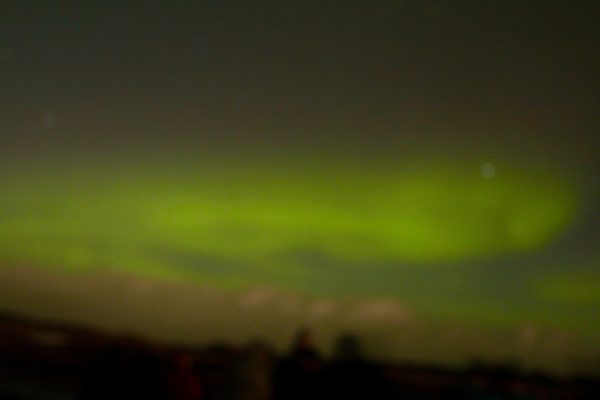 Ah, the elusive Northern Lights! Yes we saw them! Check that off my bucket list! The Northern Lights can be challenging to see. There are several parameters that determine whether you will view them or not. Location, weather (no rain, no wind, clear skies) Hello, it's winter in Iceland, these things happen. The plan was to go out to see them every night that we could. The only night it was clear enough, was the very first night we were in the South, in the city of Vik. Our tour guide Barbara had an app that helped her determine where we should be and when.
Being away from the city lights under a dark, dark sky offers the best chance to see them. They appear slowly like a little foggy cloud, they start to swirl and grow, dance a little and after a few minutes, poof, they were gone. We were able to capture them on film with a long exposure and this is the best one. I need a do-over. My best photo isn't very good, but I saw them!! So happy about that!
Group Tours Are the Way to Go
Oh the many benefits of traveling on a group tour!  Most importantly, the itinerary will be jam packed with places you never knew existed! Tour companies like Collette research and investigate every single detail of the destination and find hidden gems to highlight. They determine the logistics for how to maximize time and location and even down to special details like where the best authentic local meal may be served. As travel experts they know just what is possible and what is necessary for the perfect tour!
The knowledgeable guides are such a plus! For Iceland in particular, our tour guide flip flopped our day tours because of inclement weather. She was able to forecast that visiting a local site was more advantageous on Thursday than it was on Friday. Brilliant! These guides truly care about your experience and aim to do everything in their power to make it your best trip ever.
In addition to the planning and seamless execution of an itinerary, tours allow the opportunity to meet other travelers from all over the world. We made new friends from everywhere, each with their own captivating stories and some who have traveled to many more places than we have! Travelers are delighted to share their travel histories as well as tips and tricks to enrich the experience.
The Weather in Iceland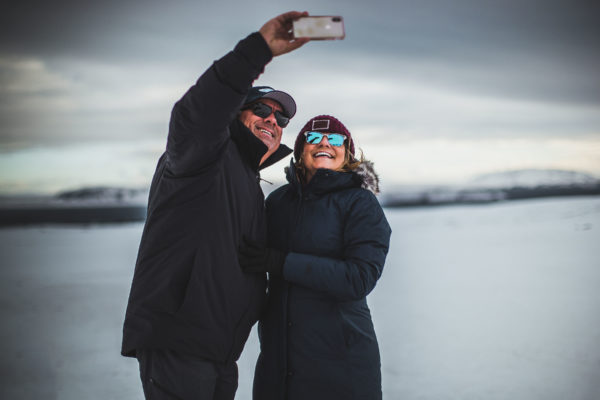 What is it really like in the winter in Iceland? Truthfully, not nearly like you would think. Iceland is positioned in the Gulf Stream so the temps do not go down as low as Scandinavia or other cold climates in the north. The temperature hovered anywhere between 32-42 degrees Fahrenheit. My friends in Colorado suffered the cold weather way more intense than we did!
The wind is gnarly, but if you are prepared this can be overcome. The secret is wearing layers. Base layers give an extra layer of protection from the wind and seem to insulate you. I wore them every day even if the sun was shining. One day I thought I didn't need them, but I was so wrong. The icy wind cut through my clothing like butter. I learned the hard way.
It rains and at times snows frequently, but not for very long. My rain pants and water resistant hiking pants were lifesavers. Many travelers wear snow pants and others just wear jeans. Every person has a different cold tolerance. It's really not that big of a problem. I spent time deciding what to pack and had zero issues.
We traveled to Iceland in winter in order to see the Northern Lights. Any amount of cold or rain was completely worth it. The weather is part of the adventure and we certainly earned our travel experience.
The People
Icelanders are lovely people. So warm, friendly, kind and interesting. We felt welcome everywhere we went and they were eager to show us their incredible country and happy to answer any questions we had.
The proud locals know their country is unique and you cannot compare it to anywhere that you have ever visited. To find adventure in Iceland is easy, every step you take is something new. I love Iceland, I just loved it!
Local Food
I will dive into this subject more in depth in a separate post. Authentic Icelandic food is practical and traditional with a strong focus on fish. Being an island and covered with rock, it is difficult to grow anything and fish is abundant. It is not for the culinary meek. Our tour mates were adventurous and enthusiastic and tried everything from fermented Greenland shark to reindeer paté. There are plenty of other dishes to choose from too, no worries. Stay tuned.
Trying to pick a favorite moment
I am going to get dramatic here… Visiting the Diamond Beach was the single most amazing day in nature that I have ever experienced. I just couldn't believe my eyes. If it weren't for a few travelers in colorful parkas, I could only see in black and white. The sound you hear is the strong wind!
The mysterious black sand beach was covered with numerous sized small icebergs. These icebergs were completely clear and looked like they had been hand chiseled by a sculptor. Not to sound trite, but it was absolutely breathtaking. I didn't care that the wind, rain and sleet were blowing sideways. It felt like a miracle of nature to me.
I hope you will come back here soon to read and see more of the spectacular Icelandic horses, local cuisine, a tomato farm where they are grown indoors, an extraordinary seventh generation dairy farm and handcrafted cocktails made with ice from a glacier. We packed SO MUCH into one week! Do I have stories to share!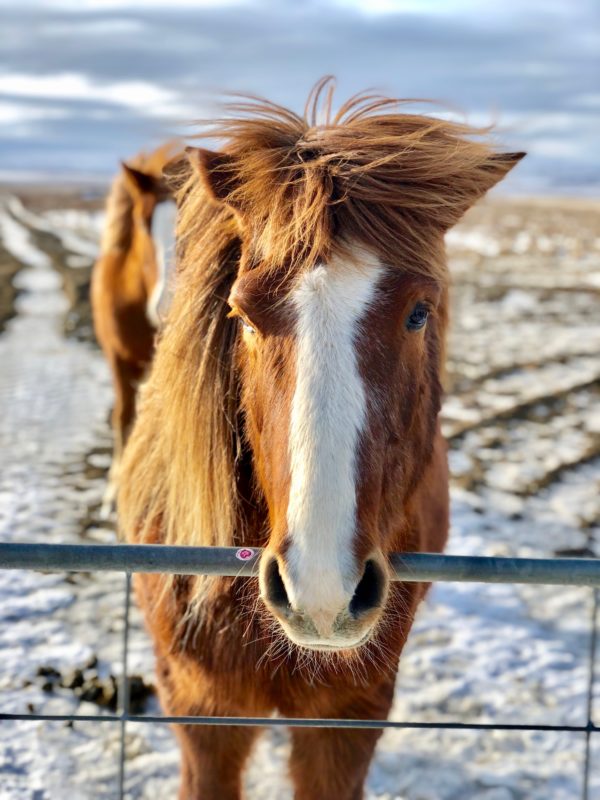 We Made a Video with Collette Filmmakers 
Check it out!!
If you would like to take advantage of a supremely AMAZING offer of up to $650 off your next tour with Collette, click ===> HERE and use this code EMPTYNEST19
---
Pin Me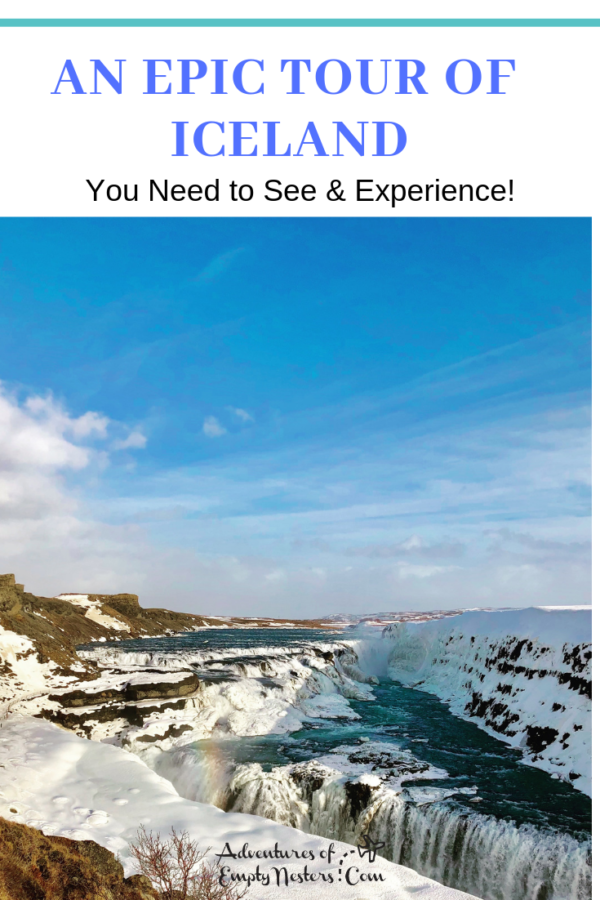 ---
Do you know someone who would enjoy this post? Please forward to them!
Let's connect over on social media here ==>  Follow us on Twitter, like us on Facebook, check out our photos on Instagram, or pins on Pinterest