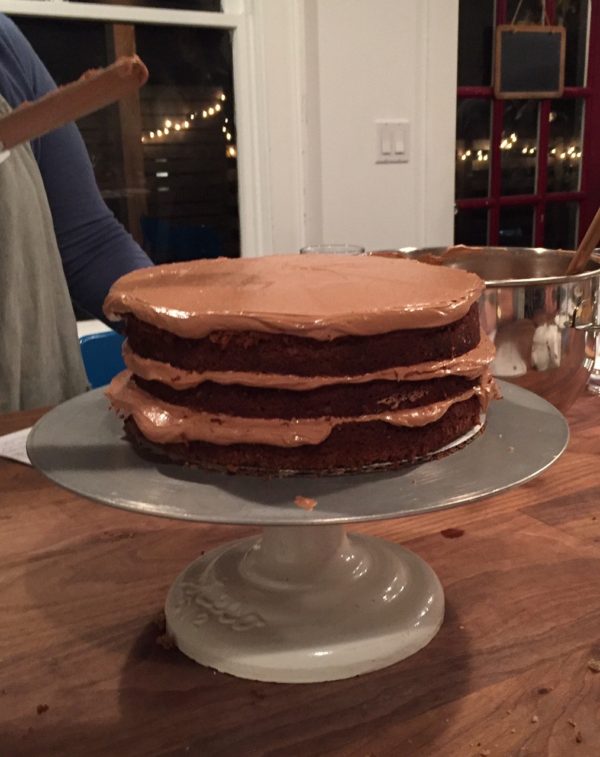 A Cake Baking Class Adventure While Traveling ~
Yes, we did it again. Alex and I took a Birthday Layer Cake Baking class at The Pantry in Seattle. When your busy adult child wants to spend time with you… you always say yes! We have found such camaraderie through our common passion for cooking and our son Nick also loves to cook! Lightening struck twice, lucky me!
When I make plans to visit a city, I try to look deeper into activities that most likely are not filled with tourists. I look for things that we (I) have a strong interest in learning more about. We always look for local bookstores, cooking stores, sports related tours, foodie tours, architecture tours, music/record stores, cooking classes, breweries, and distilleries.
Every city offers a new perspective and we always learn so much! On this trip to Seattle we went on some brand new adventures! Alex and I took the cake making class, we visited the The Museum of Flight for the first time, we ate at two new restaurants and the newly opened Smith Tower which has undergone a renovation and offers spectacular views from the Smith Tower Temperance café and bar. Stay tuned for my upcoming posts about these new Seattle hot spots.
Our special layer cake baking class… was indeed special!
I have already taken several cooking classes from The Pantry and my daughter's total is up to 12 different classes. The small hands-on classes are full of delicious ideas, flavors and techniques and the instructors are excited about sharing their expertise. It is a fabulous way to spend an evening!
The class assistants offer a glass of wine or sparkling water to begin, along with some fresh charcuterie, local cheese and freshly made bread. We try not to eat too many snacks in order to save room for our completed recipes!
This cake baking class was taught by Brandi Henderson, the owner of The Pantry and she always teaches us not only how to use a special technique, but why it is helpful. For this class she explained the science behind the ingredients and why we might use one type of ingredient over another. Fascinating stuff!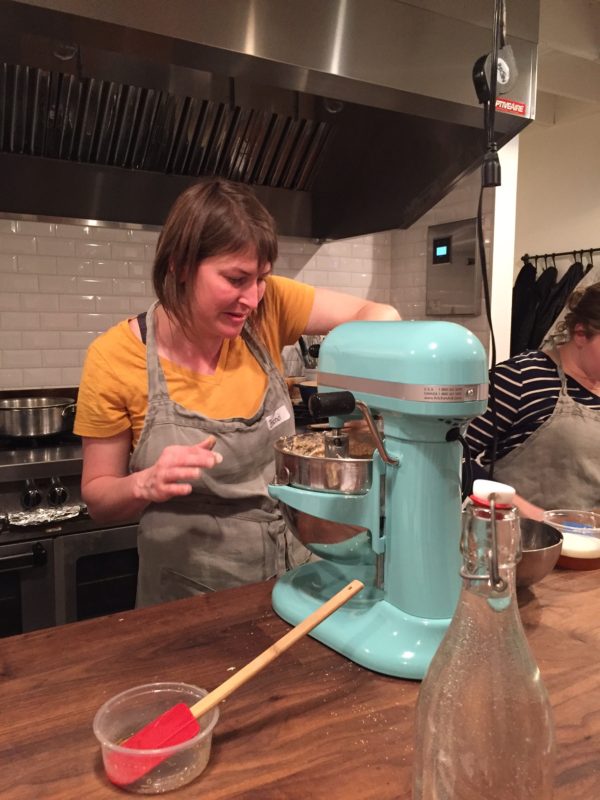 There were four different cake recipes and we split into four groups of four. All of the different cakes used the same techniques, yet each was a very unique flavor. I love how she creates these flavor combinations and they are never anything I could have come up with on my own!
Spice Cake with Apple Butter & Creme Fraiche Buttercream
Almond Cake with Dulce de Leche & Lemon Buttercream
Banana Cake with Chocolate Hazelnut Buttercream & Salty Hazelnut Brittle
Honey Graham Cake with Salted Honey Buttercream
Fun facts and tips when baking a cake ~
All cakes have a leavening agent – baking powder is activated by heat and baking soda is activated by acid
Sifting the flour with other dry ingredients aerates the flour
You can keep the raw batter for up to five days in the refrigerator – Great idea!
The cake is done when it pulls away from the sides of the pan and there is an air gap
When you alternate adding the dry and wet ingredients, always start and end with the dry
There are three different types of merengue – French, Swiss and Italian and by adding butter they become French Buttercream, Swiss Buttercream and Italian Buttercream icings
Anyone can make a cake from scratch, just follow the directions. I promise!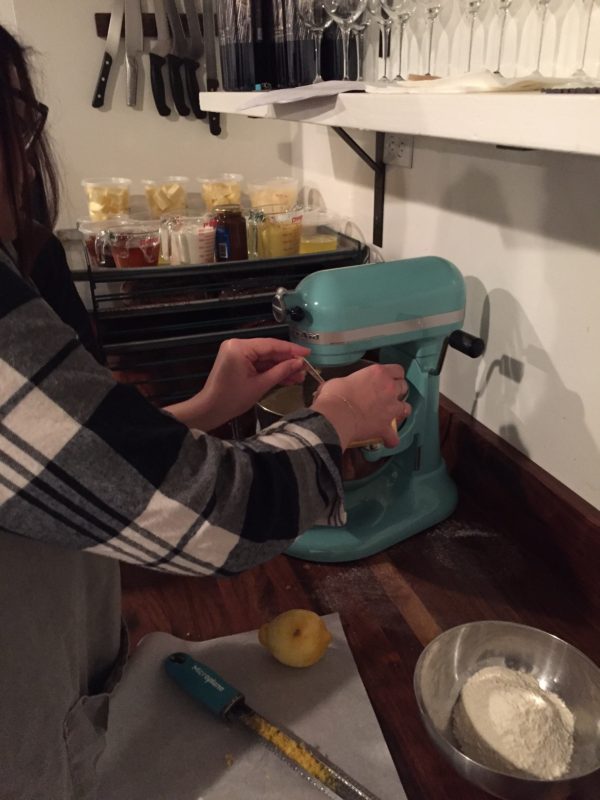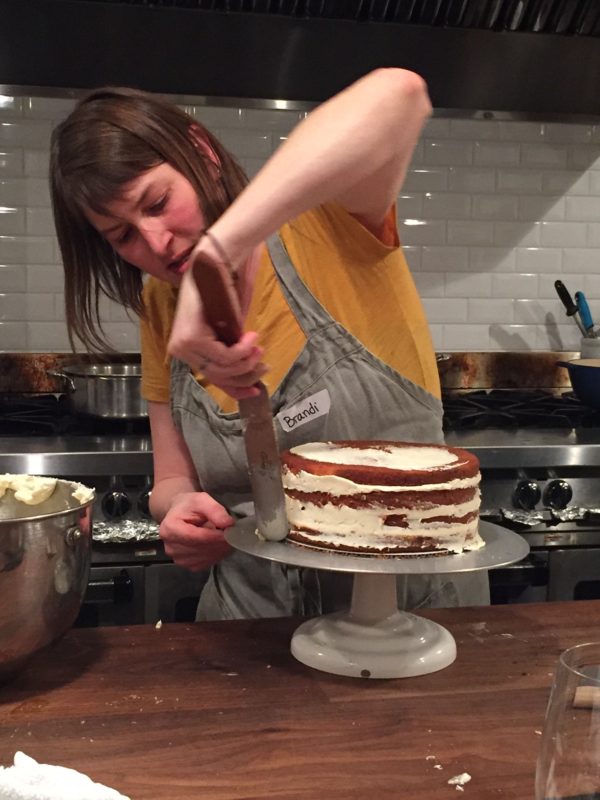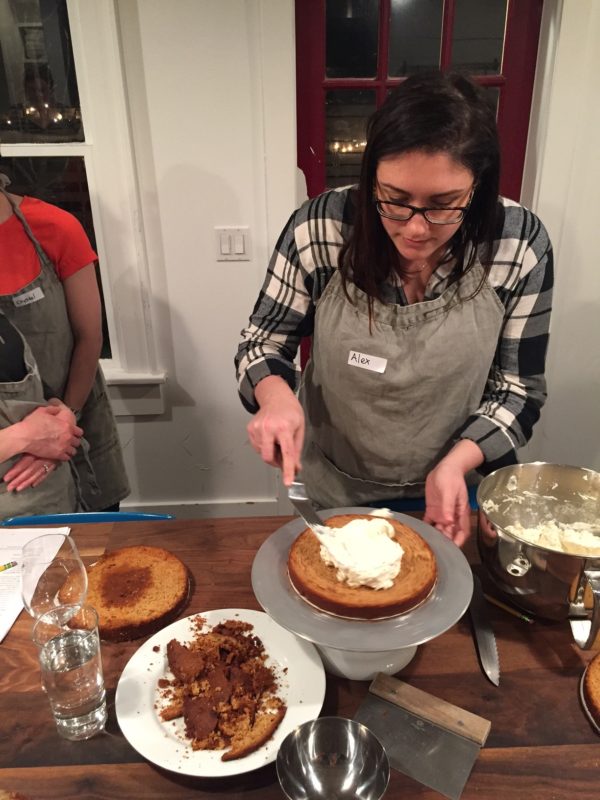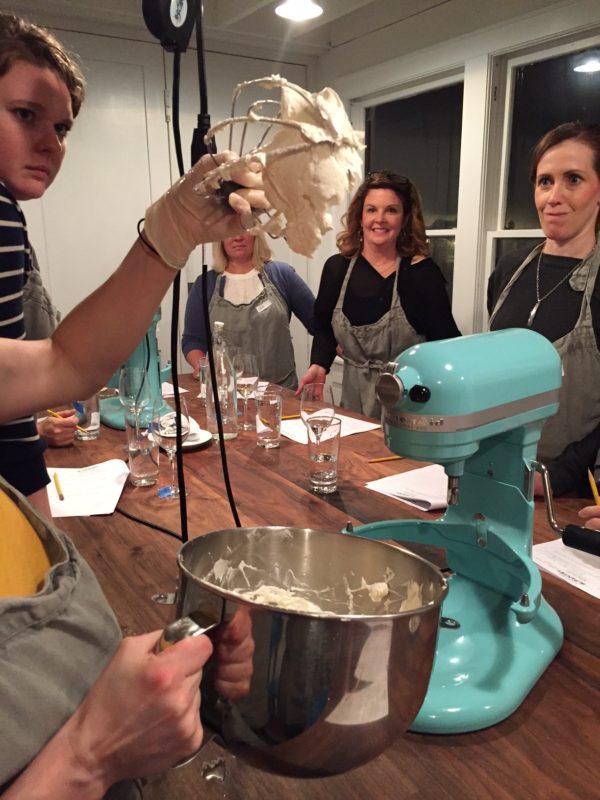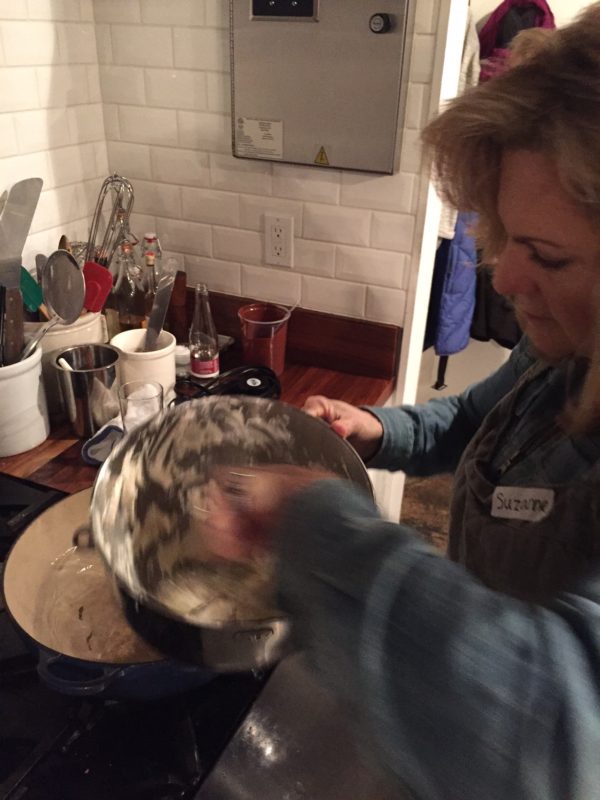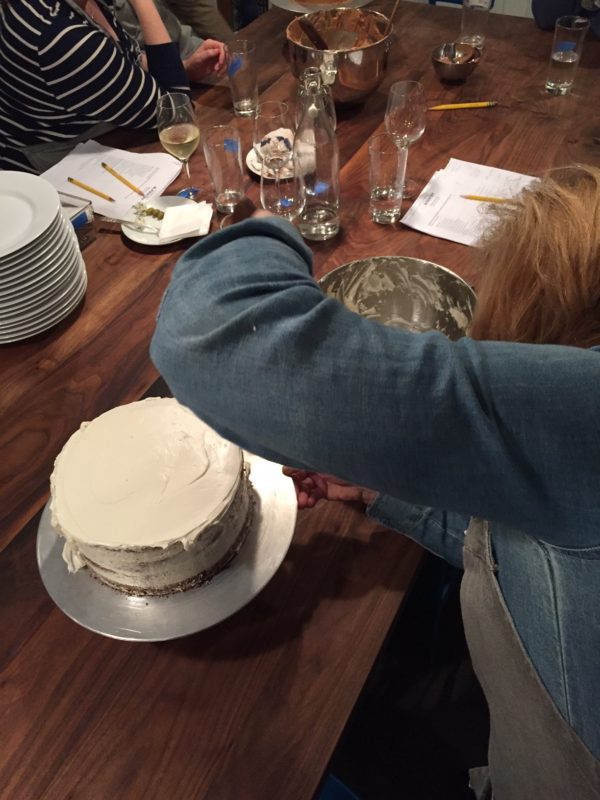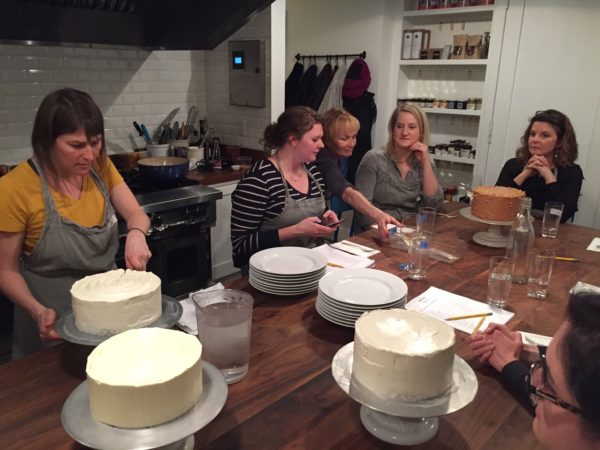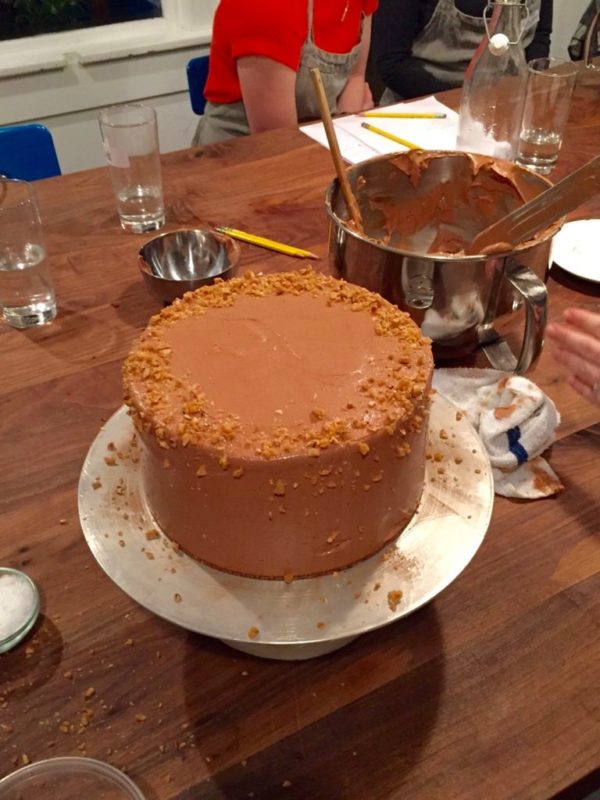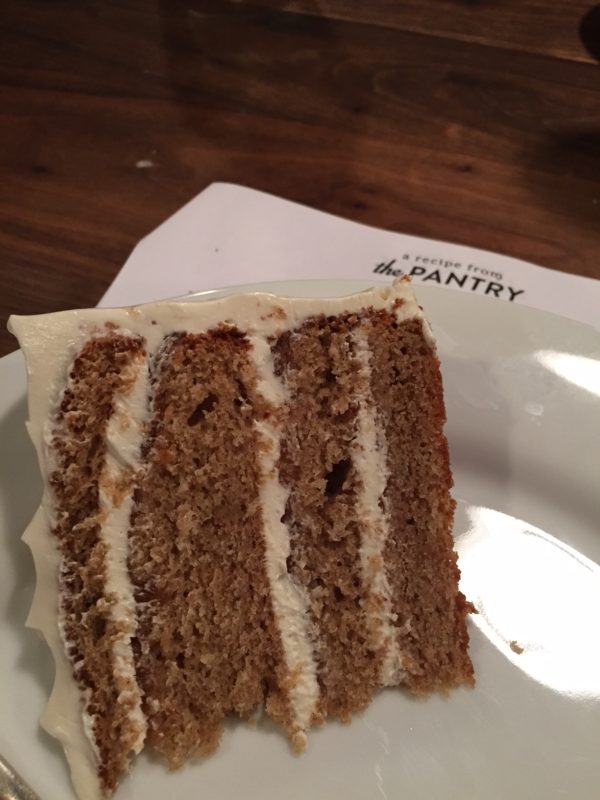 A little more about the layer cakes ~
Here are a few more details about the "layer" part of the cakes. Each of the cakes consisted of two 8″ round layers that we cut in half to make four layers. By spinning the layers on the cake decorating stand while using a serrated knife, we learned how to cut the layers evenly quite easily. We felt like pros and it was a great confidence builder.
If you are wondering how we made, baked, cooled, and iced these cakes in 3 hours…Here is the secret. We made cakes for a future class and the class prior to ours made our cakes. The cakes were frozen for a few days and we made the icing from scratch for each of the cakes for the evening class. Brilliant planning.
I highly recommend taking a look at The Pantry's class schedule. If you are traveling to Seattle, get on their email list so you know when the new schedule is up. You must make your decision quickly as they sell out fast. I made our class reservations back in October! I ended up eating only about a half of a piece and took tastes of each one. We were all given to-go boxes. My two favorites were the Honey Graham Cracker cake and the Banana Chocolate. This is not a sponsored post, I think we should all share great tips with each other when we find them.
When traveling, it is always important to see the city's tourist attractions, but it is also a great adventure to go a little deeper in to other opportunities the city has to offer.
If you are hungry for more cooking class posts, click on these links ~
Tuscan Women Cook – A destination school in Italy!
Seattle Cooking Class – How to make pizza at home
Seattle Baking Class – How to make a pie – Ninja style!
An October Cooking Class with Sheena the Punk Rocker
Handcrafted Cocktails – A Bass Ass Bartending Class
---
---
Are we connecting on social media? You can find me here ==> Facebook, Twitter, Pinterest and Instagram
Are you receiving these posts via email?