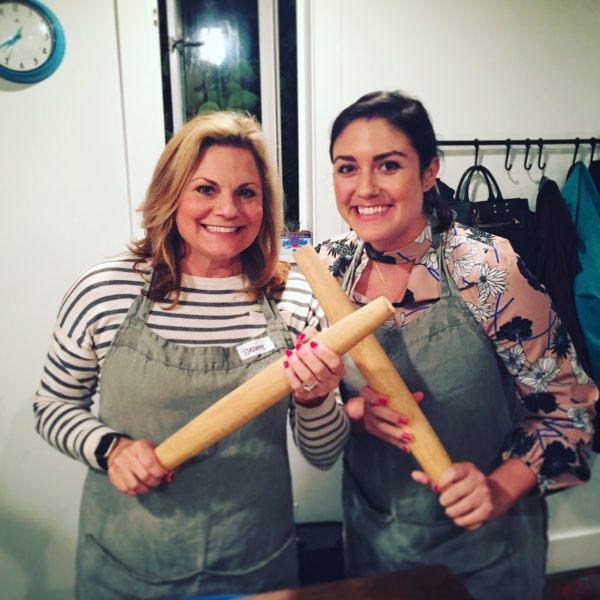 Thanksgiving is just around the corner and what post would be more perfect than ~ How to make a pie !!
Nothing exemplifies happiness, family love and America, like the pleasure of baking a pie. Baking has always been a passion of mine and I have learned from my mother, taking classes and reading cookbooks. When the kids were little, for their birthdays, there was always a special themed cake. Then after they out grew the children's cakes, their choice was always my Spice Cake with maple frosting. I remember so clearly the pure joy of creating a Cinderella Castle cake or a Peter Pan alligator cake, decorated Halloween sugar cookies and my "famous" Oreo Cheesecake at Christmas.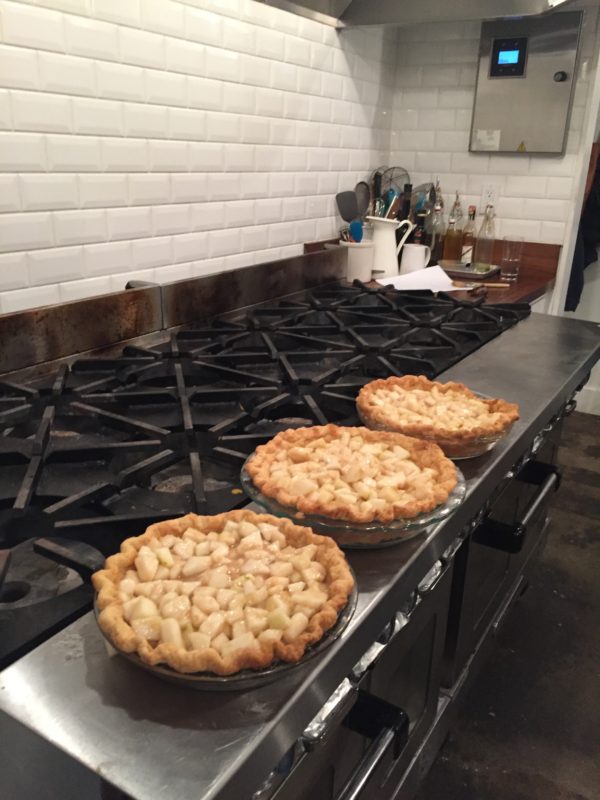 Although I am a pretty great home cook and baker, there is always so much more to learn! Alex, Kirsten and I took a hands-on "ninja-style" pie making class from chef and owner, Brandi Henderson, at The Pantry in Seattle. The Pantry is a community kitchen in the charming Seattle neighborhood of Ballard and the cooking classes are popular as well as a red-hot commodity. They offer a variety of classes that focus on traditional food crafts and technique, culinary camps for the kids, and other creative ideas that bring people together to eat great food and to learn.
I think the "ninja" part of the title of the class refers to learning from an expert who can seamlessly take you through the steps for baking delectable pies that will dazzle your friends and family. It sure worked for us! Thank you Brandi! It was enlightening and such a fantastic way to spend an evening!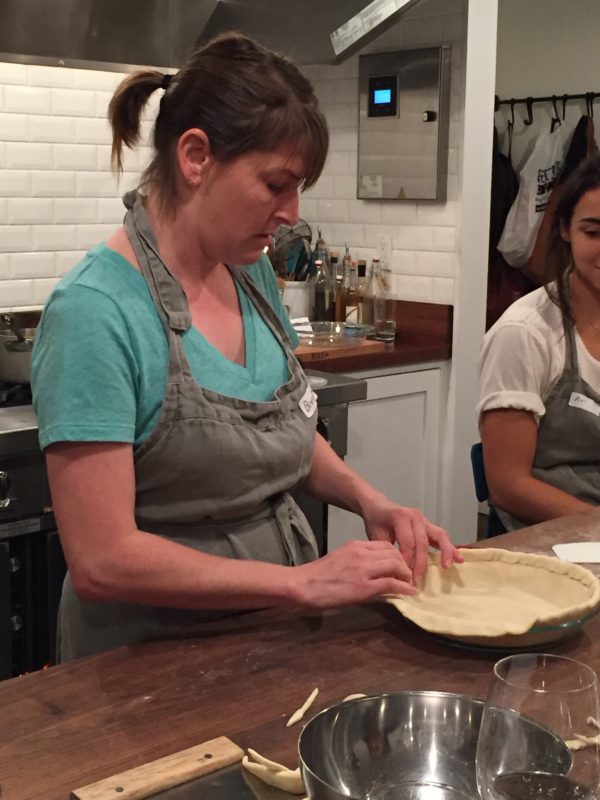 We learned all of the basics, from the best type of flour to use (pastry), the best type of fat (sweet butter, never Crisco) and other helpful ways to make the most golden, flakiest, light and delicious pies ever! We tasted the results and I promise that Brandi is the pie ninja of the universe!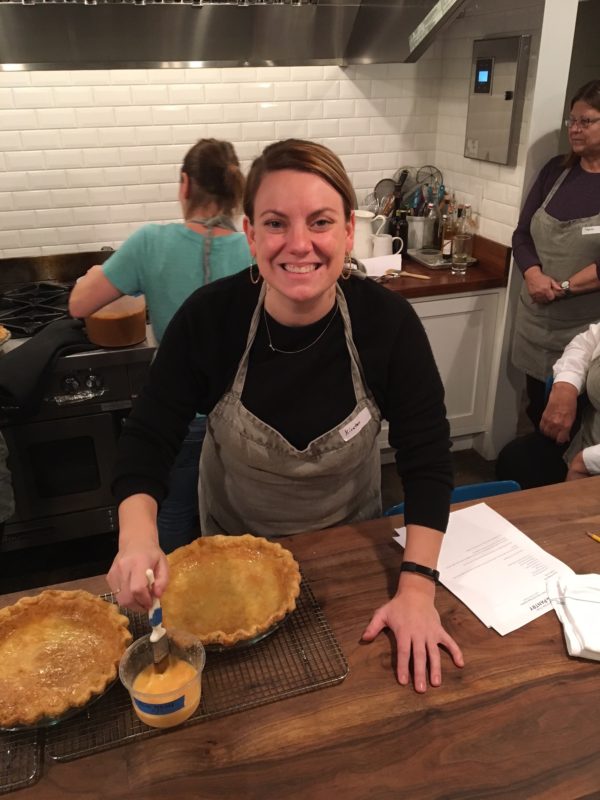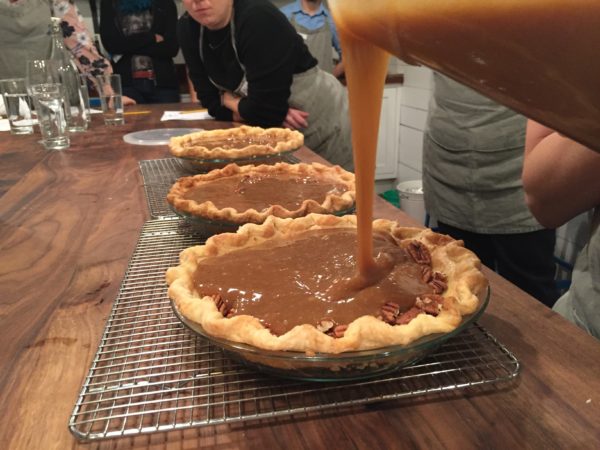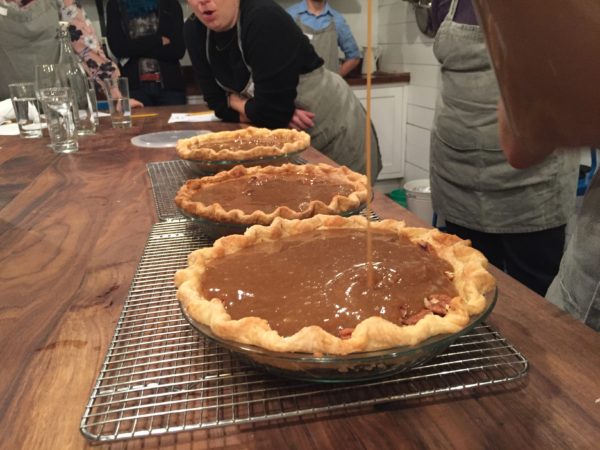 Without giving all of Brandi's secrets away – Here were my "aha" moments for how to make a pie.
Refrigerate your flour
Use icy cold cubes of butter
Use only about 4 oz of cold water
Don't over play with the dough
Your bench scraper is your friend
Refrigerate your dough for at least an hour, but a few more is better, before you roll out
If your disc of dough is too hard from refrigeration, slap it with your pin in order to get it slightly warmed up and expand the circle of dough
Line the unbaked shell with foil (shiny side down) and dump in dried beans to weigh it down while baking
Bake the frozen shell in a hot oven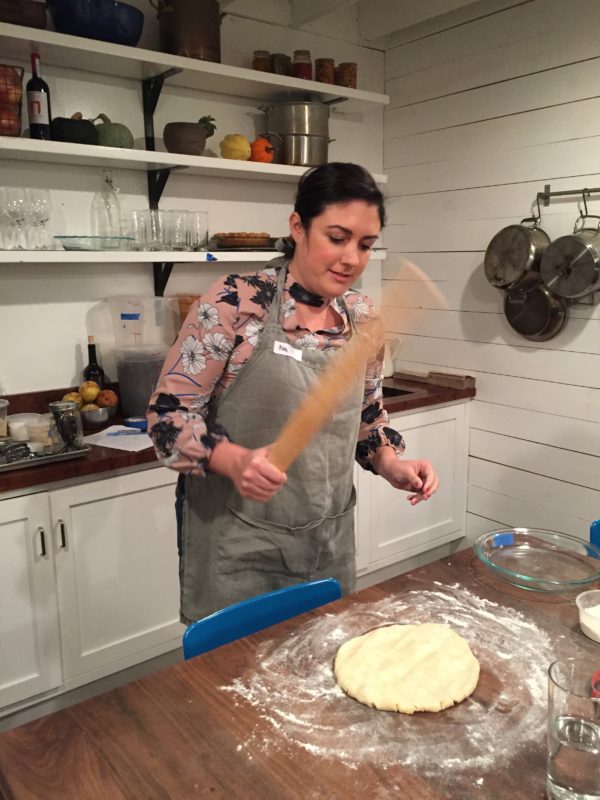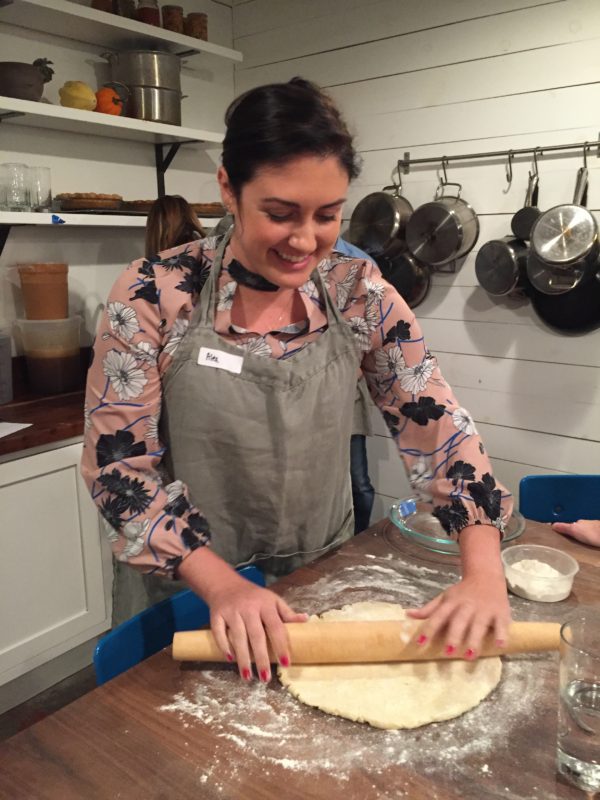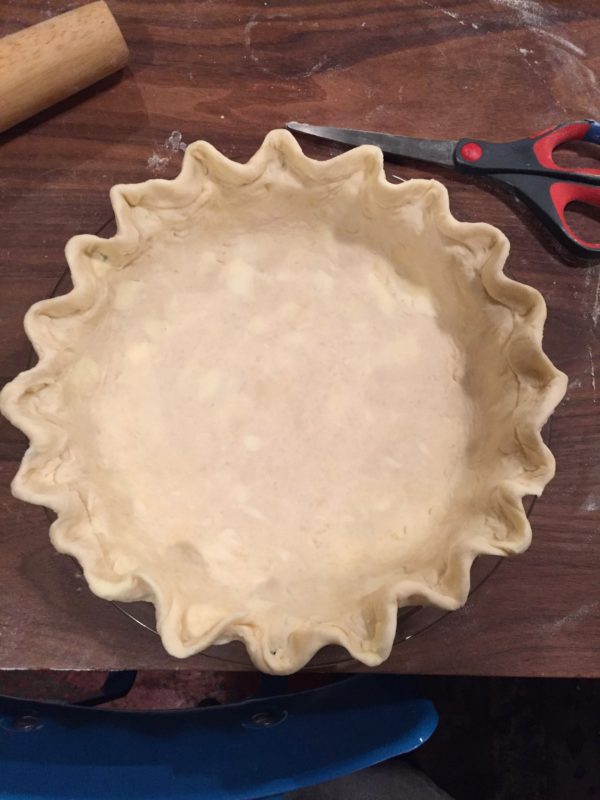 We made three different seriously mouth-watering pies: Brown Butter Pecan, Pear & Vanilla Bean with Ginger Streusel, and Caramel Pumpkin. They were without a doubt the tastiest pies I have ever eaten. Hands down, no argument. As Brandi says "What the world needs now is more pie" and I could not agree more.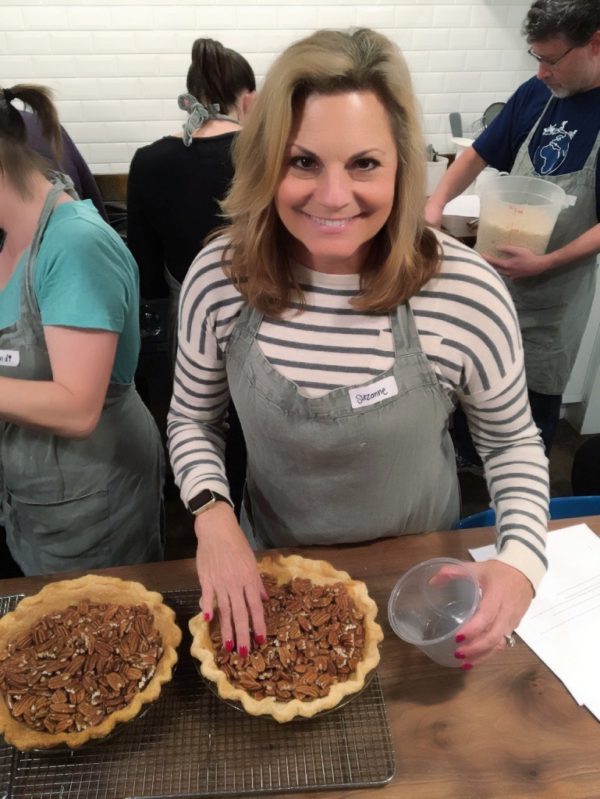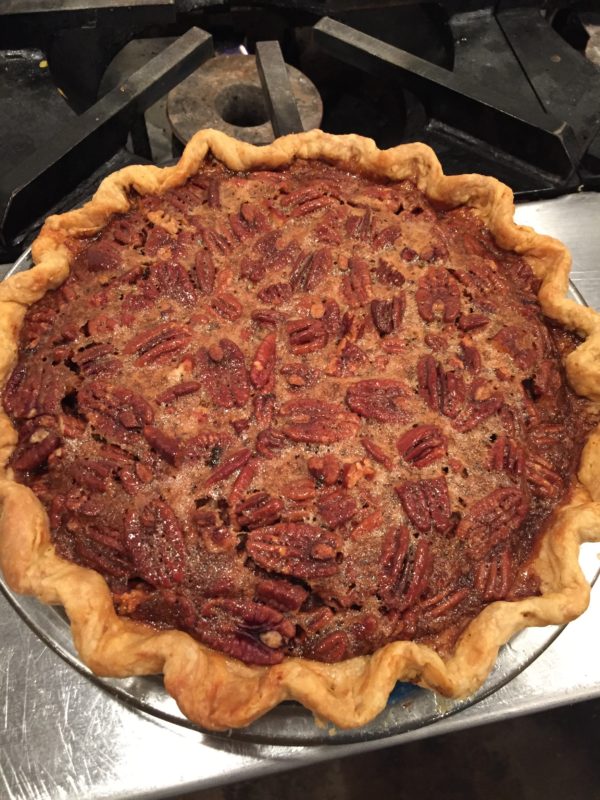 I don't even live in Seattle and I take these phenomenal classes! The enormous hand crafted wood farm table anchors the kitchen, the massive commercial ovens are silently heating the room, there are shelves of cooking tools and even hooks for your coats! In addition to our instructor, there are several assistants to help with everything. The friendly kitchen/classroom feels so cozy and inviting and they even serve a glass of wine while we learn! Loved it! Pick a class, plan a trip to visit Seattle and enjoy a tremendous personal cooking experience that you will never forget.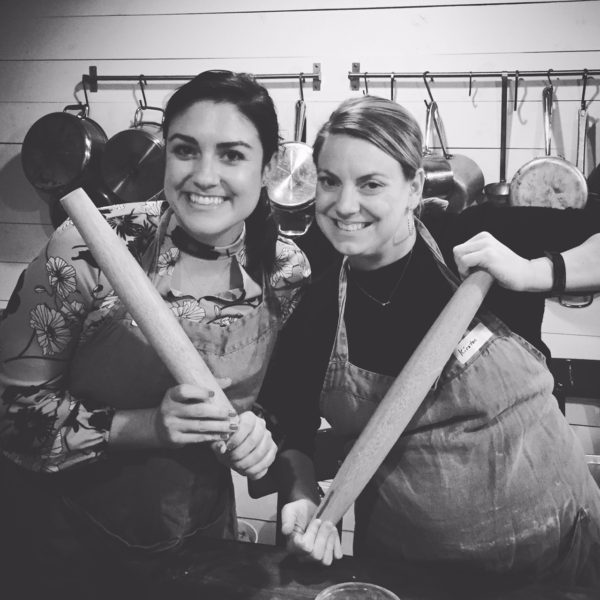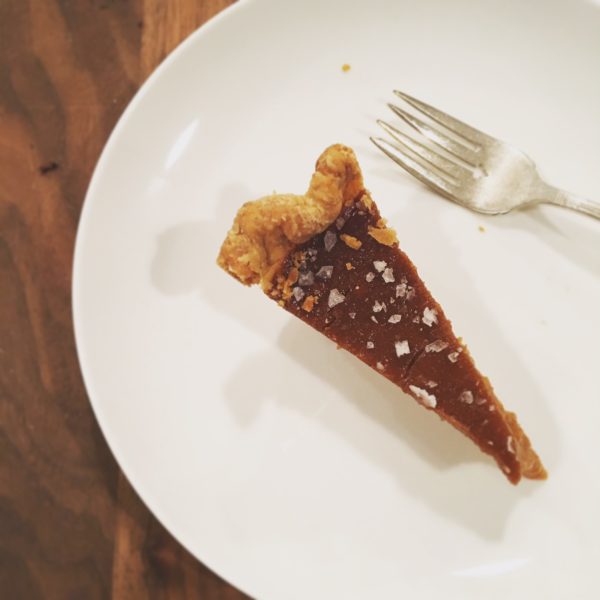 For more info about The Pantry and to get on the newsletter list click======= Here! 
Are you making pies this holiday season? What is your favorite kind of pie?
---
I hope you will connect with me on all of my social media sites:
Remember you can receive our posts via email every time we publish them. Just leave your email in the box above.