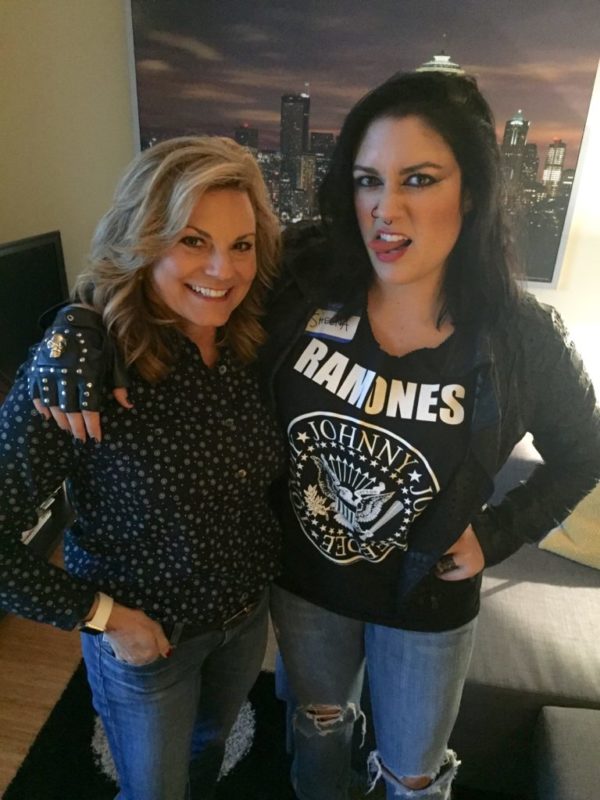 Halloween Note:
All of Seattle wore a costume to work on Friday, October 30th and my daughter was no exception. She dressed as "Sheena the punk rocker" and had no time to change before the cooking class.
Me: Hi, nice to meet you cooking classmate, this is my daughter Alex, and whispered (she's wearing a costume).
This is Seattle after all, "Sheena" fits in quite well. People in the class were not quite sure how to approach Sheena, however they were very nice and when I shared with them that this was her costume, they seemed a little relieved.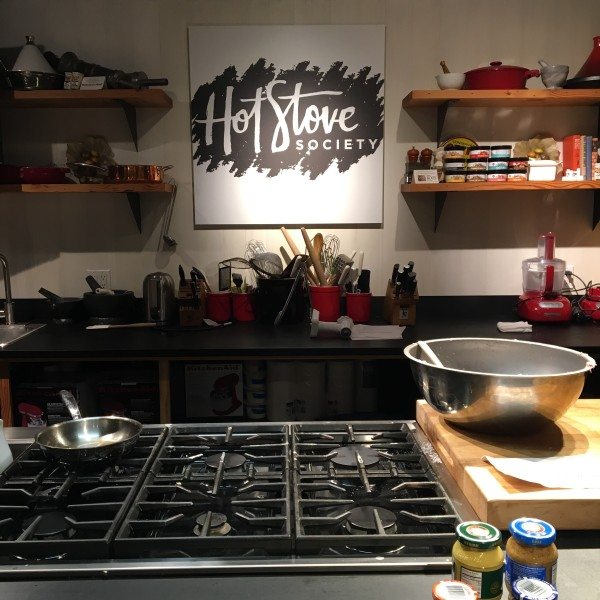 WEINERS! BIER! SCHNITZEL! An Oktoberfest Cooking Class!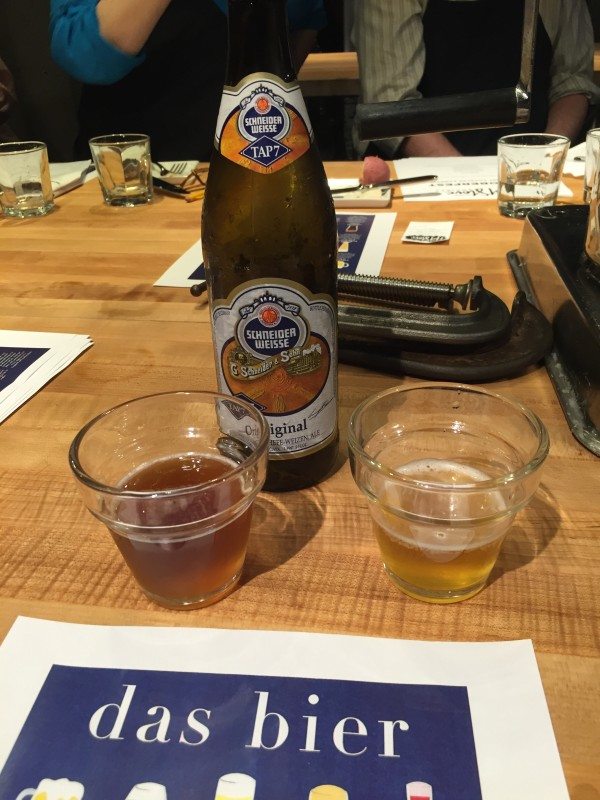 Just under the wire on October 30th we attended an Oktoberfest Cooking Class at The Hot Stove Society in downtown Seattle. Hot Stove Society is a year round cooking school operated by Tom Douglas Restaurants. They offer curriculum that offers a wide range of classes from light hearted and sociable, to ones that are more challenging. My daughter Alex (Sheena) and I drank beer, ate homemade pretzels, sampled delicious bratwurst, Weiner Schnitzel (yum) and Classic Raclette. Who doesn't love melting cheese?
"It's time for Oktoberfest! If you can't make it all the way to Munich for the world's largest Volkfest (people's festival), you can join us at the Hot Stove Society to drink beer, learn about and taste Bavarian foods, and celebrate!" The staff of the cooking school was so welcoming and enthusiastic. We felt like we stepped into someone's private home with a really gorgeous, gigantic kitchen with supplies and equipment for thirty!
The Hot Stove Society Director Bridget Charters and very special guest Chef Charles Ramseyer, were our illustrious instructors. Chef Ramseyer was Executive Chef of Ray's Boathouse and Seattle's Alexis Hotel. He is also a native of Switzerland and apprenticed at the Hotel Vorderen Sternen in Zurich.
Chef Ramseyer demonstrated a variety of German and Swiss German specialties. Are you familiar with Raclette? It is a semi-firm cow's milk cheese that is usually fashioned into a large wheel of about 13 pounds. It is commonly used for melting and is also a Swiss dish based on heating the cheese and scraping off (racler) the melted part. Raclette is a super easy, crowd pleasing dish of yummy melted cheese, dipped and served with boiled red potatoes.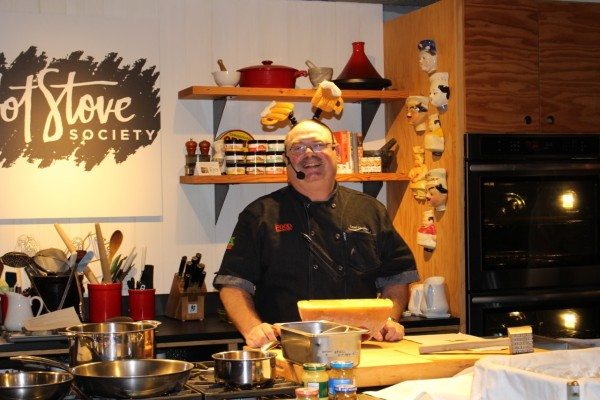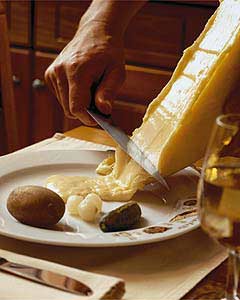 Bavarian style pretzels were next. Did you know that after you make the doughy pretzels you boil them… in food grade lye? The lye is actually what makes pretzels shiny. You can also use baking soda in pretzel making for a matte finish (not sure I need shiny ones) and that is what we used! Once they are boiled for a few minutes, they can be sprinkled with salt and baked in the oven. The smell is heavenly!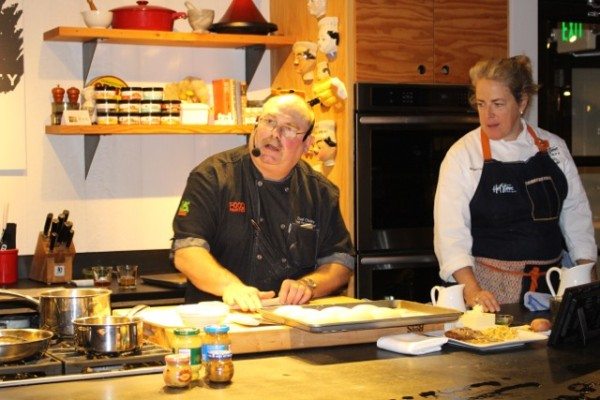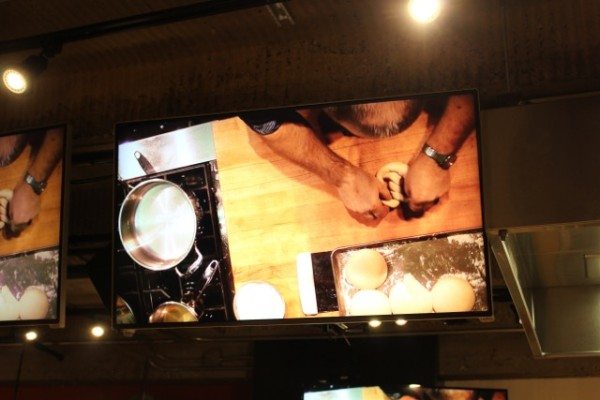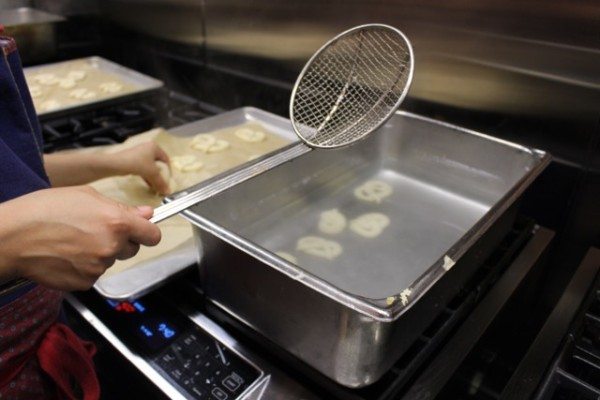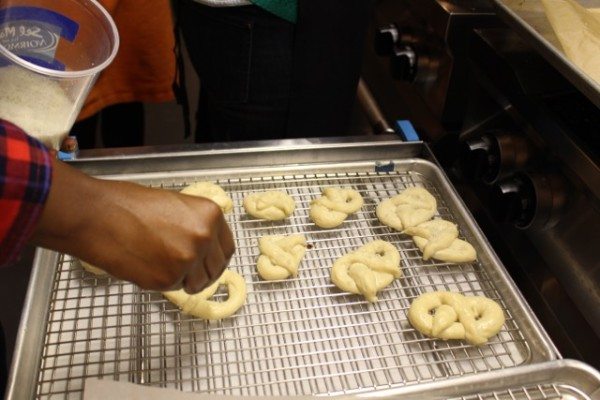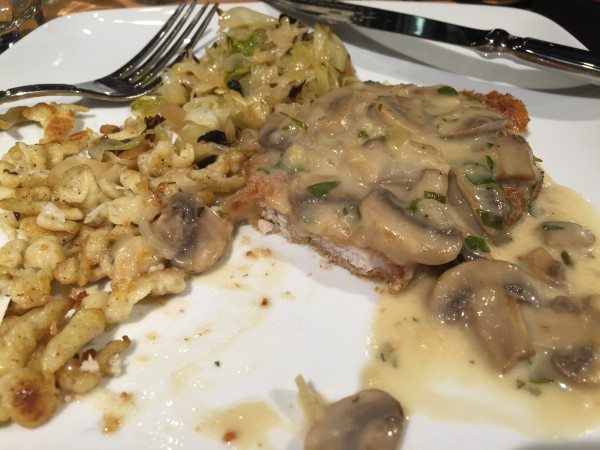 Have you been lucky enough to travel to Europe and sample any delicious, authentic Weiner Schnitzel? Diners can find it on almost every German, Austrian and Swiss menu. A true Weiner Schnitzel is made with thinly sliced veal, however many restaurants switched to pork or even chicken because of the rising cost of veal.
For our Oktoberfest feast, Chef Charles made us Jaegerschnitzel, a hunter's pork cutlet with mushroom sauce. Chef explained how the schnitzel can be made with traditional breadcrumbs or Panko, Japanese breadcrumbs. He prefers the Panko for the flavor and the crunch it provides. Chef also mentioned how we should experiment and use herbs that we love and utilize what we may have on hand in our pantry.
Additionally, Chef Charles also prepared and demonstrated how to make Spaetzle. Spaetzle are common egg noodles that accompany many meat dishes. Mmmm so good too! After making the Spaetzle, he sautéed the noodles in butter, oil and salt and sprinkled them with fresh herbs. Divine…
I have always loved the flavor Weiner Schnitzel, however I do not eat veal. Using pork or chicken can accomplish the same savory and delicious dish! Are you hungry yet? I can smell it now.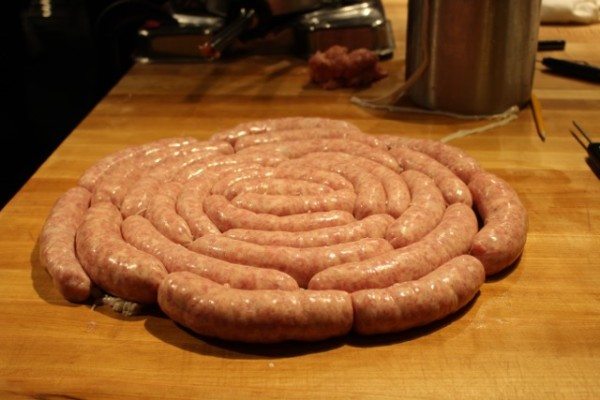 Fun facts about making Bratwurst
We learned how to make bratwurst… hands-on! Bratwurst is a type of German sausage made with a combination of pork butt and veal clod, white bread, spices, ice water, milk and 22″ hog casings. Yes, natural hog casings…you know what they are.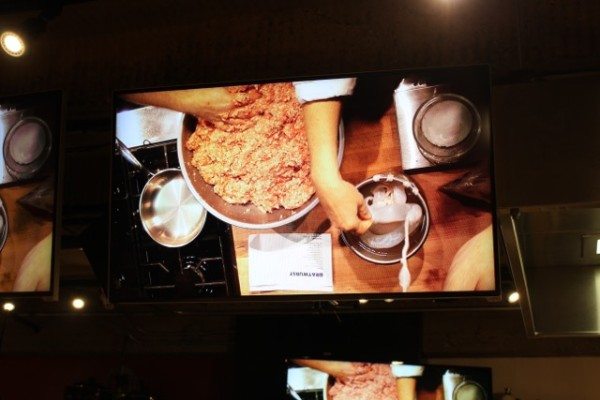 Once the meat is ground it is placed in a large, cold mixing bowl and mixed with the rest of the ingredients. It is then kneaded, much like you would knead bread dough causing it to be well mixed and softened. The bowl is always kept cold with an ice bath underneath. It is important to keep the meat cold throughout the process.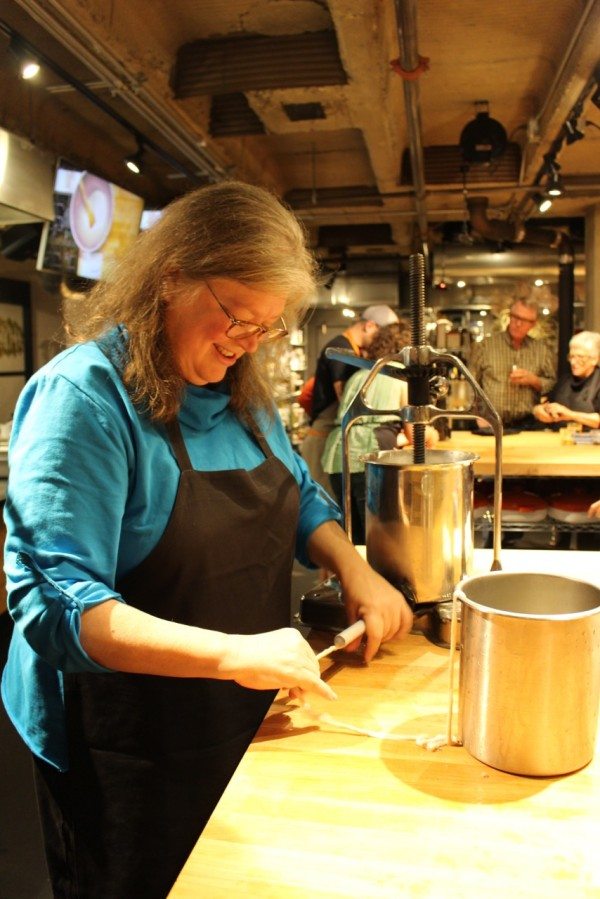 Once a test sausage patty has been cooked, tasted and adjusted for salt and spices, the entire contents is dumped into the sausage maker. Once the long hog casing is attached to the end of the spout, turn the crank and begin to fill the casing. Chef twisted the long sausage into links and place them into a gorgeous sausage coil.
I was excited to see the process and happy to know there are no chemicals, fillers or substitutes in a sausage recipe like this. However, I think I will leave the sausage making to the butchers and the chefs. It is  too time consuming for my crazy life. I will make the balance of the meal and let them supply my sausage.
Pour the beer in an icy cold mug, pass the grainy German mustard, it is time for us to taste these delicious Oktoberfest dishes. Auf Wiedersehen!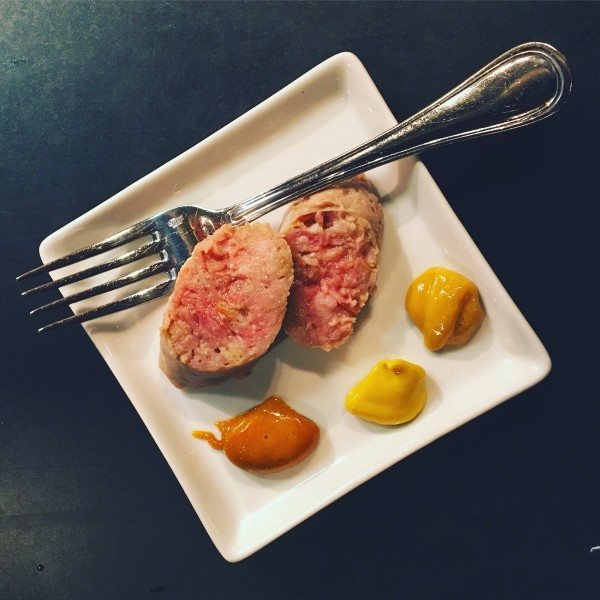 When you plan to visit Seattle, check out the class schedule at Hot Stove Society and learn from Chef Director Bridget all about the amazing food of the Northwest and go for the fun too. This is a very friendly cooking school and they offer many different types of classes that will please every palette and tickle your foodie bones. I can't wait to go again.
More photos of Hot Stove Society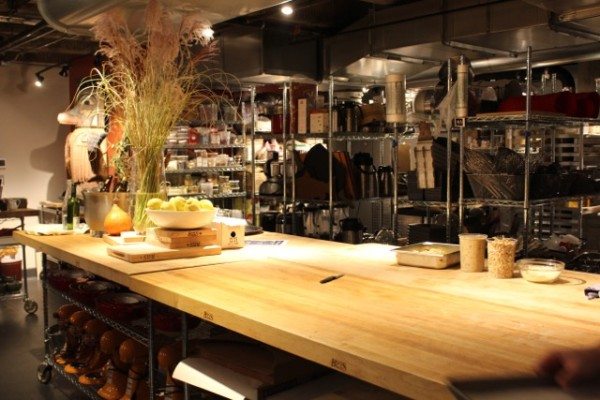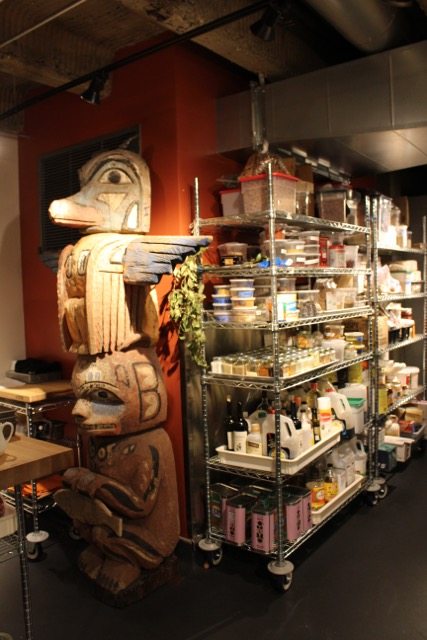 2000 4th Ave
Seattle, WA
206.436.0383