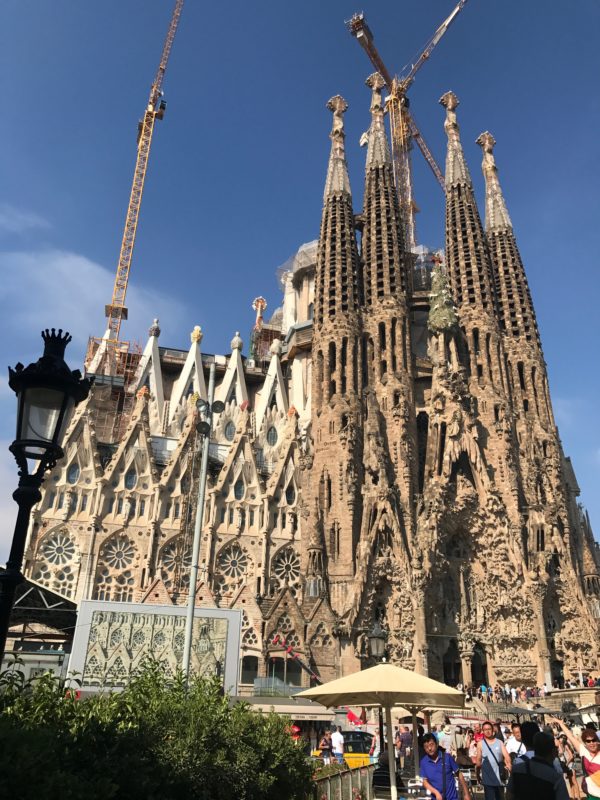 Glory is light, light gives joy & joy is the happiness of the spirit – Antoni Gaudí
Ten Terrific Things to do in Barcelona ~
The cosmopolitan city of Barcelona is one of my favorite (maybe even my most favorite) cities in the world! After returning from a spectacular trip to Spain, I wanted to share why I love it so much and to offer some suggestions for your next trip!
I think it is the allure of the Picasso Museum, the vibrancy of the people and a gorgeous dish of authentic seafood paella. It is also a glass of sangria, strolling the tree-lined streets and sitting in an outdoor cafe in the Gothic Quarter. On a larger scale, Barcelona his home to the architectural wonders created by Antoni Gaudí and it is a modern city with an interesting long history. The combination of old world and new gets me every time.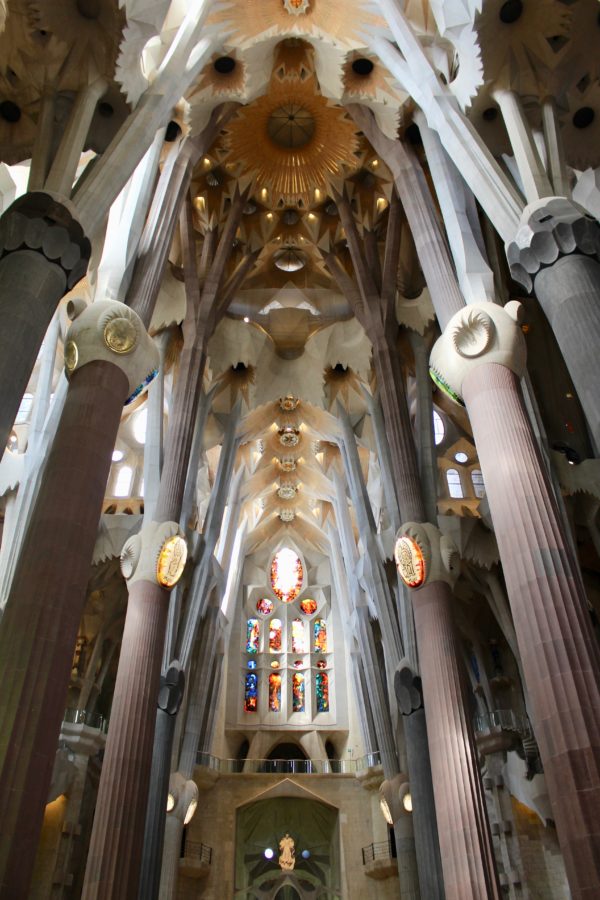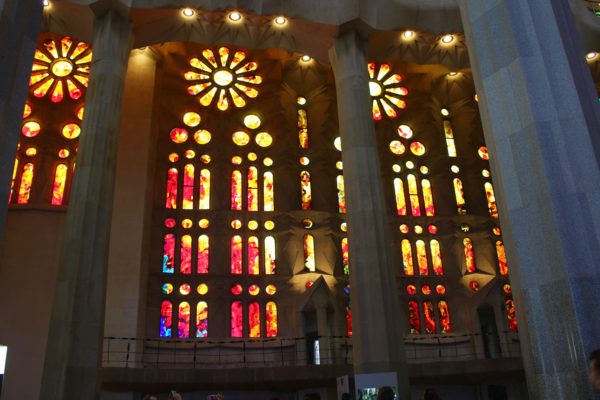 Where to begin? Sagrada Familia dazzles me more than any other building, anywhere. I love it even more than the Sydney Opera House or the Eiffel Tower. Antoni Gaudí wanted to build church that integrated nature and light, told stories and paid tribute to God. His personal genius, sacrifice and dedication is something that I admire a great deal.The mystical Sagrada Familia is both Gothic and Modern. I am not a historian or architecture expert, but my heart races a bit as I walk through the bronze, sculptured doors. The light bounces off the cool, stone walls and the room demands you to look up and gaze toward the heavens.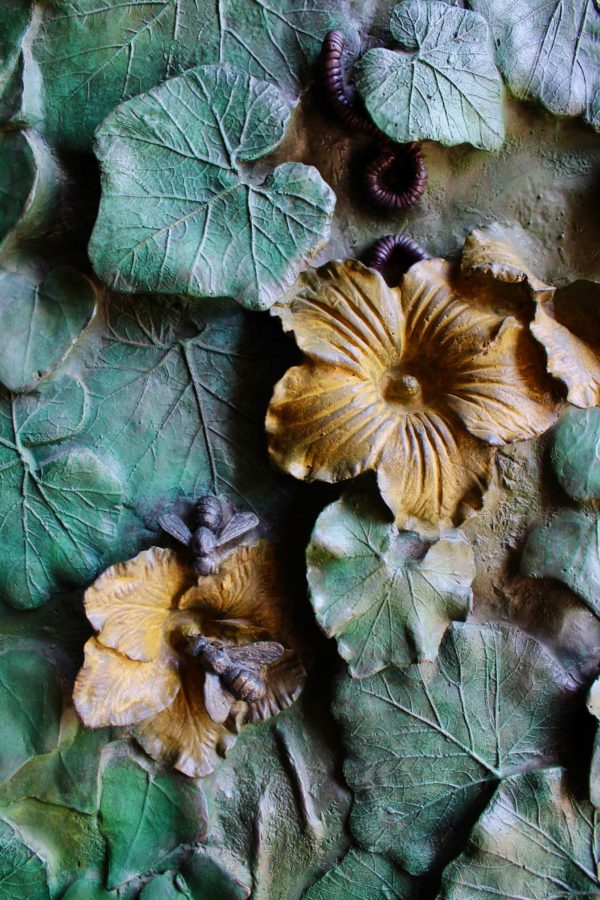 The construction began in 1882 and was taken over by Gaudí a year later. The project has been funded by only private donations so the process for the past 135 years has been s-l-o-w. However, since my daughter and I visited eight years ago, there has been substantial progress. When I saw it last, the inside was dusty and dark filled with scaffolding, with no stained glass and now it is bright, light and colorful. At the time of his death he had almost completed 25%. Other architects have taken on the project as well as Gaudí's vision and it should be complete by 2027! It is quite a story and an absolute must visit!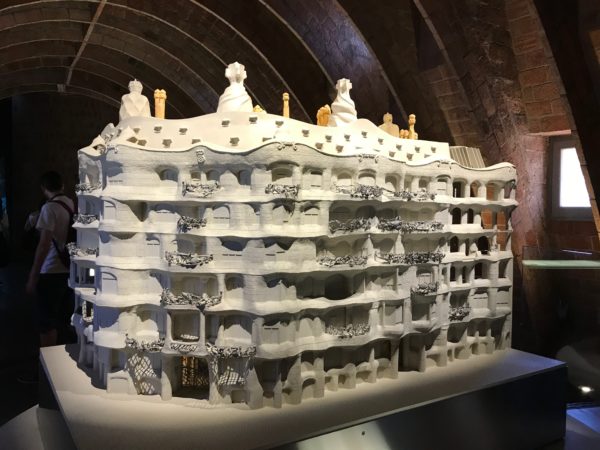 Although I am in awe of this mammoth building, it does not evoke the strong emotions in me like Sagrada Famila. La Pedrera "the stone quarry" was initially intended to be two apartment buildings with two entrances. It is bigger than you can imagine with walls that curve that are covered places with shiny tile. On the rooftop Gaudí collected all of the apartment chimneys to come together and they are shaped like a soldiers. What? So unusual, so intriguing and really cool.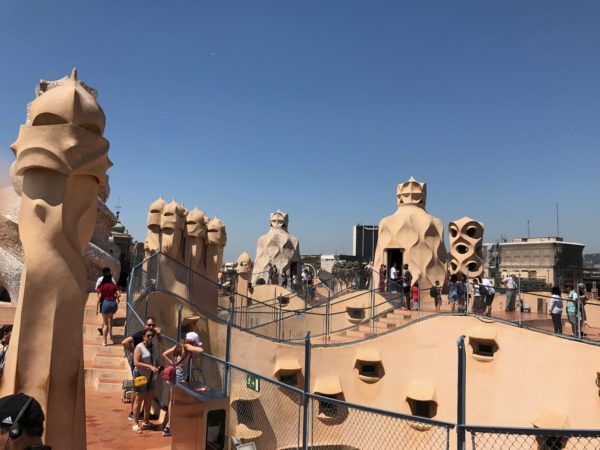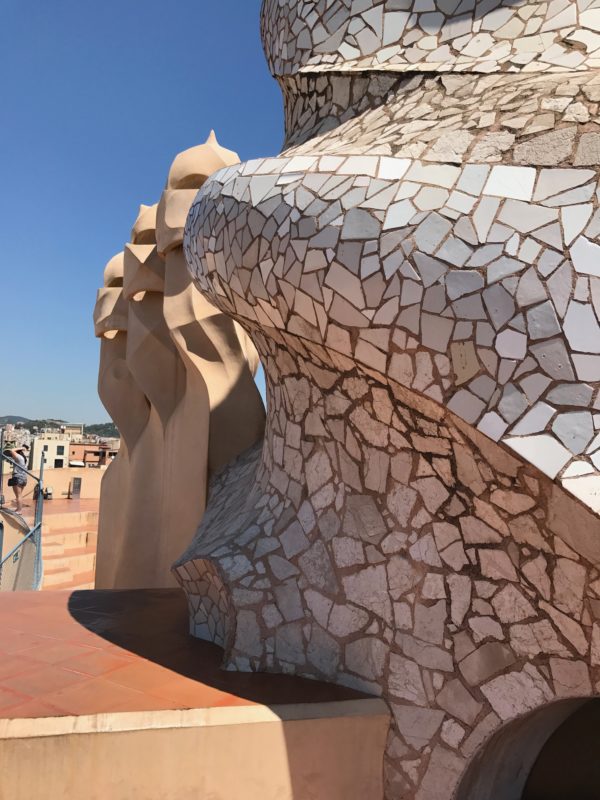 Another modernist building of Antoni Gaudí's is Casa Battló and it is different from La Pedrera as it is much more whimsical and colorful. The facade is covered in iridescent tiles just like the scales of a fish and he places what looks like stone Venetian masks as balconies. The design and architecture makes you feel like you have landed in a Dr Seuss book and I half expected The Cat in the Hat to stop in to say hello. It is crazy-weird and amazing too!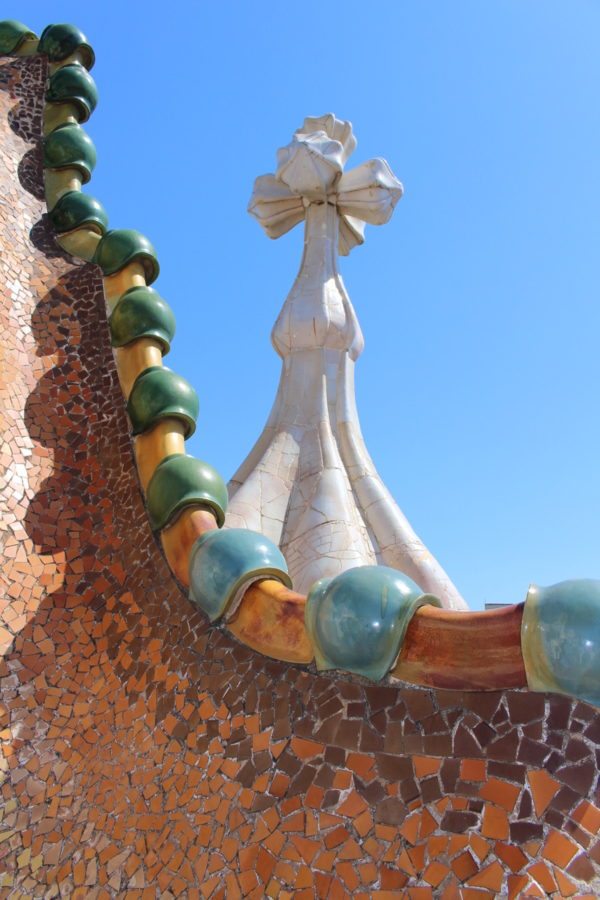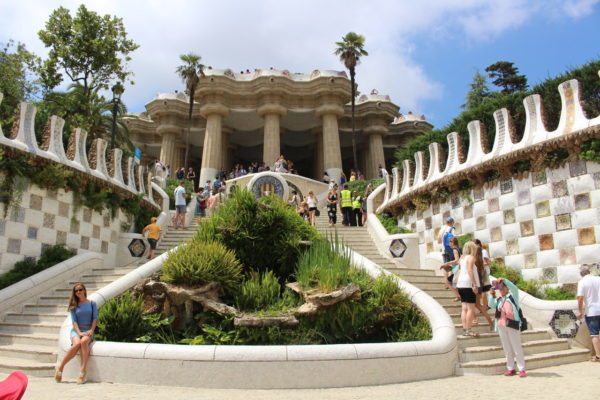 Another one of Gaudi's so-far-out-there-creations is Park Güell. Pronounced "Park Gway" it was originally intended as a housing development but the project was unsuccessful so it became an enormous park with views of Sagrada Familia and the entire city of Barcelona. Every one of the Gaudí buildings requires an advance ticket if you want to stay sane, as well as use your precious vacation time wisely.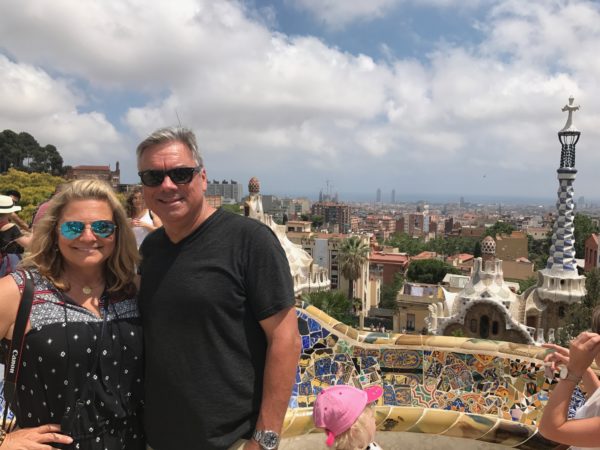 Tip: We purchased a 10:00 am ticket to Sagrada Familia and then a 1:00 pm visit to the Park Güell. It allowed for 90 minutes in the church, time for lunch and then a quick cab ride to the Park. 
These sites are HUGE tourist destinations and travelers from all over the globe descend on this very special city. The numbers of people can be intimidating as well as overwhelming. By having advance tickets there is no waiting around for the next available timed entrance.
Another must see location, at the top of my list, is the Museo Picasso. This museum houses one of the most extensive and varied collections of one of the world's greatest artists. Just imagine gorgeous portraits painted by a fourteen-year-old Pablo Picasso. The paintings seem almost like photographs which shows his astounding talent at such a young age. Most everyone is familiar with Picasso's later works and Cubism and Surrealism. Did you know that he could paint life-like portraits? The museum is located in a what used to be five large houses in the Gothic Quarter of the city. For any art lover this is also a must do!
6. View from the hill ~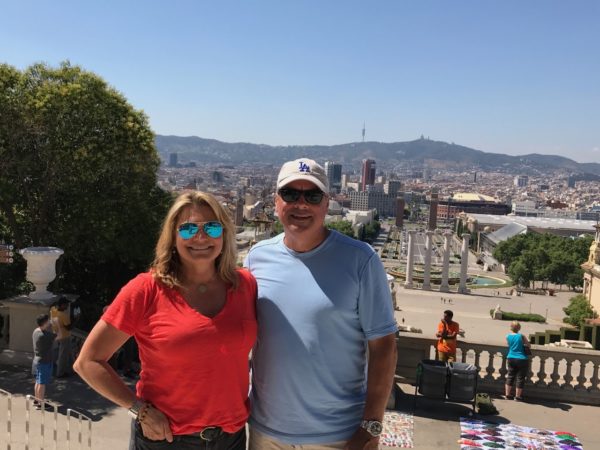 Sometimes just the views of a great city can be enough to make your day! We took the Bus Turista Tour which is a Hop on and Hop off bus tour of the city. It is a great way to get your bearings in a new place and to see where you may want to focus your touring later on the trip. We took the Red Bus Line all the way up and over to the Montujic area of Barcelona where the views will amaze you!
The Museu Nacional d'Art de Catalunya (MNAC) in Barcelona's Palau Nacional offers you a journey through 1000 years of Catalan art. The panoramic views of the city from the steps are a must do! The Olympic Stadium is right near by as well.
7. Walk along the harbor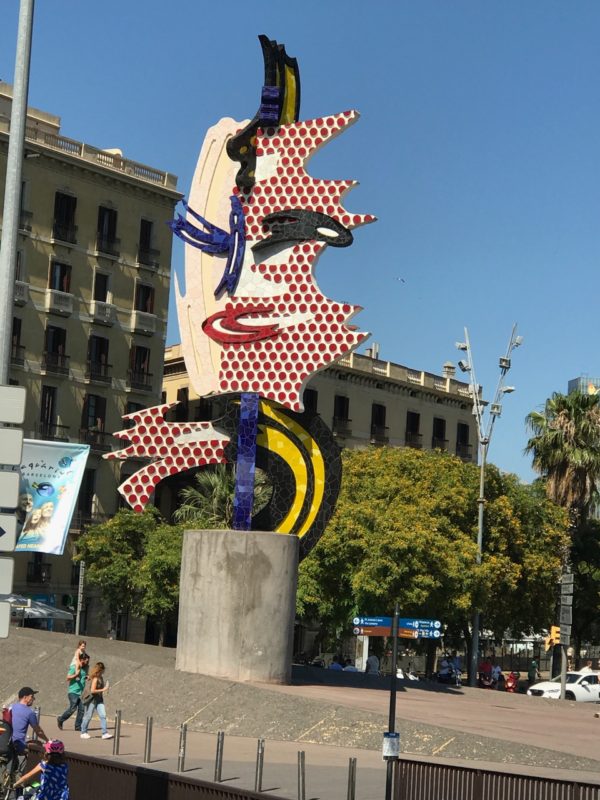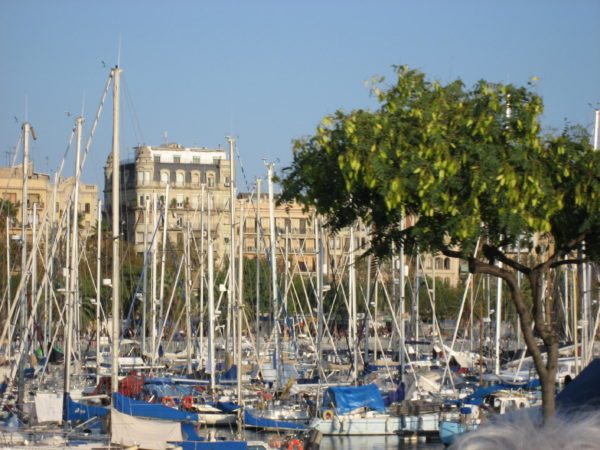 The harbor, the beaches, the water, the boats and ships are spectacular. The area has a modern feel, yet there are historic statues and buildings. I love that about Barcelona. You can bike or walk and drink in the sea air, people watch, eat great seafood and enjoy another area of this incredible city.
8. Eat Paella ~
Even on our first evening in Barcelona, we asked the concierge for a recommendation for a special seafood restaurant and Catalan Paella. We saw this dish on every restaurant that we visited. We went to an old, fairly famous, traditional restaurant called Botafumeiro and it was outstanding.
9. La Rambla
La Rambla is a lovely and long walking street with cafes, shops and . . . tourists. That sounds negative, but it seems that it was mostly tourists, we were hustled to buy stuff and didn't feel entirely safe. That being said, any visitor to a new city needs to travel smart and be aware of your surroundings. I have heard about pickpockets in Barcelona and actually know people who have experienced this. But don't be afraid, just be cognizant of people around you.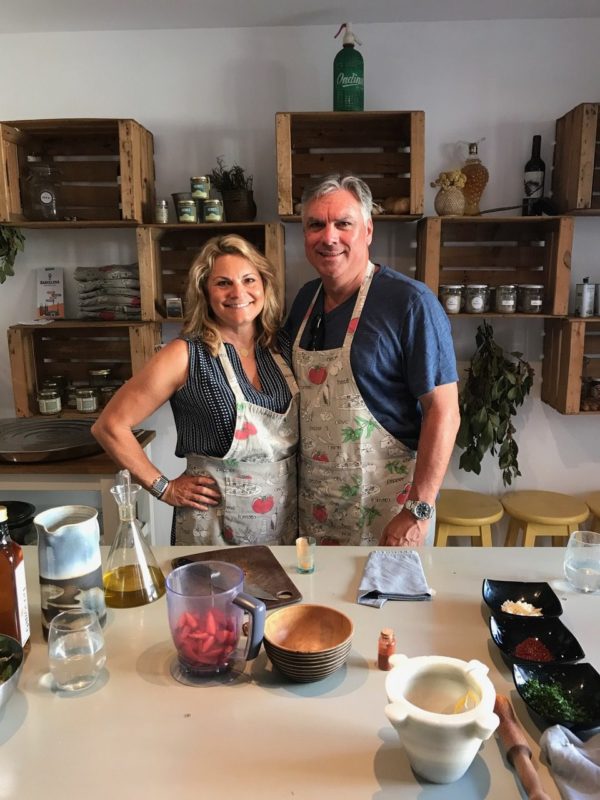 In addition to the absolutely must see Gaudí architecture, there are more personal ways to immerse yourself into the local culture.There is no better way to get to know a city than to meet and talk and eat with locals. My friend Danica from Everywhere Agency recommended that Craig and I join a class called the Market and Paella Experience created by Barcelona Slow Travel. She described it as "dreamy". Anything described to me as dreamy, rises to the top of my list! And it was all that and much more! Our host and chef, Guillaume, began the tour by taking us to the oldest bakery in Barcelona (Forn de Pa) and then to the large, spotless and spacious modern market, Mercat del Ninot, to pick up all of the ingredients we needed to make gazpacho, paella and strawberry-basil sorbet.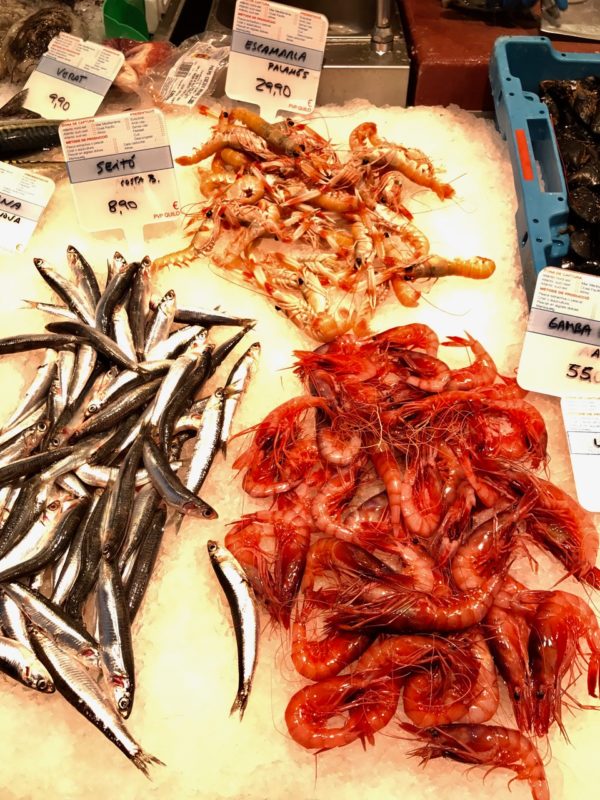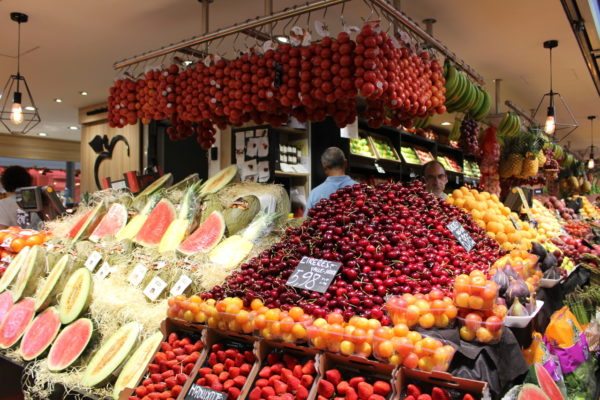 We carefully, cleaned, peeled, cut, chopped, stirred, grated and cooked all of the fresh local Spanish ingredients to make the most photogenic and delicious paella ever! I have already made the gazpacho recipe three times and the divine strawberry-basil sorbet once! We absolutely loved our time with Guillaume and his partner Cristina in their adorable studio and chic, urban outdoor patio.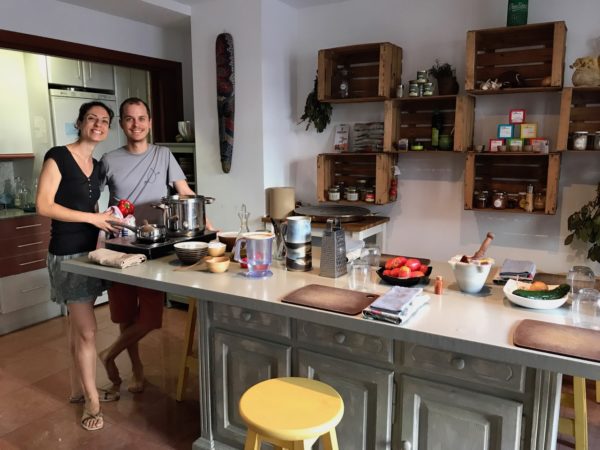 Craig and I shared the class with two other traveling food lovers, Craig and Susan. Yes, those were really their names. The connection goes even deeper than our names. Craig and Craig both work in the tech industry and they live only about thirty minutes away from us in Southern California. The world is definitely small and delicious!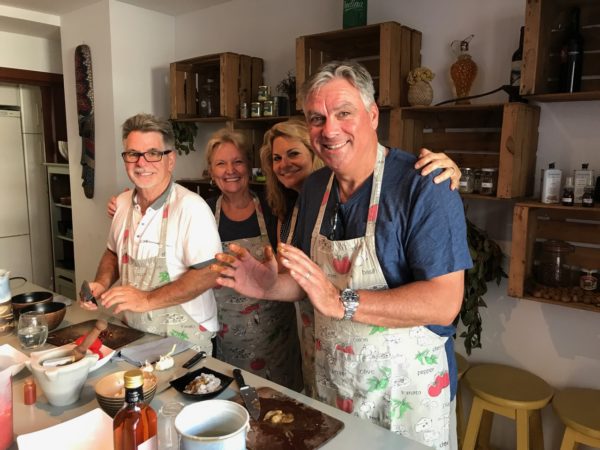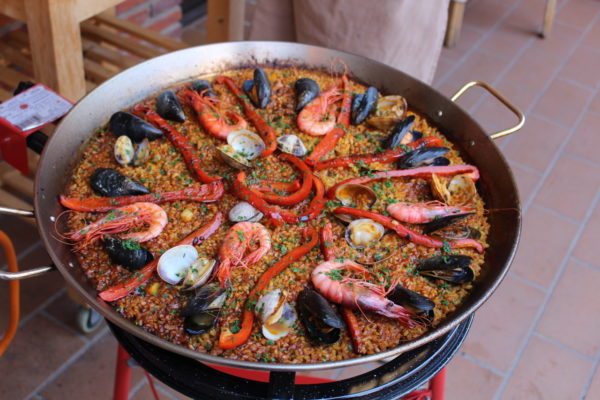 Barcelona Slow Travel deserves extremely high praise because Cristina and Guillaume have built a personal, authentic, Barcelona experience like no other. We were sorry to see our time together end! If you plan a trip to Barcelona let them know in advance because classes do fill up! They have other classes too, check the website!
There are many more things to do in Barcelona, but this will give you a foundation. In my opinion embracing the activities I have suggested are important to understand this one of a kind city. Depending upon how long you have the opportunity to stay, there is even more to Barcelona and to the surrounding areas too!
---
Great info is meant to be shared! I hope you forward this post to other adventurers. Are we connecting on social media? You can find us here ====> Follow us on Twitter, like us on Facebook, check out our photos on Instagram, or pins on Pinterest