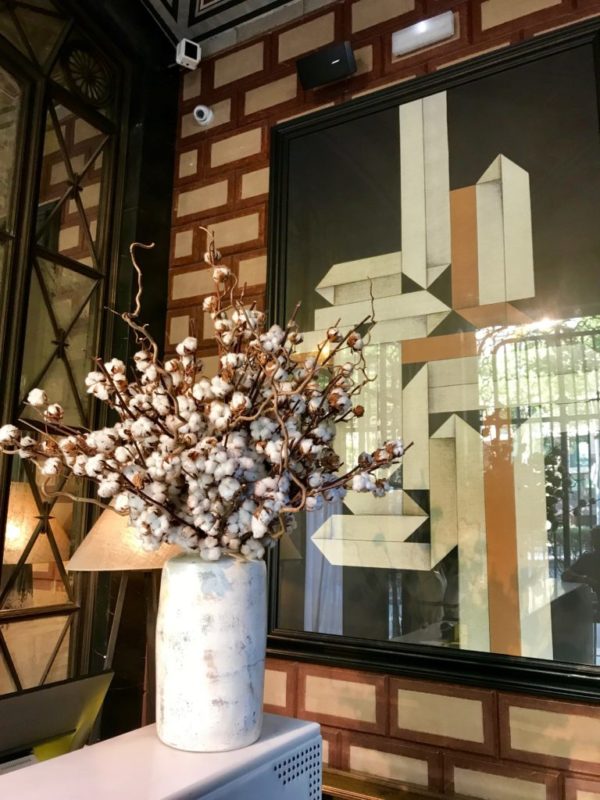 When I set out to find a luxury hotel in Barcelona my first stop was American Express Travel. I had planned to use our travel points to pay for our upcoming hotel stay in Spain. We typically stay in Hyatt Hotels, but there aren't any in this city, so I moved on to find something else.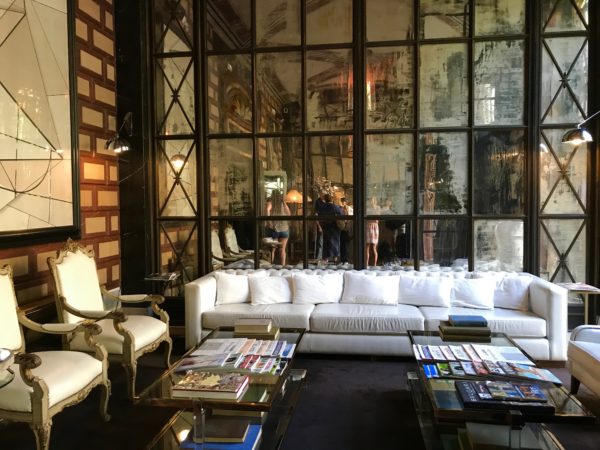 Taking my time, I looked through the various luxury hotel options and the photos of this boutique establishment were so appealing that I made my decision quickly. I hit the lottery when I found the extraordinary Cotton House. As a fan of architecture and design, I couldn't wait to stay there!
Welcome to Cotton House! The Perfect Luxury Hotel in Barcelona
As we stepped out of the cab we were welcomed by two Cotton House hosts insisting on taking our bags and directing us into the cool air of the stunning lobby. The towering wall of antique mirrors reflected the grand ambiance of this truly one of a kind setting. I think I silently squealed with delight!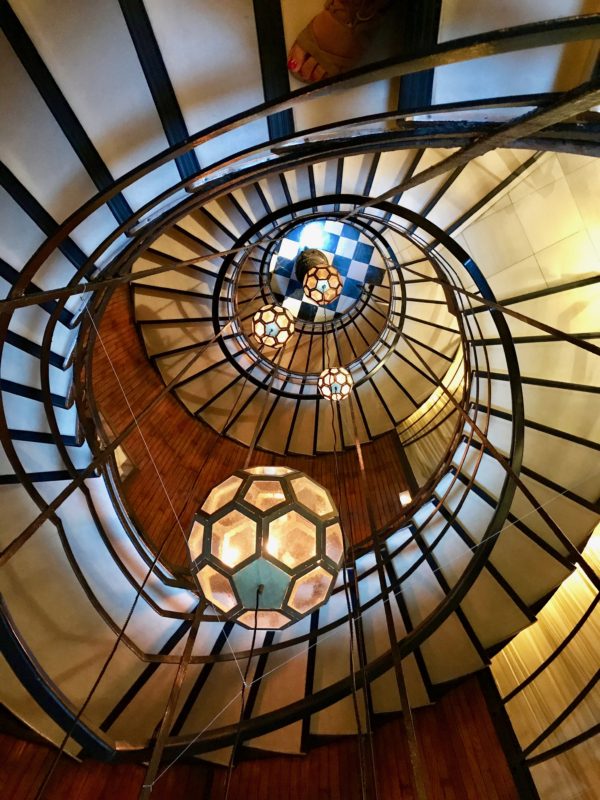 We were offered an icy cold glass of cava (Spanish sparkling wine) and taken on a quick tour of the enchanting public spaces. We glanced up six floors through the suspended (yes you read that correctly) staircase lit by art deco light globes. The staircase hangs by a stainless cable and our hostess assured us that we were safe!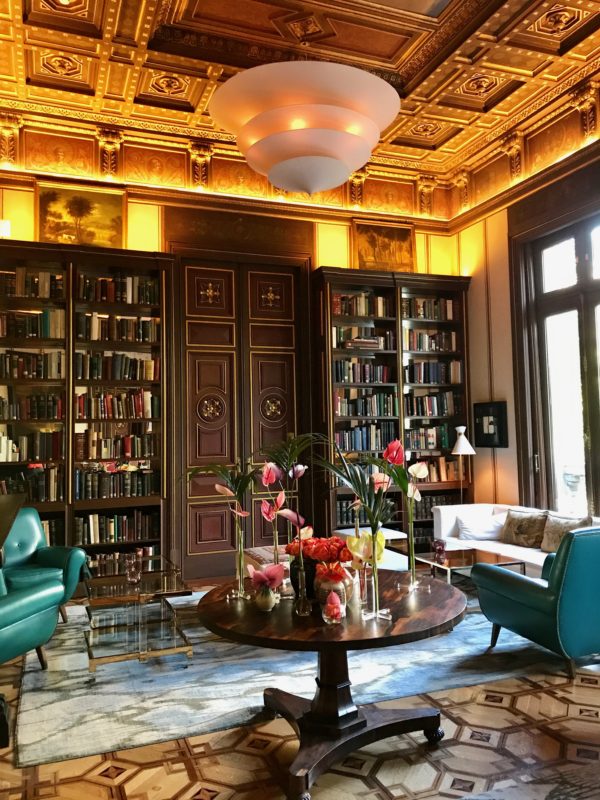 We stopped into the Library and the room took my breath away. There were several quiet seating areas, perfect for having a cocktail, afternoon tea or espresso. Craig and I spent memorable relaxing moments in this room. Notice the original wood inlay floor. It is magnificent!
Our hostess shared with us that Cotton House is in the former headquarters of the Association of Cotton House Manufacturers. You could feel the colonial history in each of the rooms. The designers were careful to maintain as much of the original building as they could and the mix of old and new was striking. Additionally, there are many cotton references throughout the hotel and you can even order custom tailored cotton dress shirts if you wish! Two of the room types were "Madras and Egyptian", so clever!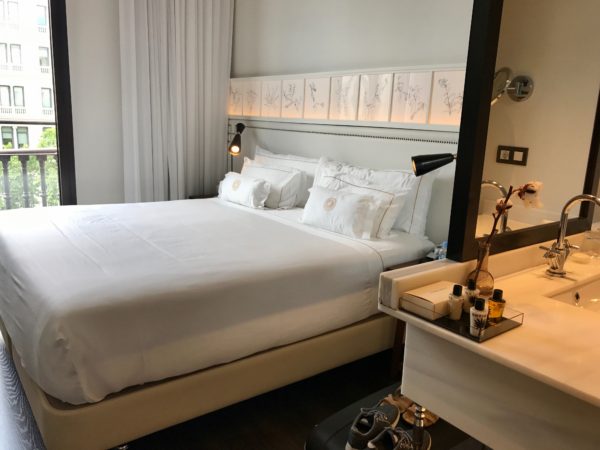 Our room wasn't large but it was well appointed, sound proof and chic. The crisp, perfectly-ironed cool cotton sheets felt so comfortable, especially during the intense summer heat.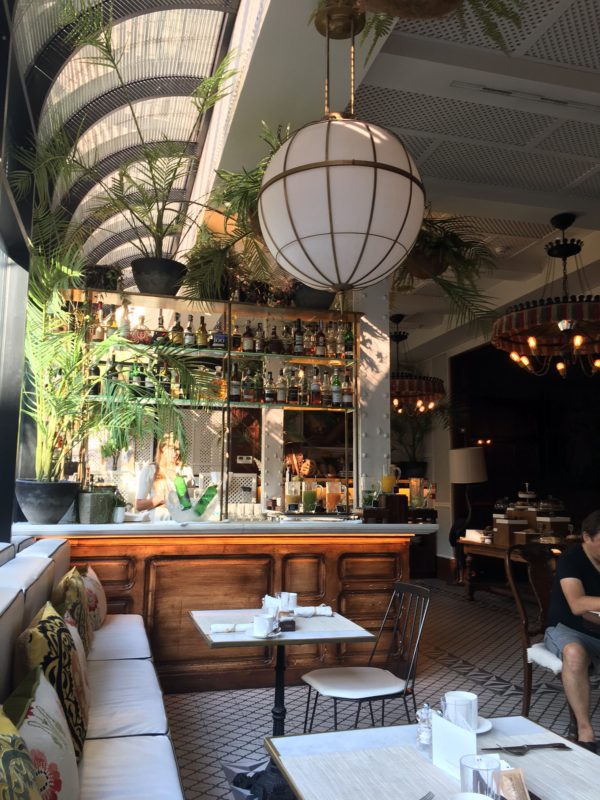 Each morning we enjoyed breakfast in Bataur, the elegant hotel restaurant. The restaurant is named for the machine that was responsible for pressing cotton to eliminate all its impurities. Just outside of the restaurant there is an enormous outdoor patio perfect for a late evening dinner alfresco. The Cotton House service is personal and attentive and everyone is incredibly friendly.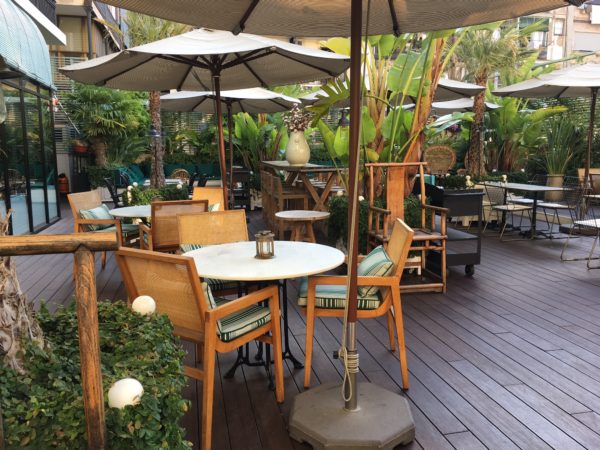 We did not get a chance to use the pool, but it sure was a lovely oasis on the rooftop!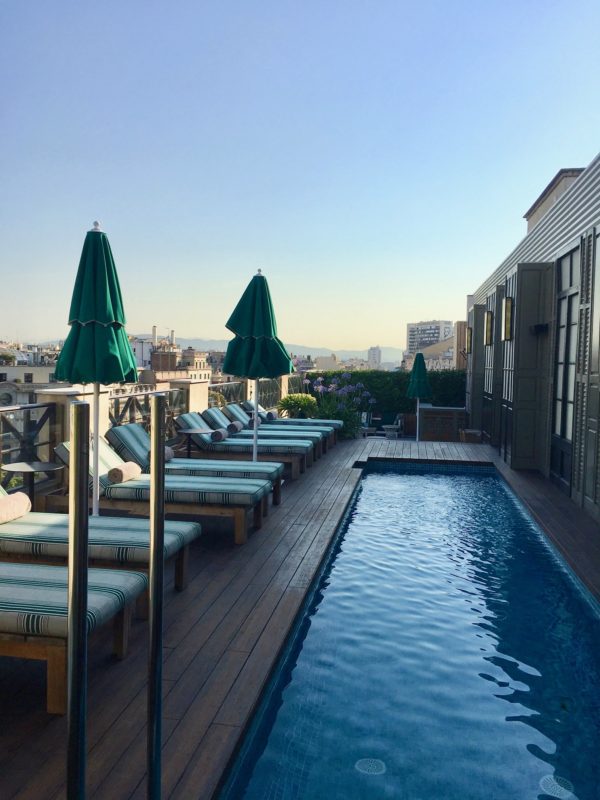 Barcelona has great public transportation, however, we took advantage of the outstanding number of very clean cabs to get us where we needed to go. Barcelona is packed with fantastic places to see and experience, with views to match. I can't wait to share the details of one of my favorite cities coming up in my post "What to see and do in Barcelona – A list of 10 must dos!"
Have you been to Barcelona? Do you love it as much as I do?
The Cotton House Hotel was a delightful surprise because we had no idea what a special find it would be! I cannot say enough nice things about our experience and I hope that you plan to stay there when you take your next trip to Barcelona!
---
Great information is meant to be shared! Please forward this post to your friends and family!
Follow us on Twitter, like us on Facebook, check out our photos on Instagram, or pins on Pinterest