How does a getaway to Jackson Hole Wyoming sound? Pretty good in my opinion!
Are you daring to dream of the perfect place to enjoy some well-deserved relaxation? I think it is time for us to use our imagination and make some plans. I am not a doctor, just your travel enthusiast friend who wants life to be safe and full of adventure. We can dream, create the plan, and be ready for when the time is right.
So for today, I am teaming up with my friends at Hotels.com to dream of a place where the restaurant scene is exceptional, the small-town feel is sophisticated yet rustic, and the great outdoors is just steps away!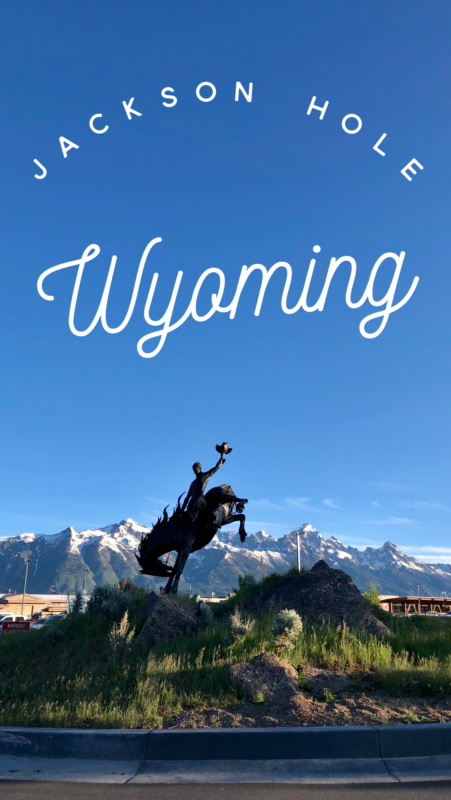 A Fall getaway to Jackson Hole is just what we need to heal and satisfy our travel hunger. We took a road trip to this enchanted setting last summer, and it absolutely knocked me over. There is a wide variety of accommodations to choose from, and you can decide which suits you best. From high-end luxury properties to more affordable and casual ones, there is lodging for every budget.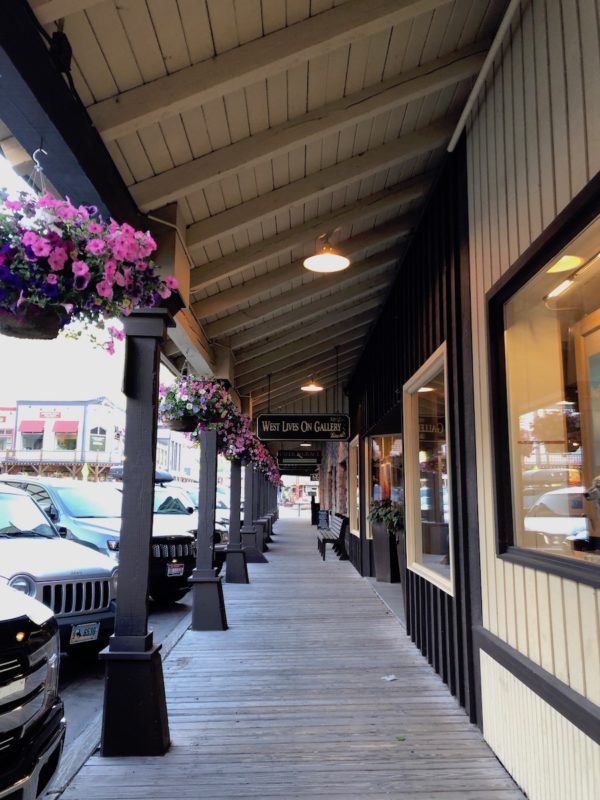 I loved it all! I couldn't get enough of the quaint wooden sidewalks, western wear boutiques, and a charming Cowboy Coffee Shop, all with the Grand Tetons looking over my shoulder. Nature is stunning in Jackson! 
Why not plan a road trip and head to a state you have never been to before? How many states in this beautiful country of the USA have you enjoyed in your lifetime? Is your list long, or does it need extending? 
Local Restaurants and Their Tasty Dishes and Drinks
Breakfast
One meal that stands out to me was an enormous country breakfast at the very busy and unpretentious, Virginian Restaurant. There was plenty on the plate, the service was genuine, and later that day, we didn't even need to have lunch.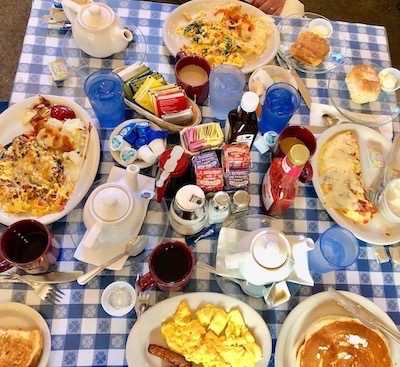 Today, eating out is much different than before COVID-19, so you must reach out to each of these restaurants to see if there are dining-in options and the possibility of takeout. We have to do our homework!
Lunch
I am still dreaming of our lunch at Hatch Taqueria and Tequilas. Each dish was bursting with robust flavors of modern Mexican cuisine. Craig tried their award-winning margarita and gave an enthusiastic thumbs up. How can you go wrong with excellent margaritas and a friendly, casual atmosphere?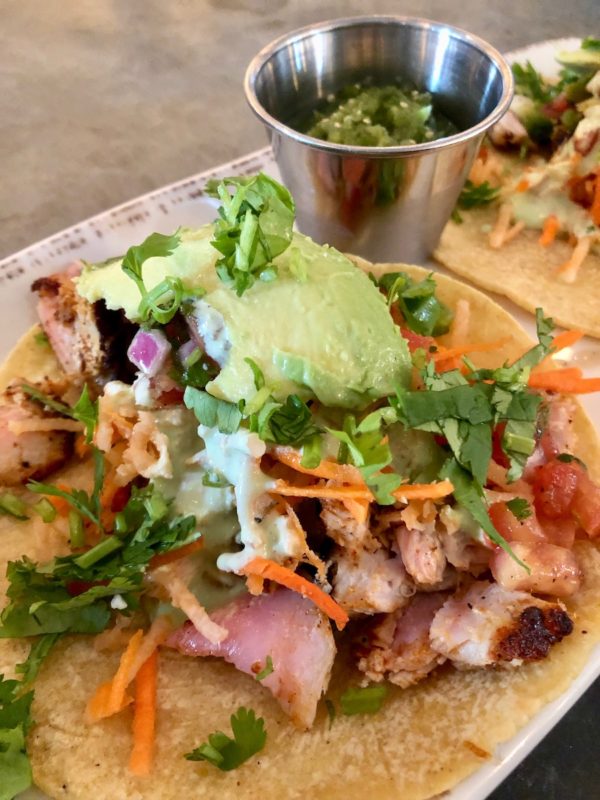 Dinners
 I can recommend two fantastic dinner spots, Trio and Local. "Local is a modern American steakhouse and bar located on Jackson's historic town square. The menu features both classic and specialty cuts of locally-ranched meats and game alongside fresh seafood, shellfish, house-ground burgers, and seasonally-inspired food."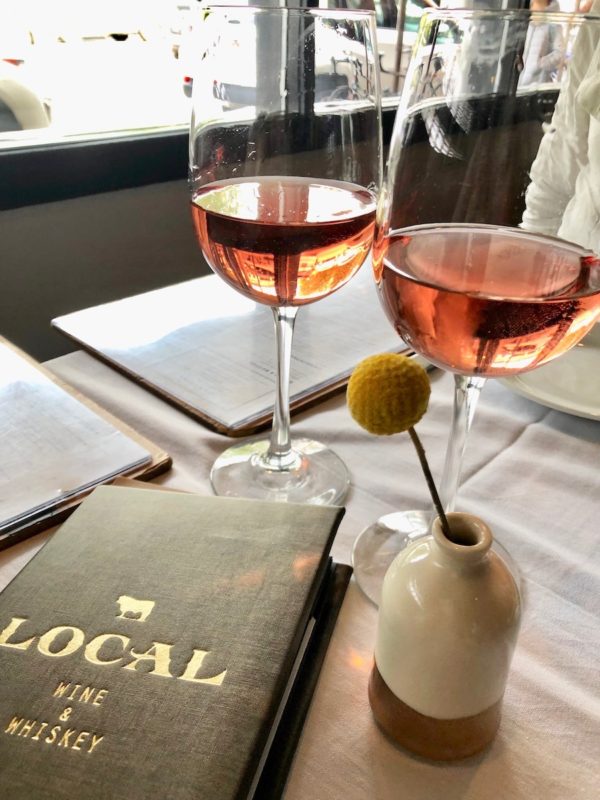 We enjoyed some outstanding martinis with Troy, our friend, and fellow traveler at Trio. We had no idea these two restaurants were owned and operated by the same chefs. Impressive!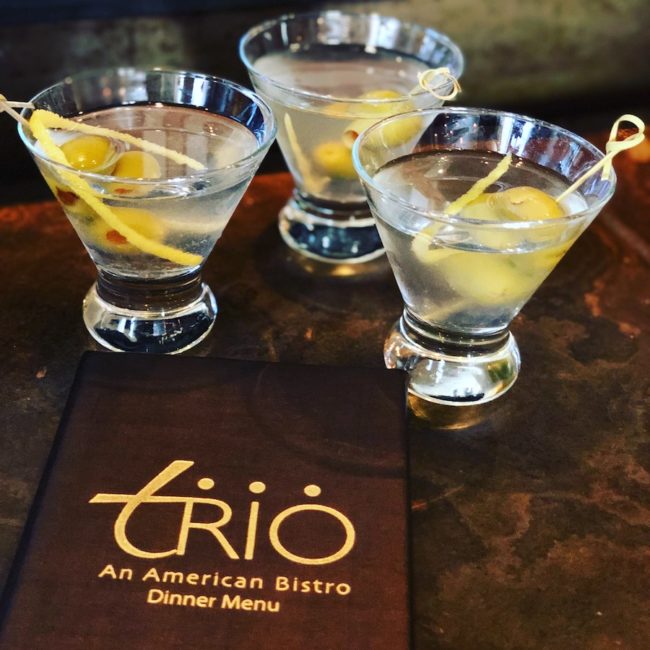 At Trio, we enjoyed friendly conversation with the bartender while sitting at the bar. The food was super satisfying, fresh, and delicious as well. Do you ever sit at the bar in a restaurant? We love it for a fun change of pace.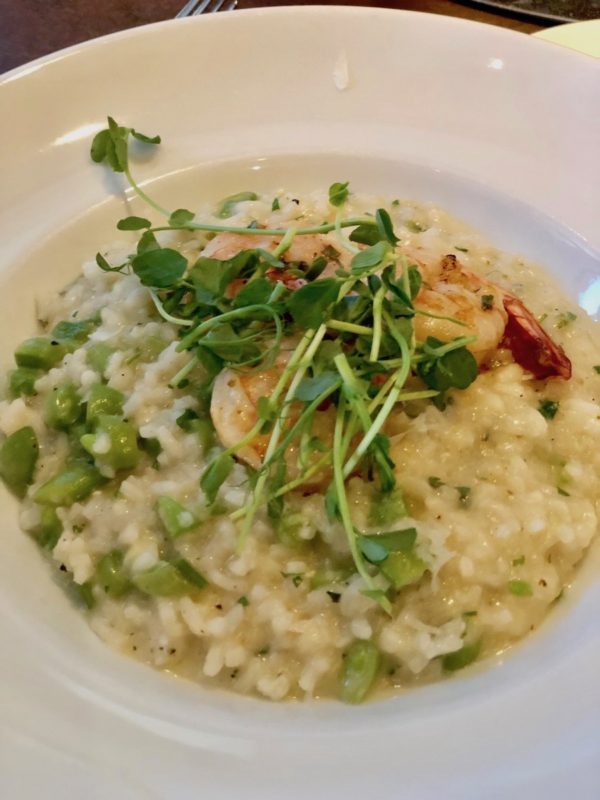 After dinner, take a stroll through the Town Square, also known as George Washington Memorial Park. It provides a perfect photo opportunity. The famous antler arch sculptures that decorate the four corner entrances to the park will amaze and delight you! Old historic buildings, revitalized with new shops and cute cafés line both sides of the streets as well. Jackson Hole is pretty close to paradise for me.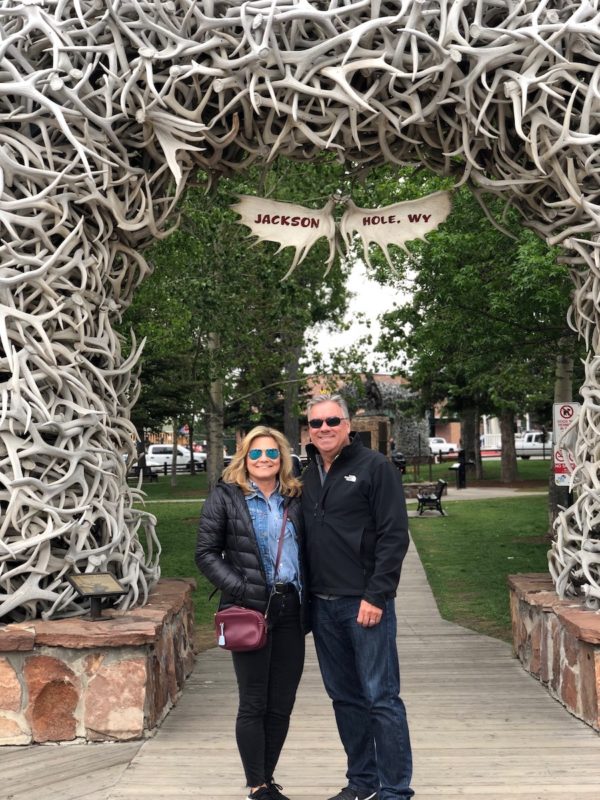 Grab a cup of Joe too!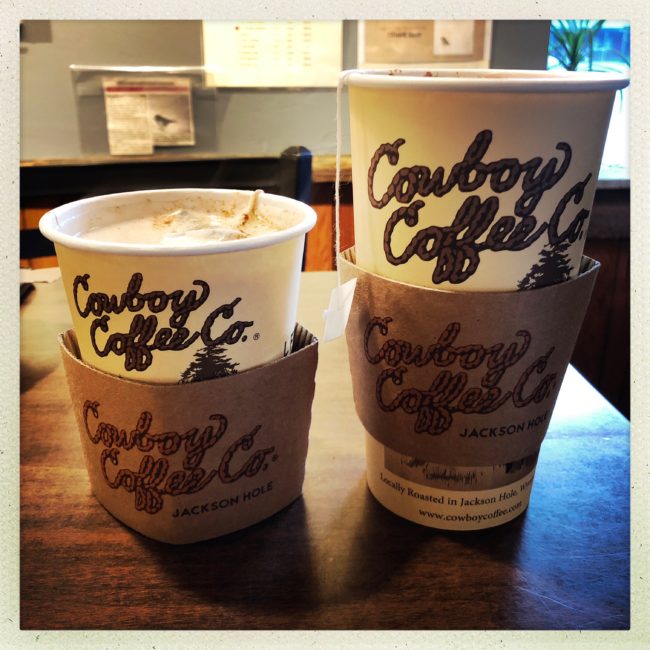 One of our most delightful discoveries was Cowboy Coffee just off the square in Jackson Hole. It is a cozy, coffee house where you can order all types of coffee, wear your jeans, but still feel like the coolest kid in the class. The music was enjoyable, the walls are covered in local art and the staff was so nice.
The cowboy décor was subtle and we felt so welcome in this very local spot. A highlight for us!
Grand Teton National Park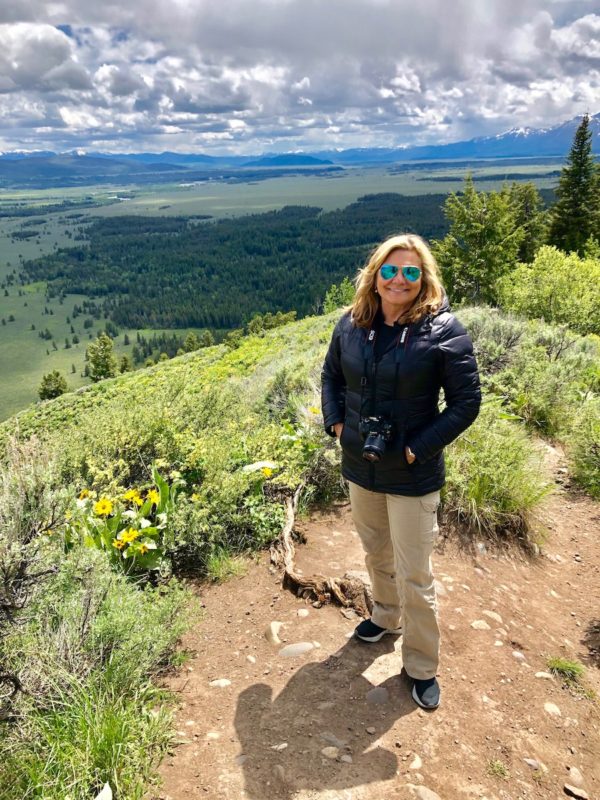 Grand Teton National Park is Jackson Hole's fantastic wilderness bonus benefit! Just minutes from "Downtown" ( I use this term so loosely), you can stroll through this enormous national park while listening to the sounds of moving water and birds singing under a canopy of blue skies and puffy clouds. How does that sound to you? One of the many gifts of travel in the outdoors, besides the obvious lack of humans, is the wildlife. This park boasts many kinds of creatures large and small, so have your binoculars and camera ready.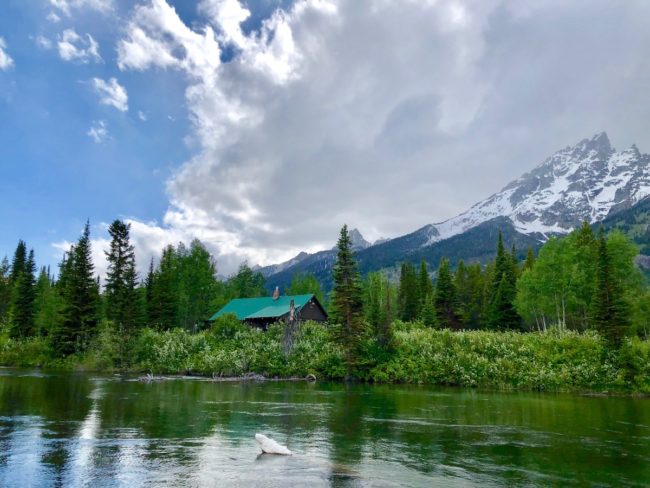 As you look directly at the majestic Teton Range, there are no foothills at the base, so the jagged peaks rise abruptly from the earth. You can drive and drive and step out of your car at your leisure. Wet meadows, lakes, and ponds dot the landscape in various shades of blue and green. Stop in at the Jenny Lake Visitors Center to grab a map and ask the rangers any questions you like. You can keep going north to head up to Yellowstone too. That is next on our list!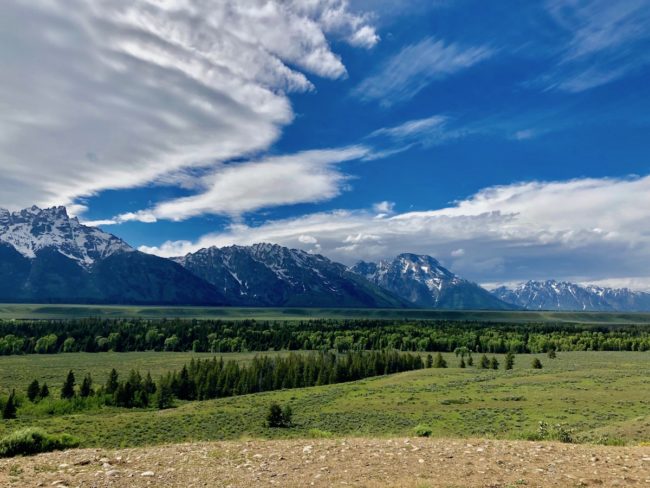 Cooped up for months and months, I am definitely ready for some adventure. I need to be out and exploring great food, fresh mountain air, and a gorgeous landscape. Just imagine the intense fall colors and crisp temps this Autumn! They pair so well with cute boots and a roaring fire, don't they?
A fall driving trip to Jackson Hole or a short plane ride might be just what we need to create the travel happiness we have been yearning for, for many months.
Before you travel
As travel today remains uncertain, please keep your safety and the safety of others in mind at all times. If you are comfortable with traveling, please travel responsibly and within regulation as any travel is at your own risk.
If you do decide to travel at this time, here are a couple of reminders:
Wear a face mask. 
Bring hand sanitizer and wash your hands on a regular basis.
Check official websites before your trip for the latest updates on policies, closures, and status of local businesses.
Book a hotel with free cancellation in case you need to change your plans at the last minute!
Take care, friends!
More posts from this road trip:
My Visit to Medora North Dakota & Why You Should Go Too!
A Spectacular Road Trip Through South Dakota
---
Pin for Pinterest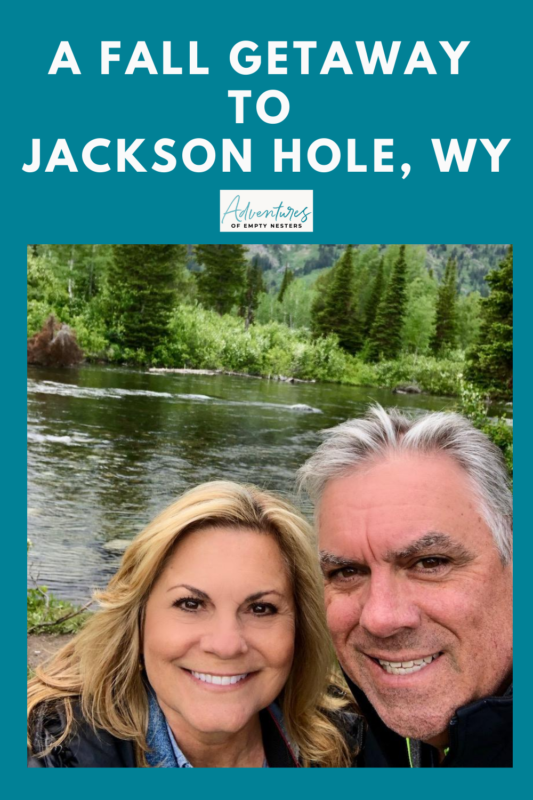 ---