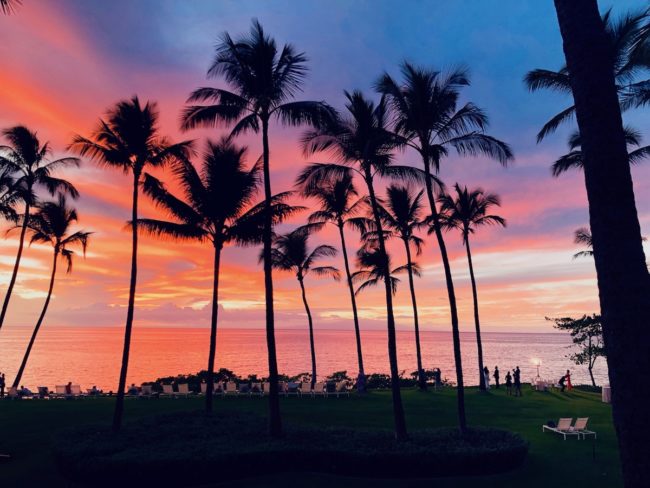 A Virtual Vacation? What is that?
Imagine the cold-sweet sip of a tropical Mai Tai, Seared Ahi Tuna with Vegetable Fried Rice, and a mound of ice cream covered in chocolate fudge in a decadent slice of Hula Pie. Yes, please! Tell me more. This delicious list is just the beginning of an authentic and tasty Maui Style vacation you can create at home.
The COVID 19 pandemic has all but ruined our travel calendar and certainly curtailed any type of air travel over the blue Pacific. Many people have underlying health conditions that prevent any possibility of travel no matter what is happening in the world. Maybe a Maui vacation is not in the budget at all?
Well, my non-traveling friends, I have a solution. Disappointed by my lack of travel options during the Stay at Home mandate, I needed to change my thinking. I had to look at my current situation and determine just how to move forward when I could not write about future travel or plan any of our own adventures. Just like you, I couldn't enjoy a Maui vacation if I wanted to!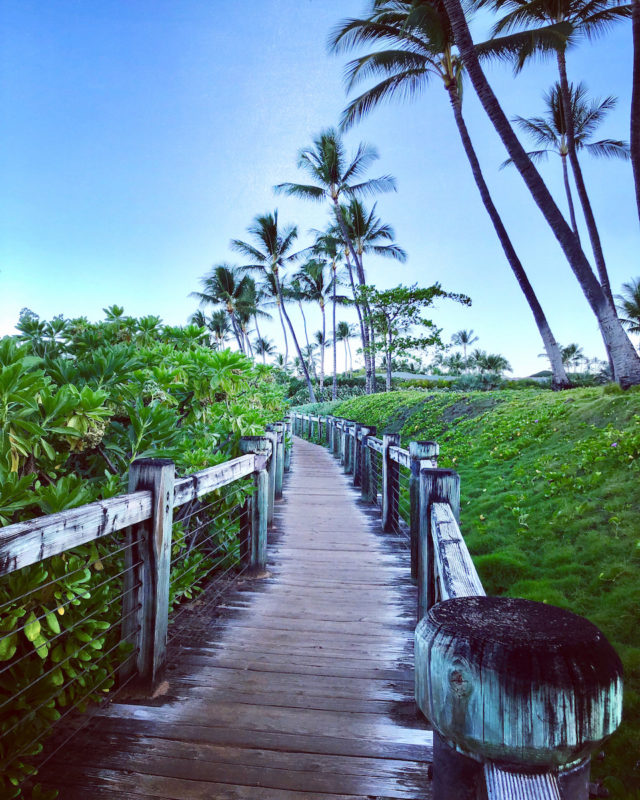 I created my first virtual vacation based upon decades of personal experience enjoying amazing Maui vacations. My first trip to Maui was with my family as a 12-year-old, and I have visited more than 20 other times. Maui is truly one of the most unique and special tropical destinations in the world. I know what we love about it, and I want you to feel, smell, and taste my favorite things about Maui without leaving home. How do I do that? 
Creating a list of ideas for you to create your own virtual vacation was a labor of love. I made a long list of everything that made Maui special for Craig and me but was realistically duplicatable. Everything is in one downloadable guide! 
Can I bring you soft white sand, and fresh tropical breezes? No, I can't, sorry about that. Can I make suggestions for where to buy unique products that will get your Maui vacation vibes flowing? Yes, my friends, I can!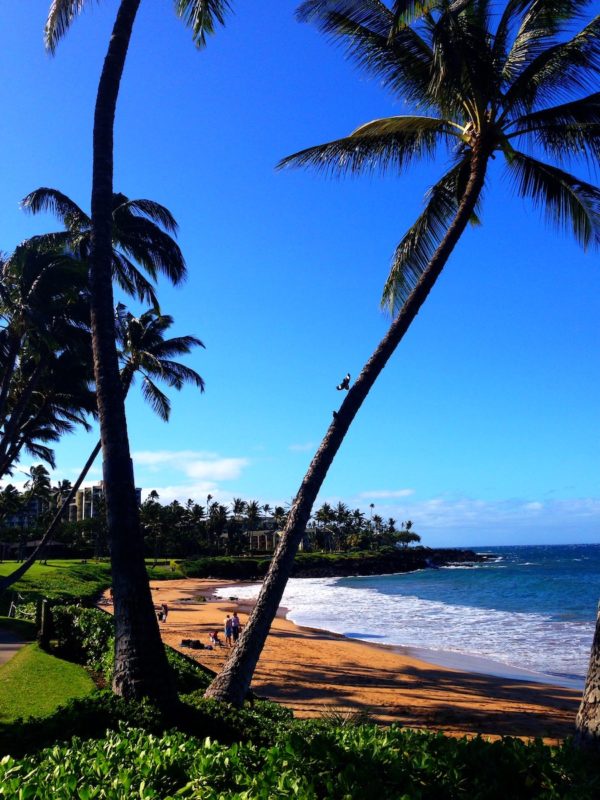 How does Maui feel, smell, and taste? What are our favorite restaurants? What is the very BEST Mai Tai on the planet? Oh, do I have a drink for you! At Monkey Pod (two locations in Maui), they serve the most delectable Mai Tai, which is not too sweet and tastes just right. The reason it is so over the top incredible is the lilikoi foam. I made it for you, so you would know just the way to do it.
Why Maui?
Let me count the ways!! We go back year after year for the peace, beauty and laid back atmosphere of Maui. You can find luxury hotels and resorts, but at the same time, there is a welcoming, slower pace that is uniquely Maui. The sunsets are magnificent almost nightly, and the local food is farm to table, from right on the island. Tourists from around the world flock here year-round. There is no wrong time of year to visit Maui. 
We have visited in February and seen whale after whale frolicking offshore and in October when the kids have gone back to school. The island quiets down a little in the winter, but we also like it there in the summer when the entire island is buzzing with happy tourists.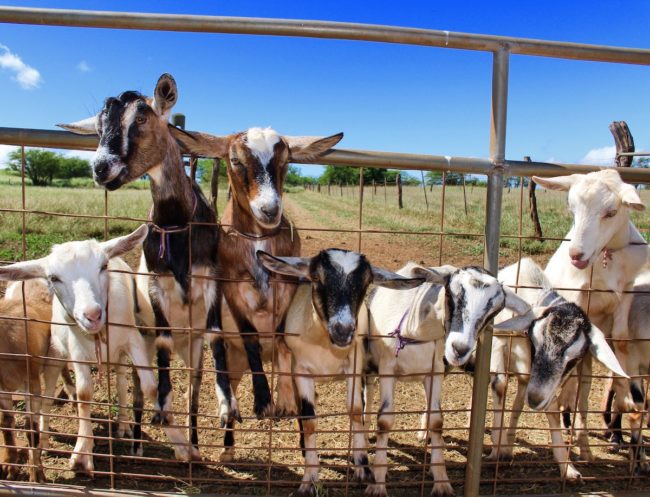 You can go wine tasting up-country at Maui Wine, visit Surfing Goat Dairy, or even take a tour of Ocean Vodka. The beaches are long and wide, and water sports are ready when you are! And the rainbows appear any time there is a rain shower and the sun comes out. 
The Virtual Vacation Maui Series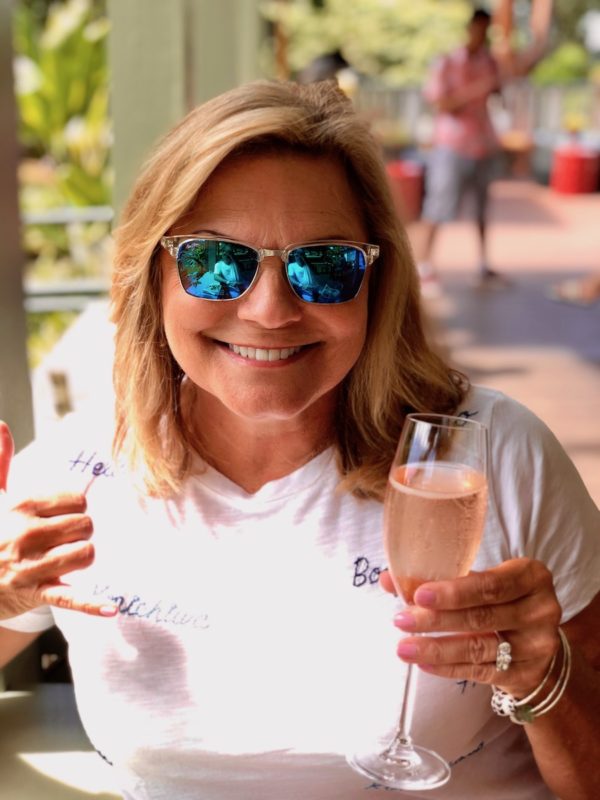 I decided to make this a series of articles, so there wasn't too much to digest in just one post. How do you begin? How much time and energy do you have to recreate the feel of Maui in your own home? Maybe you would like to make a terrific BBQ meal and finish with a divine recipe that tastes just like Kimo's famous Hula Pie? I have that for you!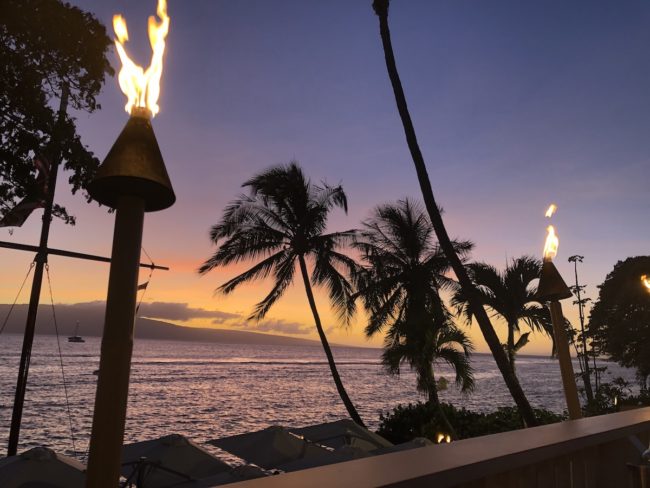 Kimo's has been serving traditional Hawaiian style cuisine since 1977. At this Hawaiian dining oasis in Lahaina, you can sit near the ocean and wait for a vibrant Maui sunset while tiki torches light your table. We love the variety of grilled fish dishes and sides and always look forward to sharing a piece of their world-famous Hula Pie.
Each piece is piled high with ice cream, covered in chocolate fudge and finished with whipped cream and nuts. Absolutely divine! We make our own version at home quite often.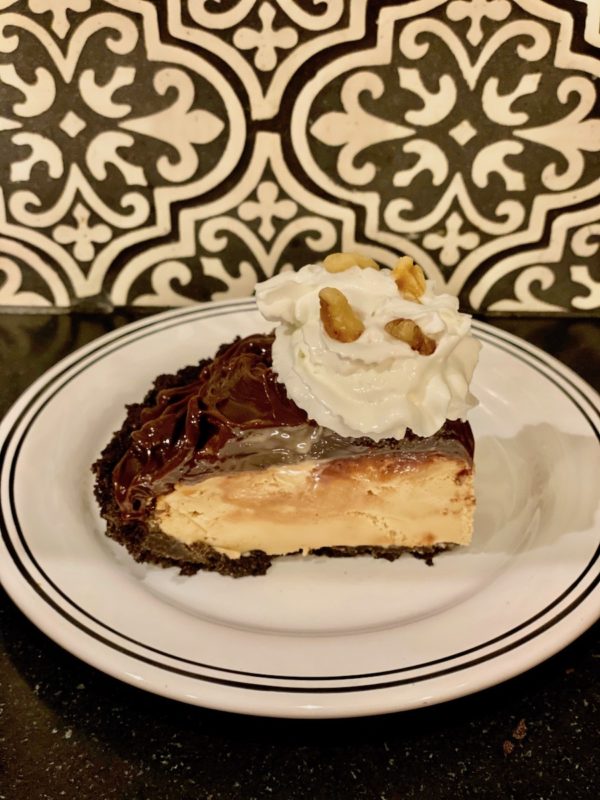 We cannot get to Hawaii right now, but we sure can imagine ourselves kicking back on a lounge chair with a tropical drink in our hands.
I plan to give you the info you need to enjoy a weekend at home, Maui Style. Virtual vacations can be such a fun and exciting way to celebrate a destination without the risks and limitations of COVID-19 and the cost of travel. 
Let's start today with the idea of your surroundings. Do you have a spot in your back yard where you could imagine as a little Maui oasis? Do you have a balcony? Porch? Living room? Work with what you have!
Why not order a beautiful lei from your local florist? You can decide how many you need, but imagine the authentic selfies you can take? SO FUN! I called several florists in the area and looked online as well. I wanted to give business to a local florist, so I chose Duran's Flowers in Pasadena. 
Do you have any Hawaiian or beach-type outfits you can wear to help with your vacation mood? I love Tommy Bahamas and often buy their colorful dresses and bathing suits. Craig has a collection of casual and Hawaiian shirts that he wears, again and again, year after year. They never go out of style!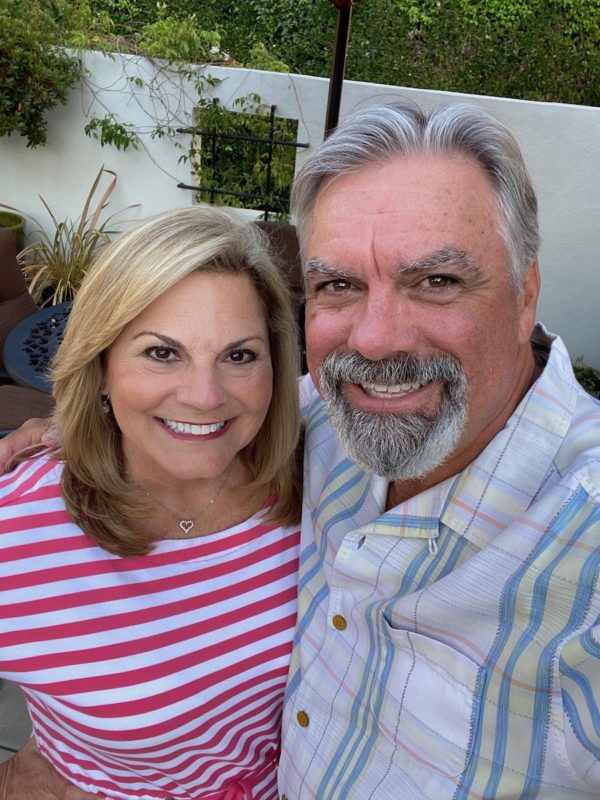 Can you set aside an evening or weekend (or week if you want to ) to create a virtual vacation Maui Style? This idea will work for singles, couples, and families, and you can decide which of my suggestions appeals to you most or use them all!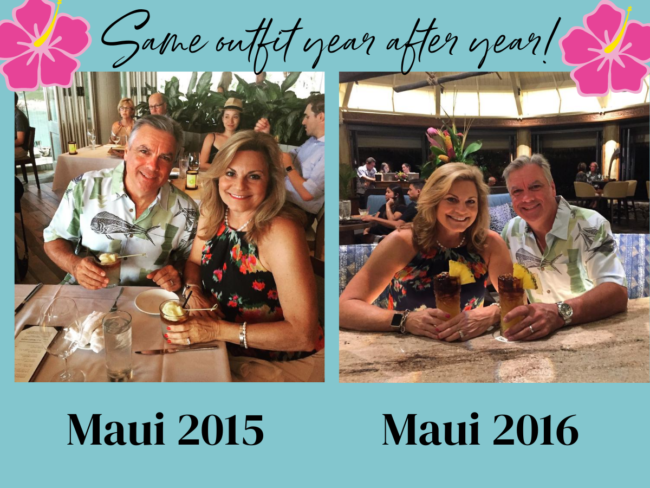 Why not take this idea to the next level by creating a backyard setting like a movie set! Bring in sand if you wish! Do you need to buy new beach towels? We did, ours were pretty tired, and I found four new ones on Macys.com on sale!
Are you starting to feel it? What do you think? Should we start with a Mai Tai! I think so. Check out our new Mai Tai Cocktail Adventure on my IGTV Instagram – HERE!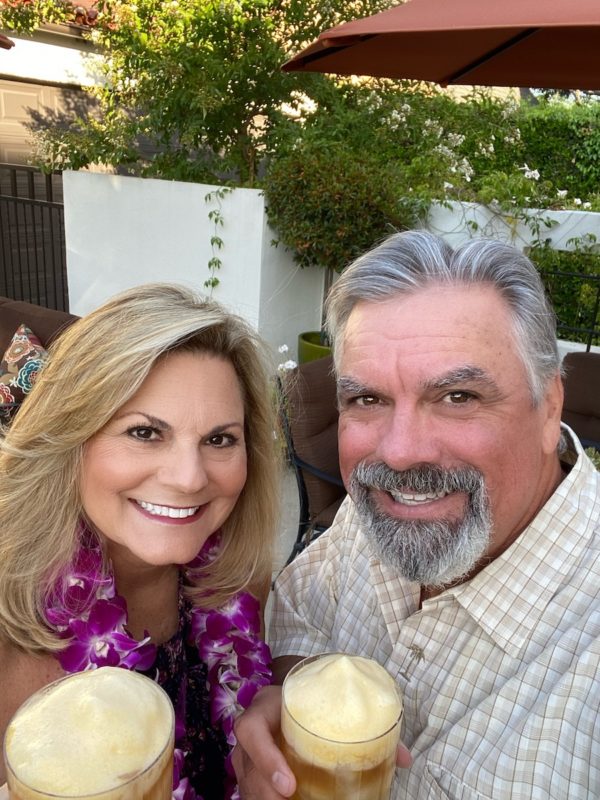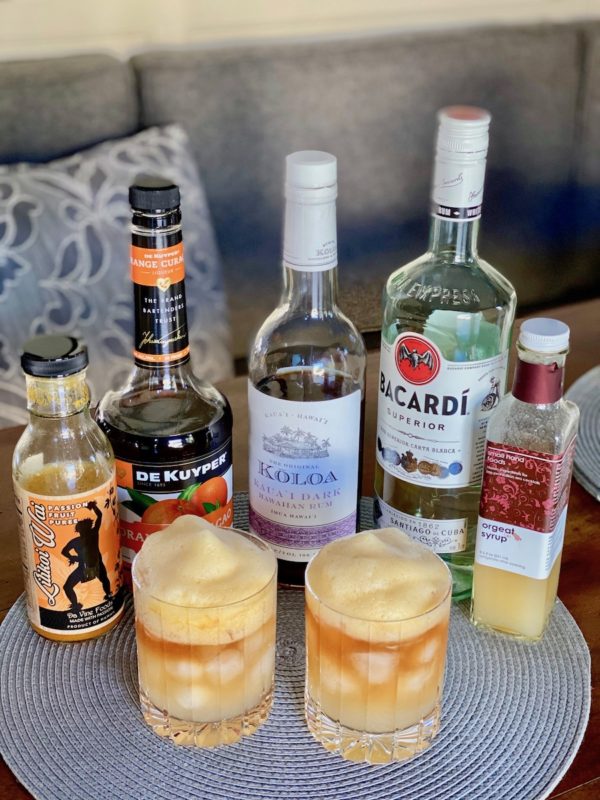 Monkey Pod Mai Tai
Ingredients:
·      1 oz. Light Rum
·      1 oz. Dark Rum
·      1/2 oz. macadamia-nut orgeat or almond orgeat
·      1/2 oz. Orange Curaçao
·      3/4 oz. fresh lime juice
Honey Lilikoi Foam
·      1/2 oz. honey
·      1 oz. lilikoi purée – Da Vine Brand
·      1 oz. simple syrup
·      1 oz. egg whites
·      1.5 oz. cold water
Method 
Mix foam ingredients well and put in a Whipped Cream Dispenser and refrigerate. OR Use a hand mixer in a bowl & blend ingredients on high speed till foamy. We had better luck with the bowl method, but I would try the Whipped Cream maker again. It makes a pretty design with the dispenser tip.
Add lime juice, orgeat, Orange Curaçao, and Light Rum to mixing glass. Shake with 1 cup cubed ice about 30 seconds and pour into a highball glass. Float dark rum. Top with honey-lilikoi foam 
Note: Recipe makes plenty enough foam for four cocktails. It keeps for a couple of days in the canister, refrigerated. If made in a bowl, it best to use right away. Refrigerate between uses.
There are more blog posts to come! Want to skip ahead to your Virtual Vacation now?
Click on the photo below for the Complete Download of ALL Recipes and product links for this Virtual Vacation – Maui Style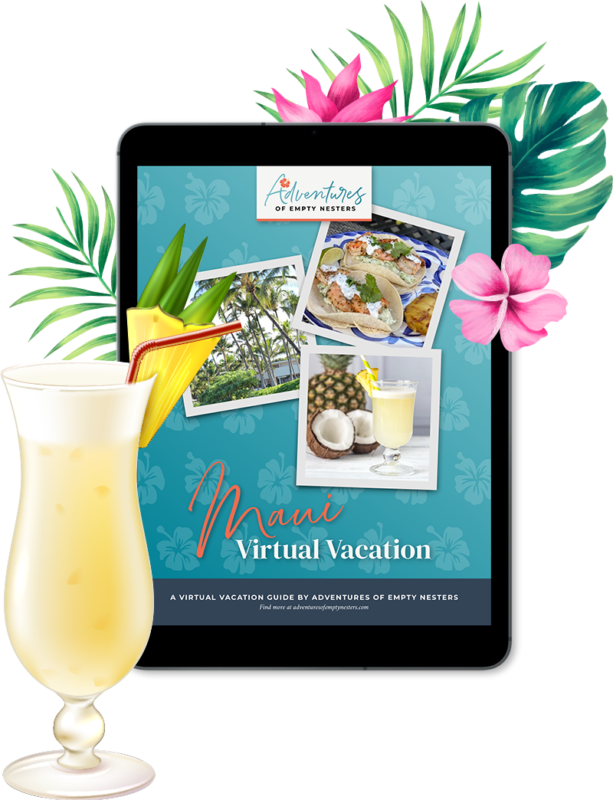 Final Thoughts: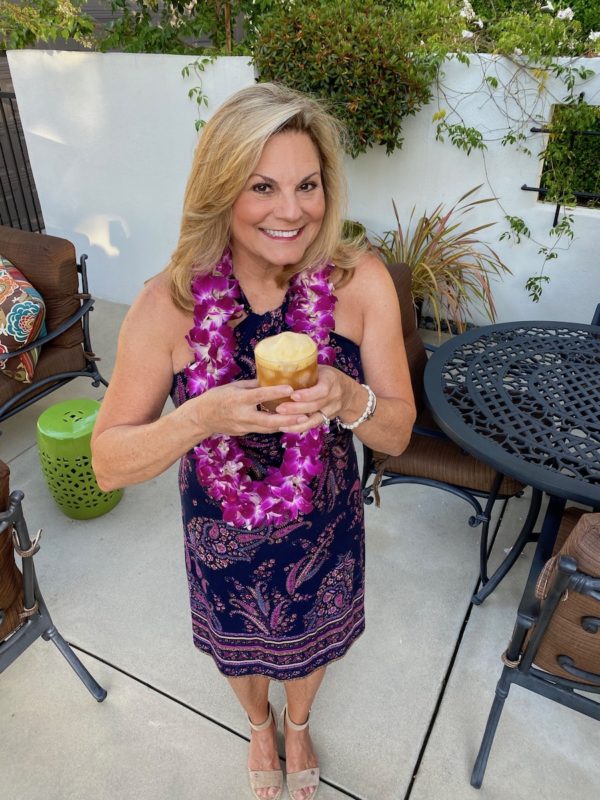 I created this virtual vacation just for YOU!  Maybe you want to do EVERYTHING; perhaps you just want to make a cocktail. You can pick and choose, mix and match any of my Hawaiian ideas. I promise it will be a different sort of vacation filled with authentic Hawaiian treats, and you will have a blast! This will be the most amazing vacation you make just for yourself, family & friends… at HOME!
We have a new logo for the series too! (How cute is this?)

When you recreate any of these ideas, please let me know! Use the tag #virtualvacationmauistyle on Instagram or Facebook and tag me HERE and HERE.
Thank you for Caitlin Shannon of Ember & Co for the Maui Style logo and gorgeous design in the guide!
Aloha Friends!
---
Pin Me on Pinterest!