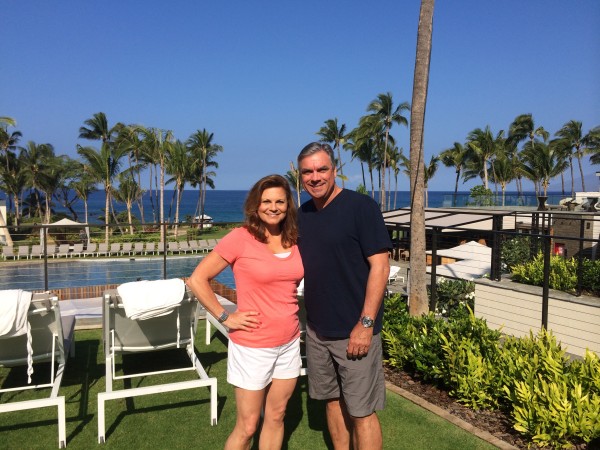 The best resort in Maui comes complete with friendly people, incredible architecture and amenities, sensational sunsets, glorious food and whale sightings!  It is the Andaz Maui at Wailea, an eco-friendly beachfront resort and my new favorite tropical location! Pack your bags and leave now, it is extraordinary!
After a relatively easy five hour flight from Los Angeles directly to the Kahului Airport in Maui, we drove about 10 miles to the resort in Wailea. On our short drive we noticed that the landscape is amazing with views of gorgeous green hills and vast fields of sugarcane. When we arrived at the hotel, we were welcomed like royalty and were immediately amazed by views of the blue Pacific everywhere we looked. We chose the Andaz Maui at Waliea because it is brand new, an eco-friendly resort with relaxing infinity pools and an organic spa right on the beach in Wailea!
Our arrival:
You are greeted by architectural design that is not your typical chain hotel – it feels unique and chic, but not snobby. The staff is so welcoming and accommodating as well- your complete happiness is their ultimate goal.
The inventiveness of the lobby is serene and so gorgeous, that I could not decide which photo to show you, so here are several! After you walk through a visually exquisite entrance hallway, you enter the main lobby. There is a quaint sitting area directly in the center that has beautiful powdery white sand on the floor! Yes, I said sand! It was so cool!
The Entrance and Lobby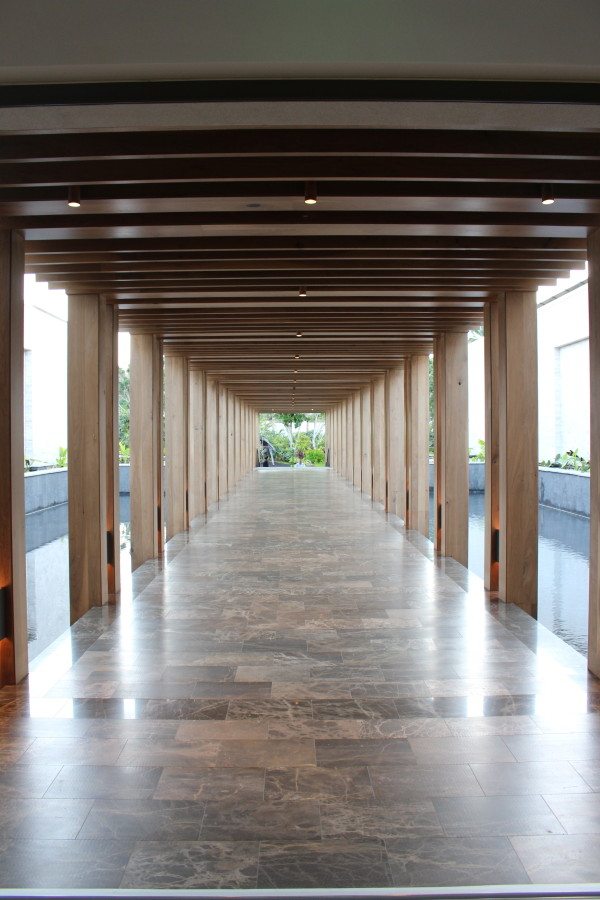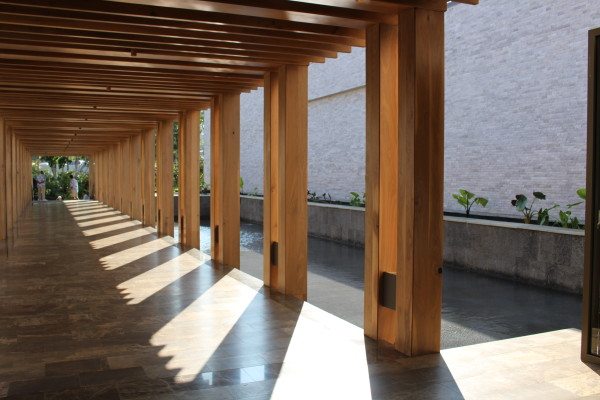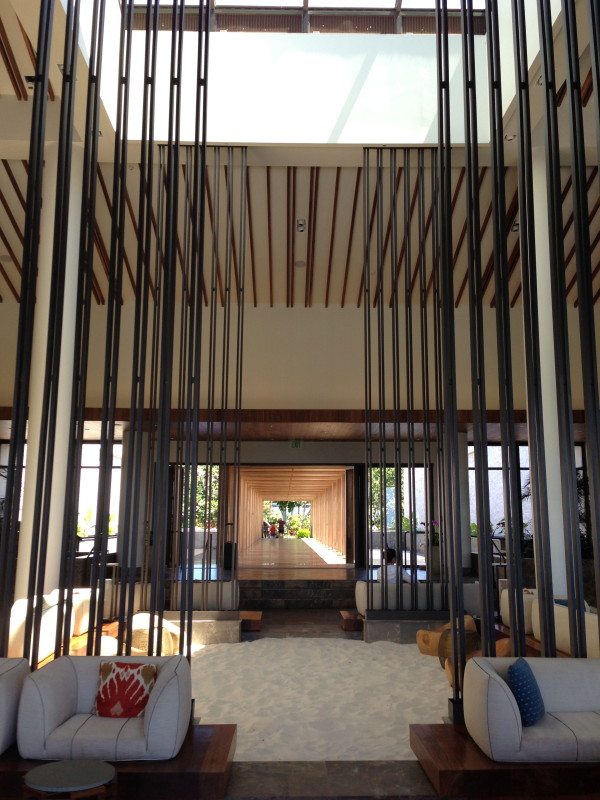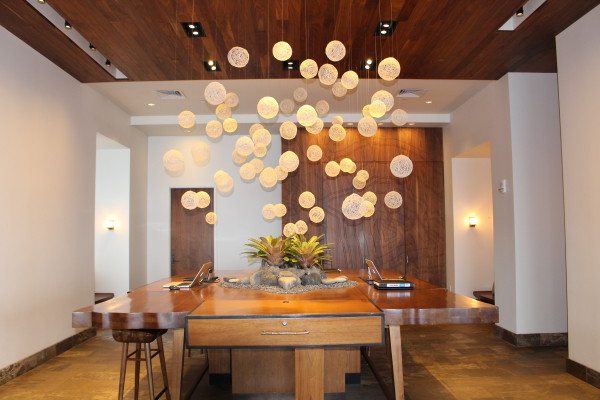 Breathtaking view of the infinity pools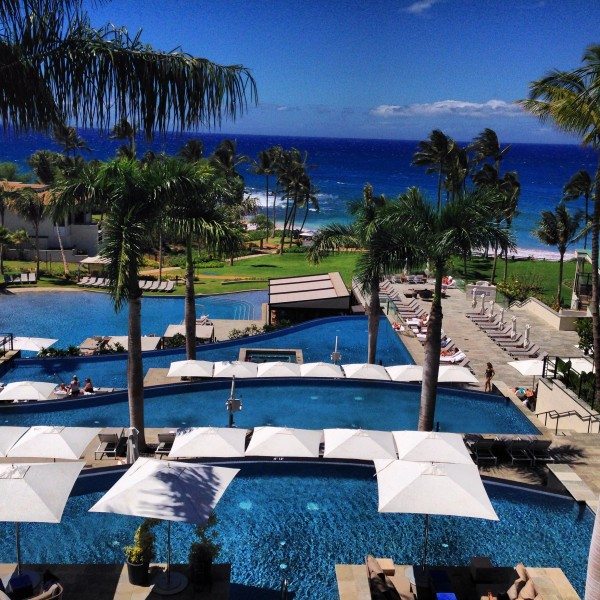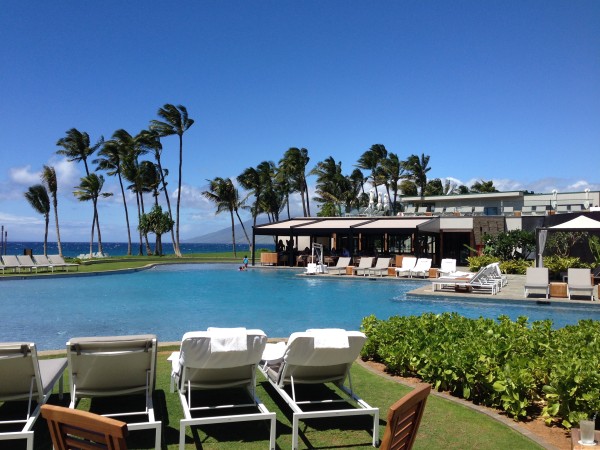 I have been extremely fortunate to stay in many wonderful hotels, but as a rule I would probably never say that in addition to the service and beauty of the hotel- that the food could be a focal point! Even if I was not staying at the Andaz, I would go there just to enjoy the restaurants! The cuisine is out of this world.
I'm a food lover and appreciate great tasting cuisine that begins with local organic ingredients. Have you ever been to a restaurant that showcases the farms where the fresh fruits, vegetables, dairy and meats are grown? I love that!  At the hotel restaurant Ka'ana Kitchen, they list right on the menu where the local ingredients originate on the island of Maui. You never see this type of information on a menu!  On my Friday blog post, I will tell you about the delectable meals from our vacation. I like to travel for the food experience as much as I do the destination!
You would think that I was being paid to tell you how amazing this Hawaiian resort is, but I am not. I am just an enthusiastic, appreciative traveller who wants to share this with everyone who wants to know! Telling you about our 30th wedding anniversary adventure in Maui is something I am thrilled to be able to do.
The month of March is near the tail end (pun intended) of the migration of the whales and we could see whales from the balcony! I kid you not! We could see the breaching, the spouting, and the tails flapping out of the water! It is worth traveling to Maui this time of year to see this miracle of nature.
If you are contemplating a trip to Maui in the future, you absolutely need to take a serious look at the Andaz Maui at Wailea and live the dream like we did! Please tell them Craig and Suzanne say Hi!
Aloha!