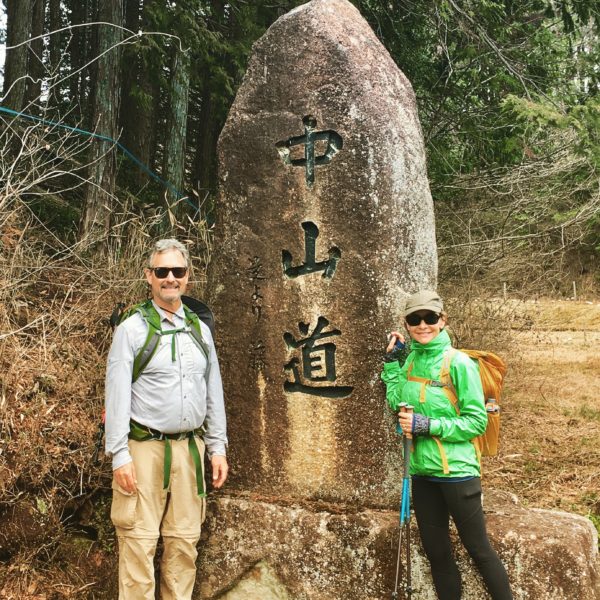 Please welcome back Guest Adventurer, Angela Light, my college roommate and dear friend. She and her husband Jon are avid world travelers and the minute I heard about their most recent travel adventure, walking through Japan, I asked her to share it with you! Thank you Angela! 
Walking Through Japan ~
Last year my then-59-year-old husband announced, "I don't want a big party for my 60th! I just want to go somewhere with you. " Jon is an avid sushi fan and a lover of the Japanese culture, so Japan it was. We decided on a three-week journey around spring break that would include two weeks in Japan and a "relaxation" week in Hawaii on the way home.
We had hiked with Backroads in Iceland the summer of 2015 and absolutely loved it.  Jon wanted to duplicate that kind of experience in Japan.  We love resorts, cities, fancy restaurants and hotels, and lots of culture, but we had recently discovered that we also enjoy another kind of adventure.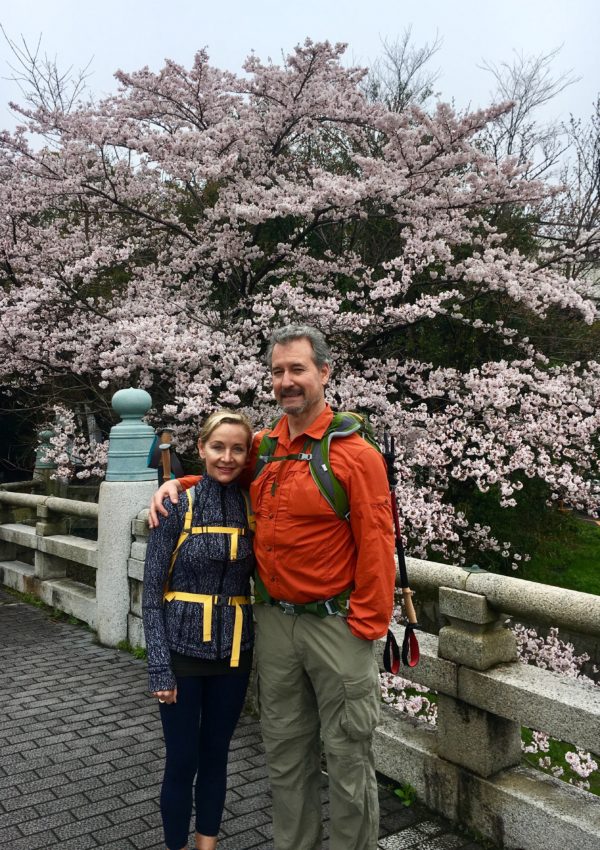 Our Adventure ~
After lots of enthusiastic research, Jon chose a remarkably well-priced 10-night/11-day hike along the Nakasendo Way through Walk Japan. The Nakasendo is the ancient mountain trail that stretches between Kyoto and Tokyo. Its history is fascinating and was a big part of the experience. It dates back to the 7th century, although it was considered most important during the Edo Period (1603-1868) when the Tokugawa shogun ruled Japan.  Two professors founded Walk Japan in the early 1990s and although this is their signature "walk" they also offer other tours.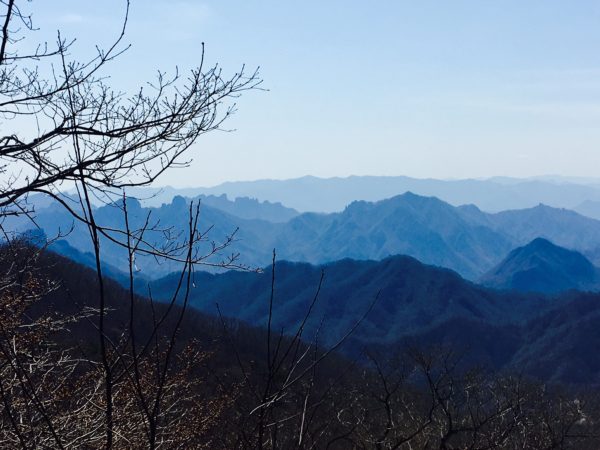 Japan is a magical place. The people are friendly, hospitable and helpful despite a significant language barrier.  The food is excellent (although the exotic blowfish was a bit of an anticlimax). Japan has the second most Michelin star restaurants in the world after France.  The landscape is magnificent. The trains and subways are clean and efficient.  It's an incredibly safe and beautiful place.
We spent three days in Kyoto at the front end of the trip, staying at the lovely Westin Miyako Kyoto, taking in the cherry blossoms (we were fortunate to hit the peak of the season), dining on exquisite Japanese cuisine including a Michelin two-star meal at Ryozanpaku, and visiting shrines, temples and the Emperor's Palace.  We also spent three days in Tokyo at the back end, enjoying our 45th floor view of Mount Fuji from the iconic Park Hyatt Tokyo (featured in "Lost in Translation"), an informative guide named Junko, the one-day-a-year Honozumo (the season-starting ceremonial sumo tournament  conducted since 1869), our visit to Tsukiji fish market (the world's largest fish market), and shopping in the Ginza district.
Our first day on tour was actually just an evening.  Jon and I took a cab across Kyoto and met our travel group at a boutique hotel. Our Australian guide, John, gave a brief orientation about the trip followed by a get-acquainted dinner. John speaks fluent Japanese and lives in Japan with his Japanese wife. Our travel mates were nine other Aussies and one retired teacher from Singapore. It was an extraordinarily fun and well-traveled group.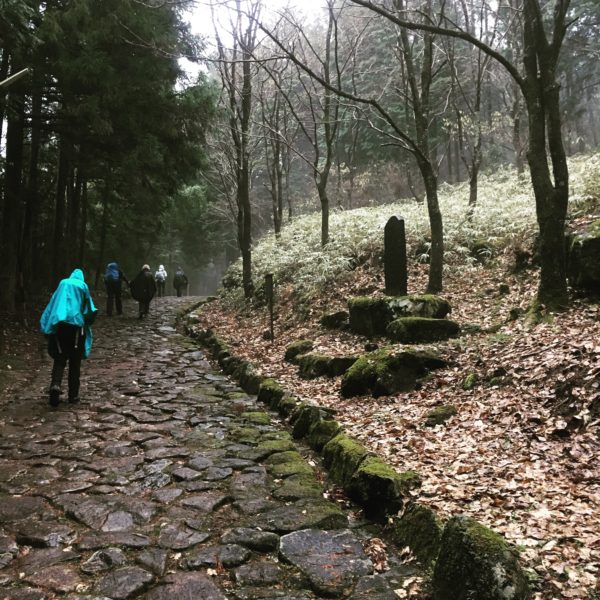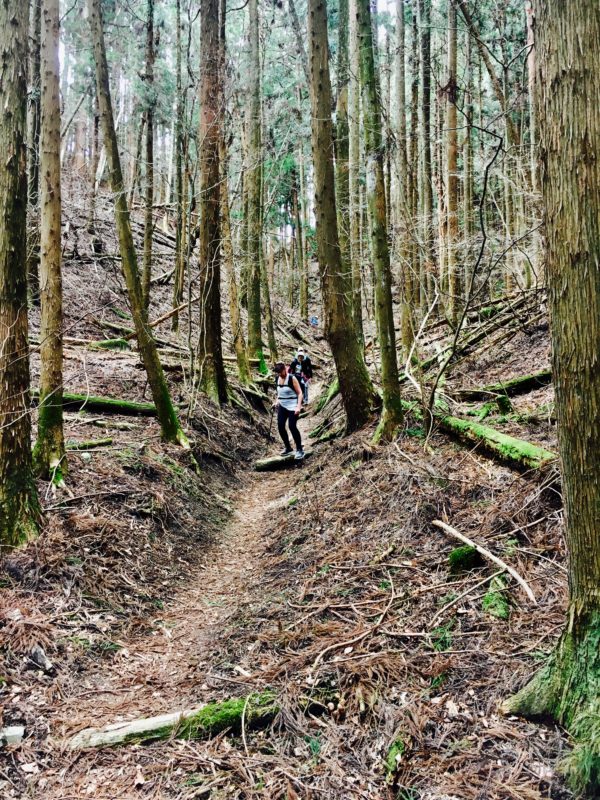 How would we travel? We'd end up hiking between five and 15 miles each day, and travel by train and bus a few times, including on the Japanese Shinkansen bullet train. We would pass through remote areas of the mountains that very few who visit Japan ever see and we would stop in the few remaining post-towns—Shogun-controlled towns dotted along the Nakasendo that provided travelers with food, accommodation and entertainment.
The walk continues…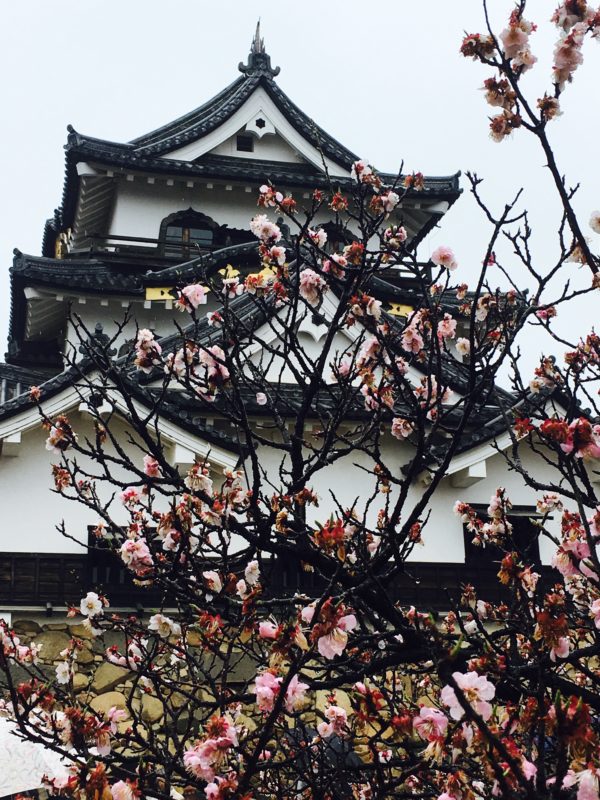 The first full day (day 2) we took the train to a shogun's castle, walked for 6 miles, admired millions of cherry blossoms and checked into our first ryokan.  The ryokan experience was one of the most unique aspects of the trip.  Ryokans are traditional Japanese inns that originated over 400 years ago to serve travelers along the Nakasendo. They typically feature tatami-matted rooms, communal baths, and living areas where visitors may wear yukata and talk with the owner.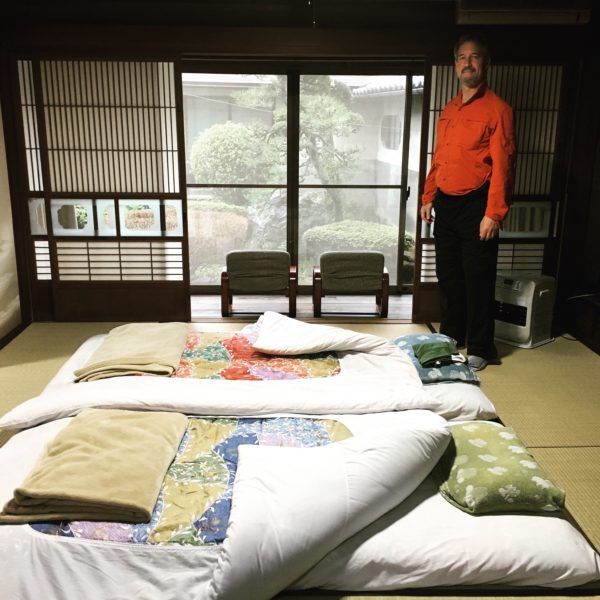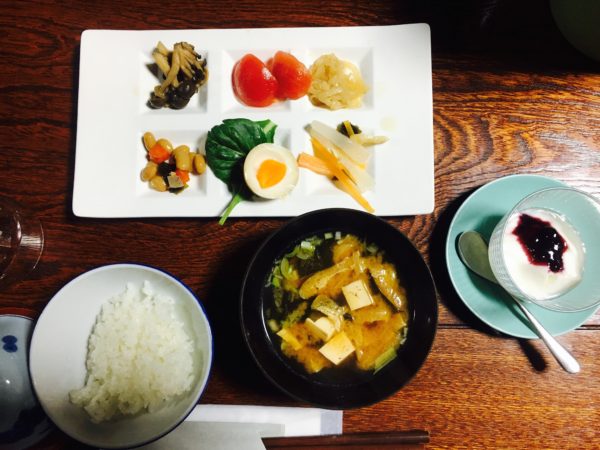 The second full day included a lovely lunch, 8.5 miles of walking, and a late afternoon stop for tea and cake at a surprisingly chic mountain café, La Province (the Japanese love everything French).  As always, upon arriving at our ryokan, we left our shoes at the door, took turns in the bathroom ("toilet"), and showered while sitting on a stool with a handheld spigot before donning the yukata-of-the-day for our delicious communal dinner.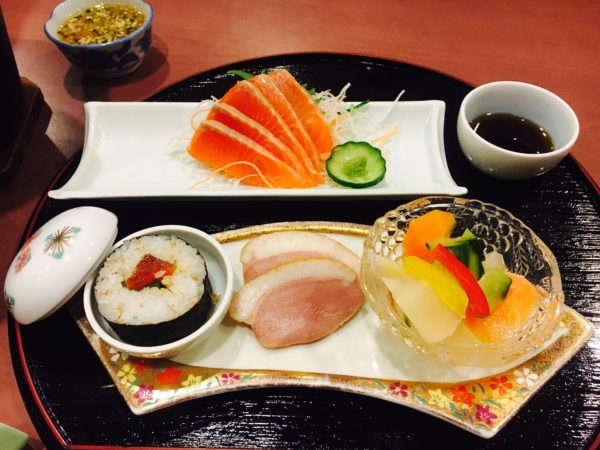 The first half of the trip was filled with plenty of walking through Japanese farming hamlets.  One of the highlights was witnessing the day-to-day life of the locals.  One day we came upon an elderly man foraging for mushrooms on his small property. He was proudly turning logs and pulling the fungi out of the earth to sell to a woman who operated a small food truck.  Hours later we found her again, parked and selling fresh food from her vehicle.  We made her day when our hungry group nearly bought her out.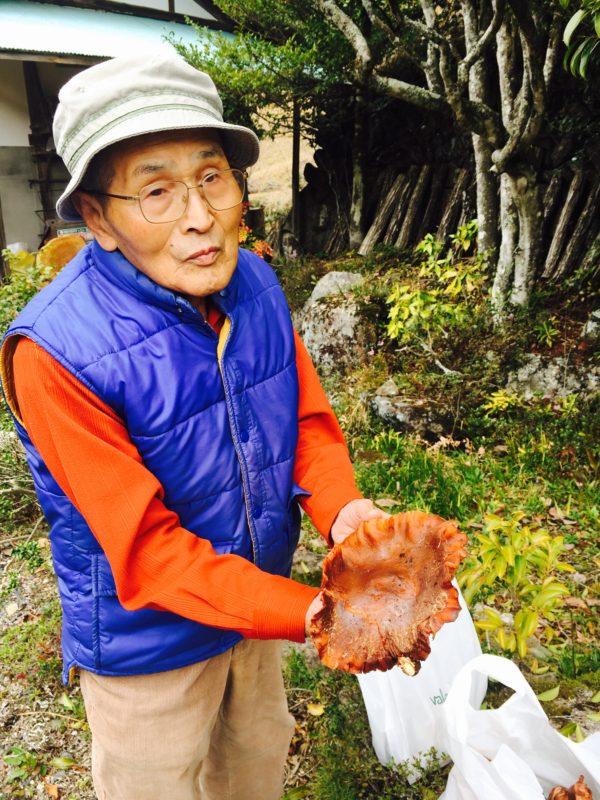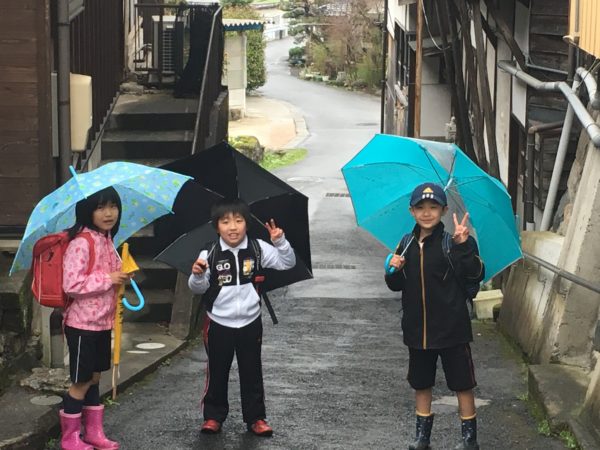 Our journey included many sites representative of the culture: a tea house in the middle of the mountains, the Hiroshige Print Museum where we made our own Japanese block prints, a phallic-rich fertility alter, waterfalls, rice paddies, water wheels, Japanese gardens, a suspension bridge, shogun castles, Zen temples, Shinto shrines, a fish farm, wild bear warnings, a wild boar sighting and spectacular views of Mount Ontake, Japan's second highest mountain and still an active volcano.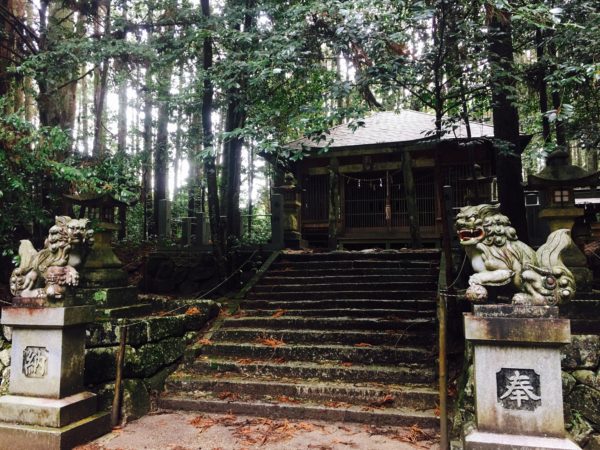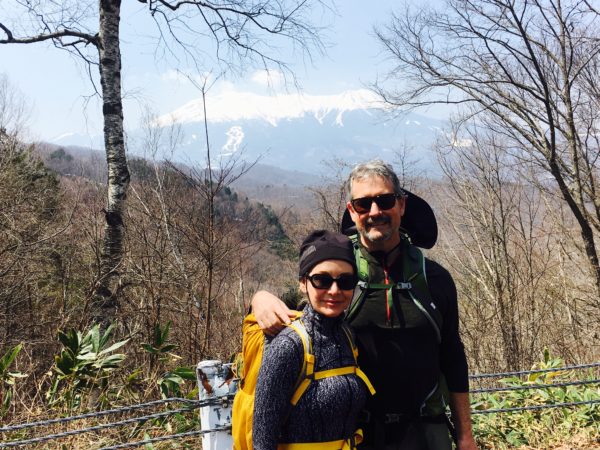 What is an onsen?
Day 6 we had our first experience in an onsen, a Japanese hot spring with bathing facilities and inns situated around it. Japan has thousands of onsens scattered throughout the country.  They are communal baths segregated by gender—and the custom and expectation is to "bathe" in the nude after a good scrub in the shower area. There was much anxiety among my fellow female travelers at the prospect; after our first evening in the onsen, however, we were hooked and our inhibitions evaporated in the steamy water.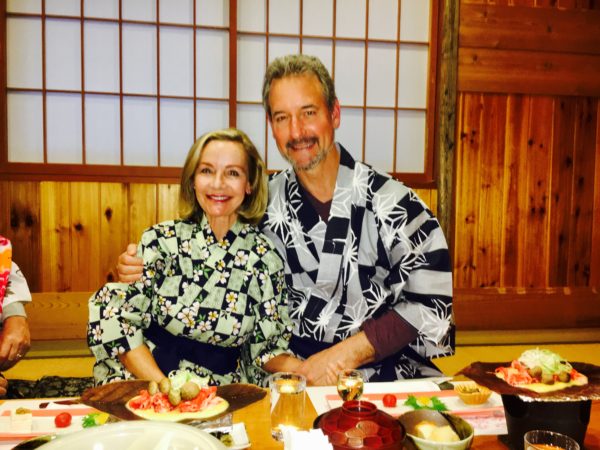 Day 8 of our journey, probably the most memorable, included an 8.5 mile walk of over 100 "floors." We tackled a ridiculously steep hike up to a 360° observatory point that was absolutely stunning. We trekked through snow with crampons on our boots, led by a local Japanese guide who moved at warp speed. We stopped at stables to pet Japanese ponies and had a delicious miso pizza lunch at the mountain home of a lovely Japanese couple that performed for us as they shared their musical talents. Jon and I agreed that this was our favorite day on the trail.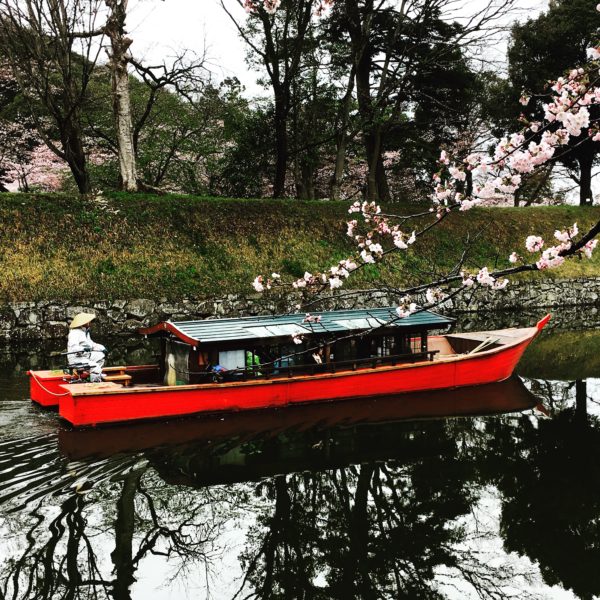 Before arriving in Tokyo, we spent the last night and the following morning in the Aspen of Japan. Karuizawa is the mountain playground of Japan's elite. That final day on the trail we headed uphill and walked 10 miles over a steep mountain ridge and down to a town where we caught a series of trains into Tokyo and on to Nihonbashi, the end point of the Nakasendo in the heart of the city.
Our final night with our fellow Walk Japan travelers ended with a celebratory meal. We gathered for breakfast the next morning and then went our separate ways.  We've since joined a special Facebook group to stay in touch.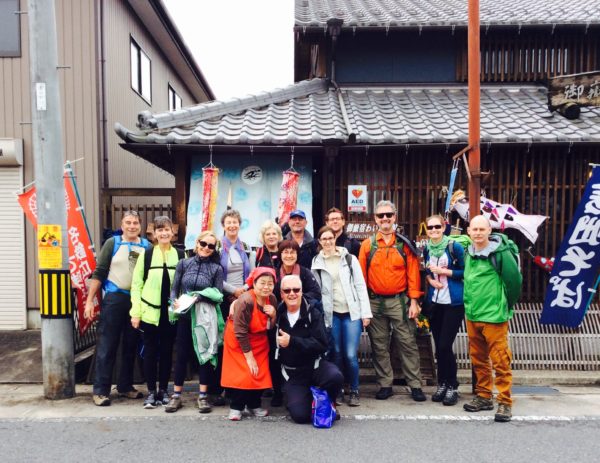 Over the course of this adventure we walked nearly 85 miles and climbed 656 "flights" according to our devices. We saw amazingly beautiful and remote parts of Japan. It was truly incredible.
A month has passed and we are both back in the saddle: Jon to his law practice and me to my third grade students. As one of our Aussie travel mates, Netta, warned us, "it will all feel like a dream after we arrive home." It kind of does.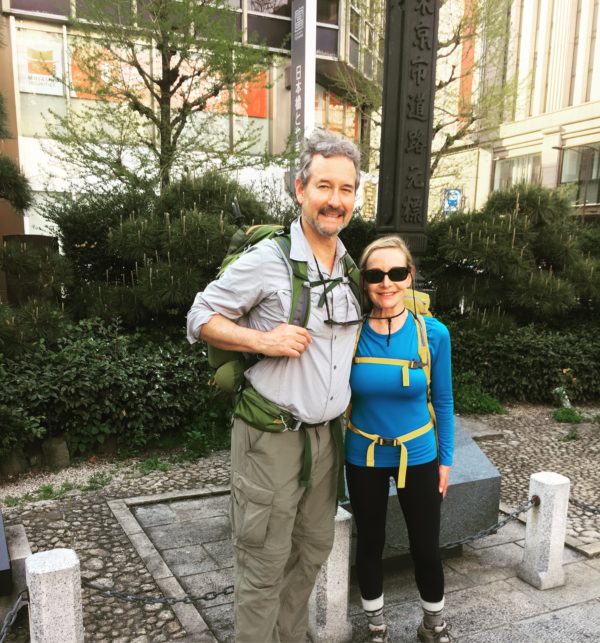 Final thoughts about walking through Japan
We are seriously considering going back and doing another "walk"—we loved Japan and the Walk Japan experience that much. It added a rich and rigorous fitness component to our visit and it exposed us to life in parts of Japan that few visit. I would offer that it's not for the faint-hearted. One needs to be able to comfortably hike up to 15 miles and climb up to 165 floors in a day, eat unidentifiable yet delicious Japanese cuisine kaiseki style, and be willing to stay in ryokans—sleeping on futons on tatami mats with rice paper walls between you and your neighbors and perhaps, sharing a single bathroom with all your travel mates. No problem! Bring it on!
---
Please forward this post to friends and family. They may never have ever heard of the Nakasendo Way, but now they will. What a remarkable adventure!
Thank you Angela for writing this intriguing account of your trip and for sharing your beautiful photos.
---
Follow us on Twitter, like us on Facebook, check out our photos on Instagram, or pins on Pinterest