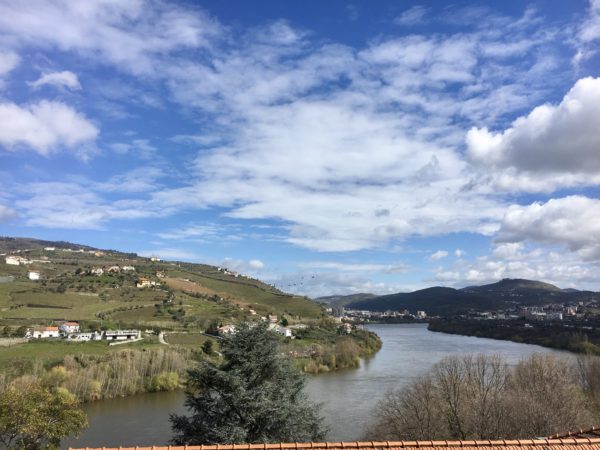 Please welcome back Angela Light, my longtime friend and traveler who spent a great deal of time and energy to write this fantastic post for all of us! Her over-the-top amazing vacation in the Portuguese countryside absolutely captivated me. The dreamy descriptions and elegant accommodations coupled with world class cuisine is my kind of vacation. Take a minute to enjoy this post, it is incredible & I just loved her adventure!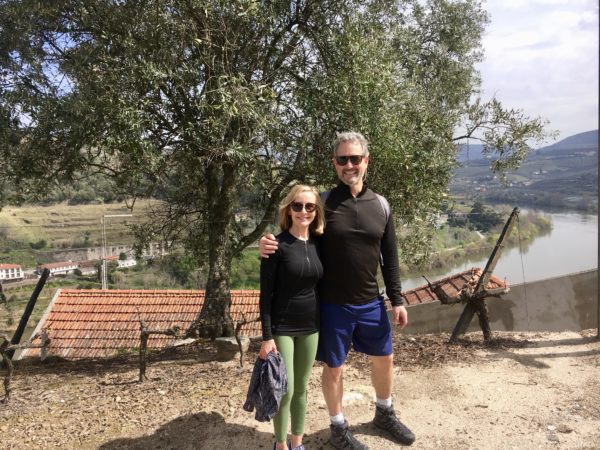 What is on your travel wish list?
You learn a lot about yourself the more you travel: if you enjoy traveling with friends versus solely your partner; whether or not you want to incorporate big fitness into your vacations; if you can handle extreme weather; your tolerance for crowds; and how much rest and relaxation you require while traveling abroad.
When we were planning our Portuguese sojourn we knew we were those people who like plenty of R&R, so we included some significant downtime on the itinerary. We decided to go east for some quiet respite, into the Portuguese countryside, in addition to our time in Lisbon and Porto.
Each year Condé Nast Traveler publishes its Gold List, a lineup of properties all over the world that the publication considers to be their "editors' favorite hotels."  Of the three hotels listed in Portugal for 2018, two of them were our country destinations so our R&R expectations were justifiably high.
The perfect first stop in the Portuguese Countryside
After our time in Lisbon we spent two glorious days at Sao Lourenco do Barrocal in the Alentejo region east of the city, close to the Spanish border. To get there we drove through gently rolling hills carpeted in green and dotted with boulders, oak trees and livestock that reminded me of the Santa Ynez Valley, not far from my home in California. Known for its wheat, cork, olive oil and wine, the Alentejo is often referred to as the "bread basket" of Portugal.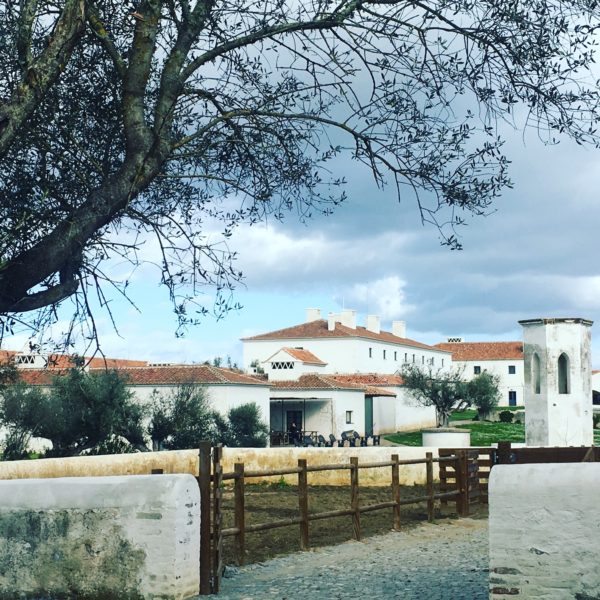 Sao Lourenco do Barrocal
Sao Lourenco do Barrocal is a hotel property like nothing I've ever seen. The owners refer to it as a "farm estate retreat." It is a working ranch and has been in the same family for over 200 years.  The estate covers nearly 2,000 acres. The grounds include a swimming pool (which wasn't open yet when we visited), horses, bicycles, birds, cattle, vineyards, gardens and even an arena that was once used as a bullring. There are 16 Neolithic dolmens located throughout the estate (I had to look it up too). It's pretty special.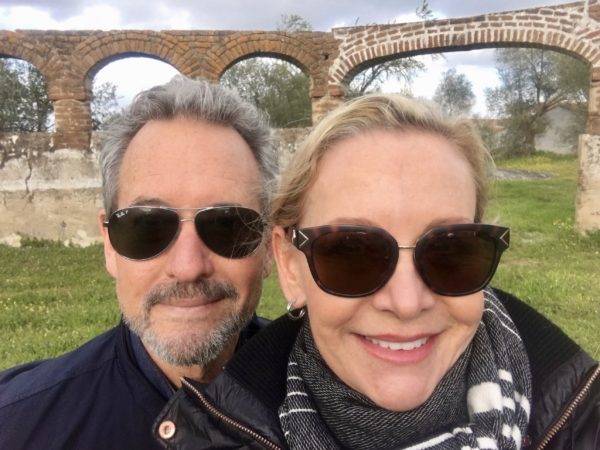 The interiors of the property—and the surrounding hardscape—are spare, streamlined and beautiful in their simplicity. We had a spacious suite with windows that looked up at the medieval fortress village of Monsaraz, just a couple of miles away. One afternoon we took the short drive up there only to stumble on the end of a regional runners' race. The views from Monsaraz are spectacular, especially of the massive Alqueva Lake below, and the walled city, including the castle, are charming and storied. It's a must-see.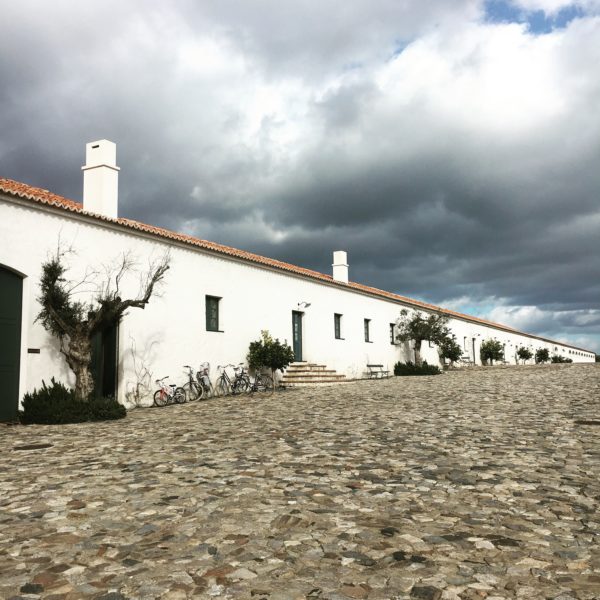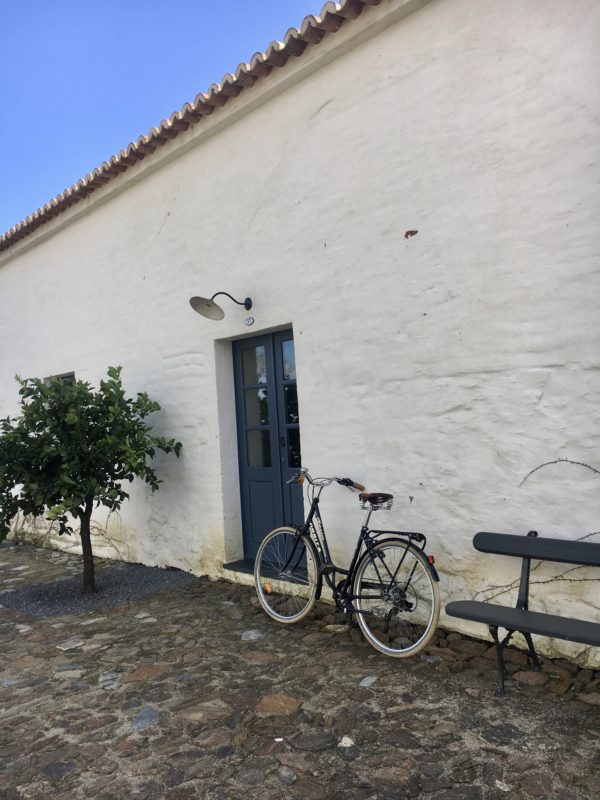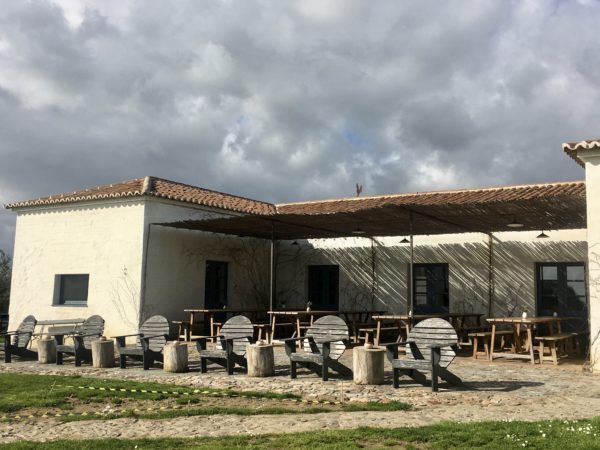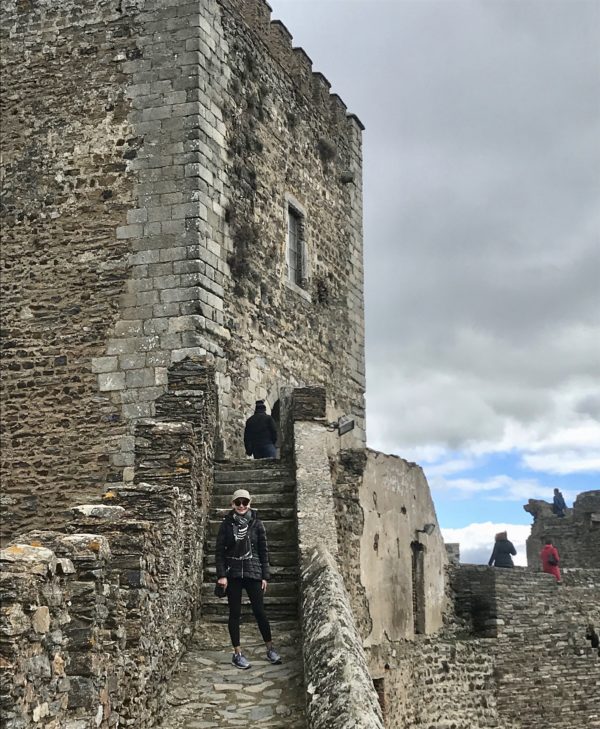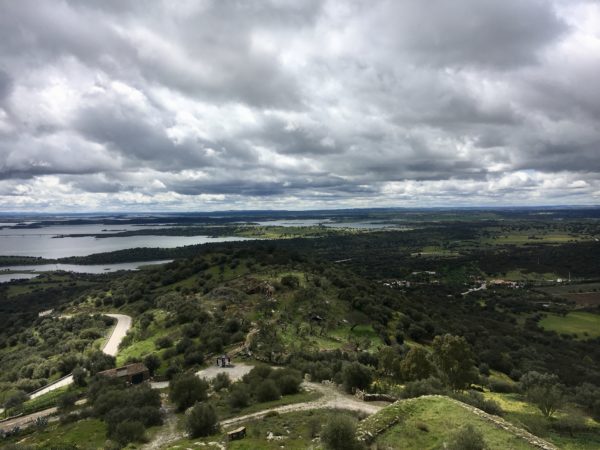 The giant garden at Sao Lourenco do Barrocal is a source for their intimate restaurant. The emphasis is on local sustainability so the menu changes often. We feasted on time-honored specialties as we enjoyed the lovely rustic décor.  We started and ended each evening in the beautifully appointed lobby bar where we sipped our delicious and generously prepared cocktails in leather club chairs.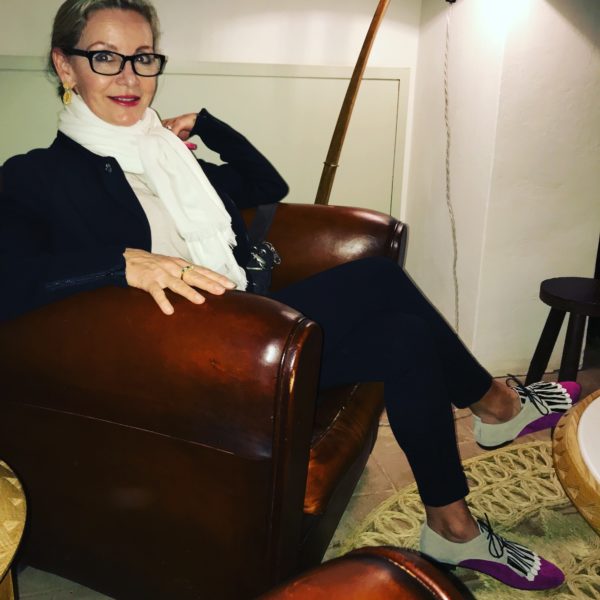 Thanks to our travel agent who booked us via Virtuoso properties, we had a credit for the hotel spa.  After an exhilarating hike in the rain one morning, we were off to the Susanne Kaufmann spa.  In addition to relaxing massages and facials, my husband and I had fun starting our experience in the private hydrotherapy room soaking in the cedar wood tub.
Our second extraordinary property – Six Senses
Fast forward four nights later, after leaving Porto, and we were headed east again but this time to the Douro Valley.  It was gray and raining when we arrived at the magnificent Six Senses.  Like Sao Lourenco, this stunning property is also so much more than a hotel. Formerly a wine estate dating back to the 15thcentury, it has been transformed into a world-class health and wellness getaway. The contemporary interiors are a lovely juxtaposition to the stately exteriors. It's absolutely beautiful and our three-night stay was extraordinary!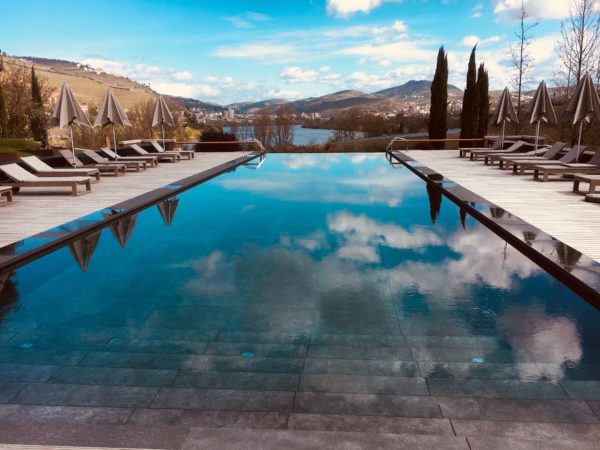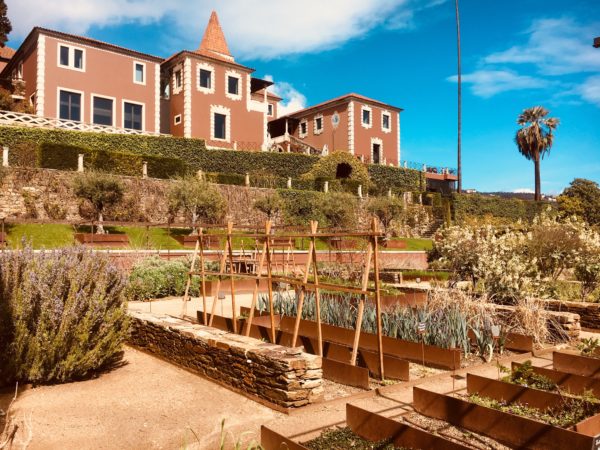 Jon and I know wine country topography but the Douro Valley is different.  First of all, it's been designated a UNESCO World Heritage site. Unlike California's wine regions, these vineyards sit on distinctly tiered hillsides and the landscape is dotted with magnificent buildings that are the visible centers of each quinta (the Portuguese word for winery).  There are more quintas in that region than one could visit.  We didn't go wine tasting; instead we hunkered down on this unique property.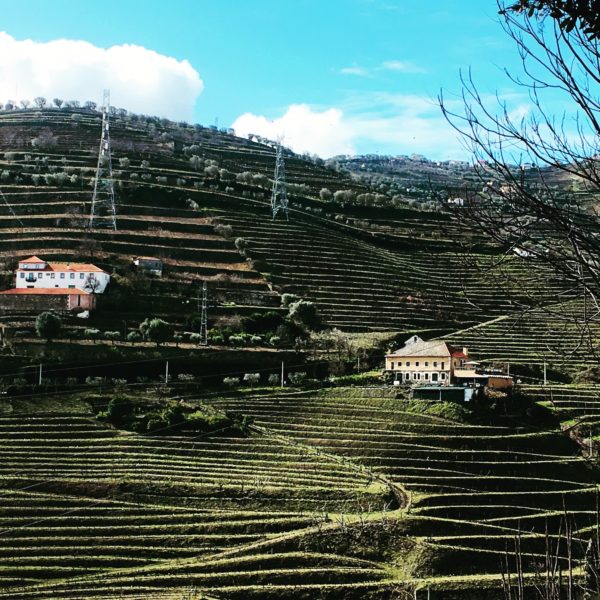 One day we hiked from the hotel only to get lost among the grapevines of one of the nearby quintas. We finally made our way onto the main road, which eventually led us to the bank of the Douro River where we meandered back to the hotel. Along the way we met an expat couple who have been living and working in Switzerland for the last decade. They were a great source for international travel tips and references.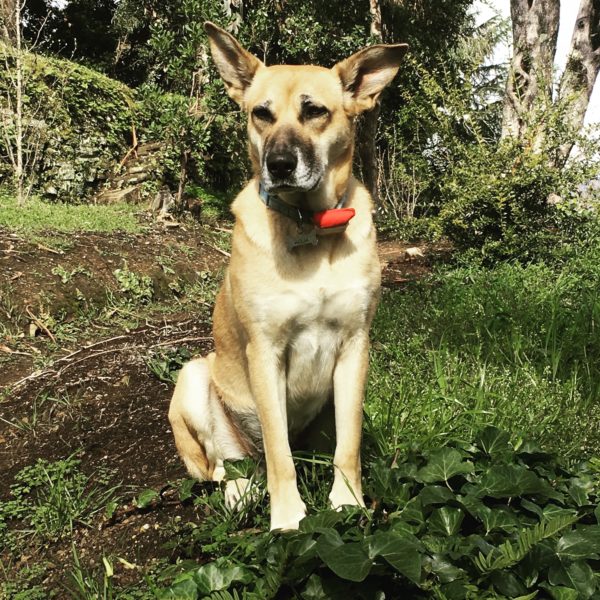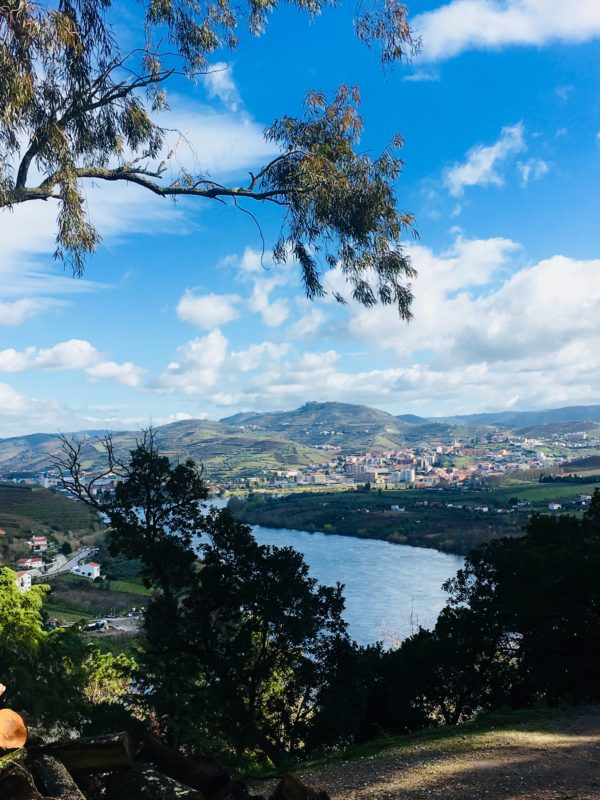 One of our morning hikes included the soulful adopted hotel dog, Tilly, once a local stray, accompanying us as we explored the grounds on the estate. We also took advantage of the many available fitness classes in a state-of-the-art studio that overlooked the Douro River. Fortunately, they offered yoga and Pilates, practices Jon and I know well. In the afternoons we lounged next to the indoor pool as we occasionally ducked into one of the many saunas. The Wellness Center offers a vast array of personalized services including various experiences at their beautiful alchemy bar.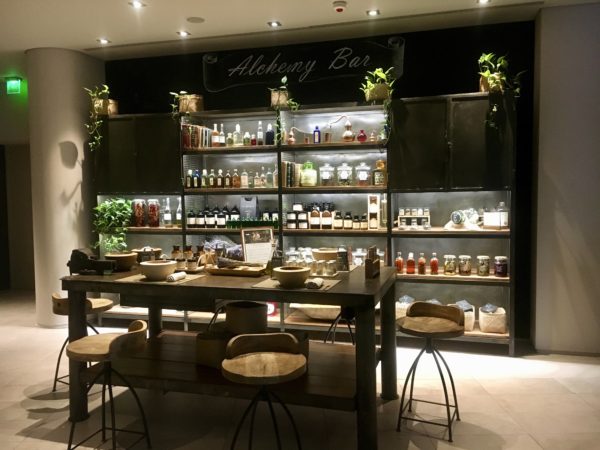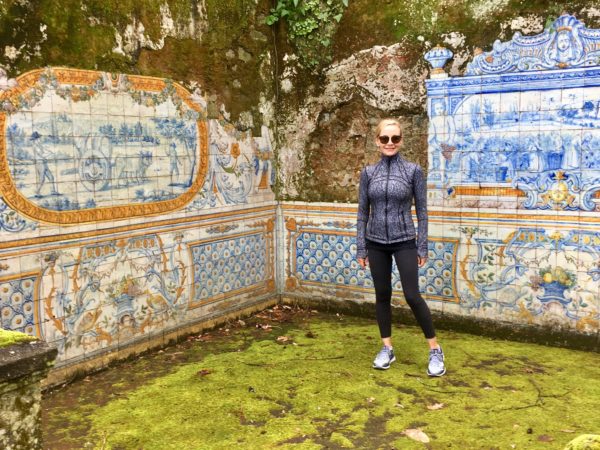 During our stay we encountered very few Americans. The Six Senses at Douro Valley is primarily a destination for Europeans, which made for a more interesting experience. The staff was friendly and helpful. Our first night's dinner was an extravaganza. We booked the Chef's Table Experience,which was a personalized tasting menu with wine pairings at a table in the kitchen with a sous chef and server assigned exclusively to us. It was amazing! They made us feel like royalty as they fed us an absolutely delicious meal, explaining every dish as it was prepared. They even asked me what my favorite music was; upon my response, Led Zeppelin could be heard blaring throughout the kitchen. The evening ended with our enthusiastic chef taking us on a tour of every corner of the hotel's expansive kitchen.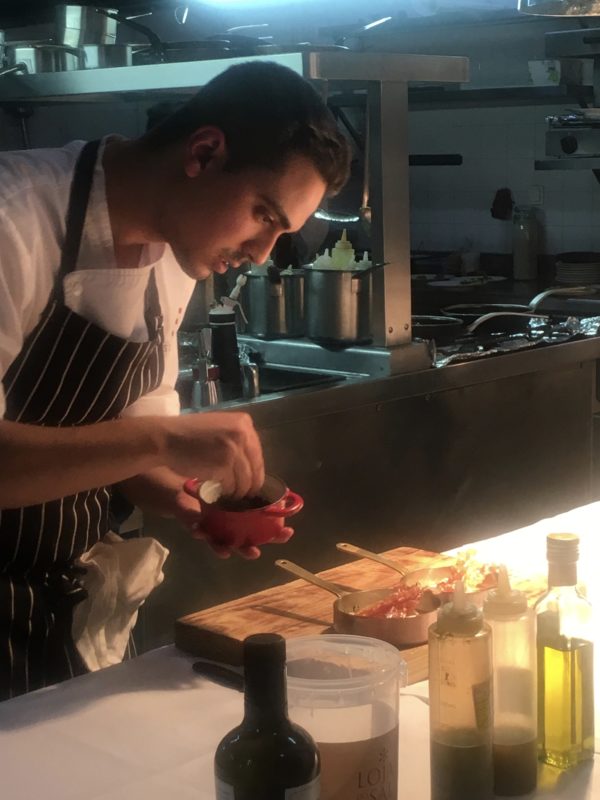 On our last full day, we enjoyed an amazing experience at their world-renowned spa.  We booked the Couples Journey, located in their premier spa space above the river, that included a foot cleansing complete with a Tibetan bowl ritual, and side-by-side massages and facials.  It was long, relaxing and memorable!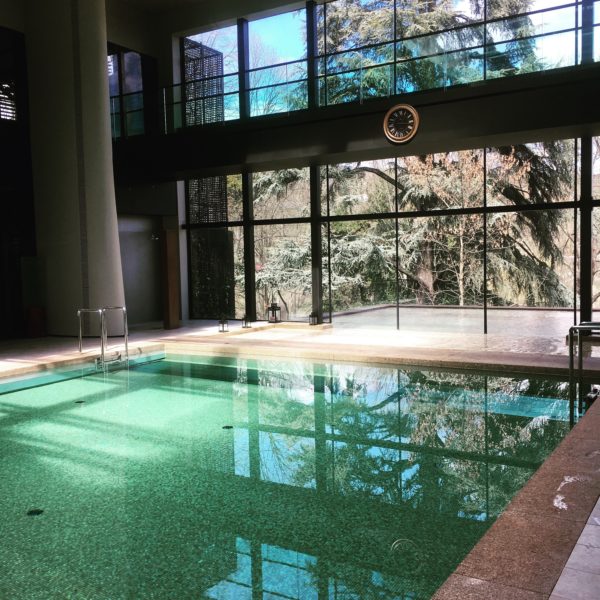 We didn't want to leave
We could have easily stayed at the Six Senses for a couple of weeks. Every meal was delicious with an emphasis on local sourcing. They have a big, beautiful wine library, and a lively cocktail lounge where we got to know the bartenders, played parlor games and listened to live music each night. Between all the fitness, health and wellness, gastronomic delights and imbibing, it was great fun. And the setting…absolutely spectacular!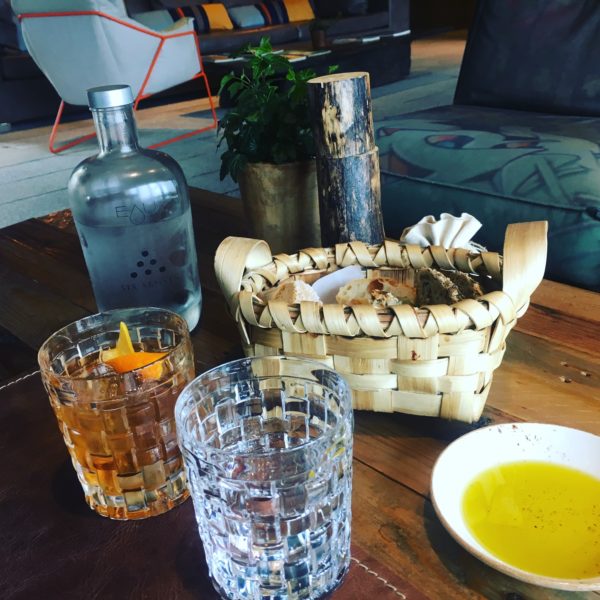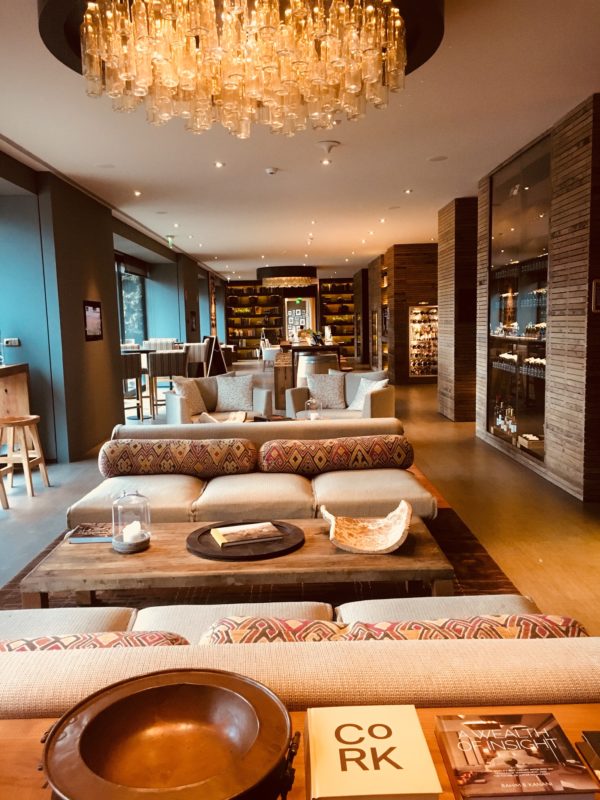 Portugal is high on the list of many travelers
Portugal is "hot." It's featured on all sorts of travel lists. It's a wonderful place; the people, food, topography, weather, accommodations, history, safety. If you have the chance to visit, allow yourself the opportunity to experience some of the regions outside the magnificent cities of Porto and Lisbon. You won't be sorry!
Have you considered taking a vacation in the Portuguese countryside?
Pin Me!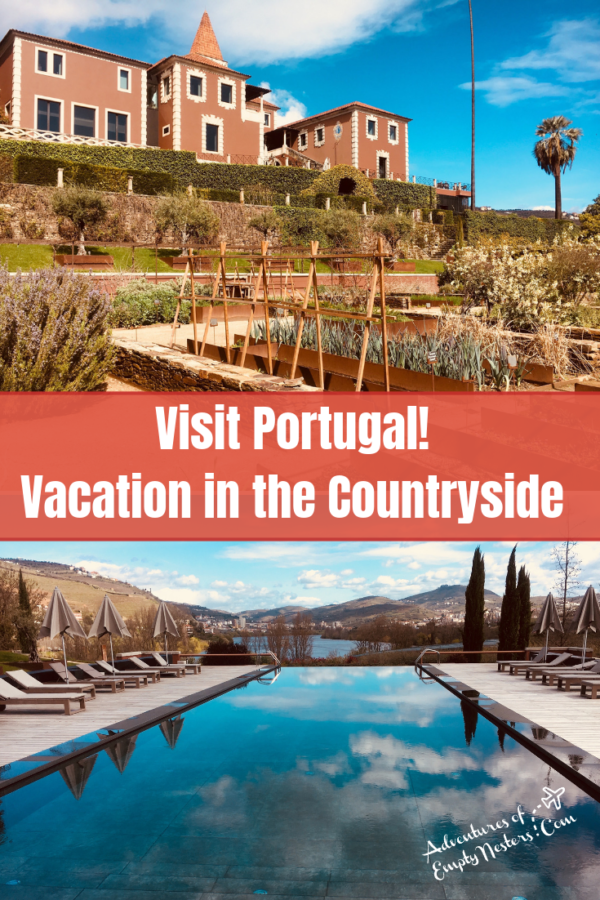 ---
Helloooo!
Make sure you click over to the Home Page to see what else is happening on the blog – At the top of the home page you will find The Empty Nest, Restaurants & Food, Travel, Work with Me, Press and Contact. We have lots to offer here on AdventuresofEmptyNesters.com
Are you receiving our posts via email? If not, sign up over on the right side of this page.
Let's connect over on social media here ==>  Follow us on Twitter, like us on Facebook, check out our photos on Instagram, or pins on Pinterest