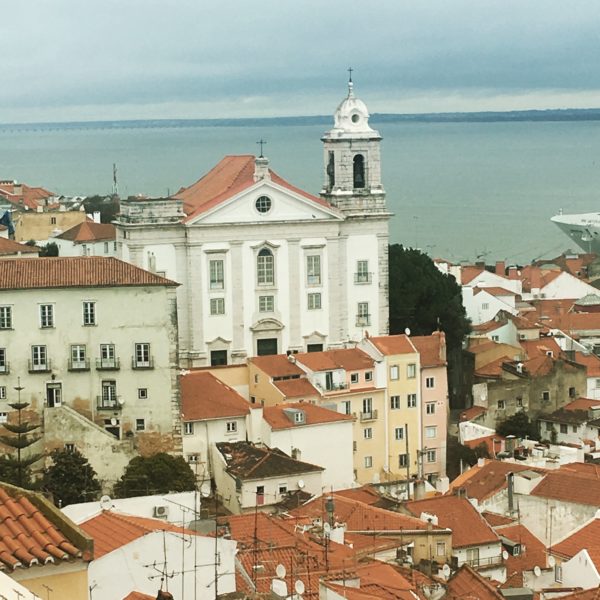 Angela, my dear friend from college and avid traveler, has returned to the blog to share their luxurious adventure in Portugal. I didn't know nearly enough about this incredible country, but now I know that a trip to Portugal must be at the top of my travel adventure list!
---
How does one describe Portugal? Glorious. Mysterious. Land of ancient explorers. A must-go destination.
Portugal had been on our travel radar for some time. Between reading about it on travel sites, seeing Porto featured on my favorite fashion blog, and one of our daughters having visited Lisbon when she was studying in Madrid years ago, that was enough to whet our appetites.
Our trip to Portugal begins ~
My husband Jon and I decided to spend 18 days exploring this wonderful country. After weeks of research with an emphasis on booking Virtuoso properties, we finalized our itinerary.We began in Lisbon, drove around the country and ended up with a five-night stay on the island of Madeira, with one last night in Lisbon before flying home.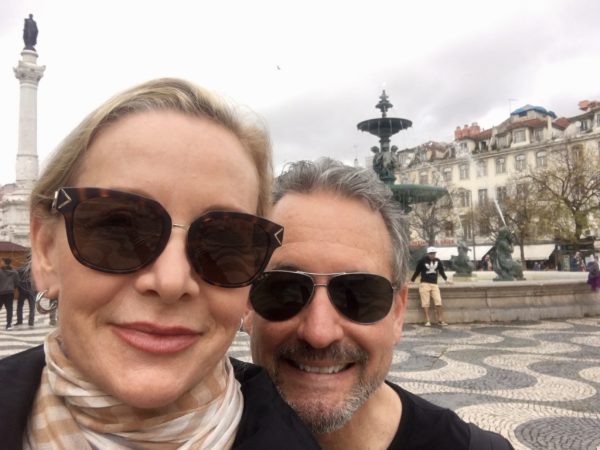 Lisbon, Portugal's capital, is beautiful and bustling. Like Rome, it's built on seven hills. One definitely gets a workout traversing the inclines and slopes. The sidewalks are paved with gorgeous mosaic designs, or Calcada, composed of irregular limestone pavers, and many of the streets are made of cobblestone so high heels are definitely out. Lisbon is safe (Portugal was named the 3rd safest country on CN Traveler's most recent The 10 Safest Countries in the World list) and we found ourselves almost exclusively walking the city.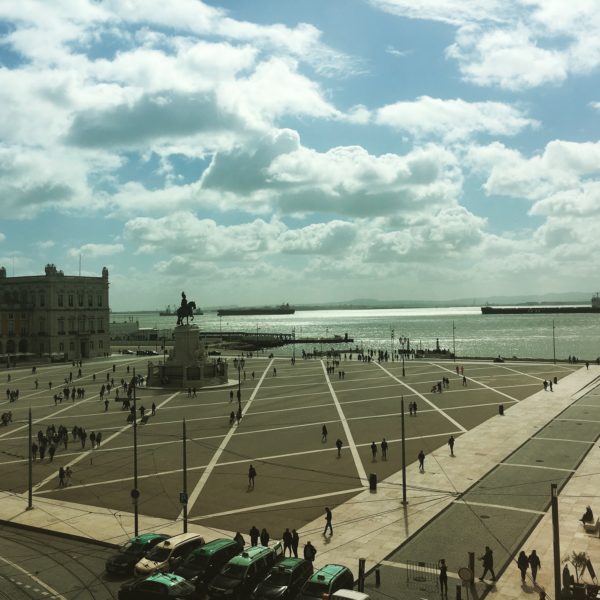 Where to stay in Lisbon ~
We stayed at a lovely boutique hotel, Pousada de Lisboa, directly across the street from the Praca de Comércio.  Renovated in 2015, it is a chic Virtuoso property and a member of the Small Luxury Hotels of the World consortium.  Our room looked out over the iconic square with the Tagus River beyond.  The staff was incredibly accommodating. When we had a last-minute hankering to experience Fado, Lisbon's soulful, blues-like music, our lovely concierge arranged for us to attend the final show that evening at Clube de Fado.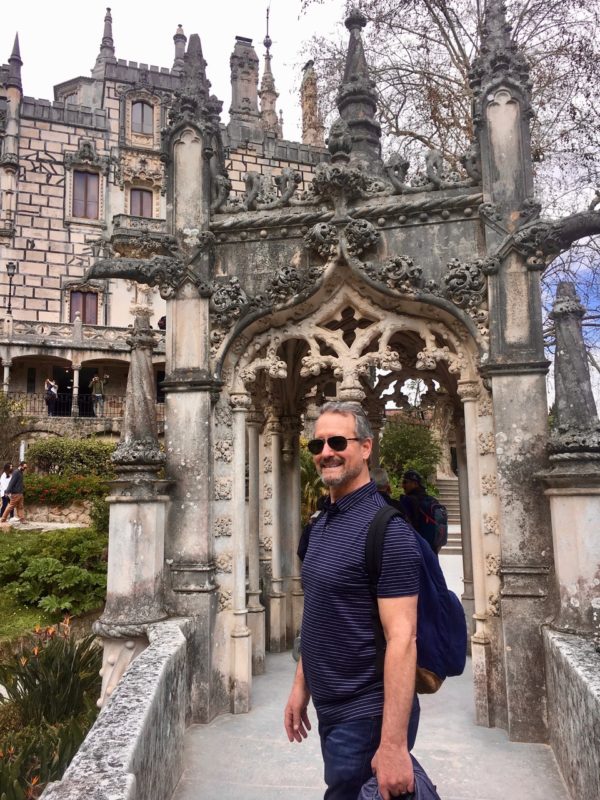 On our first full day in Lisbon we actually left the city with our tour guide, Tomás, and headed a bit north. We visited Sintra, described by Lord Byron as "glorious Eden."  It's an absolutely gorgeous town on a hillside with beautiful yet decaying villas. Sintra's microclimate affords lush vegetation everywhere. The highlight was visiting Pena Palace, a Disneyesque castle perched high atop a plateau. On our drive up to the palace Tomás dropped us at Quinta da Regaleira, a manor house that once belonged to a Brazilian mining mogul who was obsessed with Knights Templar.  We were mesmerized by the elaborate garden with a grotto-like maze of tunnels that led to an "initiation well." Both of these stunning spots are UNESCO World Heritage Sites. Our day also included a visit to Cascais, a now-hip seaside mecca once known as the summer home to Portuguese royalty and as a fishing village that attracted artists. We also made a quick stop to stand on the western-most point of Europe.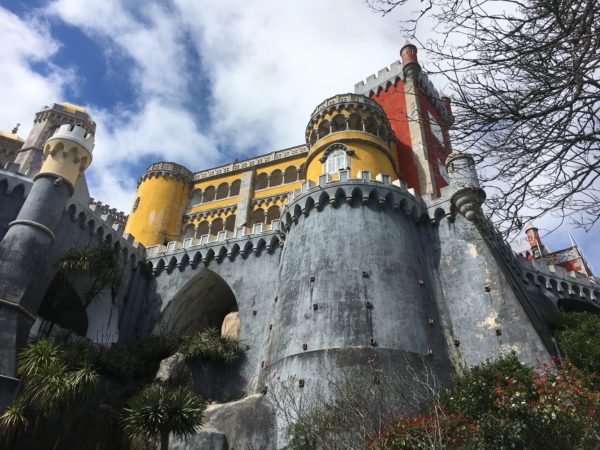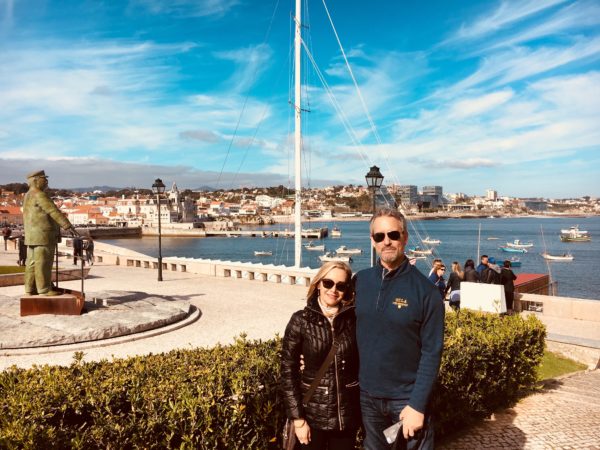 The Food Scene in Lisbon ~
The food scene in Portugal is robust and talented chefs are making their marks. In addition to enjoying a meal at our hotel's excellent restaurant, RIB Beef & Wine, we had a remarkable dining experience at Bistro 100 Manieres where we were entertained by the talented mixologist at their intimate bar before and after dinner. Anticipating a dominance of Portuguese food, on the third night we chose to eat at one of Lisbon's top sushi restaurants, the very chic Avenida Sushi Café, indulging in a delicious tasting menu. Our final night, before flying home, we enjoyed tapas-style dishes in the Alfama at Prado.  It was named one of Lisbon's top ten restaurants for design lovers. I can see why; the space is gorgeous in its simplicity.  One must not visit Portugal without tasting the national sweet treat, pasteis de nata. These flaky tarts are filled with a custard of egg yolks, sugar and cream and are best enjoyed with a Portuguese coffee.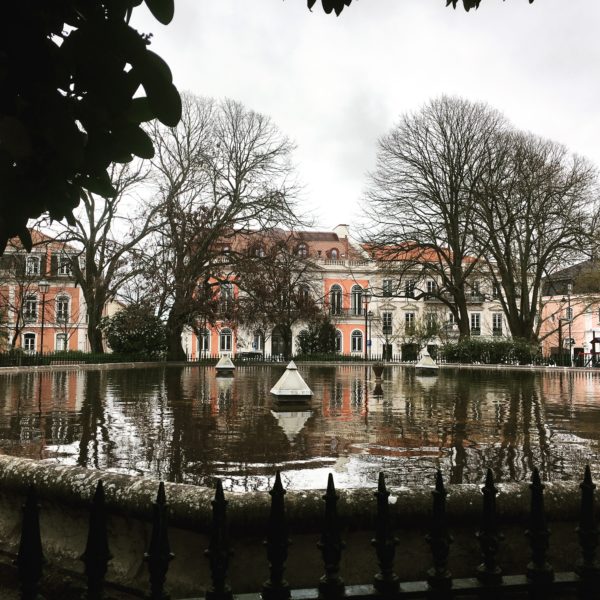 Lisbon is characterized by its neighborhoods.  My favorites were the Baiiro Alto and the Alfama. On our final night in Portugal, we stayed at the boutique hotel Memmo Alfama with its panoramic views. I also enjoyed the Chiado district. More than once we ended up at the Hotel do Chiado's rooftop bar to take in the stunning views at sunset.
Between the antique stores—one that featured original Portuguese tile murals—the shoes stores, the boutiques—especially the ones in the repurposed Embaixada gallery where we dropped in at Gin Lovers + LESS for the best gin and tonic I've ever tasted—and the myriad food stores, Lisbon is a shopper's mecca.
More places to see ~
A few things we didn't get to that I'm planning for our next visit: a visit to the Mercado de Ribeira (which had a renovation in 2014 masterminded by Time Out magazine); a ride on the iconic no. 28 eléctrico, a cable car much like the ones in San Francisco; a visit to Castelo de São Jorge, a 5th century fortress considered the cradle of the city; an afternoon at one of Lisbon's many museums (the Museu de Artes Decorativas Portuguesas and MAAT—the Museum of Art, Architecture and Technology stood out for me); a visit to Belém to see the Jerónimos Monastery and stop at Pasteis de Belém; taking in the view from the Santa Justa Elevator platform; and watching Lisbon's main soccer club, Benfica, at their new stadium, Estádio da Luz. So much to do and see!
We drove to Porto after spending two nights in the country and then crawling up the west coast and spending one night in the fishing village of Nazaré, best known for its mammoth winter waves. Portugal's infrastructure, including its highways, is impressive. We could learn a thing or two from this country. We never experienced traffic and with our handy Google Maps we managed to navigate the occasional round-abouts with relatively minimal squabbles.
On to Porto ~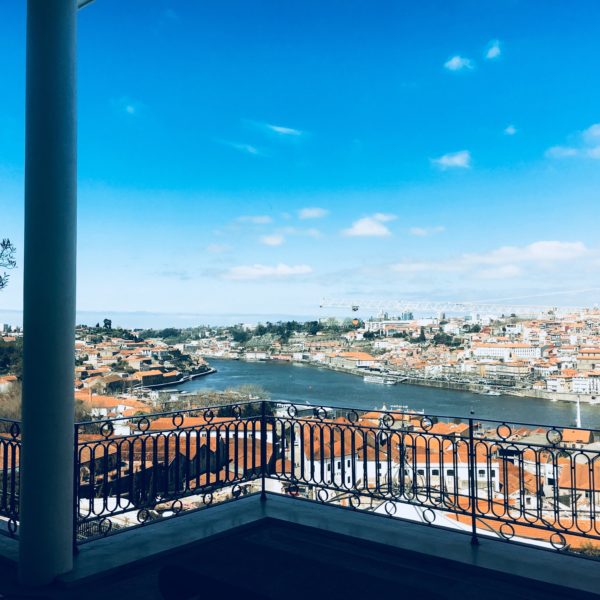 Porto, Portugal's second city, seems to have mastered the concept of "work hard, play hard." The Douro River runs through the city from the northeast and one of Europe's richest wine regions. The city is known for its port wines. We stayed on the south bank of the river at The Yeatman Hotel, an absolutely stunning, 83-room property with breathtaking views of the Ribiera district of Porto, the Dom Luis I bridge and the river below. The Vila Nova de Gaia side of the river where we stayed technically is a separate suburb but it's just a short walk across the bridge to the busier part of town and there isn't a hotel in Porto that compares. In fact, of all the amazing properties we stayed at on this trip, The Yeatman was our favorite. The Gaia's main attraction is its port wine lodges and there are endless wine tours for oenophiles. We also discovered a quirky artists' cooperative gallery, 3+ arte, where we purchased some unique souvenirs that the hotel staff happily arranged to have shipped home for us.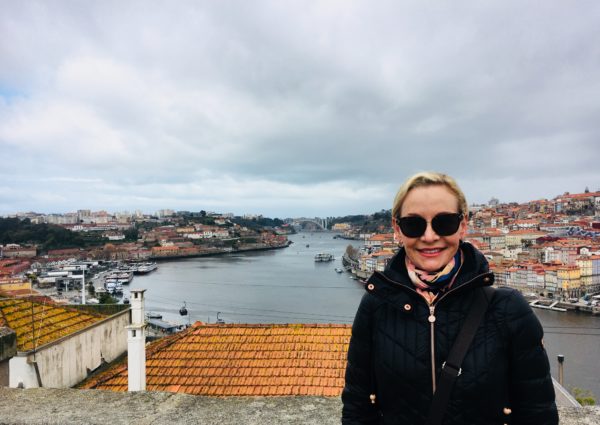 Like Lisbon, Porto is a city of hills and stairs but we found it to be very walkable. There was one rather rainy day when we invested in a hop-on-hop-off bus pass although we still walked a good deal. We also enjoyed one of the hour-long river boat cruises. We didn't take advantage of the Funicular dos Guindais that transports riders up the steep hill from Ribeira to the Batalha district. Nor did we get a chance to ride the Teleférico de Gaia, a gondola (they call it a cable car) that transports riders to and from the port wine lodges and the upper deck of the bridge.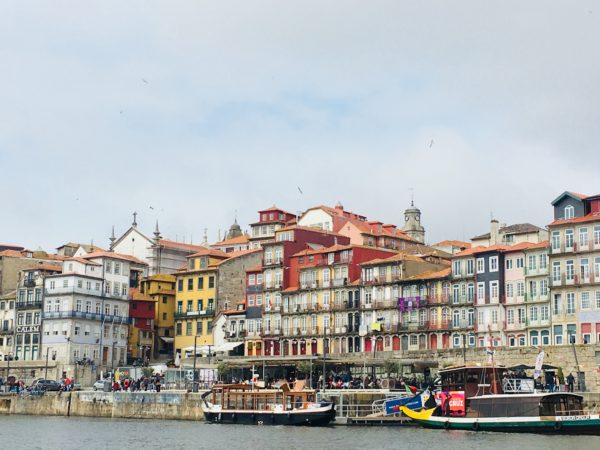 My husband and I loved Porto even more than Lisbon. Maybe it was our amazing hotel with its indoor swimming pool that looked out at the Douro River and its Michelin two-star (as of 2017) Gastronomique Restaurant where we had an extraordinary tasting menu experience. Maybe it was the high energy and friendly attitude of the people we met. Maybe it was the beauty of the brightly painted, red-roofed structures that dot the banks of the river. Or maybe it was the cool sea air that blows in from the Atlantic. All I know is that Porto is enchanting.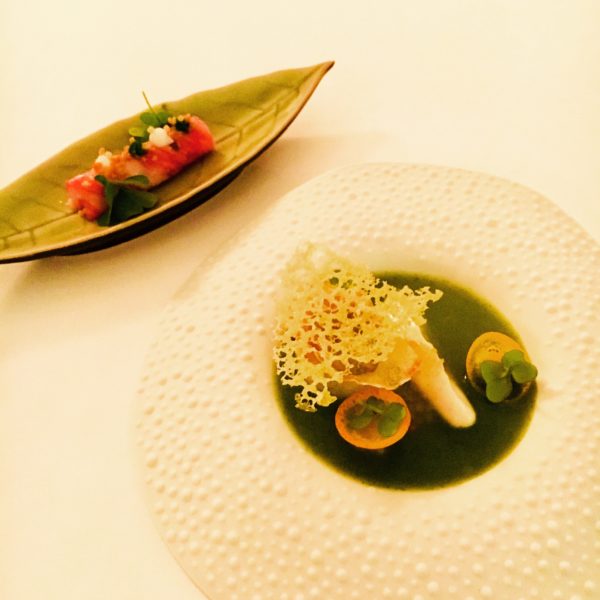 Each day we explored the historic city center. On a rainy afternoon we took a tour of the São João National Theater. It was interesting and Jon was especially appreciative of the details. We strolled and shopped the Rua de Santa Catarina. One day we stopped in at the Intercontinental Porto for a late lunch, the other hotel we had considered. It was nicely-appointed and centrally located but we were glad we had chosen The Yeatman.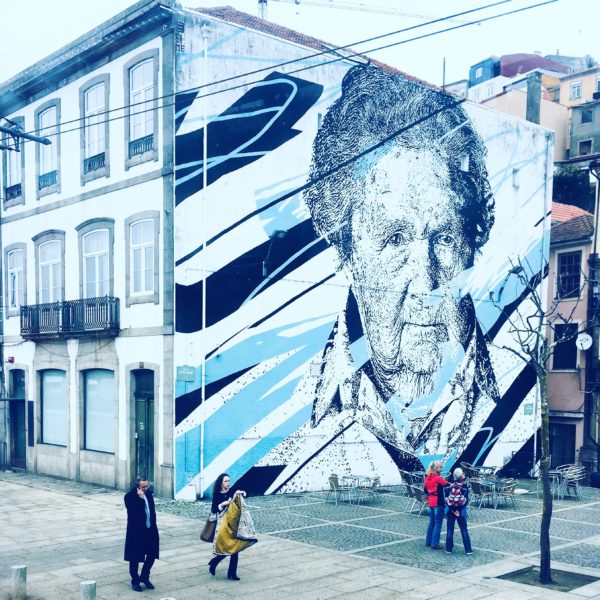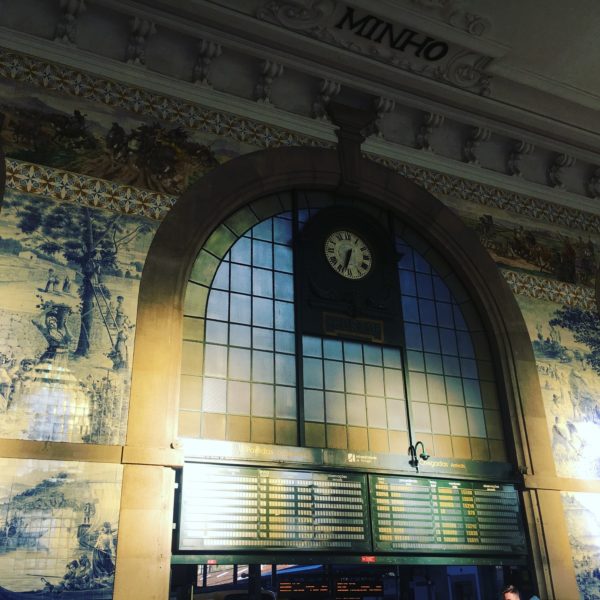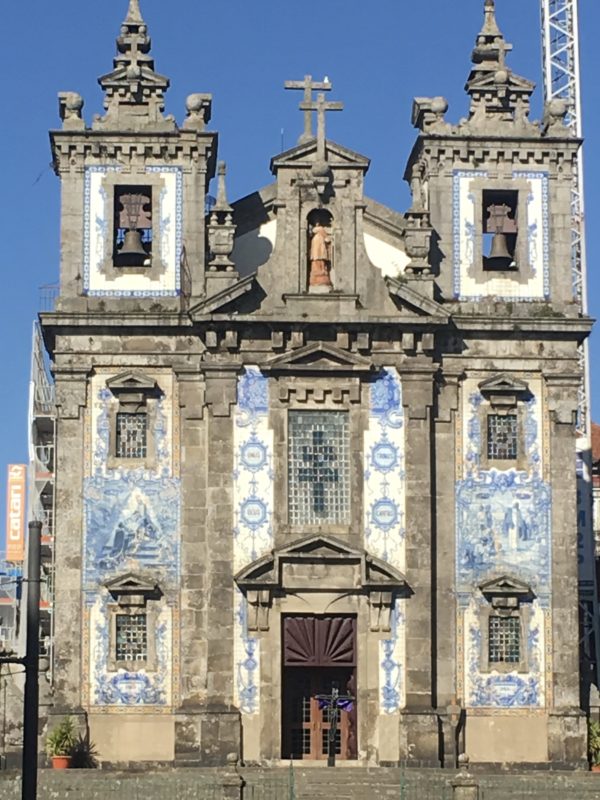 One of the highlights was the evening we drove to a tony beach enclave just out of town. It reminded me of Santa Monica and we had an amazing meal at a gem of a neighborhood restaurant called Cafeína. The manager made us feel like VIP's as he engaged us while also greeting the locals.
Lisbon and Porto stole my heart. I've been to Spain three times and love it. But for me, Portugal now reigns supreme.
Stay tuned for more adventures from Angela and their trip to Portugal – Coming Soon
Angela's most recent contribution here ~ Walking Through Japan: Along the Nakasendo Way
---
Are you receiving our posts via email? If not, sign up over on the right side of this page.
Let's connect over on social media here ==>  Follow us on Twitter, like us on Facebook, check out our photos on Instagram, or pins on Pinterest
Pin for Later!