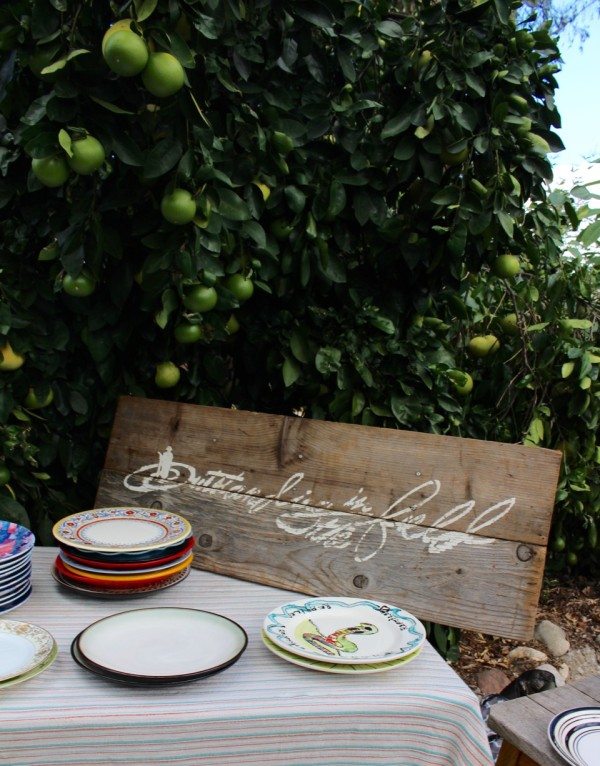 Isn't it exhilarating when you stumble upon something fabulous that you didn't know exist? My friend Jen sent me a link and video a couple of years ago about this unique dinner in a field on a farm. Fast forward to our busy, crazy life and we just did not pursue this opportunity… shame on us. But a couple of months ago another foodie and longtime friend Denise, asked me if I was attending an Outstanding in the Field dinner in Temecula, which was only about 90 minutes from my house. No! I wasn't! Of course it was sold out, so I got busy looking at their upcoming schedule to finally find a date and location we could attend!
Combining our love for delicious, inspiring dishes and adventure, attending an incredible outdoor feast with Outstanding in the Field, would be the perfect food adventure for us! These innovative entrepreneurs of this new dinner idea knew that other people shared their love for authentic, fresh-picked, organic farm fresh food too. How much fun would it be to actually eat this food right there in the fields of the farms? Finding such an interesting, new foodie concept is like receiving an unexpected present! We were so thrilled to attend.
Our dinner location
A working community farm nestled in the middle of Hollywood? Yes, it really does exist. This charming site is called Wattles Farm and it has been a community garden since 1975. We found it so surprising that such a wonderful oasis of farmland was smack in the middle of Hollywood of all places!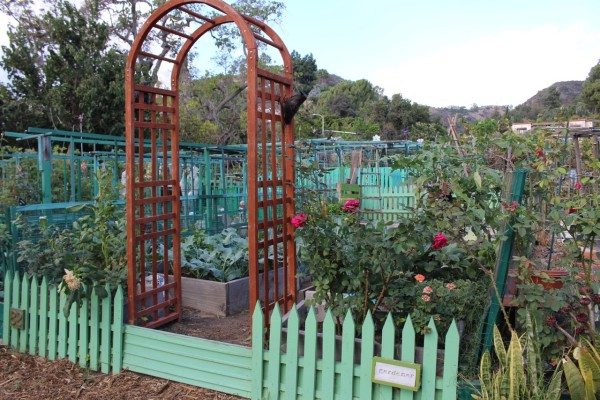 The land on which the community garden is now located was once part of the grounds of an elegant forty-nine acre estate. "Jualita," as it was then known, was the winter home of Gurdon Wattles, a businessman and banker from Omaha, Nebraska.
The current garden still contains the original citrus and avocado groves that were planted for the mansion in 1907. Through an initiative of Los Angeles Mayor Tom Bradley's community gardening program, the lower 4.2 acres were transformed into this wonderful, organic, community garden.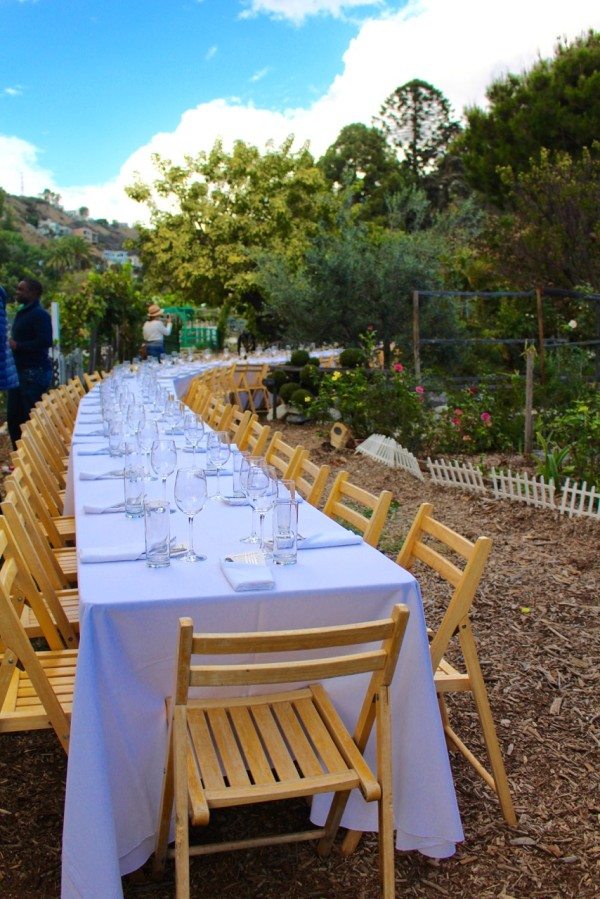 Let us connect with where our food comes from to our own table and we have an authentic farm to table experience. Organic farm fresh products straight from our friends the farmers, in to the hands and outdoor kitchen of Outstanding in the Field. Remarkable.
Outstanding in the Field, founded by Jim Denevan, is a mobile culinary feast that travels the US and the globe to bring together local farmers, culinary artisans and food lovers to share an outdoor, farm to table meal. At each location, at these "restaurants without walls", Outstanding in the Field chooses a local chef to take over the meal preparation to spotlight the local farmers.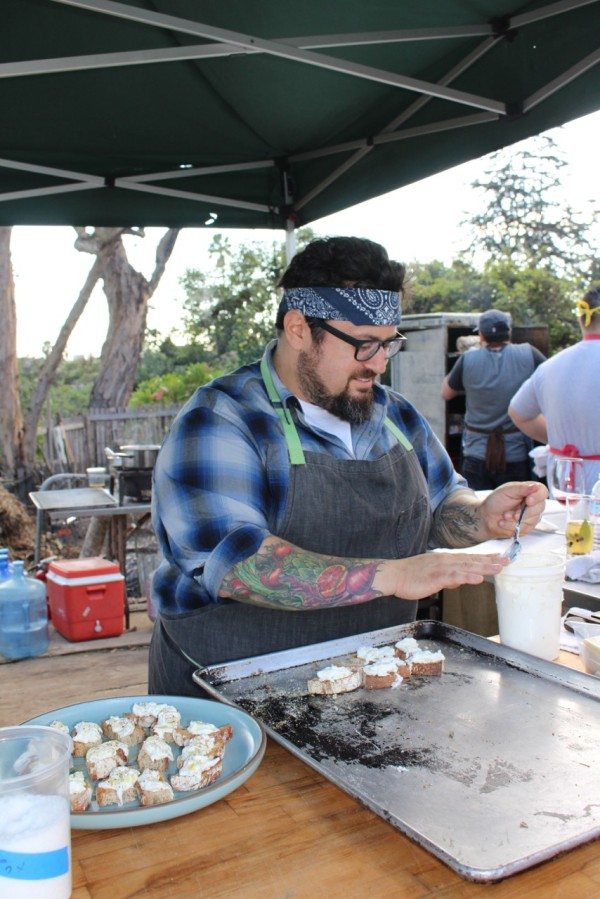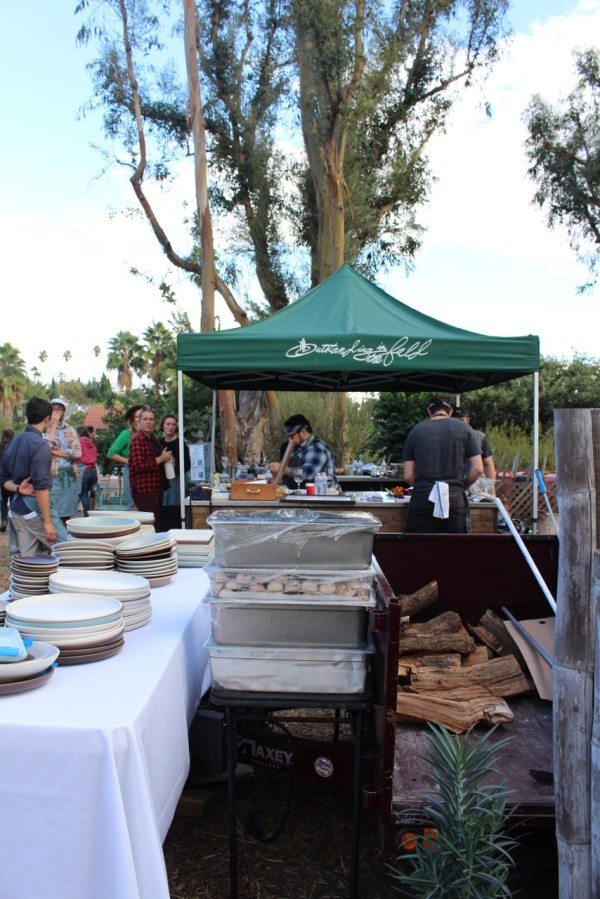 Chef Bruce Kalman and his staff offered their hearts and talents to create this farm fresh feast! Say that three times! Seriously, from start to finish we felt like we walked into a food lover's dream. We were greeted at 2 pm and offered delicious hand crafted cocktails made from Aviation Gin and fresh allspice berries from the garden. Our meal wasn't finished until the sun had set and a November chill was in the air.
Fun Fact: On the Food Network show "Beat Bobby Flay", Chef Bruce recently settled the score by beating Bobby in a rematch! It was awesome!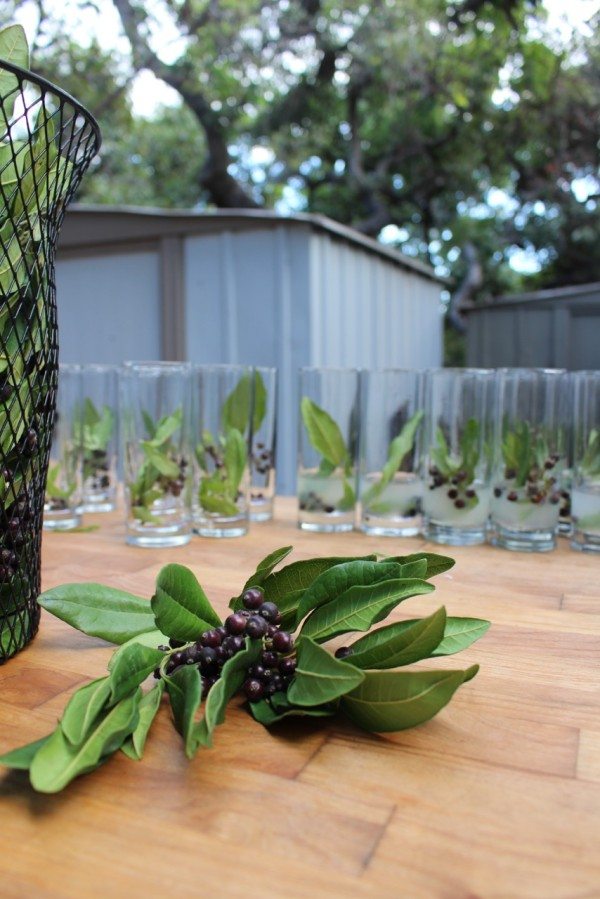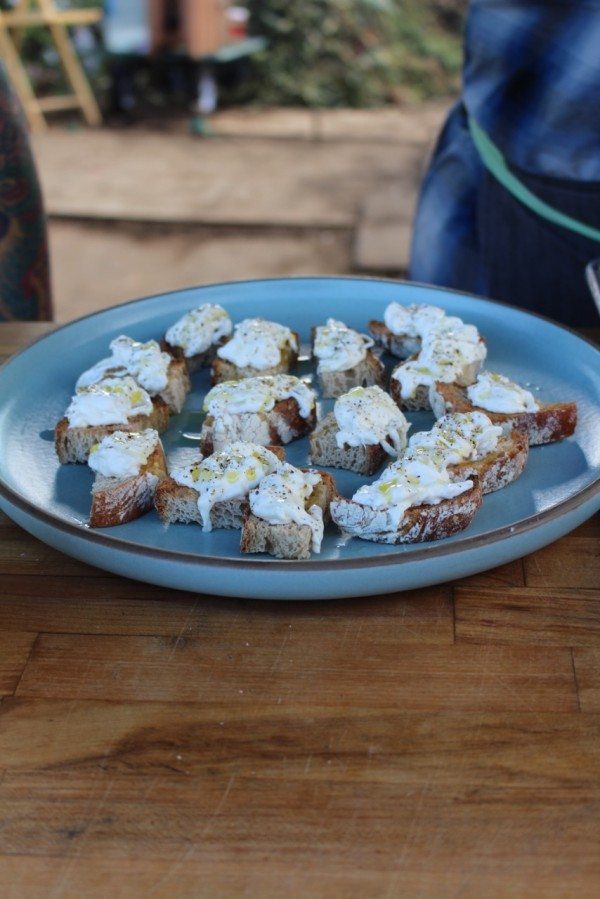 We mingled and noshed divine appetizers with other guests and discussed our common passion for delicious food. Sharing our backgrounds and foodie anecdotes was part of the fun! The master gardeners from Wattles Farm took small groups through the farm, pointing out unique plants and sharing the history of the area. Did you know there was a farm in the middle of the city?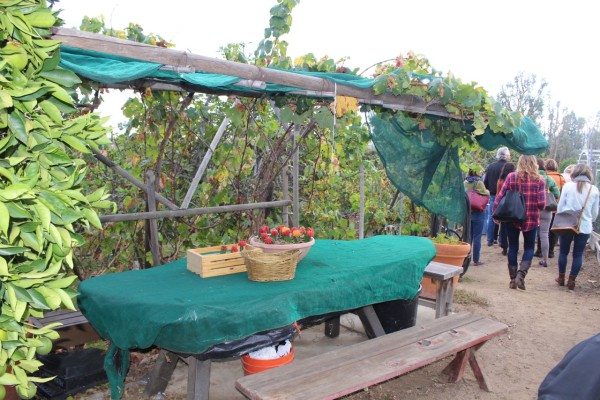 This fun newlywed couple, Janah and Lauren, strolled with us in the gardens, while the sun was setting. We exchanged foodie anecdotes about the exciting world of fantastic cuisine and fabulous restaurants.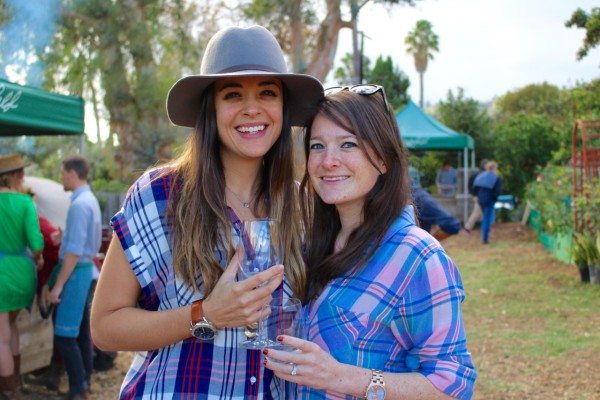 Fun Fact: Janah and Lauren started their own company Front Feet First, where they cast for reality TV shows like Top Chef and other food shows. How cool is that?
We also chatted with first timers from Long Beach and met some veterans too. Tere and Tina**, an enchanting sister duo, offered their expertise and knowledge about this event because they have been attending Outstanding in the Field dinners at many unique destinations since 2008!
Fun Fact: Tere and Tina are "regulars" at these feasts and often travel long distances to attend.
These adventurous ladies have attended Outstanding in the Field dinners where they have eaten oysters on the beach in Seattle, to dining in the jungles of Oahu, Hawaii where Jurassic Park was filmed, to watching a solar eclipse on a farm in Carpinteria, CA. All coordinated and offered by Outstanding in the Field. Color me green with envy!
**Somehow I never took a photo of Tere and Tina – I guess we were talking and having far too much fun.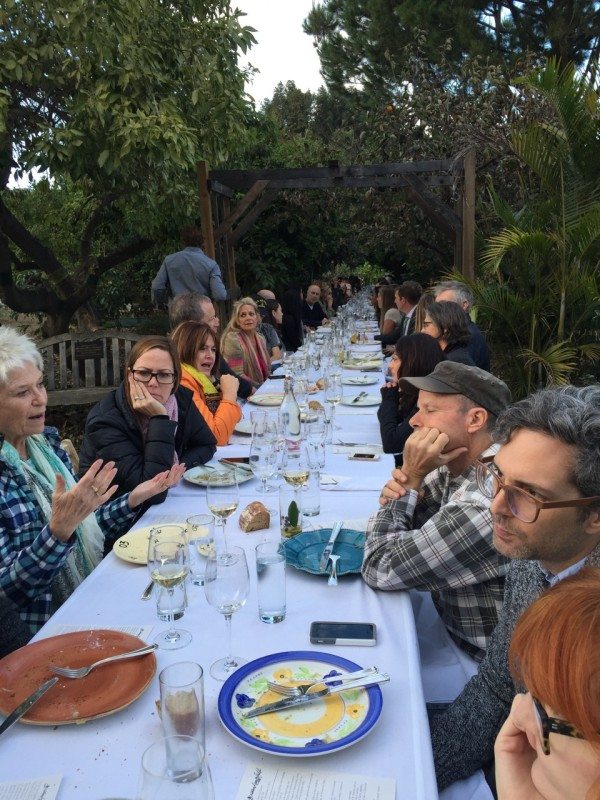 Part of the many charms of this evening was the community of food lovers brought together to celebrate where our food comes from and how it is prepared. Chef Bruce Kalman was the mastermind behind the menu and the preparation. Chef Bruce owns Union Restaurant, in Pasadena, CA (one of our favorites) and will be opening a pasta restaurant in the Central Market in Downtown Los Angeles. Wines selected by the Wine Director of Union were paired perfectly with these delectable dishes.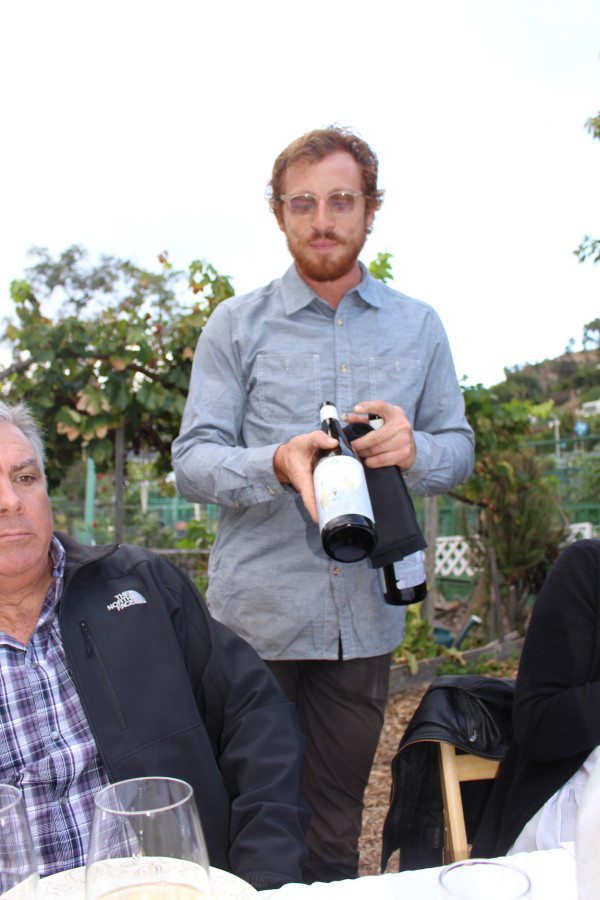 The very long table was set up in the middle of the farm and the food was served family style. More sharing, more stories, more conversations, more community!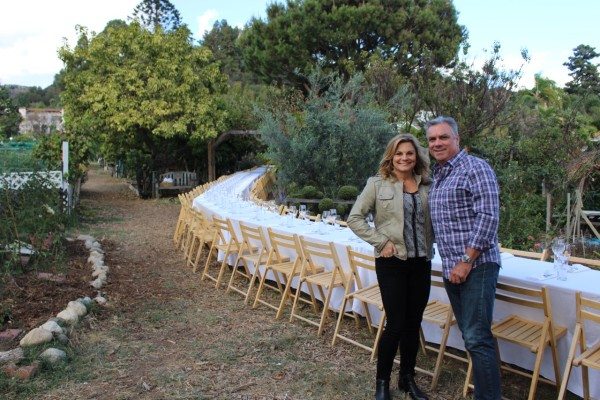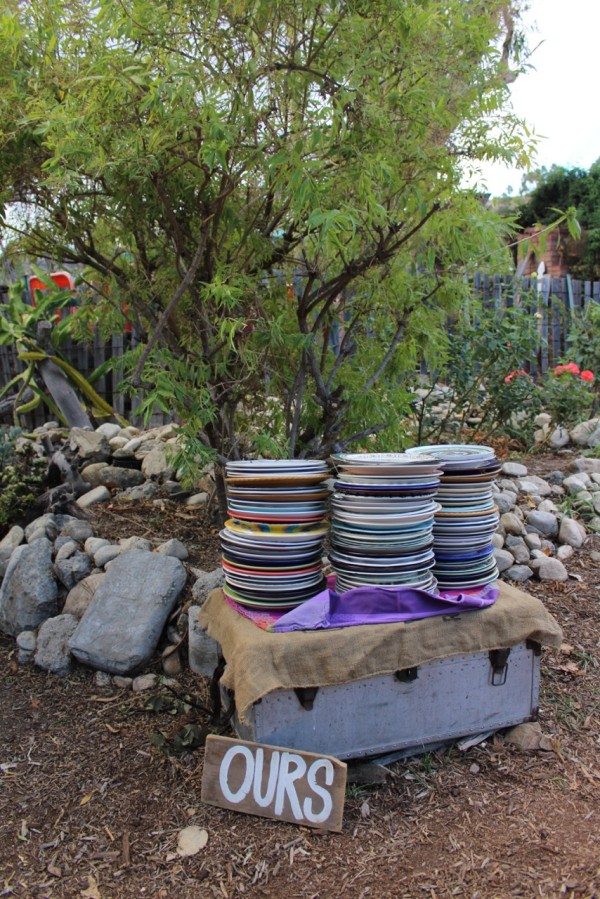 Oh and the food!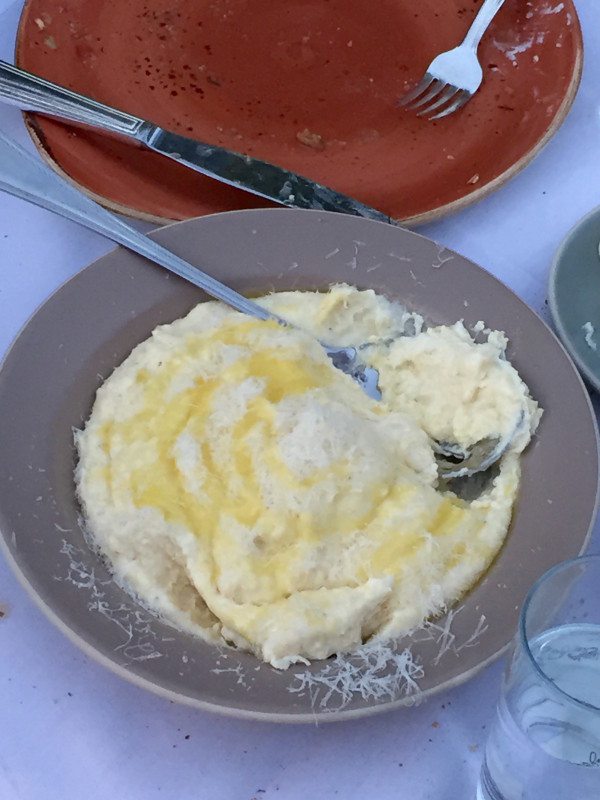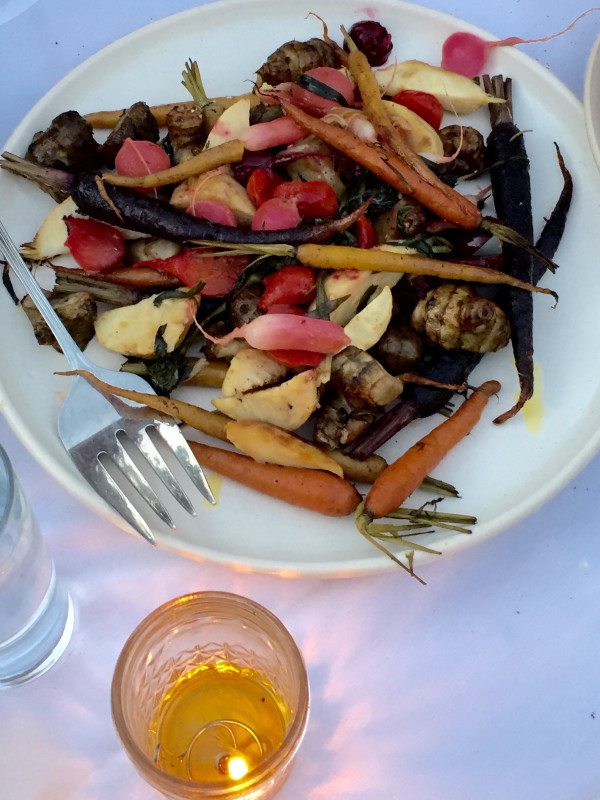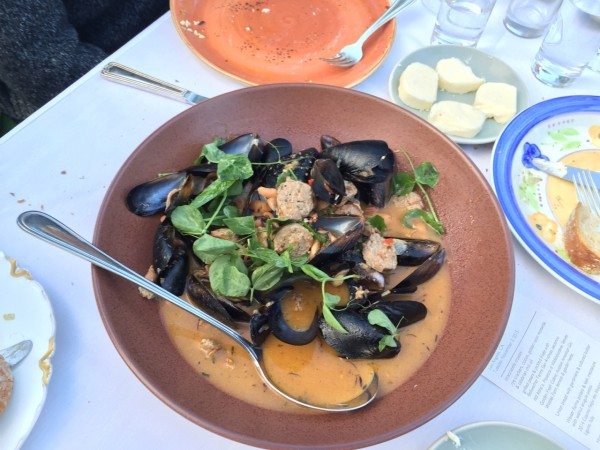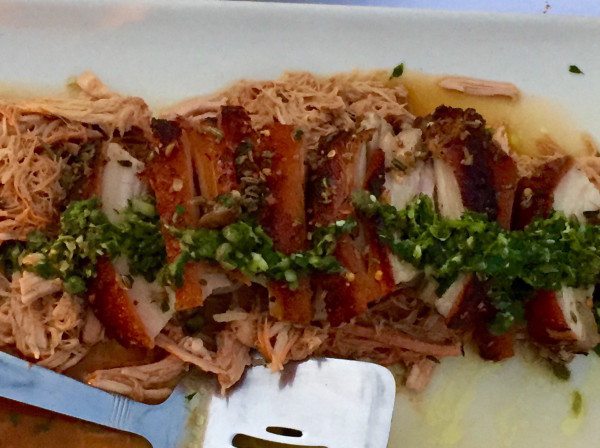 After the sun went down, candles were lit down the center of the table and cast a golden glow over the smiling faces. Authentic, sincere effort was abundant at this memorable dinner.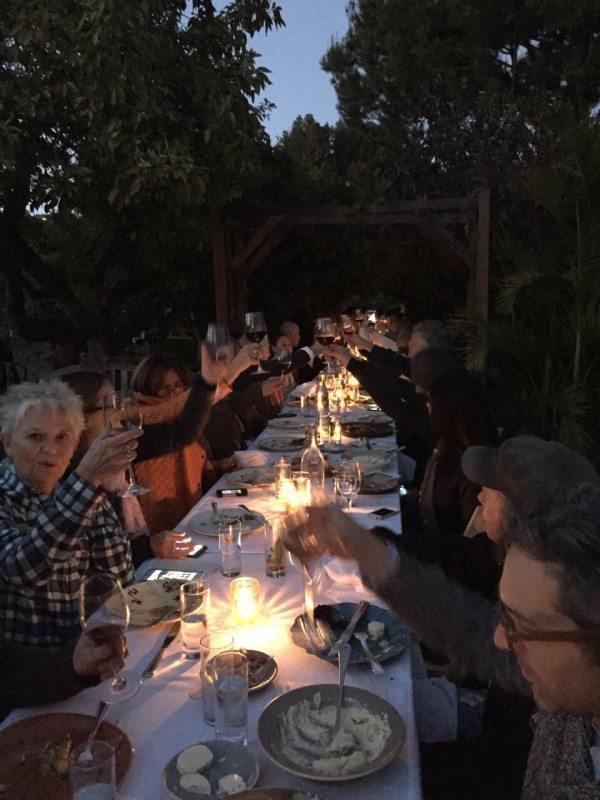 The weather forecast predicted a 45% chance of rain, however by the end of a glorious evening, not one raindrop fell. By the light of a lantern, Chef Bruce thanked the staff and the audience for the opportunity to successfully and fantastically feed approximately 150 hungry food lovers virtually at one time. Simply amazing.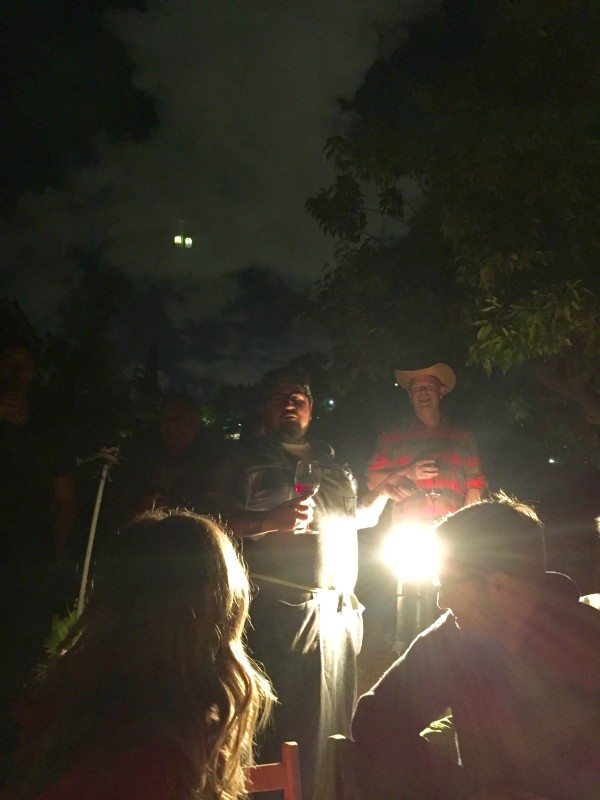 Would we do it again? In a heartbeat! I will study the website for the 2016 schedule for another enticing location. Craig and I hope to make Outstanding in the Field an annual food adventure by visiting new locations and talking with the local farmers to be reminded of the personal connection to our food.
Who's joining us?
---
Let's connect ~ You can find us here: