Our very personal tour of Florence, Italy through the eyes of our son Nick.
This particular trip to Florence was actually a personal tour given to us by our son Nick who was studying abroad. It was a perfect time for Craig and I to travel to Italy and just enjoy the glorious city from a local's perspective. Florence's historic center is relatively small, and easily walkable. It seems that nearly every church and every building contains historic art and important architectural elements.
It was so heartwarming to have Nick take us to his special local spots and to hear stories about his experience in Florence. He shared what he enjoyed, where he hung out and where he especially liked to go. Fortunately, we had been to Florence several times before, so we did not need to take in the numerous iconic sights as a first time visitor would plan to do.
We stayed in a charming hotel located directly on the  edge of the Arno River, the luxurious Hotel Lungarno. A small, lovely, quiet hotel with views to take your breath away.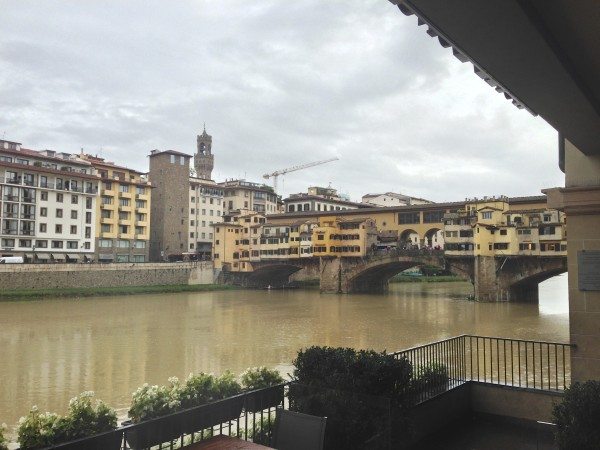 The view from Lungarno's La Terraza Bar and just steps away from the Ponte Vecchio.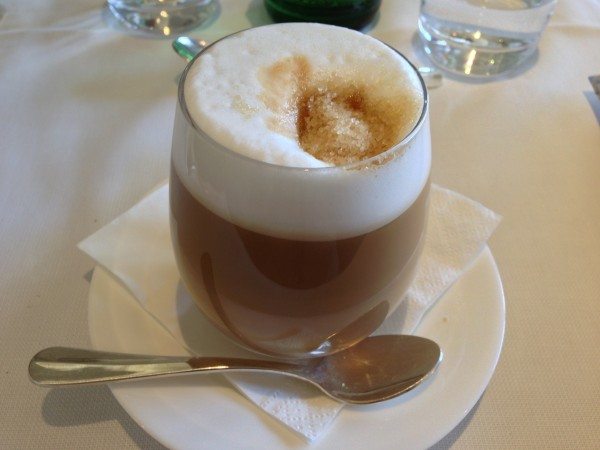 My morning latte…ahh…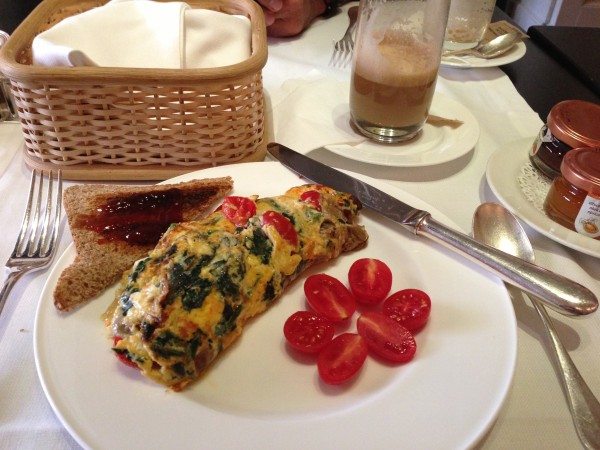 Breakfast~Spinach, tomato and mushroom omelet.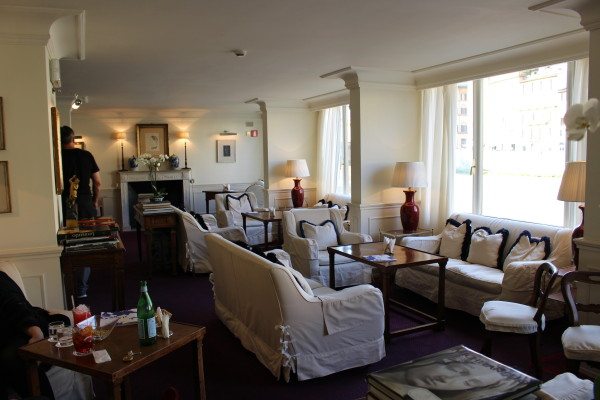 Hotel Lungarno Lobby and Bar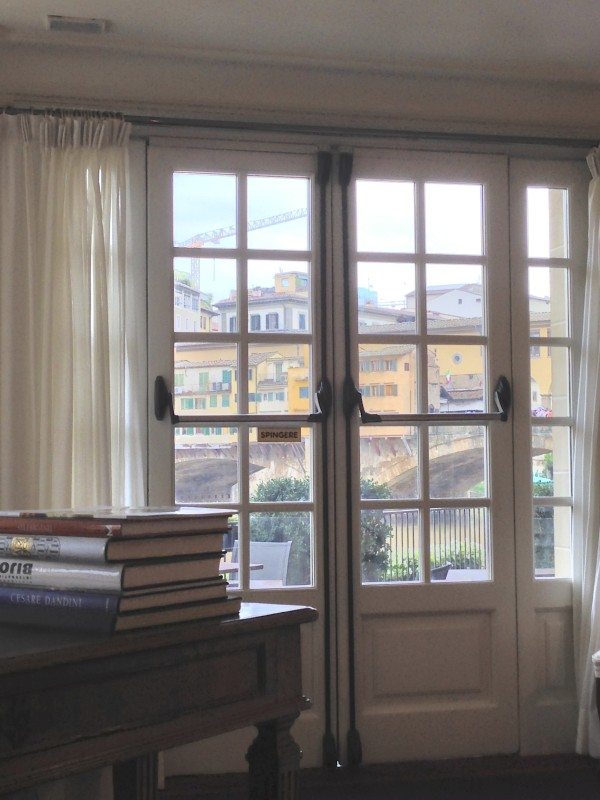 Another postcard view from the hotel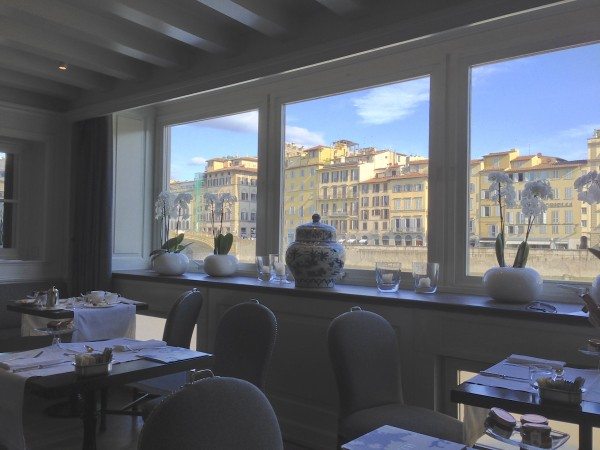 Florence's Cathedral, the Duomo ~The grand cathedral stands tall over the city with it's magnificent Renaissance dome designed by Filippo Brunelleschi.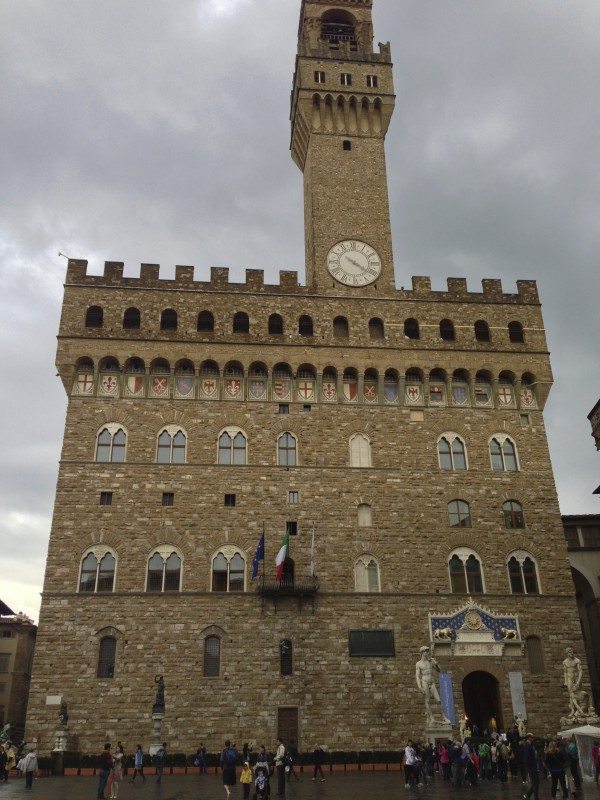 Palazzo Vecchio ~The town hall of Florence with a replica of Michelangelo's David standing in front.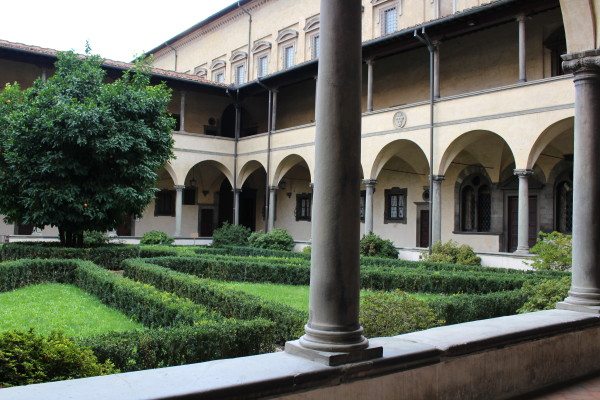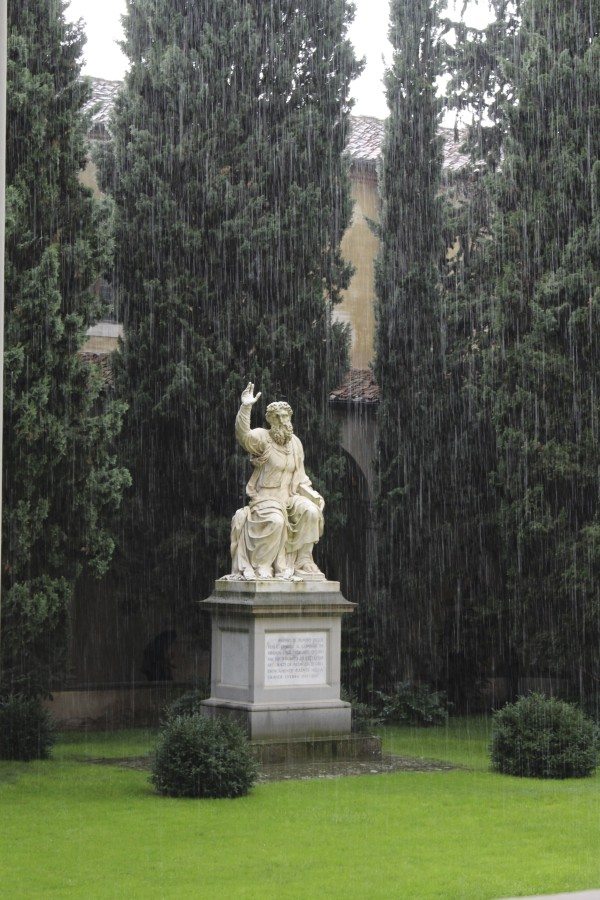 Baccio Bandinelli in the gardens of Santa Croce~ in the rain.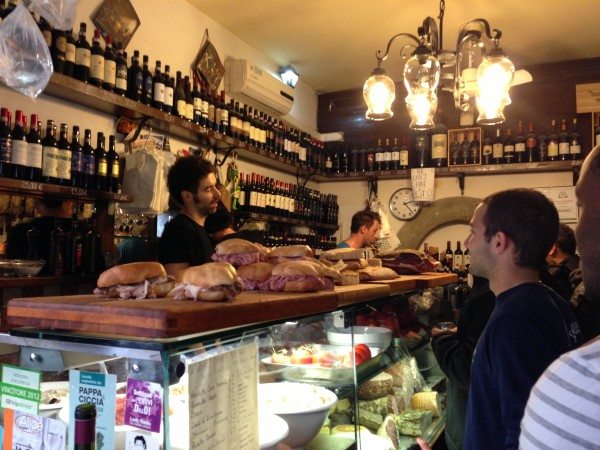 All'Antico Vinaio (Near Santa Croce)
We stood in line in the pouring rain for these fresh Italian deli sandwiches, stacked high with meat and made on warm, rosemary focaccia rolls. I can smell them now, they were out of this world.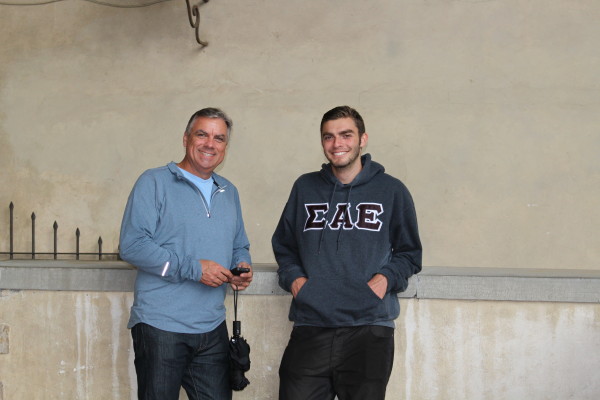 Craig and Nick between rain showers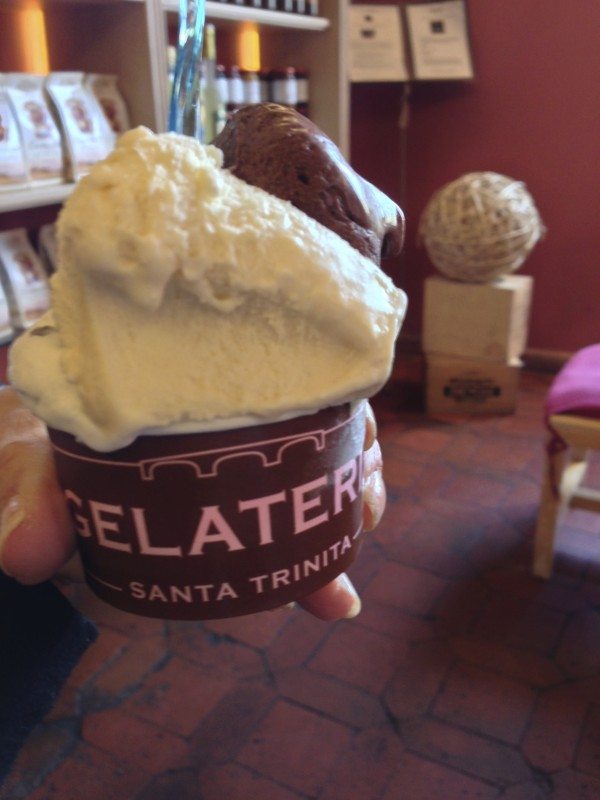 Delicious gelato from Santa Trinita Gelateria located near Il Ponte Santa Trinita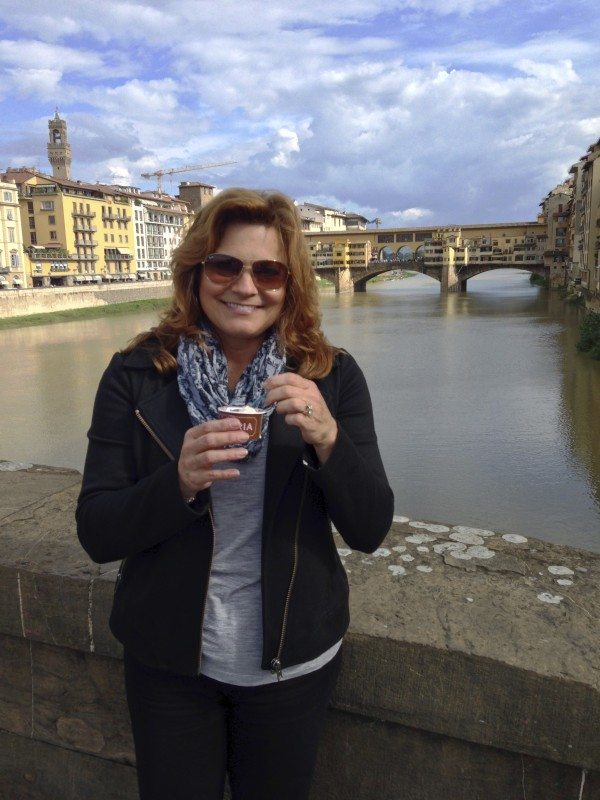 A memorable moment indeed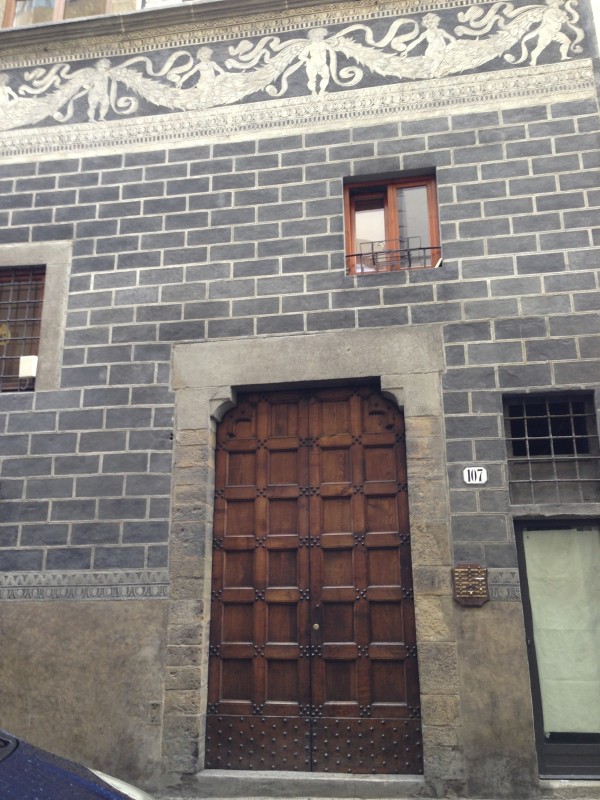 The very old and magnificent entry door to my son's apartment building on Via Di San Niccolò -It was not a fancy apartment, it just looked the part.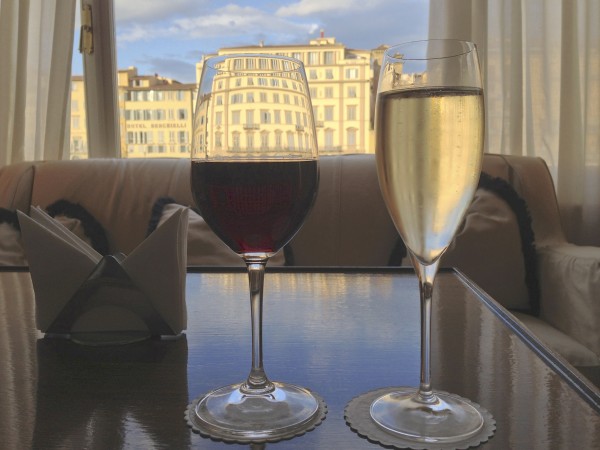 A glass of wine in the lobby at the end of the day.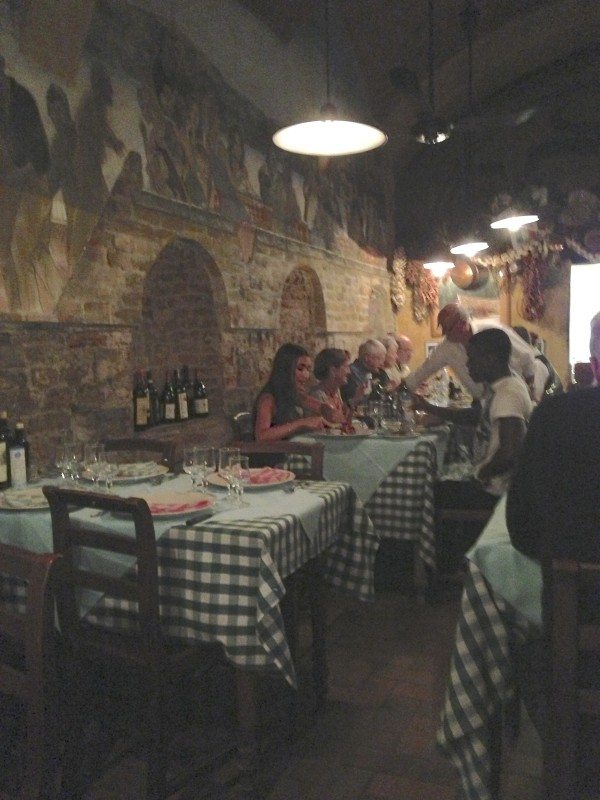 Dinner at a neighborhood trattoria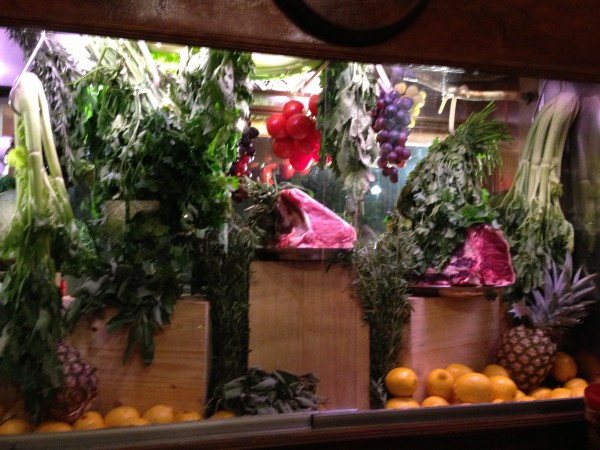 The restaurant placed special cuts of meat in a refrigerated glass case at the front door- that was a unique sight.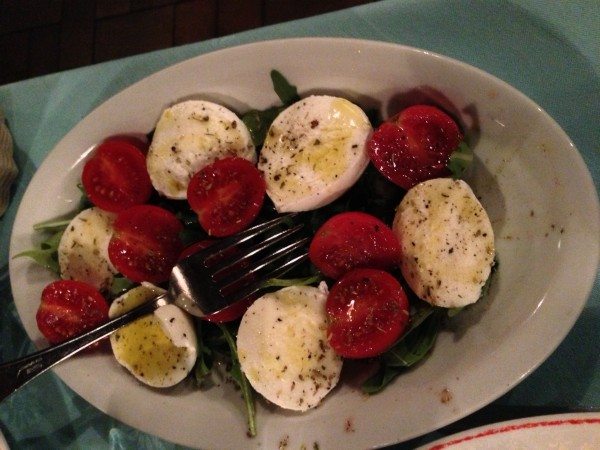 Caprese Salad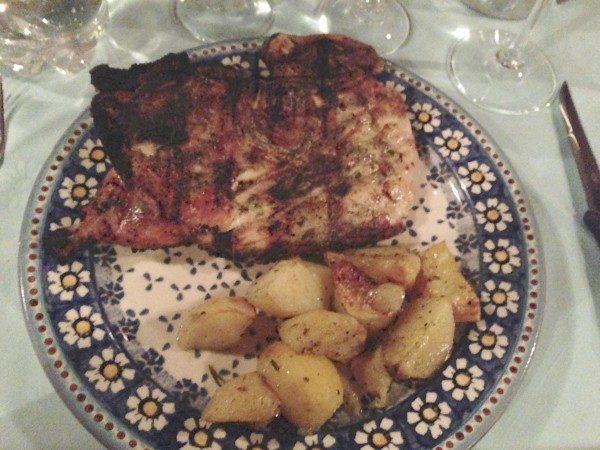 Roasted Chicken and Potatoes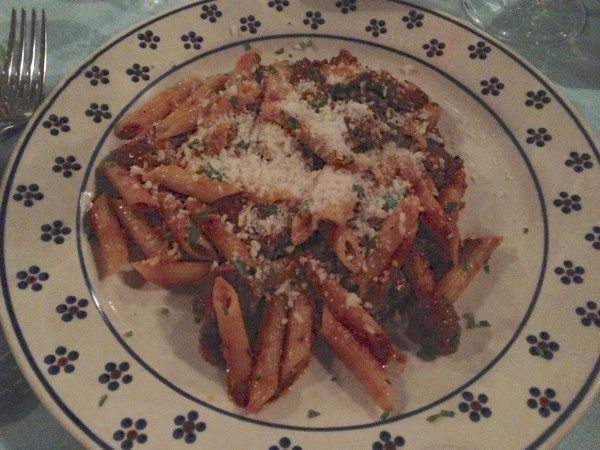 Rigatoni Bolognese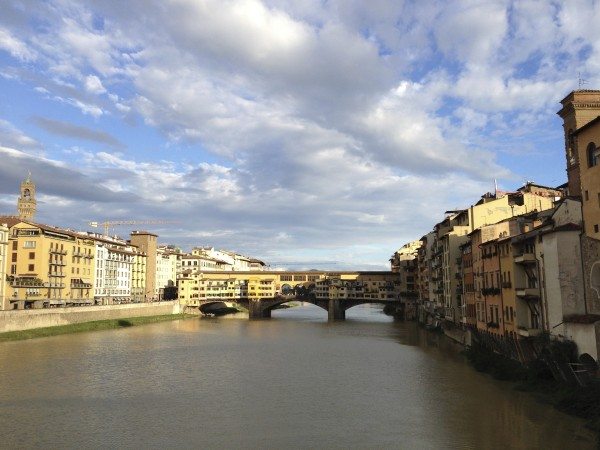 I must have taken fifty photos of the Ponte Vecchio in different types of light at different times of day.The Ponte Vecchio or "Old Bridge" was rebuilt in 1345 after a flood. Initially it was the only bridge that connected the city from both sides of the river.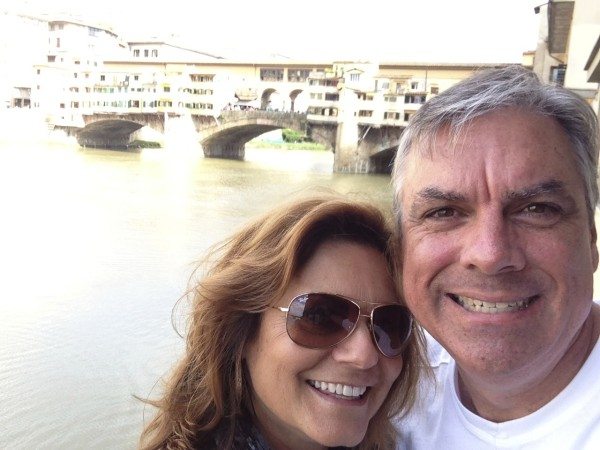 Our obligatory selfie – a happy time on a memorable trip.
This post is the second in our new "Postcard Perfect" Series. You can find the first one here: A Postcard Perfect Afternoon in San Francisco.