A visit to The High Line has been on my New York City "activities to do list" for quite a while. We have been in New York many times, but Craig and I finally made it a priority. Shame on me, shame on us, I can't believe I waited so long! It is truly incredible.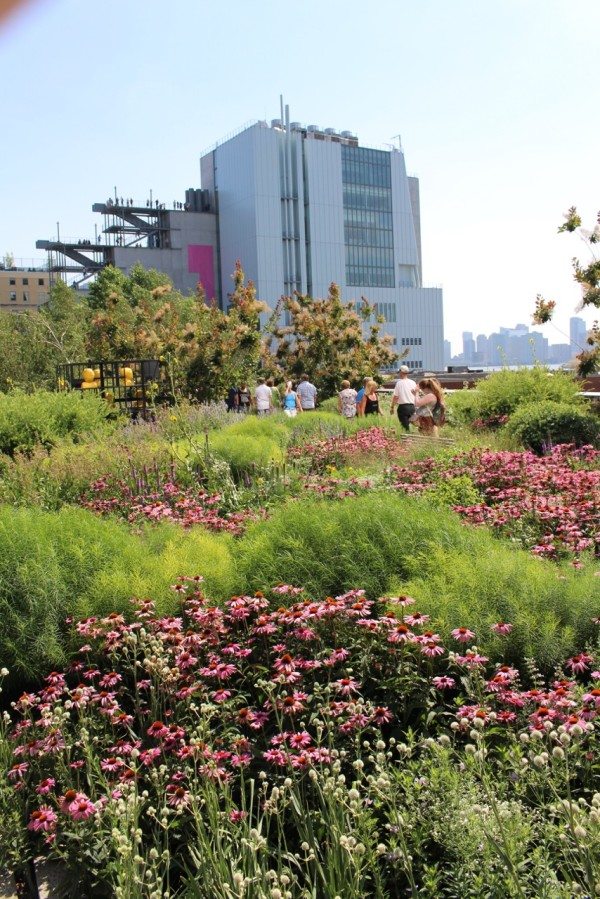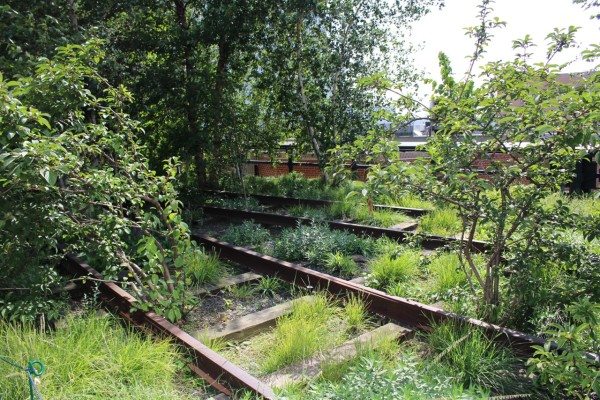 What a brilliant plan to save and utilize an old railway line from the 1930's. It has been repurposed and beautified for the public to enjoy for free in NYC! How wonderful is that? I had some idea what we may find there, but honestly it surpassed anything we could have imagined.
The High Line is a 1.45 mile linear public park built on a historic freight rail line in Chelsea on the west side of Manhattan. Take the stairs up to this elevated outdoor art museum/park/nature sanctuary/gathering place/boardwalk. It runs from Gansevoort Street in the Meatpacking District to West 34th Street, between 10th and 12th Avenues.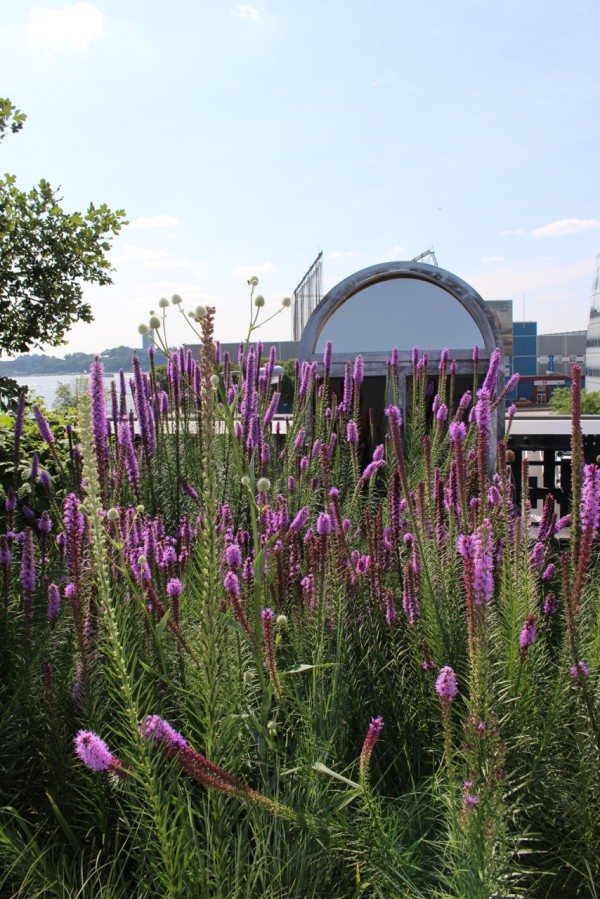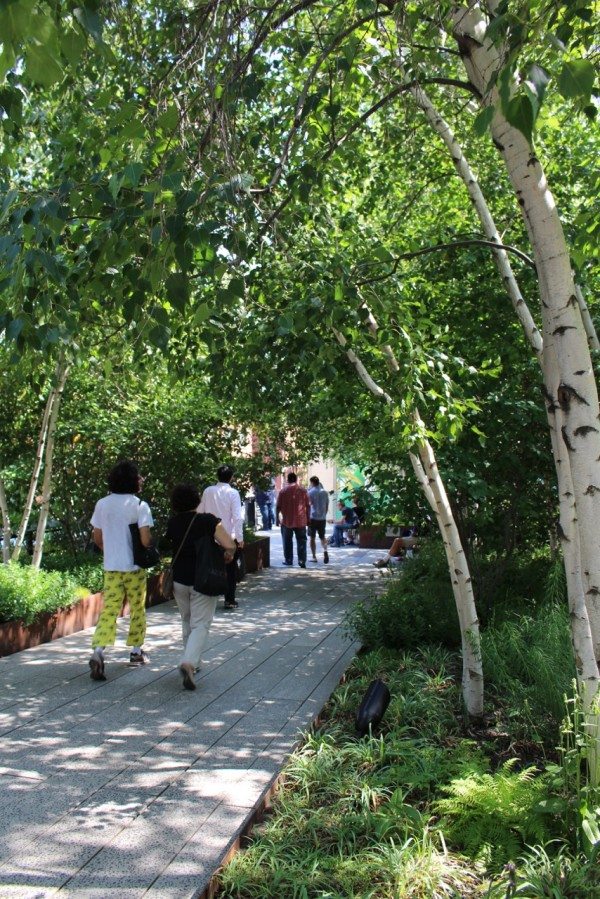 The railroad line was utilized beginning in 1934 and was designed to carry goods to and from Manhattan's largest industrial district. Because of the growth of interstate trucking, the rail line was no longer needed and was shut down in 1980. The Friends of The High Line was formed in 1993 and after collaborating with the design team of James Corner Field Operations, a landscape architecture firm, Diller Scofidio + Renfro, and Piet Oudolf, planting designer and along with The City of New York, the first phase was opened in 2009, the second in 2011 and finally the third and final phase in 2014.
We happened to visit on a very hot day in July, with stifling humidity…great timing! Despite the sticky weather, we still were amazed and delighted along every turn.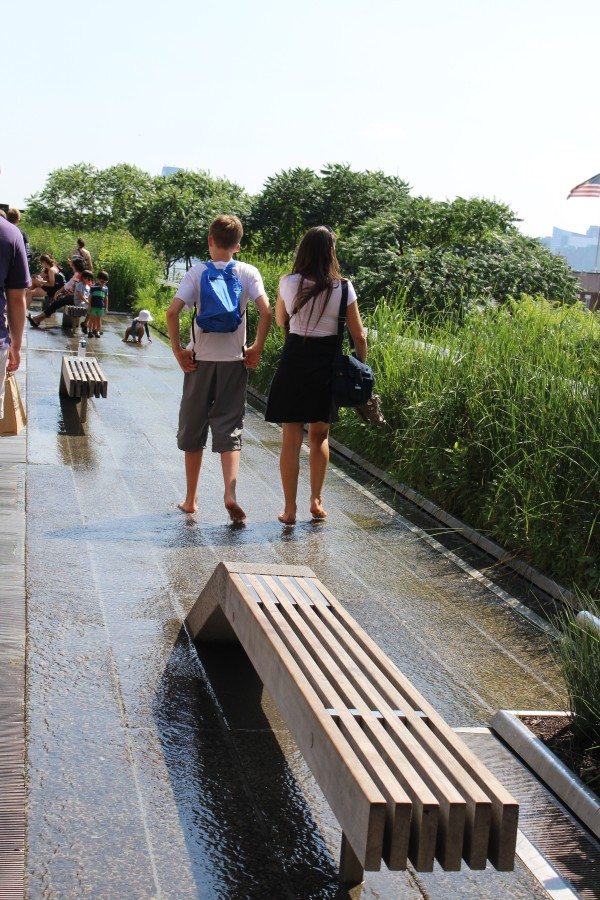 Wildflowers, grasses, trees and a clever walking fountain, where most guests would take off their shoes and stroll through just to feel the smooth pebble bottom and get some relief from the heat. The children of course got a huge kick out of this feature as well.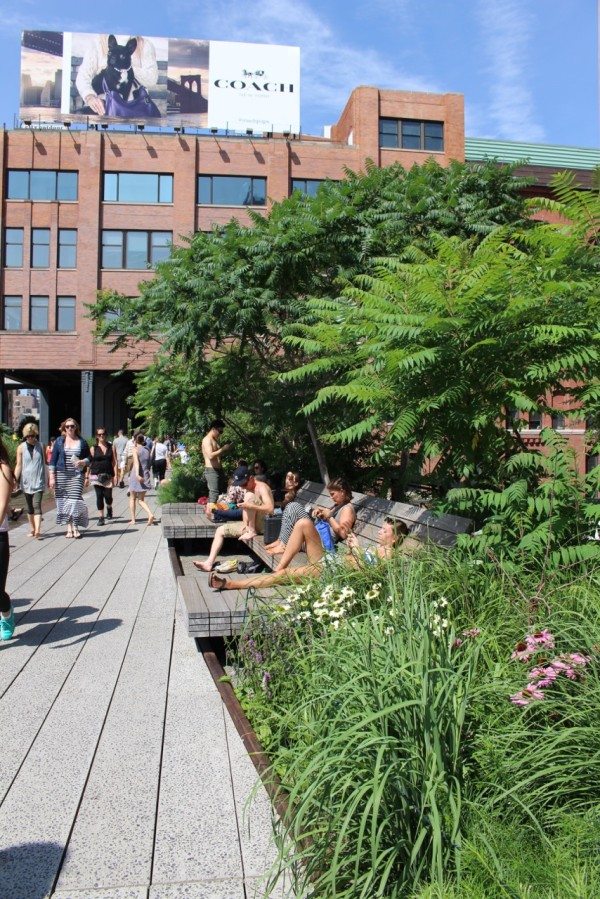 You can also relax on wood chaise lounges and catch some rays while watching the throngs of people walk by. People watching is definitely a highlight of The High Line too! There is no cost to walk the High Line and they do offer free walking tours if you plan ahead, the space is limited.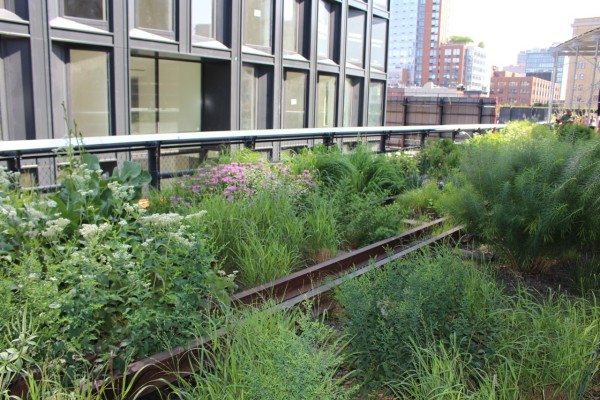 There are places to rest on benches in amphitheater-like spaces that offer windows into the cityscape where you can watch the bustling New York streets. As you stroll along the boardwalk you travel though neighborhoods with historic architecture and charm.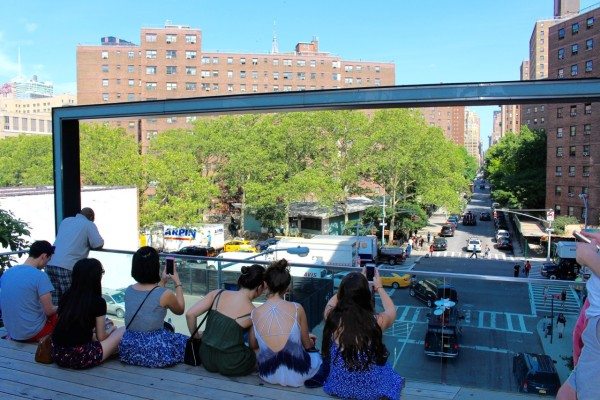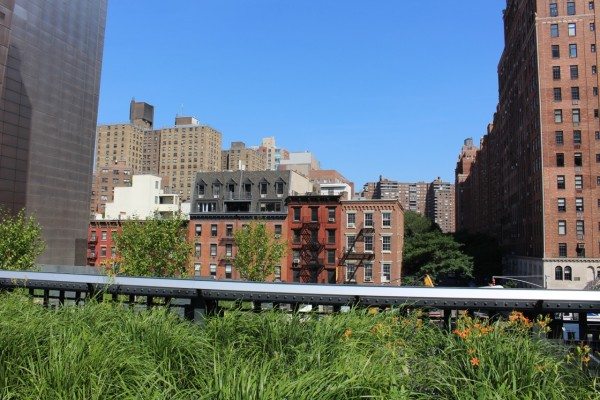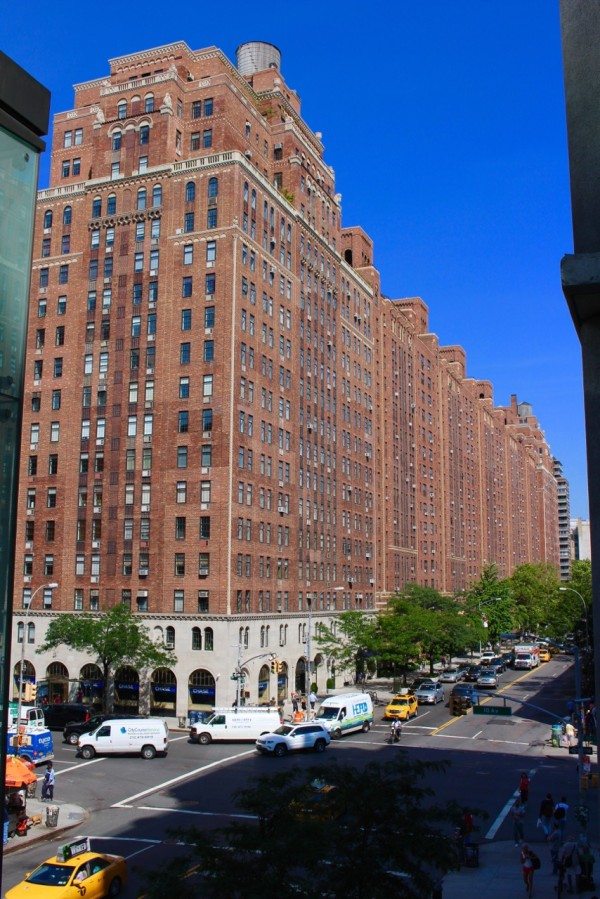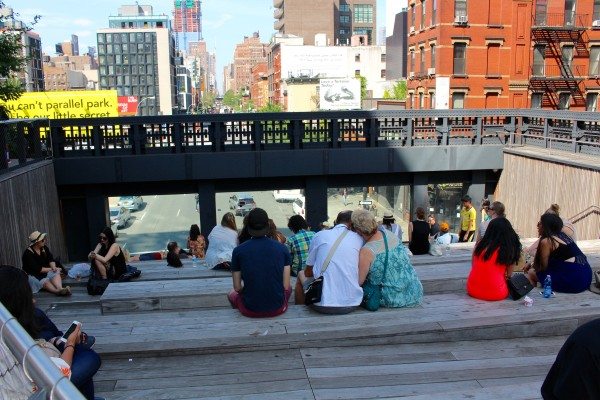 If you are hungry, thirsty or crave dessert you can enjoy gelato, ice pops, street tacos and other yummy items that are available at 15th St & 17th St as well as the Rail Yard.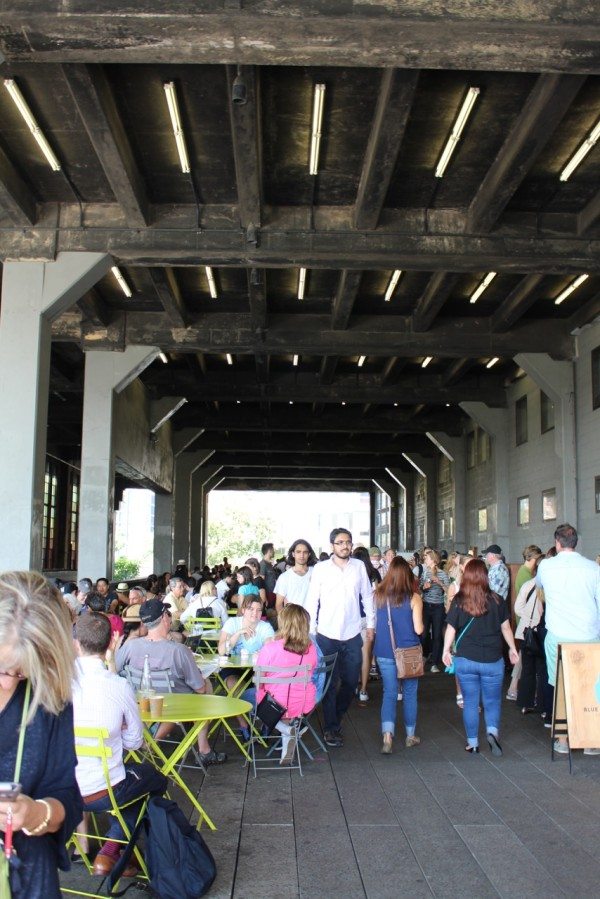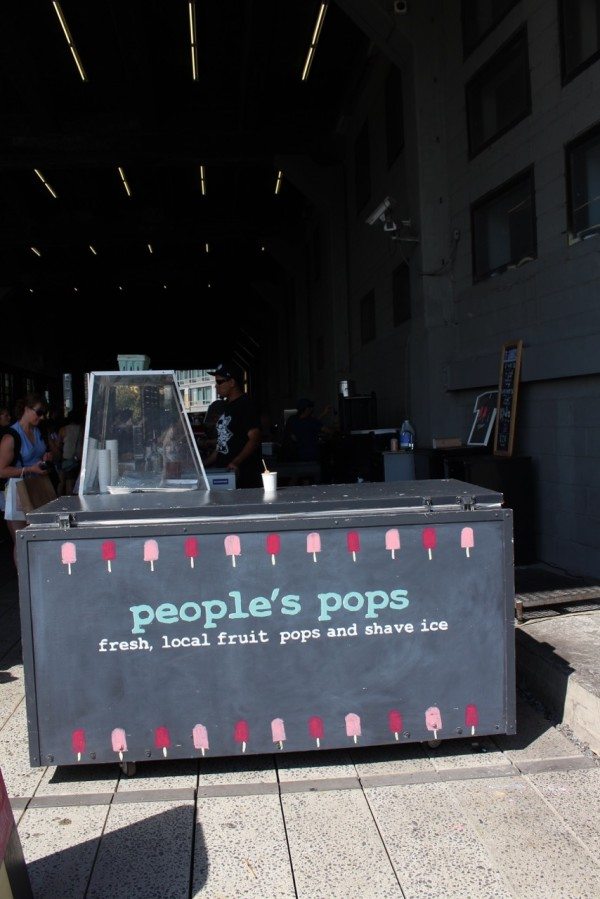 The restaurant porch at Terroir High Line offers delicious wine and great food with a killer view of the Hudson River.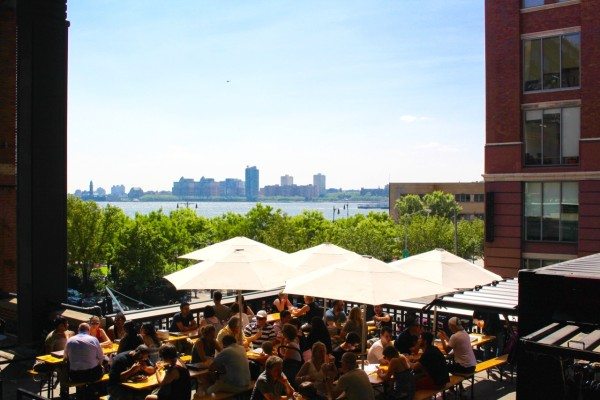 The High Line is open year round but the opening and closing times vary due to the time of year. This is a must see, must do activity in one of the greatest cities in the world. I am sorry we did not get there sooner!