Empty Nesters and a midlife gap year… is it for you?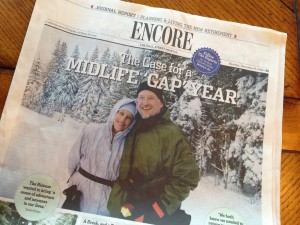 Some Empty Nesters are trying a midlife gap year. Just yesterday, I read in the Wall St Journal  about how couples are tired of doing the same old thing and switching it up a bit.  "After decades of raising children and climbing the corporate ladder, they're weary of the same old routine. Inspired by high school and college students who take "gap" or "bridge" years, baby boomers are taking an extended leave from the working world." The article also tells the story of an Empty Nester who changes careers, follows her passion for textiles and opens a business.
Now that is an adventure! Love this! It is so great to hear about what others are doing with the second half of their lives. Isn't now the best time to try something new? I am not certain that taking a year off is quite my cup of tea… however, I admire that these Empty Nesters took action! Kudos to them.
What are YOU doing for fun ?